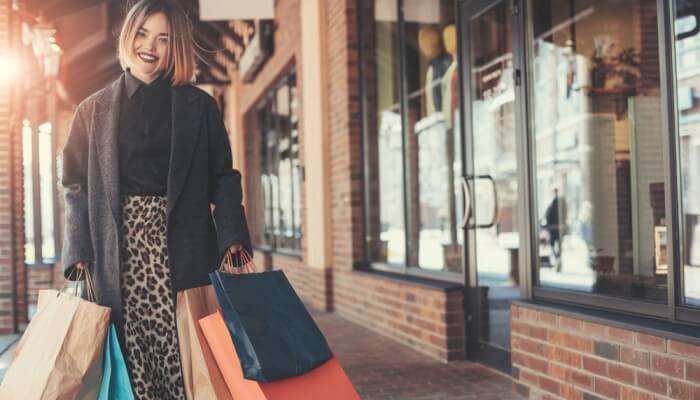 If you aren't a shopaholic then Tel Aviv will surely turn you into one. A shopping haven for all the people who love shopping, Tel Aviv has an awesome shopping scene with multiple malls, markets, and street shopping destinations. With numerous stores opening each day welcoming you to the world of designer products, international and local labels, this city will surely surprise you. Shopping in Tel Aviv is absolute as fun as shopping in any other famous shopping destinations in the world where you can shop from anything to everything.
Inquisitive to know more? Read along to know the deets.
10 Best Tel Aviv Shopping Markets
Here's a list of all the best and famous shopping spots in Tel Aviv where you can shop your heart out on your next vacation. Take a look!
1. Azrieli Mall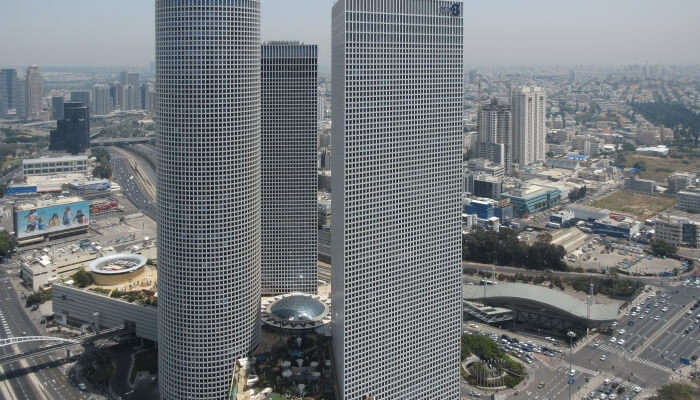 This is one of the topmost malls that is loved by the locals as well as tourists in the city. Azrieli Mall has a very definitive architecture which makes catches your eye from far away. The iconic complex of 3 skyscrapers has around 150 stores distributed in 3 floors along with 8 theaters and 30 plus restaurants. Enjoy shopping from some of the best brands from around the world or you can simply visit this place for some window shopping.
Location: Derech Menachem Begin 132, Tel Aviv-Yafo, Israel
Timings: 9:30 AM to 10 PM
Must Read: 10 Top Things To Do In Tel Aviv For An Exceptional Vacation
2. TLV Fashion Mall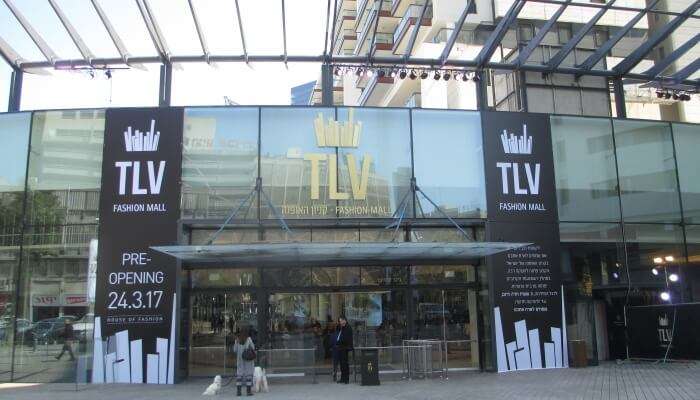 TLV is great for if you want to spend some big bucks on shopping and are looking for the most sophisticated brands in the world. This mall is home to the biggest international chain stores that you will find hardly anywhere else in the entire city. If not then you can just go here to experience some of the best and cool events that are organized here like various contests, food markets, and parties.
Location: HaHashmonaim St 96, Tel Aviv-Yafo, Israel
Timings: Sunday to Thursday 10 AM to 10 PM; Friday 9 AM to 4 PM and Saturday 8 to 11 PM
Suggested Read: At The Setai Tel Aviv, You Can Now Stay & Experience The Charm Of A 12th Century Fortress!
3. Dizengoff Center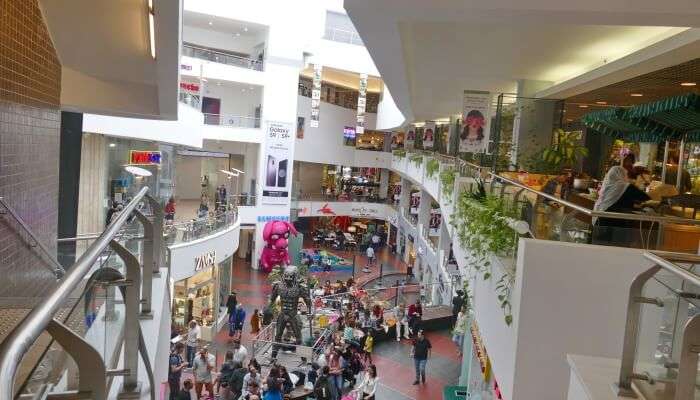 Made in 1983, Dizengoff Center is named after the first Mayor of Tel Aviv. This iconic place is Israeli in every form as it houses several Israeli fashion stores. You can find anything to everything in this mall which is basically 2 interconnecting buildings that consist of around 100 plus shops, 2 theaters, rooftop pool, 2 gyms, child playground and so much more. Make sure to attend the homemade world food market and pop-up designer market that happens every Friday. If going with family and friends, make sure to stick together as it is quite easy to get lost in this tangled web of shops.
Location: Dizengoff St 50, Tel Aviv-Yafo, Israel
Timings: Sunday to Thursday 9 AM to 10 PM; Friday 9 AM to 3 PM and Saturday 6 to 11 PM
Suggested Read: 10 Tel Aviv Museums That Will Leave You Intrigued
4. Gan Ha'ir

Have a unique experience of shopping in Tel Aviv Israel by making way to this beautiful market place called Gan Ha'ir. With an open air space right in the middle, this shopping center has multiple stores and restaurants on all four sides with a fountain in the middle. There are various retail shops and other boutiques where you can shop and later enjoy a great meal at one of the restaurants.
Location: Shlomo Ibn Gabirol St 71, Tel Aviv-Yafo, Israel
Timings: Sunday to Thursday 10 AM to 8 PM; Friday 10 AM to 2:30 PM and Saturday Closed
Suggested Read: 7 Incredible And Classic Places Near Tel Aviv For A Perfect Vacay
5. Ramat Aviv Mall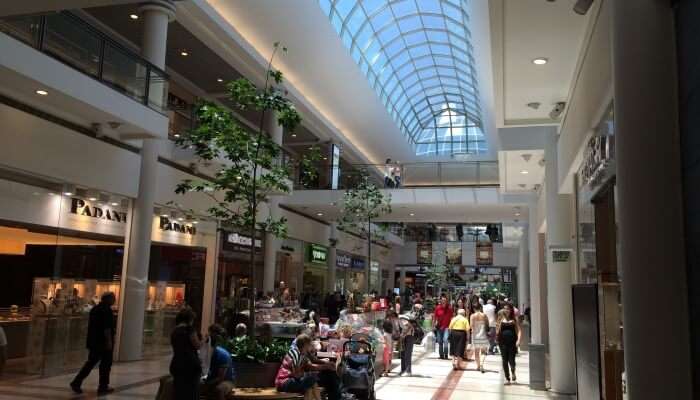 With the most elite clientele list in the whole of the city, Ramat Aviv Mall is where you can do the best shopping in Tel Aviv. The actual name of this place is Kenyon Ofer and is home to some of the topmost luxury brands in the world. There are many premium stores, chain stores, boutiques along with many cafes and restaurants which makes this mall a great place to shop from.
Location: Einstein St 40, Tel Aviv-Yafo, Israel
Timings: Sunday to Thursday 9:30 AM to 9:30 PM; Friday 9 AM to 3 PM and Saturday 7 to 11 PM
Suggested Read: 10 Hip And Historic Hostels In Israel Perfect For Exploring Its Cities
6. Sarona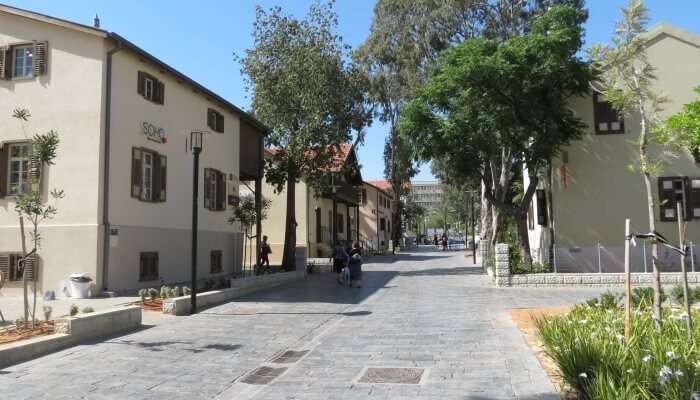 If malls are not your things the Sarona market will definitely be. This 140 years old former Templar Colony is one of the most beautiful shopping destinations in Tel Aviv. Its like a shopping village that is widely popular for the many food shops that sell food, especially street food from around the world. While you stroll in the lanes of Sarona buy a waffle or Asian bun or cheese to hog on. There are various other shops and galleries for you to explore. If you want to relax choose a spot either by the lily pond or on the freshly groomed grass and just mull over life.
Location: Address: Eliezer Kaplan Street, Tel Aviv-Yafo, Israel
Suggested Read: Honeymoon In Israel: The Beginning Of A Lifelong Romance
7. Neve Tzedek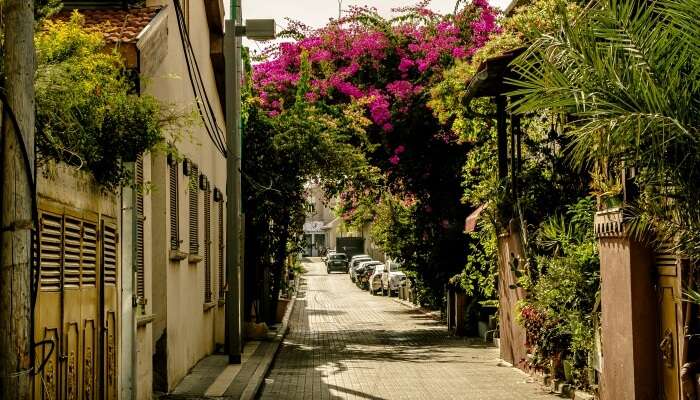 Hands down this is one of the most beautiful places to shop around in Tel Aviv. With different types of boutiques, restaurants, and bars, you would be enchanted to see the beauty of this place. The architecture will captivate you as it is vintage. The main area is Shabazi street where most of the shops are located from jewelry to boutiques, art, and home furnishing. Not interested in shopping, no worries, this place with still captivate you by its beauty and street art that can be spotted at various points while you walk around.
Location: Neve Tzedek, Tel Aviv-Yafo, Israel
8. Carmel Market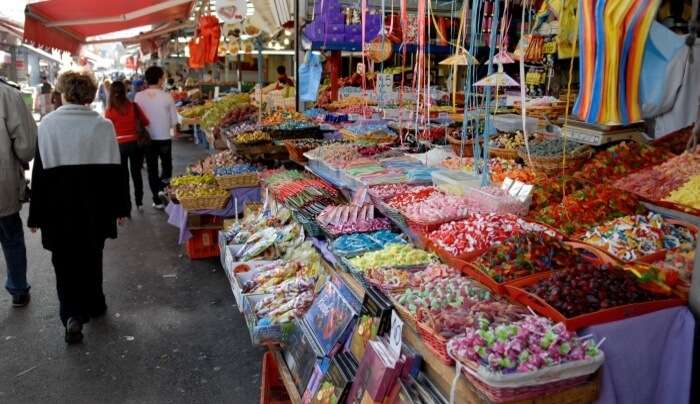 Carmel Market is one of the busiest and largest markets of Tel Aviv. It is known for its fresh produce like fruits, vegetables, fresh meat and more. You can see numerous sellers selling their produce on stalls. The market heightens your both smell as well as visual senses as there is so much color and aroma of the freshest of ingredients everywhere. This truly is an experience to have when here on a vacation.
Location: HaCarmel St 48, Tel Aviv-Yafo, Israel
Suggested Read: 10 Things To Do In Israel: Know Why It's On Every Wanderer's Bucket List
9. Hatchana Compound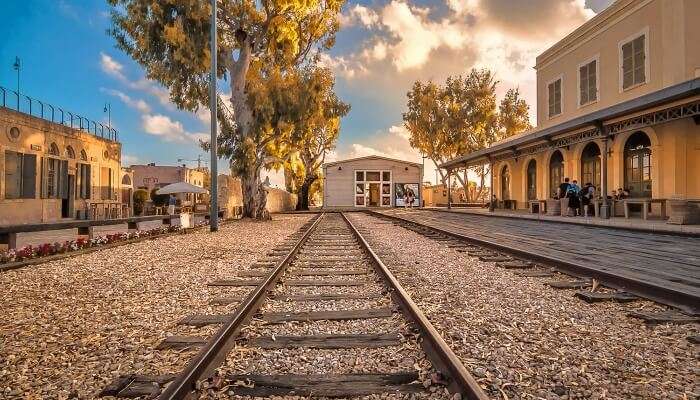 Believe it or not but Hatchana Compound is a great place for you to shop at or to just chill out and watch people. The place was made in 1890s as Tel Aviv and Jaffa Centre Train Station and but is now renovated into this super cool place where you would want to hang around the entire day. This unconventional shopping destination must be ticked off from your list as it is a whole different place with great experience and things to see. You would enjoy shopping here from the unique shops while appreciating the architecture that is beautifully done and is located right next to a beach.
Location: Kaufmann St, Tel Aviv-Yafo, Israel
Timings: 10 AM to 9 PM except for Fridays and Saturdays
10. Jaffa Flea Market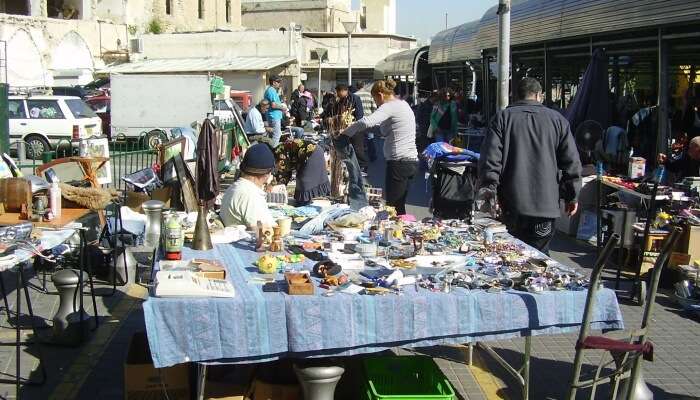 Jaffa Flea Market is a great shopping destination if you are looking for some quality vintage and antique stuff for your home. There are several shops that will lure you in with their oh-so-pretty products but before you make a purchase, haggle as much as you can. Apart from this, there are several clothing stalls and other second-hand stores. When you need a break, try out some authentic street food that is available here.
Location: Olei Zion St, Tel Aviv-Yafo, Israel
Timings: 9 AM to 5 PM except for Fridays and Saturdays
Further Read: 12 Perfect Wedding Venues In Israel For Your Happily-Ever-After!
There is so much that a shopping lover can enjoy in this beautiful city. Tel Aviv shopping can be truly enriching and completely fun. Remember to leave a lot of space in your suitcase as you would be coming back with a lot of souvenirs and other fancy things. Plan your trip to Tel Aviv with TravelTriangle and get ready with your plastics before you go on this shopping spree.
People Also Read