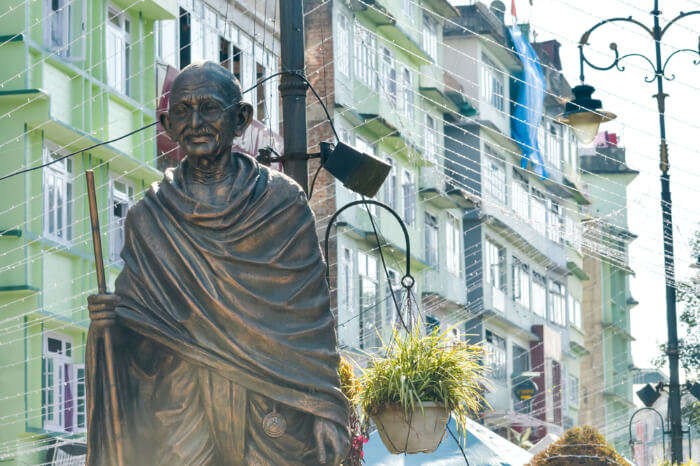 The stunning landscapes surrounding the most popular places to visit in Gangtok consist of snow-laden highlands, sparkling lakes, and lush valleys. But the magical aura of the hills is not limited to just the capital city of Sikkim. It goes way beyond the city borders and extends up to some amazingly stunning places to visit near Gangtok. If you are all set for getting mesmerized by the state of Sikkim, then visiting Gangtok is a must! This city is surrounded by beauty and will make you fall in love with it. To make your vacation a memorable one, check the list of places that you can visit around this gorgeous city!
20 Best Places To Visit Near Gangtok
Here's a list of the most beautiful places to visit near Gangtok city on your next trip to the northeast. Whether you're a nature lover or a history buff, all of these places ought to be on your bucket. With some beautiful places near the city, it is inevitable that you will have lots of fun and in fact, there are some places that will make it an adventurous ride for you:
1. Namchi: A Magnificent Sikkimese City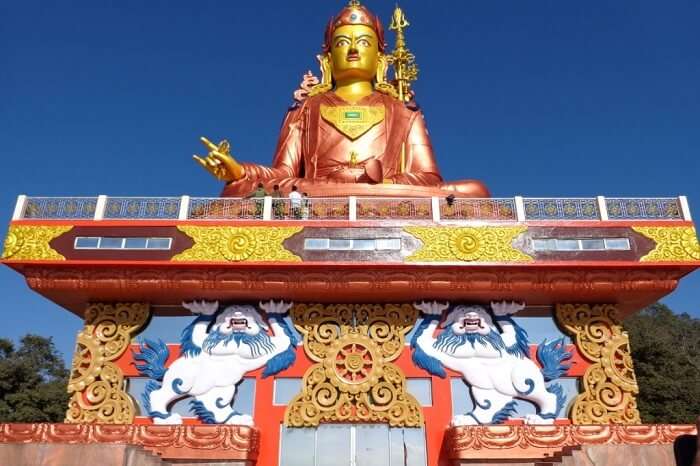 Literally translated as the top of the sky, Namchi is one of the best beautiful places to visit near Gangtok that offers a startling view of the Ranjit Valley and the Khangchendzonga range. The destination is famed for quite a few heritage monasteries, Buddhist pilgrim centres, and a life-size idol of Guru Padmasambhava. It is due to these attractions that the religious town is visited by devotees round the year. If you are looking for a spot where you can meditate amidst a tranquil ambience, then Namchi is the perfect spot for you!
Distance From Gangtok: 31 km
Major Attractions: Choling Monastery, Ngadak monastery, and Rock Garden
Things to do: Trek to Tendong Hill, gorge upon Tibetan cuisine at Hotel Sangay, enjoy cable car ride at Rock Garden
Gangtok In Summer: An Exquisite Vacation Filled With Fun & Adventure!
---
Sikkim-Gangtok-Darjeeling Holiday Packages On TravelTriangle
---
2. Yuksom: The Meeting Place Of Lamas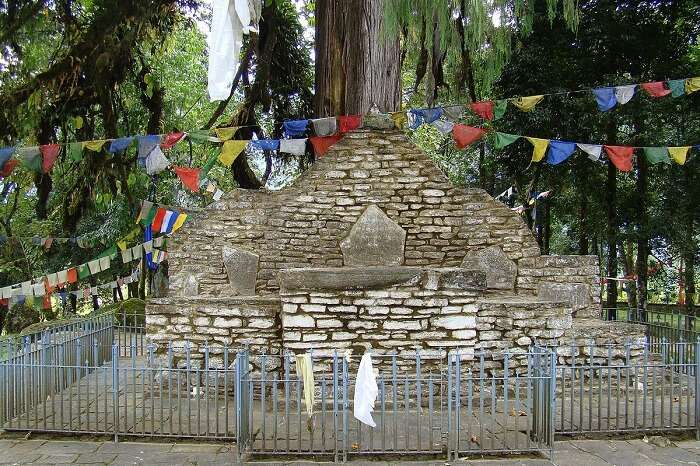 The former capital of Sikkim, Yuksom is among the most beautiful tourist places near Gangtok. This quaint hamlet promises pristine beauty and serenity to tourists & locals alike. The hamlet houses Dubdi Gompa, one of the oldest monasteries in Sikkim and many other monasteries and stupas. The religious hill town is also a heaven for trekking enthusiasts and is undeniably one of the best places to visit near Gangtok.
Distance From Gangtok: 38 km
Major Attractions: Royal palace of Tashi Tenka, the monastery of Kathok Wodsalin Gompa, and Norbugang Park
Things to do: Trekking, fish watching at Kartok Lake, jeep safari
3. Tsomgo Lake: The Sparkling Glacial Lake

Perched at 12,400 feet on the Gangtok-Nathula highway, Tsomgo Lake or Changu Lake is popular for being the highest & most famous lakes in India. This glacial lake that remains completely frozen during winter is certainly one of the most spectacular places to see near Gangtok. People love to indulge in yak rides & ice skating here or enjoy piping hot tea & instant noodles from the surrounding food kiosks.
Distance From Gangtok: 38 km
Major Attractions: Blue & yellow poppies, Primulas flowers, and Brahminy ducks
Things to do: Yak ride, ice skating, sledging
10 Handpicked Cottages In Sikkim For That Perfect Mountain Escape
4. Nathula Pass: Festooned With Stunning Scenery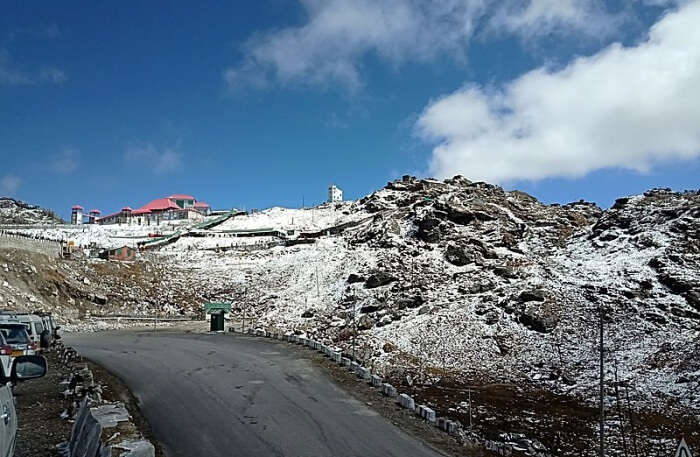 Counted among the highest motorable roads in the world, Nathu La pass is located at 14,450 feet above the sea level; which makes it one of the must-visit places to visit around Gangtok. This famous corridor is a part of the historical Silk Route, connecting India and Tibet. Nathu La is open for Indians only from Wednesday to Sunday and one needs to take an entry permit from the tourism department zonal office in advance. The war memorial and the exhibition centre of the Indian Army are the major highlights here. This is indeed one of the best places to visit near Gangtok.
Distance From Gangtok: 52 km
Major Attractions: NA
Things to do: Walk along the international border of India and China, enjoy yak safari
5. Ravangla: A Picture-Postcard Destination

Snuggled between Tendong Hills and Maenam, Ravangla overjoys every tourist with tranquillity of nature, peace, and jaw-dropping beauty of the Himalayas. The hamlet, adorned with aromatic tea estates and monasteries, surely finds its name in the list of beautiful places to visit near Gangtok.
Distance From Gangtok: 64 km
Major Attractions: Birds such as verditer flycatchers, babblers, blue whistling thrush, and dark-throated thrush
Things to do: Birdwatching, hiking, trekking
Check Out These 14 Places To Visit In Namchi, The Culture Capital Of Sikkim!
6. Zuluk: Unconventional And Off-The-Wall

A winding road with 32 hairpin bends will take you to Zuluk, one of the best places to visit near Gangtok. The picturesque hamlet of Zuluk is also a part of the historical Silk Route and offers a stunning view of Mount Kanchenjunga. Driving through this route is among the most enthralling things to do near Gangtok, and this indeed attracts adventure riders from across the world.
Distance From Gangtok: 91 km
Major Attractions: Thambi Viewpoint and Nag Temple
Things to do: Wildlife watching, hiking, mountain biking
7. Lachung: The Riverside Hamlet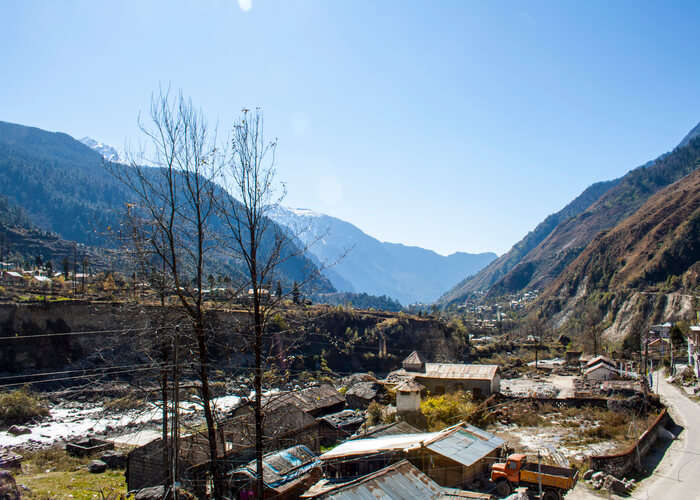 Located at an elevation of 8,610 feet, Lachung is a quaint hamlet that is often described as the most picturesque village of Sikkim and also as one of the best places to visit near Gangtok city. The hamlet lies on the banks of the river by the same name and allures the foreigners & other tourists with its eternal charm, scenic beauty, and pristine landscape. The scenic splendour of this hamlet makes it among the loveliest places to visit in Gangtok in October, or in fact any other month!
Distance From Gangtok: 102 km
Major Attractions: Lachung monastery, Shingba Rhododendron Sanctuary
Best Time To Visit: Trek To Yumthang Valley, excursion To Zero Point
15 Best Hotels In Lachung To Answer The Call Of Mountains In The Best Possible Way
8. Pelling: An Adventurous Wonderland

One of the best places to visit in Sikkim, Pelling is adorned with sparkling waterfalls and lush green forests. But it has to be the amazing view of the mighty Himalayan ranges including the Kanchenjunga Peak from Pelling that will make your jaw drop in astonishment. Thanks to its easy connectivity this is among popular places to visit near Darjeeling and Gangtok.
Distance from Gangtok: 112 km
Major attractions: Adventure sports like rafting, kayaking, trekking, and mountain biking
Things to do: Tour to Darap Cherny Village, enjoy in the waters of Kanchenjunga Waterfalls
9. Yumthang: The Gorgeous Flower Valley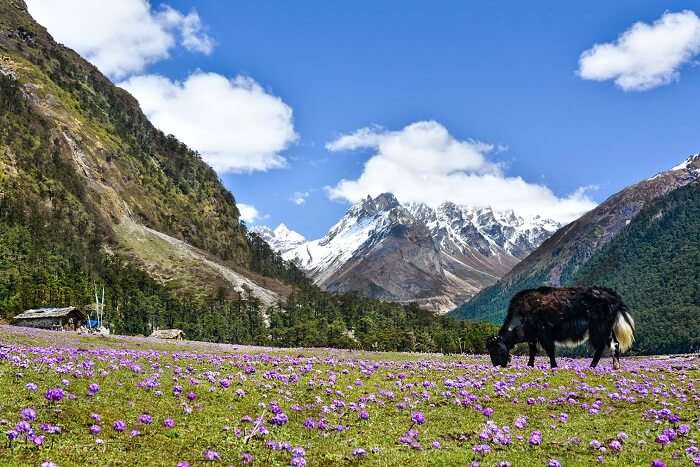 Yumthang is a charming valley near Gangtok. Surrounded by snow-capped mountains, Yumthang valley is a natural habitat for exotic & rare species of wildflowers like cobra lilies, primrose, and louseworts. For the best views of the colour riot on the flower beds and enjoyable trekking experiences, one must visit this gorgeous valley during the summer & spring seasons.
Distance From Gangtok: 127 km
Major Attractions: Mt Brumkhangse, Yumthang Valley Natural Reserve, Shingba Rhododendron Sanctuary
Things to do: Trek up to Shiva temple amidst pine forest
10 Flower Valleys In India & Around The World That'll Make You Believe In Heaven
10. Khecheopalri Lake: For Wishes To Come True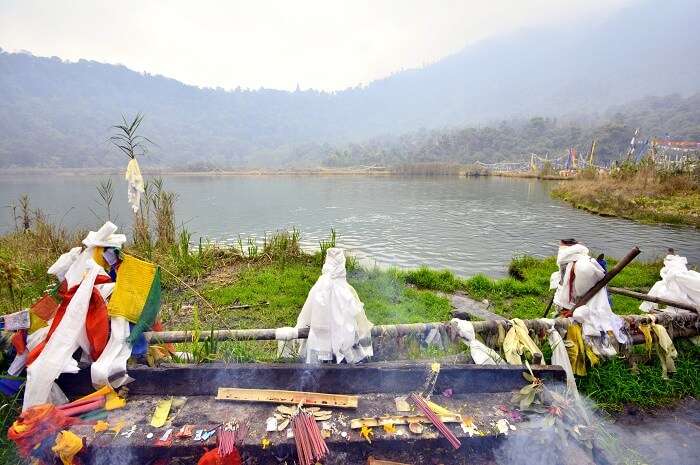 A nature lovers paradise, Khecheopalri Lake is one of the most popular religious places near Gangtok. Tourists, especially Hindus and Buddhists, visit this lake round the year or join the mass prayer during the 15th full-moon day of Lunar calendar (February-March) to make wishes. The lake, located amidst dense forests, is crystal clear and devoid of any leaves or other particles. It is believed and has been reportedly sighted by many, that birds from the forests immediately remove any particle that drops on the water.
Distance From Gangtok: 133 km
Major Attractions: NA
Things to do: Excursion to the closely Lepcha village
11. Phurchachu Reshi: Therapeutic Hot Springs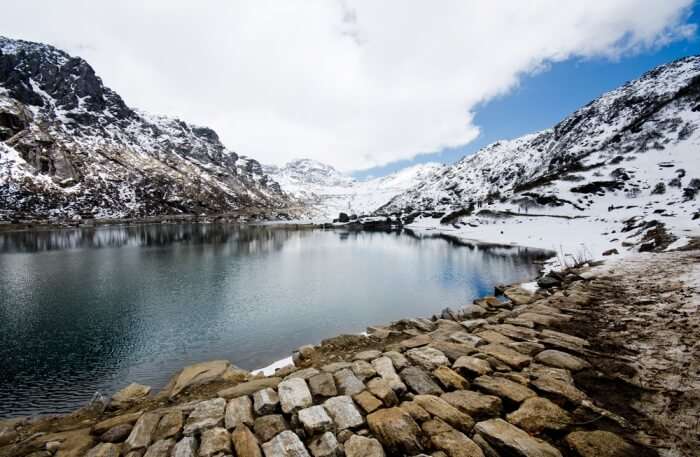 Located by the River Ranjit near the Kadosangphu cave, Phurchachu Reshi Hot Spring is another famous tourist place in Sikkim. This thermal spring gushes out sulfur-rich water, which is said to have therapeutic values and skin disease healing properties. You can easily consider Phurchachu Reshi to be one of the best tourist places near Gangtok.
Distance From Gangtok: 135 km
Major Attractions: Kanchenjunga View Point, Char Dham, Kanchenjunga Falls, Tendong Hill, Deolo Hill
Things to do: Hot water baths in the thermal springs to reinvigorate mind and body
These 8 Places To Visit In Sikkim In June Must Be On Your Next Summer Vacay List!
12. Pemayangtse: Home To Second Oldest Monastery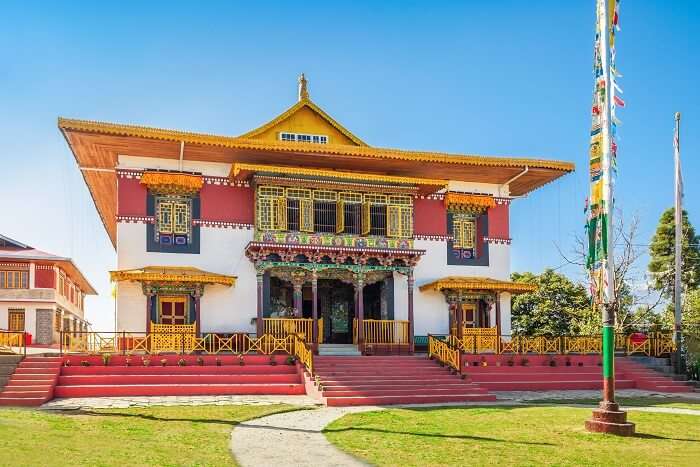 Pemayangtse is a popular Buddhist religious center and houses a beautiful monastery by the same name. This 300-year-old monastery, raised in 1705 by Lama Lhatsun Chempo, comprises a huge prayer hall, a well-manicured garden, statues, paintings, and sculptures. The town is also the starting point for 46-km-long Dzongri trekking trail that goes through Khangchendzonga National Park.
Distance From Gangtok: 140 km
Major Attractions: NA
Things to do: Spend some spiritual time in the monastery
13. Lachen: A Picturesque Village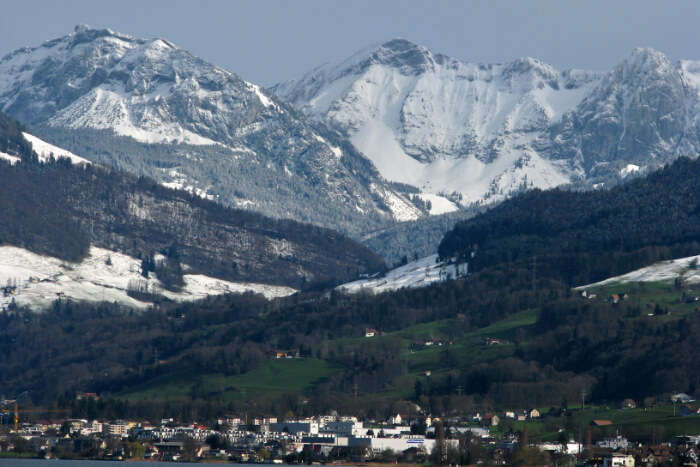 Located at an elevation of 2,750 meters, Lachen is a small village in the Northern Sikkim. This is where the very popular Chopta Valley is located. The gorgeous wide landscapes with snow-clad mountains, gushing streams, milky waterfalls, and lush greenery, all together make this one of the most picturesque places to visit near Gangtok. The place is also a hotspot for hosting many adventure activities.
Distance From Gangtok: 107 km
Major Attractions: Thangu Valley, Lachen Monastery and Gurudogmar Lake
Things to do: Go wildlife sighting, enjoy a tour to Rhododendron Sanctuary, trek to Lachen's valleys and hills
Mountaineering In Sikkim: A Handbook To Give You An Insight Into It For
14. Chungthang: A Must Visit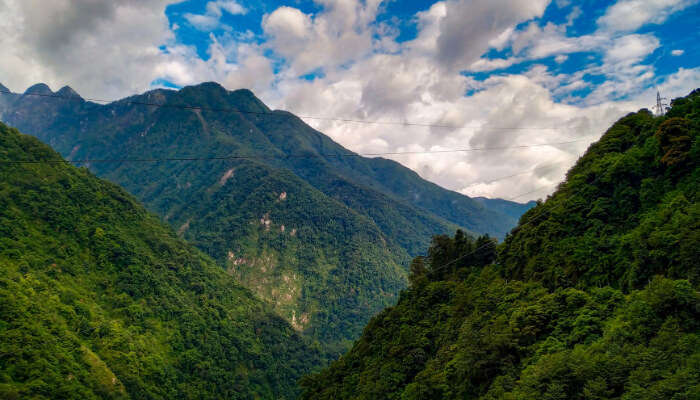 Chungthang Valley is located at the confluence of river Lachen and River Lachung. Chungthang is also the only entrance to the two focus destinations of North Sikkim, Lachen and Lachung. One of the most popular tourist attractions of this place is a rock that is believed to be the seat of Guru Rimpoche. Chungthang is inhabited by Lepcha people and is a great place to get to know Sikkim better.
Distance from Gangtok: 81 km
Major attractions: Naga Falls, Bhewma Falls, Gurudwara Nanak Lama Chungthang
Things to do: Hiking, trekking, camping
15. Kabi Lungchok: A Historical Site

Amongst the best places to visit near Gangtok in 1 day, Kabi Lungchok is a raw and serene historic site. This region is located about 17 kilometres north of Gangtok. Going by history, this is the place where two different tribes -Lepcha and Bhutia, living in the region had signed a Treaty of Blood Brotherhood through a religious ceremony. The location where it was conducted has been marked by stone pillars.
Distance from Gangtok: 17 km
Major attractions: NA
Things to do: Enjoy a historical tour of the place
19 Places To Visit In North Sikkim To Witness The Magic
16. Darjeeling: A Beautiful City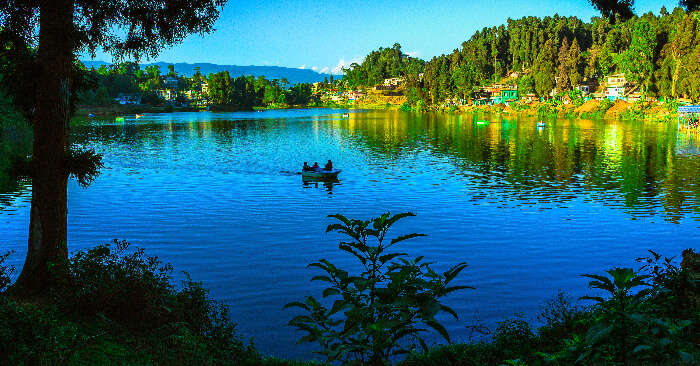 A beautiful city in West Bengal, Darjeeling is located in the lesser Himalayas and is majorly known for its mesmerizing beauty. Darjeeling is one of the best tourist places near Gangtok for all nature lovers! You will also get a view of the Kanchenjunga, enjoy the Darjeeling Himalayan Railway and the vast expanse of tea estates. It is a gem of a destination and one of the best places near Gangtok for tourism. Enjoy day trips to Mirik, Kalimpong and Lamahatta, which are some top tourist places in Darjeeling.
Distance From Gangtok: 100 km
Major Attractions: Ghum Monastery, Padmaja Naidu Himalayan Zoological Park, Peace Pagoda, Darjeeling Ropeway, Tenzing Rock
Best Time To Visit: June to September
Ideal Duration: 2 Nights/3 Days
17. The Seven Sisters Waterfall: A Mesmerizing Destination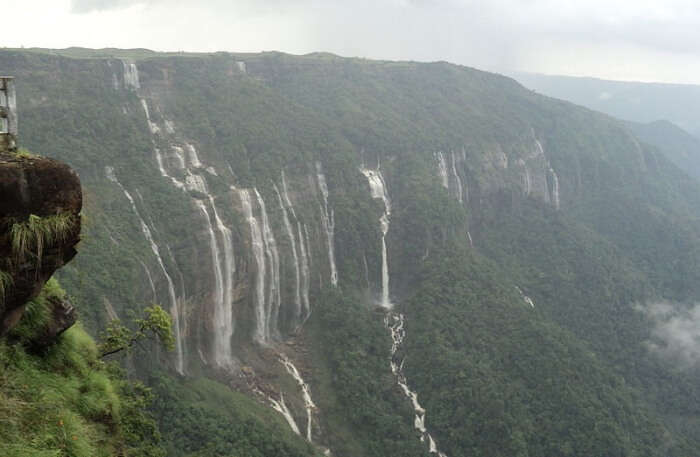 It is one of the most splendid waterfalls in Sikkim which is one of the must-see places around Gangtok during the monsoons. Experience the gurgling waters plunge on the lush green vegetation through cliffs. Get a prismatic and picture-perfect view of the falls, while you decide to take a bath. Feel the freshness of nature around while you capture some wide-angle shots on your camera. You can also find a tea and coffee area near the falls to make sure you stay refreshed.
Distance From Gangtok: 31 km
Major Attractions: Bakthang Waterfall, Ban Jhakri Falls Park, Sikkim Himalayan Zoological Park
A Brief Guide To Trains From Delhi To Sikkim For First Time Travelers To North East India
18. Rumtek Monastery: For A Panoramic View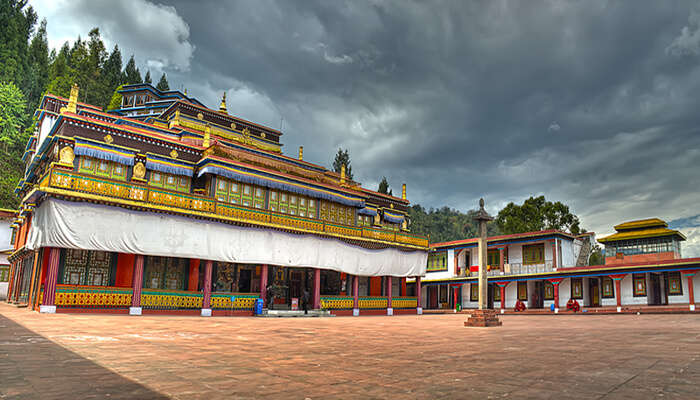 The Rumtek Monastery is also popular as the Dharmachakra Centre, the monastery is a focal point for the sectarian tensions that sparked with the Karmapa controversy. While visiting the monastery, you can see the vantage points from where you can literally get a panoramic view of the city. One of the sacred tourist places near Gangtok, the monastery is often associated with the idea of peace and is one of the largest in Sikkim.
Distance From Gangtok: 34 km
Major Attractions: Jawaharlal Nehru Botanical Garden, Pelling, Tsomgo Lake
Best Time To Visit: May to June and September to November
Ideal Duration: 1 Day
19. Rabdentse: A Historical Paradise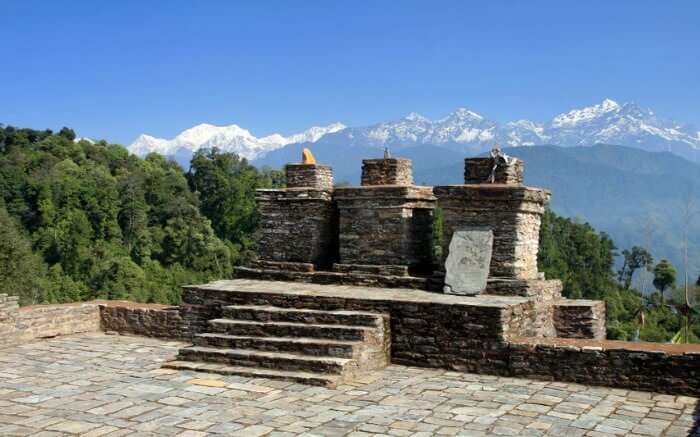 Rabdentse is very popular for its history of warfare and conflict. It is also famous as one of the best places to visit near Gangtok. It was the capital city of the former kingdom of Sikkim, destroyed badly by the Gurkha army. The years of battle and destruction at a time have now led to Rabdentse being one of the major tourist places near Gangtok. You can also see the ruins of the chortens and palace. If fact, another major attraction would be the Kanchendzonga ranges visible from a vantage point. 
Distance From Gangtok: 124 km
Major Attractions: Pemayangtse Monastery, Khecheopalri Lake, Pelling
Sikkim Wildlife: 8 Awe-Striking Top Sanctuaries and National Parks
20. Mangan: An Ancient Charm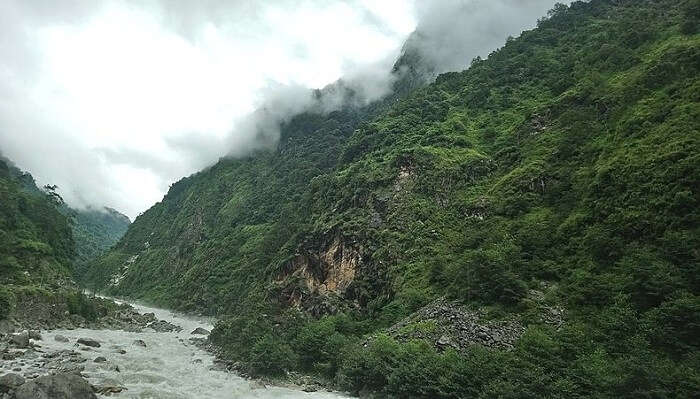 To experience a quaint and offbeat destination which is full of natural beauty, Mangan is one of the best places to visit near Gangtok in December. It is an ancient village with a charm of a sort and a lovely evening stroll will start your rejuvenation process. In fact, Mangan is also popular for various adventure activities like mountain biking, rock climbing, paragliding, forest camping and so much more. If you are a nature as well as an adventure enthusiast, then Mangan should be on your itinerary.
Distance From Gangtok: 65 km
Major Attractions: Labrang Gompa, Rong Lungten Lee,  Phodong Monastery, Singhik
Best Time To Visit Gangtok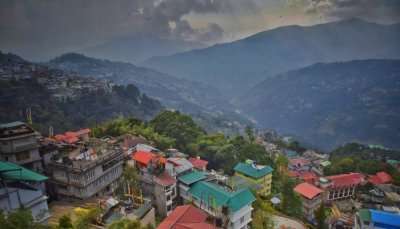 Image Credit: Arñav Mahanta for Pexels
The peak season of Gangtok starts from the month of September till the month of June. During this time, many tourists visit Gangtok to make the best of their vacation. If you want to enjoy the spectacular views of Gangtok during the autumn, then visiting anytime between September and October would be the best.
15 Resorts In Gangtok That You Must Stay At On Your Trip
How To Reach Gangtok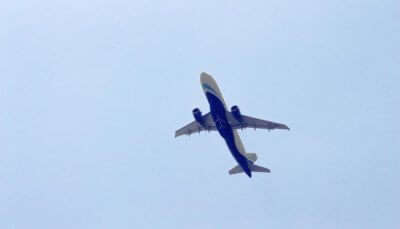 Image Credit: Arvind Kumar for Pxhere
Listed below are the ways that you can consider to reach Gangtok without any hassle:
By Air: The nearest airport from Gangtok is in Bagdogra at a distance of 124 kilometers. From here, you can easily get a taxi that will help you reach Gangtok
By Train: it is in New Jalpaiguri, Siliguri that you will find the nearest railway station from Gangtok, which is at a distance of 148 kilometers. Many major cities are connected to this railway station
By Road: if you are planning to visit Gangtok from one of the nearby cities, then using the road would be the best idea. You can easily get taxis or buses from these cities that will take you to Gangtok
So, which of these best places to visit near Gangtok is your favorite? Let us know in case we missed out on any of your favorite tourist places in this region. So, plan your Gangtok trip with TravelTriangle to add some other beautiful memories to your travel memoir.
For our editorial codes of conduct and copyright disclaimer please click here. 
Frequently Asked Questions About Places To Visit In Gangtok
What are the best places to visit near Gangtok in winter?
The following are the best places to visit near Gangtok during the winter months - Namchi, Yuksom, Nathula Pass, Ravangla, Zuluk, Lachung, Pelling, Yumthang, Khecheopalri Lake, Phurchachu Reshi, Pemayangtse, Lachen, Chungthang, Kabi Lungchok, Darjeeling, The Seven Sisters Waterfall, Rumtek Monastery, Rabdentse, Mangan, Pemayangtse Monastery, etc.
How can I spend 3 days in Gangtok?
You can plan to explore the top attractions in Gangtok, including Rumtek Monastery, Nathula Pass, Tsomgo Lake, Hanuman Tok, Khangchendzonga Biosphere Reserve, Namchi, Khangchendzonga, Do Drul Chorten Stupa, Tsuk La Khang Monastery, Flower Exhibition Center, Kabi Town, Saramsa Garden, Himalayan Zoological Park, Banjhakri Falls, etc.
Is it safe to visit Gangtok during Covid times?
You need to follow all the mandatory safety guidelines mentioned by the authorities to ensure a safe travel experience. Remain masked while stepping out of the hotel and maintain social distance. Avoid visiting crowded places and keep sanitizing your hands after touching surfaces.
How can I get to Zero Point from Gangtok?
To reach Zero Point from Gangtok, you will have to first reach Lachung. From Lachung it takes 3.5 hours till the point beyond which the vehicles cannot go. It is the Zero Point.
How many days are enough for Gangtok?
Around 2 to 3 days are considered enough for touring Gangtok. During your vacation, you can visit all the top tourist attractions and can also indulge in various adventrous activities.
What is the best time to visit Gangtok?
Though September to June is the peak season in Gangtok but Autumn season which falls between the months of September to October is the ideal time to visit this city.
How can I go to Nathula from Gangtok?
You can go to Nathula from Gangtok via Jawaharlal Nehru Road. The distance is 56.3 km which can be covered in about 2 hours.
What is Gangtok famous for?
The city of Sikkim is essentially known for its natural beauty that also attracts tourists in huge numbers. The locals here are quite welcoming and therefore the culture in this city is worth witnessing.
Is Gangtok safe?
Yes, the city of Gangtok is considered to be quite safe. One can even travel solo on this side of Sikkim. However, one must be cautious when exploring isolated spots.
What can I buy in Gangtok?
Some of the things you should definitely buy during your Gangtok trip have been listed below:
1. Tibetan carpets
2. Sikkimese cups
3. Black cardamom
4. Wall hangings
5. Thangkas
6. Teas
People Also Read:
Places To Visit Near Delhi Places To Visit Near Agra Places To Visit Near Udaipur