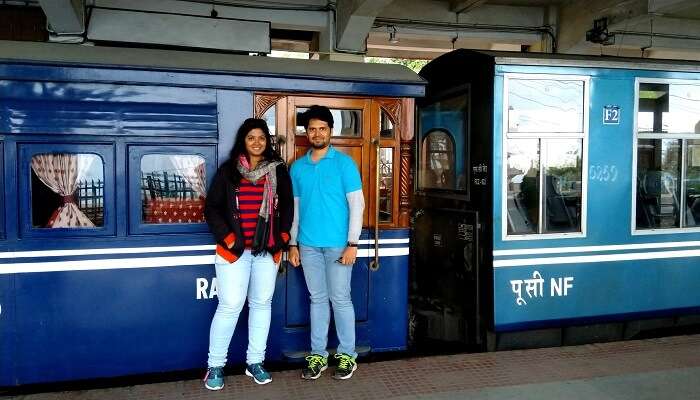 With its floors being covered by fierce mountains, serene lakes, luxuriant foliage, homely villages, and extremely warm locals, Sikkim is a destination that leaves every traveler awestruck. Housing an extensive number of Buddhist monasteries along, the calm and tranquil aura of this beautiful state appeals to any and every kind of tourist, irrespective of their budgets. For those seeking to get closer to the marvels of mother nature, Sikkim is certainly a place to be. This is what made Nikhil and his wife's head for a Sikkim trip on budget. The beauty of this small town in the country cannot be justified in words. The picturesque landscapes, alluring roads, and scrumptious cuisines amalgamate with other features in making this destination seem right out of a storybook. Read through this handbook and take a journey of marvelous experiences encountered by Nikhil along with his wife.
Sikkim had been on our bucket list for a long time now. The naturescapes, forest-clad hills and pleasant weather had always appealed to us. We finally had an opportunity to take a trip to this beautiful place, so we grabbed it then and there. Our main concern was finding an impeccable Sikkim itinerary for a family but in a budget that would not burn a hole in our pockets. After coming across TravelTriangle, we knew we didn't have to worry about this any longer. Making sure that we didn't face any kind of hurdles, TravelTriangle connected us with a local agent who took care of everything we needed. Taking a Sikkim trip on budget was a dream that came true. Apart from the agent, the locals of Sikkim have our hearts. The friendly and extremely warm people of Sikkim were simply a cherry on top.
Details Of Our Sikkim Trip On Budget
Trip Type: Family trip
Cost: INR 52,500
No. Of People: 2 Adults
Duration: 7 Night and 8 Days
Inclusions: Breakfast, All Three-Meals in Lachung, Private Cab, Taxes, Candlelight dinner, Accommodation
Exclusions: Insurance, Entry Charges, Rafting Charges, Lunch & Dinner, Room Service, Airfare
Itinerary Summary
Day 1: Arrival in Gangtok, leisure day
Day 2: Sightseeing (Tsomgo Lake, Kyongnosla, Baba Mandir), overnight stay at Gangtok
Day 3: Drive to Lachung, sightseeing on the way
Day 4: Sightseeing at Yumthang Valley, drive to Gangtok
Day 5: Drive to Pelling, sightseeing on the way, overnight stay at Pelling
Day 6: Sightseeing at Pelling, drive to Darjeeling, overnight stay at Darjeeling
Day 7: Sightseeing at Darjeeling
Day 8: Departure
Sikkim Travel Tips – Everything You Need To Know For An Amazing Sikkim Tour
Weather In Sikkim
We took our Sikkim trip on budget in April and it was everything we had expected and more. Experiencing the beginning of the summer season in Sikkim was extremely overwhelming. Sun shining in patches with heavy rain in some areas and snow in some, we encountered an experience of a lifetime. In fact, the list of places to visit in Sikkim in April never ends. From Yumthang Valley to Rumtek Monastery, we had an opportunity to witness everything at their best. The temperature usually ranged between 5℃ to 25℃, so advise that one definitely carries heavy jackets and sweaters along!
A Few Amazing Things That We Experienced On Our Sikkim Trip On Budget
Here are some of the experiences that we encountered on our extraordinary trip to Sikkim. These are the experiences and moments that would always remain close to our hearts for sure.
1. Tsomgo Lake: Experienced Our First Snowfall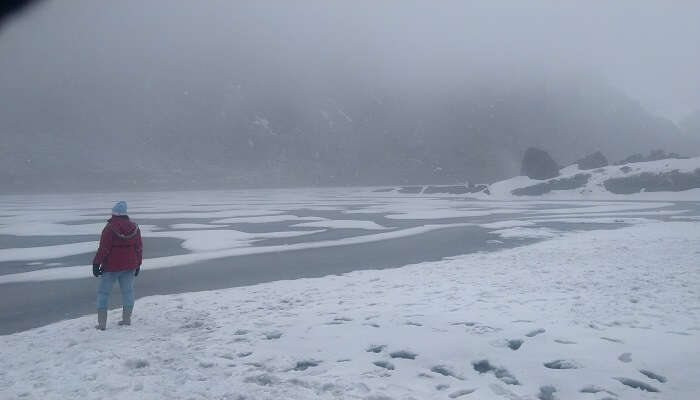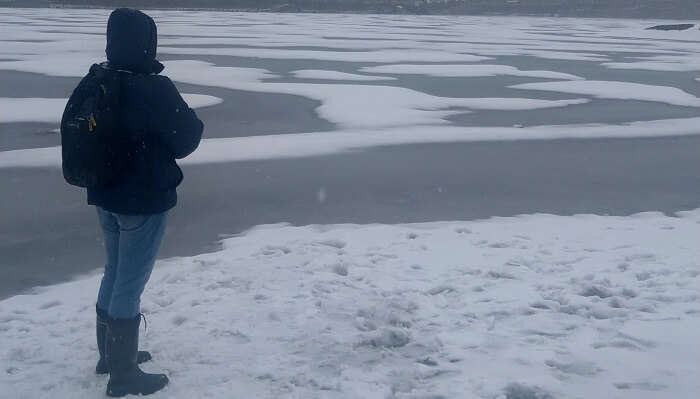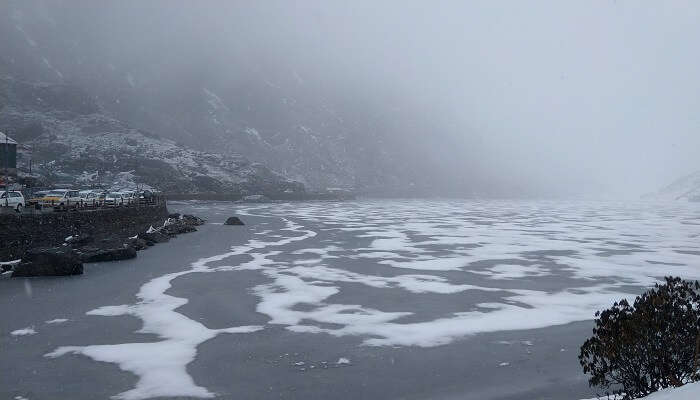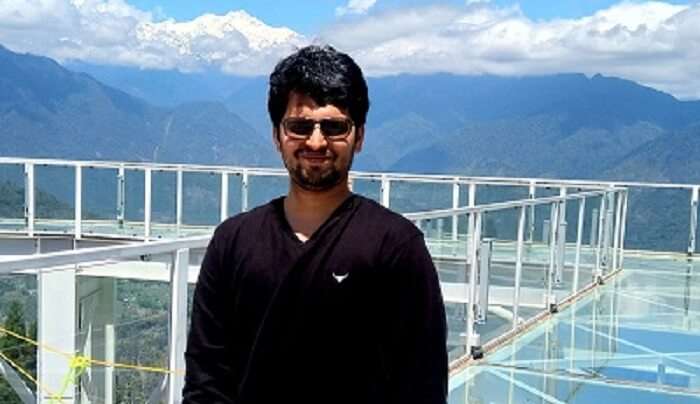 With continuous rain on the day prior to our visit to this glacial lake, all we could do was just pray for dry weather. But once we stepped near the lake, we could see the grounds covered in white and snowflakes pouring down. It was certainly a sight to behold. The picturesque views curated by the wonders of mother nature surrounding the Tsomgo lake took our hearts away in an instant! If you are wondering what to do in Sikkim, experiencing snowfall in such a manner should definitely be on top of the list.
Shopping In Sikkim – Top 5 Places To Shop For Handicrafts & Souvenirs In Sikkim
2. Seven Sister Waterfalls: Soaked In The Refreshing Aura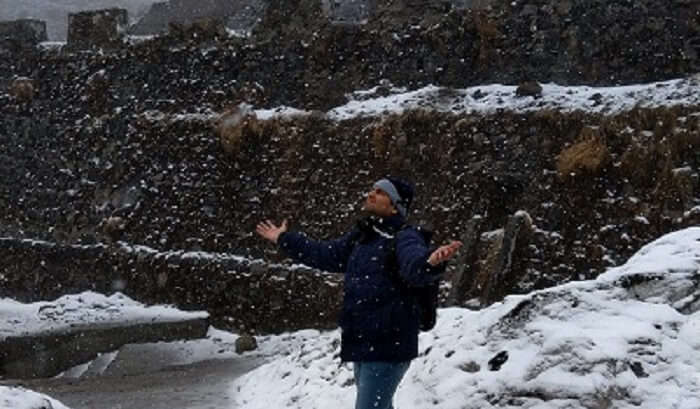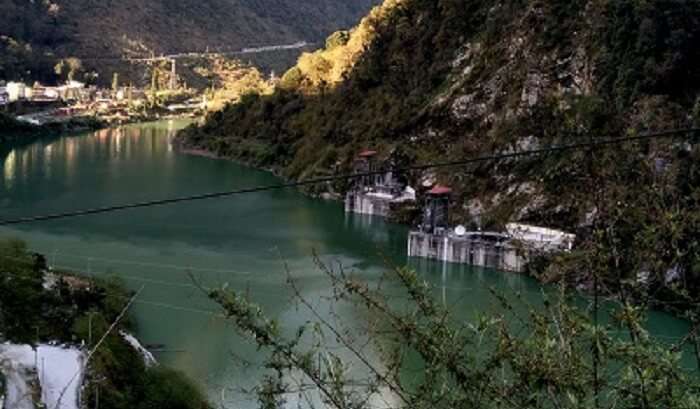 Our drive to Lachung from Gangtok left both of us in awe. The lush greens surrounding the roads, mesmerizing views from the viewpoint, and magical waterfalls made our journey to Lachung extremely relaxing. The beauty of the mountains covered with trees was certainly overwhelming. We took stops at a lot of waterfalls that helped us release our fatigue like nothing else and refreshed our minds.
3. Buddhist Monastery: Embraced The Essence Of Peacefulness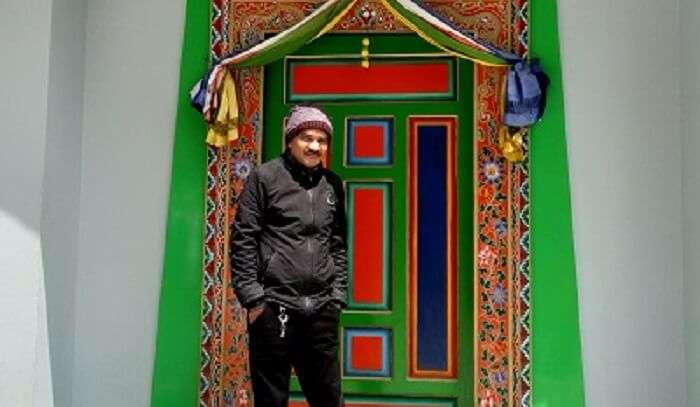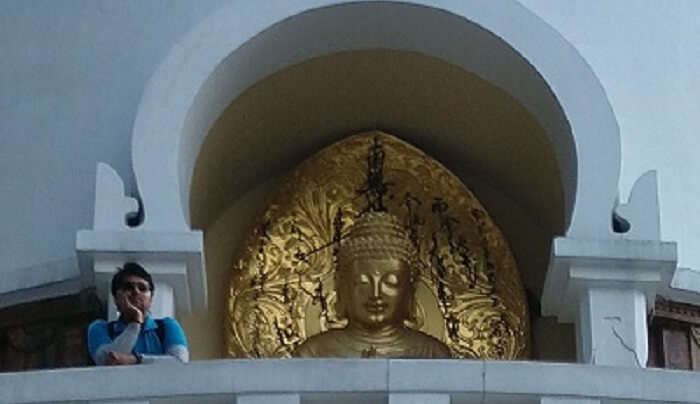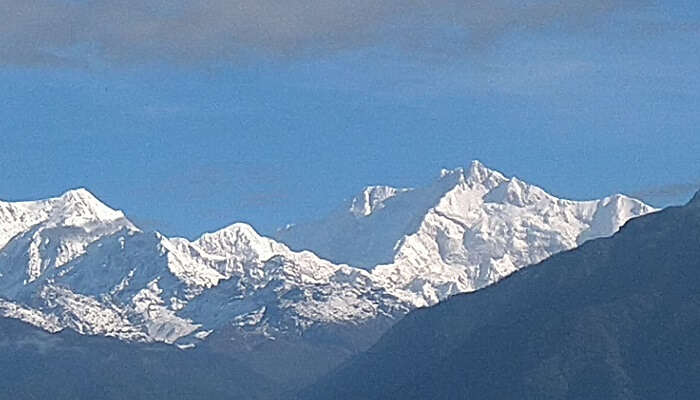 Getting hands-on experience with other religions and cultures has always been one of our favorite things to do. Visiting the Buddhist Monastery in Pelling was one such experience. The peacefulness and tranquility surrounding that location can not be compared to any other aura. To add to the experience, the vibrant colors of the structure was surely a feast for our eyes. This was one of our favorite activities to do in Sikkim.
4. Ropeway: Witnessed Darjeeling From Up High In The Sky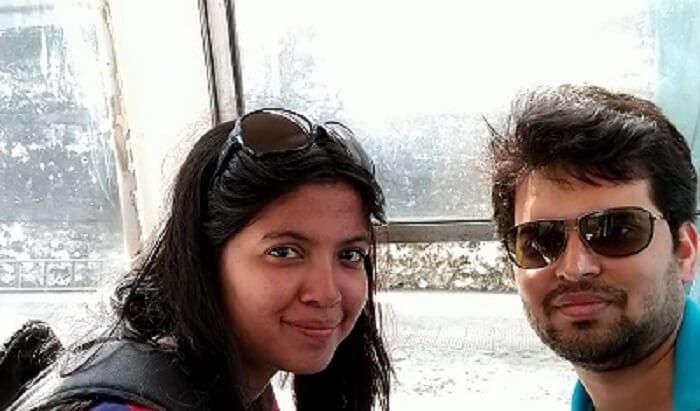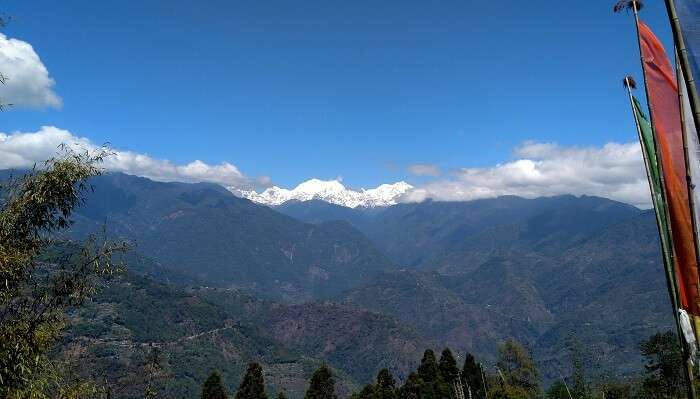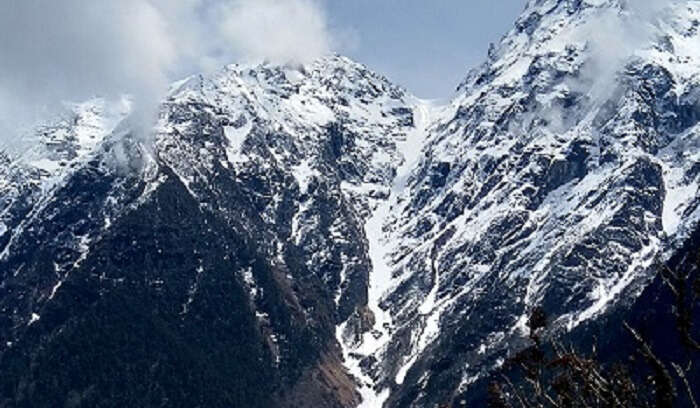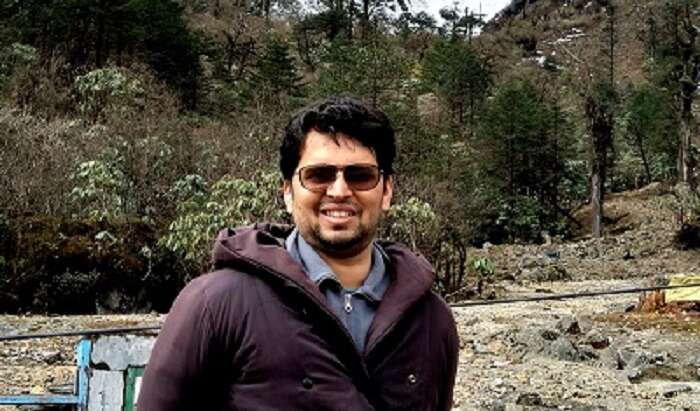 When someone asks us about how to spend 7 days in Sikkim, we have just one answer- do not rush it. Adding Darjeeling with Sikkim when traveling to the Northeast is worth spending every dime. Paying a visit to ropeway is one experience that should surely be on the list of things to do in Darjeeling. Witnessing the snow-clad mountains, miniatures of the town and the expansive patches of greenery at a glance simply took our breaths away.
5. Toy Train: Hugged The Inner Child In Us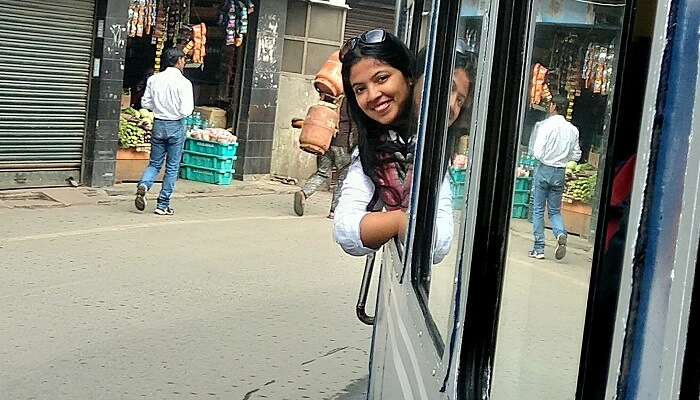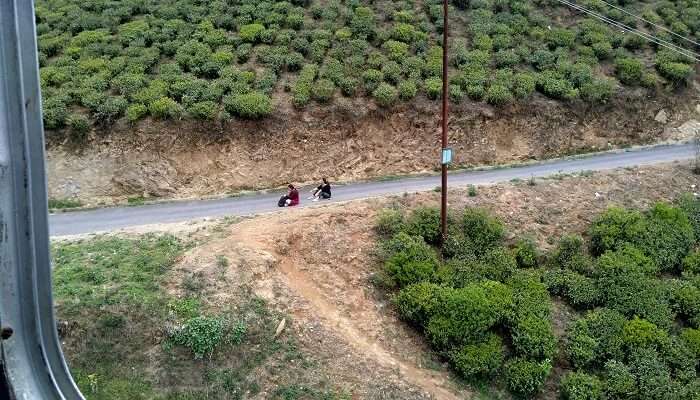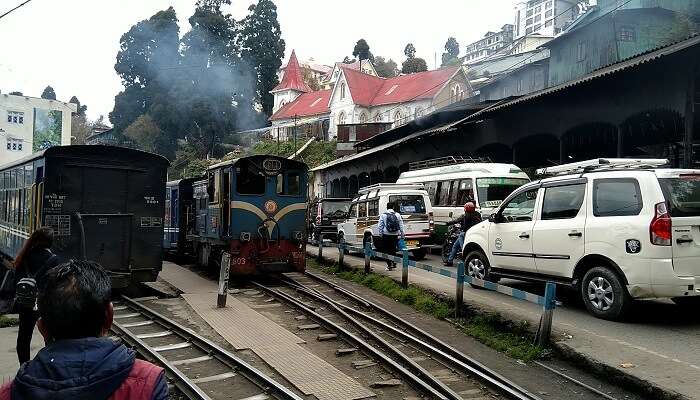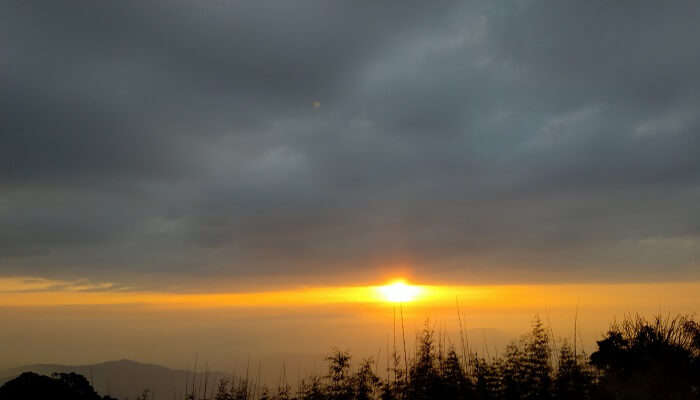 Both I and my wife jumped with excitement when we got the tickets for our ride on the toy train in Darjeeling. Sitting in the train with magnificent landscapes passing by, fresh and pleasant breeze brushing through our hair and the essence of calmness suddenly surrounding us, we could not help but be grateful for the blessings of mother nature.
Budget Trips To Sikkim: A Comprehensive Guide To ExploreThe Best Places
Our Hotels In Sikkim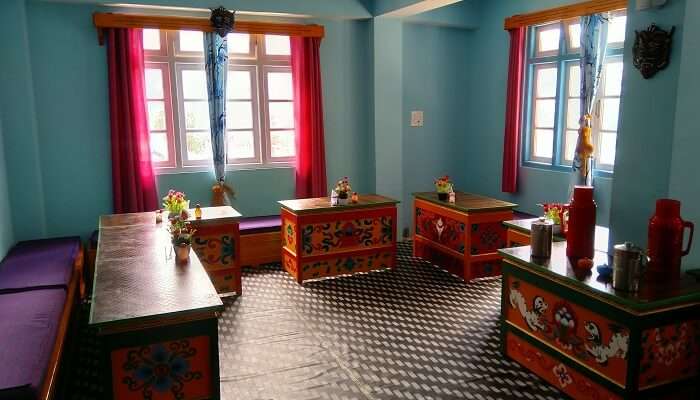 The accommodations that we were assigned were all extremely comfortable and felt home-like. The hotels that we stayed in had ample facilities and services that made everything more convenient and stable. Many of these hotels were very cool places to stay in Sikkim that made our experience even better. There were four different hotels that we resided in on our Sikkim trip on budget.
The places to stay in west Sikkim took our breath away. Sumit Newa Regency in Pelling was surrounded by lush greens and waking up to the beautiful views of the mountains made us want to stay there forever. There were amazing places to stay in North Sikkim as well. Residing in Mandala Retreat in Lachung was everything we had hoped for and more. Udaan Woodberry Hotel And Spa in Gangtok and Zambala Retreat in Darjeeling were no less as well. In all four hotels, the managers and staff welcomed us with warm hearts and friendly faces. Moreover, the food served in the restaurants of these hotels was to die for!
Shopping In Sikkim
There were many places where one can shop their hearts out when in Sikkim and that too at the rates that won't burn a hole in the pockets, but we shopped till our feet hurt in Darjeeling. Being home to an extensive number of fascinating markets, Darjeeling is every shopper's paradise. The winter clothing available on sale in this destination is a must-buy. There is an impeccable variety of shawls, sweaters, jackets, and other apparel that will make one escape the cold winds of the Northeast.
A Trip To Sikkim In April For 5 Days That Gave Us A Well-Deserved And The Much Needed Break
Travel Tips
Take a look at these pointers that one should make a note of when going on a Sikkim trip on budget.
Make sure you add all the famous attractions and landmarks in your itinerary in order to avoid missing out on important attractions.
Make sure you have first aid kit readily available as the cold temperatures can hamper with your health.
If you are planning to visit Ropeway, it is advised you plan your schedule according to the timings of the ride.
Taking a ride on the toy train should definitely be a part of your plan.
Important documents that are required to travel around in Sikkim only includes your Aadhaar card and driving license. You can leave your original passport back at home.
Spend a minimum of 7 days in Sikkim to cover all the major spots. Do not try and rush it as you might miss out on significant things.
Our Experience With TravelTriangle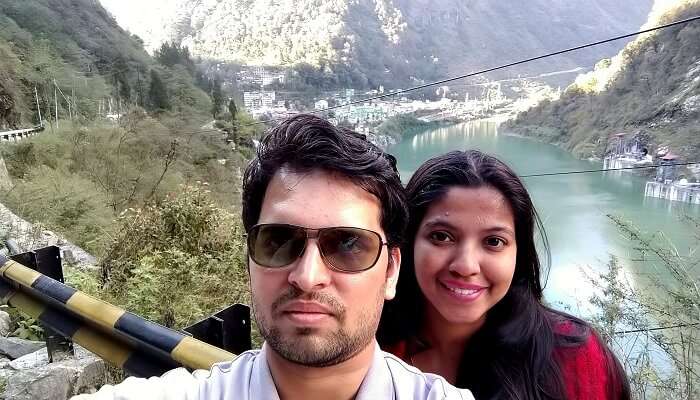 Our experience with TravelTriangle was extremely wonderful. From the bookings and planning the itinerary to roaming around the town, everything was hassle-free and went butter smooth. The local agent assigned to us was also extremely helpful. He helped us track down my bag that I had misplaced immediately after he got a call from us. Moreover, we wanted a long getaway but on a minimal budget. It seemed impossible at first, but TravelTriangle took care of everything. We had a wonderful time in Sikkim well under our budget.
Common Queries You May Have About Sikkim
Q1. What is Sikkim famous for?
A. Sikkim is a destination that has been blessed by mother nature. The surrounding vibes of peace and tranquility are enough to make one feel de-stressed and rejuvenated. Sikkim is also a famous destination for pilgrims by virtue of numerous places of worship covering its floors.
Q2. Which part of Sikkim is most beautiful?
A. The most beautiful part of Sikkim is the Yumthang Valley.
Q3. When can we see snow in Nathula Pass?
A. The two months when one can experience snow in Nathula Pass are November and March. The route is mostly open during these two months and one can enjoy the snow-covered land to the fullest.
Q4. What is the famous dress of Sikkim?
A.The traditional attire worn by the ethnic Sikkimese men is Bakhu with a pair of loose trousers and a leather belt. Whereas ethnic Sikkimese women belt this outfit over a full-sleeved silk blouse that is known as honju.
: Sikkim In August 2022: Find Out What It Has To Offer During This Time Of The Year
Sikkim, a destination that is not like any other hides experiences that one should witness at least once in their lifetime. Fierce mountains, stunning lush greenery, pleasant weather, and the magical waterfalls are bound to make any traveler fall in love with itself at first sight. Sikkim is blessed with mother nature and helps every traveler rejuvenate on their escapades. Plan your Sikkim trip on budget now and soak in the alluring beauty of mother nature now!