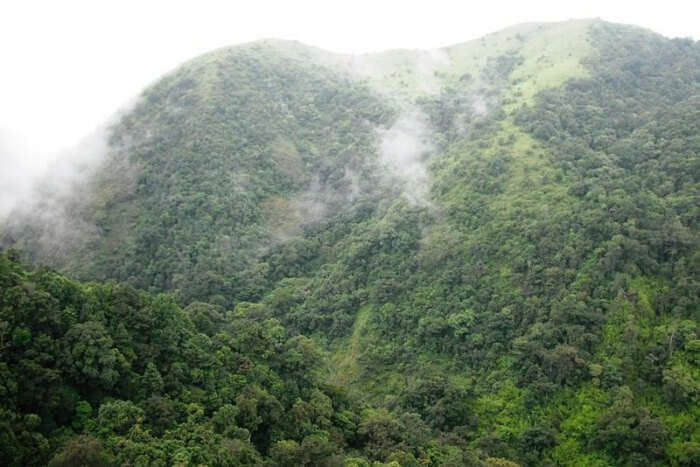 Home to animals as rare as the Nilgiri Tahr and Lion Tailed Macaques as well as the greenest of evergreen forests ever, the Silent Valley National Park in Kerala is among the most favourite biodiversity hubs for nature lovers and wildlife fanatics. Once inside the forest area via the main entrance of Sairandhri, you'll be exposed to unbeatably dense and wild jungles where the most endemic of fauna lurk untamed and the most dauntless of adventures await.
Need a respite from the clutter and chaos of your city? Head to this last undisturbed forest tract of the Western Ghats that continues to wear the crown of nature's wildest spaces down south.
Silent Valley National Park Basic Information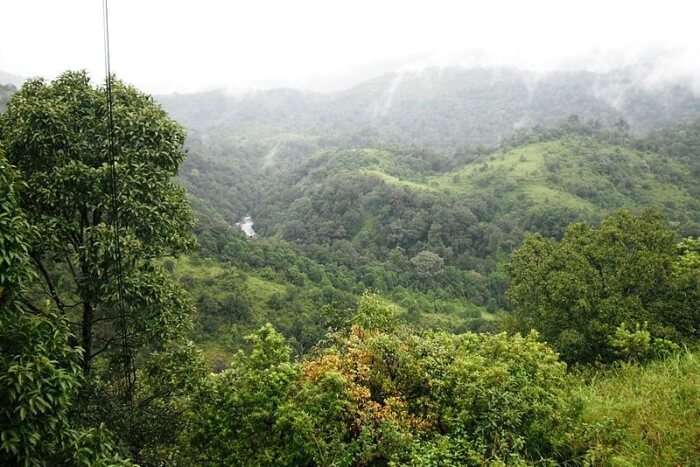 Image Source
Area: 236.7 km sq
Location: Wildlife Warden, Silent Valley Division, Mannarkkad, Palakkad, Kerala 678582
Elevation: 900 m to 2,383 m above sea level
Latitude: 11.0671° N | Longitude: 76.4216° E
Geography: Rectangular in shape; High altitude plateaus of Nilgiris; High continuous ridges like Sispara Peak at 2,206 m above sea level; Slopes and plains with irregular ridges; Blackish and slightly acidic soils; Evergreen forests; Granite rocks; Kunthipuzha River
Silent Valley TripAdvisor Reviews
Best Time To Visit Silent Valley National Park
Though Silent Valley is a year-round destination, one should visit between December and April for the most comfortable weather conditions and high chances of wildlife sightings. The average temperature in Silent Valley remains around 21°C (69.8 °F)
One must take note that Silent Valley National Park Palakkad Kerala India changes with the season. What you experience here in the Summers will differ monumentally from what you encounter in the luxuriously picturesque Monsoons. So, one must make sure to prepare and pack in accordance with the seasonal transformation of this place.
Must Read: This Couple Took A Munnar Trip From Bangalore To Celebrate A Birthday
Summers in Silent Valley National Park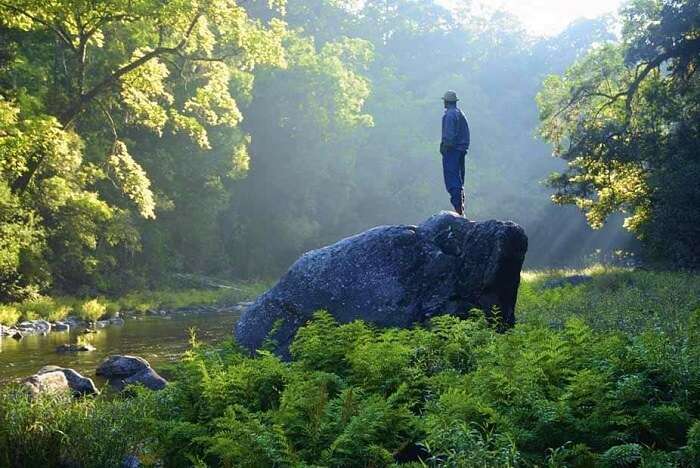 Suggested Read: 16 Photogenic Valleys In India That Every Traveler Must Visit
The onset of Summers in Silent Valley is from April and it stays till May. The park is usually dry and warm during this time, with scorching heat in the afternoon. Lots of animals can be seen out around in the open, usually near water sources where they herd up to drink water. Summer season is an ideal time to visit the Silent Valley National Park to spot animals with their offsprings out in the open, along with various rare birds of the region. And just like a ny other region in Tamil Nadu, this place too receives infrequent showers every now and then in the otherwise dry and warm climate of the region.
Average Temperature: 39°C (102.2°F)
Tip: Don't forget to carry sunscreen to avoid a harsh tan.
Winters in Silent Valley National Park
January and February are the winter months in the park which is marked by mist covered peaks of the high hills, thick grasses and bushes, wet and muddy trails, and a cool and dry climate throughout, making this park one of best places to visit in winter in India. It's easy to spot large animals like elephants during this time, while the smaller ones demand patience! If sighting wildlife or going on adventurous safaris is not your cup of tea, you can simply enjoy a lazy evening at your resort in the forest around a cosy bonfire.
Average Temperature: 20°C (68 °F)
Monsoons in Silent Valley National Park
The climate of Silent Valley is predominated by heavy rainfall owing to the southwest monsoon winds. Monsoons in this region usually starts in June and stays till December, especially in the high altitude regions of the park. The average rainfall it receives is somewhere between 2,800 mm to 3,400 mm every year. The showers make the trails slushy and difficult to tread or drive on.
Animal sighting too becomes extremely limited as the fauna at this time prefers to stay in their habitats where it's drier and warmer! But Monsoon in Silent Valley isn't all that bad. It brings with itself a pleasant climate, green foliage all around, and fresh surroundings, making it an ideal place to visit for nature lovers and trekkers who love challenges.
Average Temperature: 25°C (75°F)
How To Reach Silent Valley National Park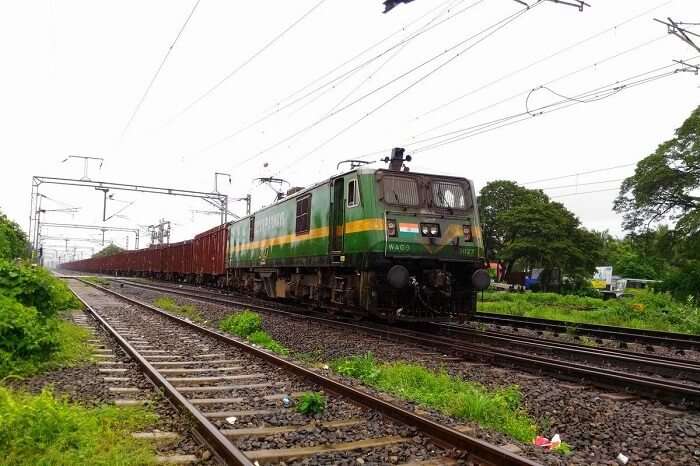 Suggested Read: 20 Tranquil Hill Stations In Kerala For A Refreshing Summer
By Air: The nearest airport to Silent Valley Park is the Coimbatore International Airport located 117 km away. The airport is well connected to major metropolitans of India and overseas and receives regular air traffic from destinations like Delhi, Chennai, Pune, Bangkok, and Singapore. Upon arrival at the airport, one can hail a cab or taxi to the park, or board one of the many buses that ply on the desired route for a rather economical journey.
By Rail: The nearest railway station to Silent Valley is the Palakkad Junction Railway Station located at a distance of mere 45 km from the park. The station too is connected to major Indian cities like Delhi, Jaipur, Chennai, and Mumbai through recurrent trains. Once at the station, one can take a cab or bus the same way as from the airport.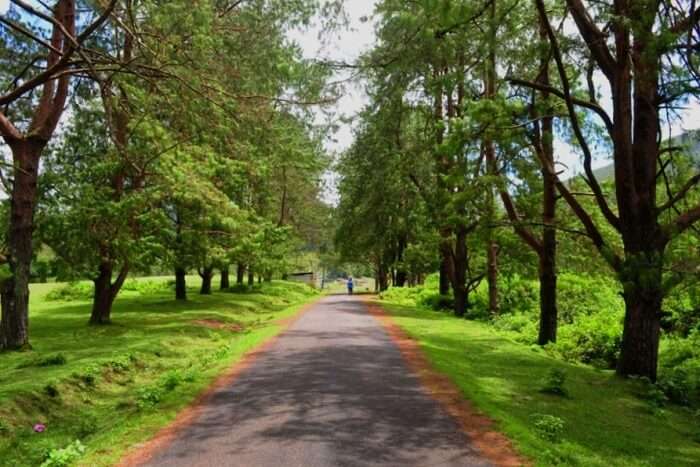 By Road: The Silent Valley Park is well connected to nearby cities via a well maintained road network. For those coming from nearby cities like Bangalore, Chennai, and Coimbatore, a road trip to the park can be an enthralling advent in either of the modes of transport – bus, cab, or one's personal vehicle. Affordable outstation cabs are readily available from these nearby cities that are willing to take you to Silent Valley National Park as and when required.
If not cabs, one can opt to travel by buses, a far more economical options than cabs. There are various private buses as well as those run by the Karnataka State Road Transport Corporation (KSRTC) plying on this route. The KSRTC regularly runs bus services to Palakkad in Kerala from major states like Karnataka, Goa, Maharashtra, Tamil Nadu, Andhra Pradesh, Telangana, and Puducherry.
Unable to decide where to start you journey? Let us help you out with the distance and travel time analysis between Silent Valley Park and many of its nearby cities so that you can decide your route accordingly.
Distance from Mannarkkad to Silent Valley National Park: 11.7 km
Travel time: 32 minutes
Distance from Coimbatore to Silent Valley National Park: 100 km
Travel time: 3 hours
Distance from Ooty to Silent Valley National Park: 160 km
Travel time: 4 hours 45 minutes
Distance from Mysore to Silent Valley National Park: 218 km
Travel time: 5 hours 30 minutes
Distance from Chennai to Silent Valley National Park: 616 km
Travel time: 11 hours
Distance from Bangalore to Silent Valley National Park: 460 km
Travel time: 8 hours 30 minutes
Silent Valley National Park Timings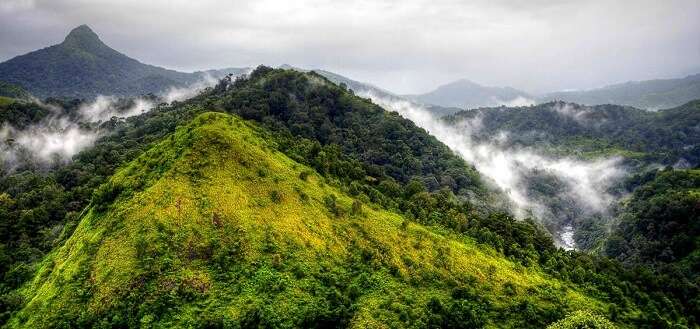 Suggested Read: 20 Offbeat Honeymoon Destinations In India
The Silent Valley forest opens at around 6:45 AM in the morning and remains open for tourists till around 2:45 PM in the afternoon. The park is open for tourists on all days except Friday.
Silent Valley National Park Safari Timings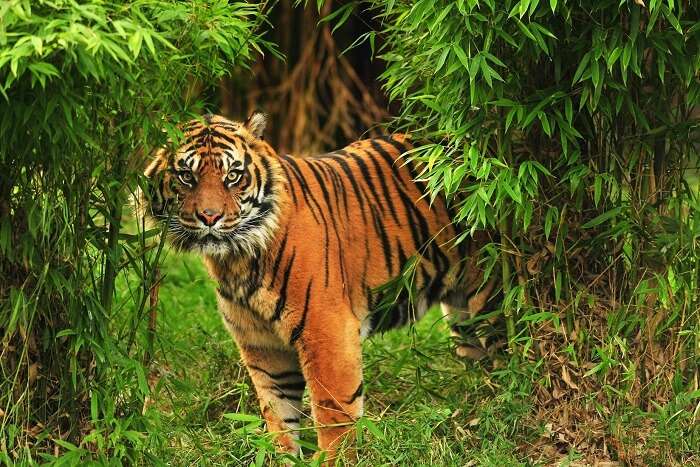 The park is open for all venturing inside for a safari ride from 8 AM to 5 PM (the vehicles have to return latest by 5 PM). One can venture inside the park area in different time slots as per their convenience and keeping the park timings in mind.
Silent Valley National Park Entry Fee

Image Source
As compared to other national parks and wildlife sanctuaries in Kerala, one needs to pay a nominal fee of INR 50/- per person as entry charges at the Silent Valley Park.
Vehicle/Jeep For 5 Persons: INR 1,600/- per person
Guide Charges: INR 150/-
Still Camera: INR 25/-
Video Camera: INR 200/-
Ideal Duration Of A Trip To Silent Valley National Park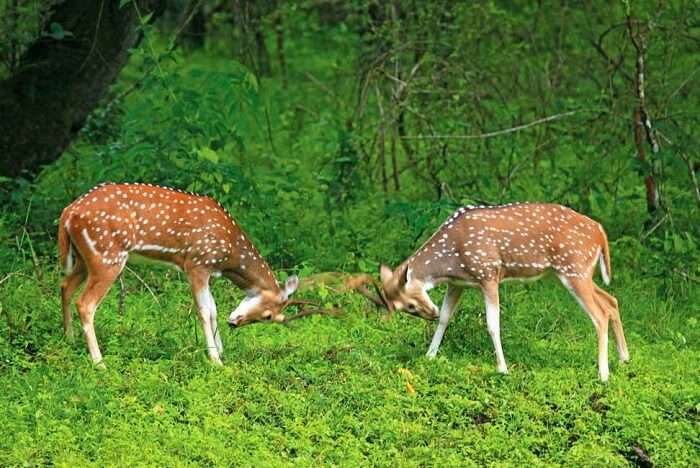 Image Source
A duration of 1 night and 2 days is sufficient for a trip to Silent Valley, within which, one can explore the entire park in a duration of about 5 hours. The Silent Valley National Park Kerala tourism is growing with every passing year. This indulges indulging in all major activities like wildlife safari, animal and bird sighting, and visiting the major attractions inside the sanctuary. The Silent Valley Kerala Palakkad entry time is between 8 AM to 2 PM.
Nature fanatics and wildlife photographers can obtain special permissions from the forest authorities if they require to embark on a specially guided tour inside the protected regions of the forest for a closer experience with the wide range of flora and fauna in the park.
Flora And Fauna Of Silent Valley National Park
The park is home to a wide range of plants, animals, and bird species. One can spot about 50 to 80% of these inside the park during a visit to this forest in the ideal season. Hence, Silent Valley is famous for a lot of things.
Flora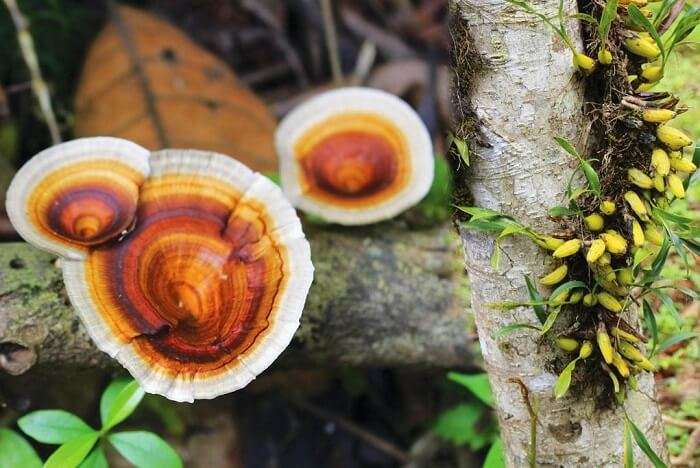 Suggested Read: The Ultimate Guide to Top Tourist Places in Kerala
The park is dominated by Evergreen forests. Other than these, plants like Orchids, Ferns, Liverworts, Lichens, Algae, Grasses, Legumes, Rubiaceae, Asters, Cardamom, Black Pepper, Beans, Rice, and 110 plant species of importance in Ayurvedic medicine grow abundantly in the Silent Valley Kerala.
Fauna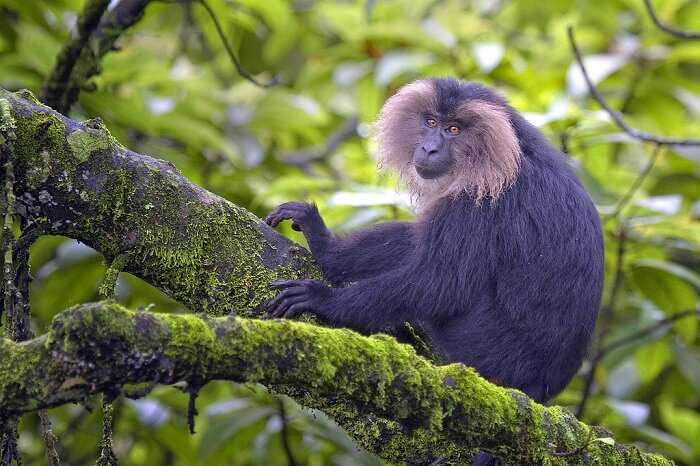 Image Source
The list of Silent Valley National Park animals includes the Lion-tailed Macaque, Nilgiri Langur, Malabar Giant Squirrel, Nilgiri Tahr, Peshwa's Bat, Hairy-winged Bat, Hanuman Langur, Tiger, Panther, Leopard Cat, Jungle Cat, Fishing Cat, Common Palm Civet, Small Indian Civet, Brown Palm Civet, Ruddy Mongoose, Stripe-necked Mongoose, Dhole, Clawless Otter, Sloth Bear, Small Travancore Flying Squirrel, Indian Pangolin, Porcupine, Wild Boar, Sambar, Spotted Deer, Barking Deer, Mouse Deer, Elephant, Bush Frog, and Gaur.
Avifauna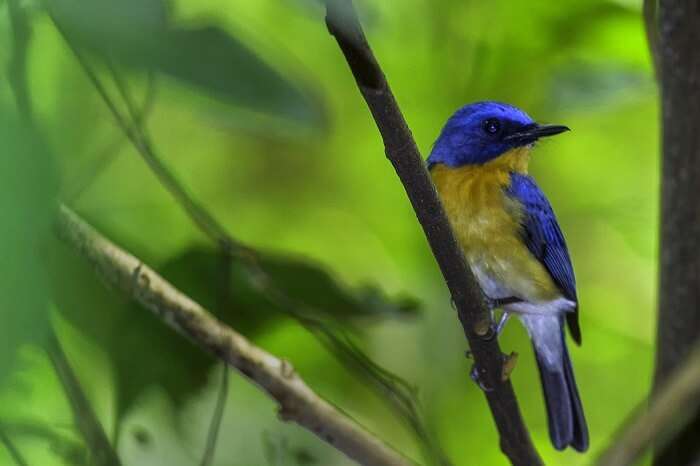 Image Source
Nilgiri Wood Pigeon, Malabar Parakeet, Malabar Grey Hornbill, White-bellied Treepie, Grey-headed Bulbul, Broad-tailed Grassbird, Rufous Babbler, Wynaad Laughing Thrush, Nilgiri Laughing Thrush, Nilgiri Blue Robin, Black-and-rufous Flycatcher, Nilgiri Flycatcher, White-bellied Blue-flycatcher, Crimson-backed Sunbird, Nilgiri Pipit, Ceylon Frogmouth, Great Indian Hornbill, Long-legged Buzzard, Red Winged Crested Cuckoo, Malabar Pied Hornbill, Pale Harrier, Black-and-orange Flycatcher, Black Bulbul.
Things To Do At Silent Valley National Park
There are myriad activities one can delight themselves with inside Silent Valley Park. We've listed down the most prominent ones to help you plan your trip!
1. Set out on a Wildlife Safari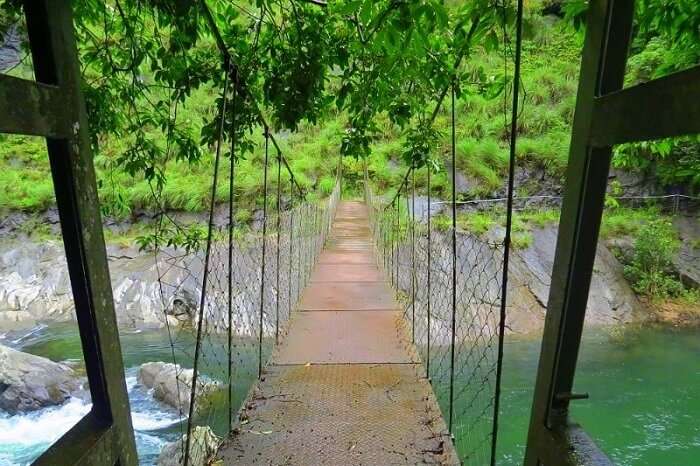 Suggested Read: 41 Tourist Places Near Coimbatore That Flaunt Vibrant Colors Of The Ghats
There's nothing better than a wildlife safari to witness the various animals and birds inside the park for that adrenaline rush like none other. But in order to catch these wild inhabitants of the jungle you need to be at the right place at the right time, which is why Silent Valley has made available to visitors expert guides who can accompany you inside the park, tell you about the various aspects of the sanctuary, and take you the places where you're most likely to spot animals and birds. Since Silent Valley National Park allows you to embark on a safari ride in your own vehicle, there are certains rules and guidelines it has set down for the safety and protection of the guests and well the flora and fauna of the forest.
Certain parts of the core area are accessible only on permission from the forest authorities. One is not allowed to venture into these areas otherwise.
Once in the safari vehicle, you are not allowed to get off until the next designated stop arrives.
All vehicles must return to the exit point latest by 5 PM. No safari vehicle is allowed to go or stay inside the park after this time.
Silent Valley closes down for visitors in the summer months between March and May and no tourists are allowed inside the park during this time.
2. Gaze at panoramic views from the Watchtower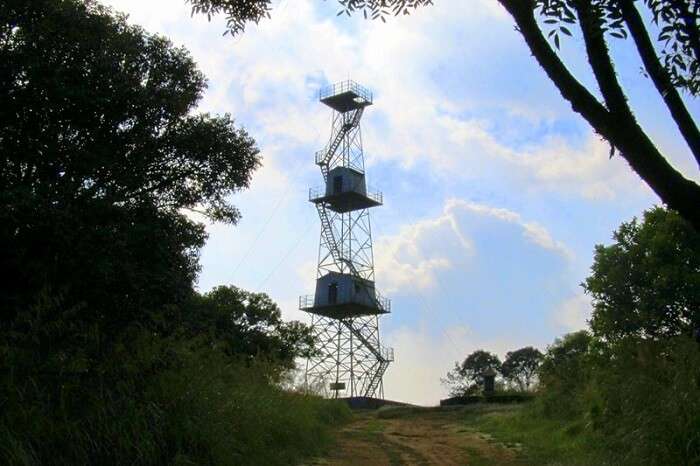 Image Source
The main stopover during your safari ride, the short watchtower gives splendid views of the entire Silent Valley National Park. The dense forest canopy of the park is sprawled out before you like a thick, dark green carpet. The stunning panoramas of the lush surroundings are sure to get engraved in your memory forever, along with the chirping of birds and a sweet breeze dampened by mist and fog, making this one of the best Silent Valley places to visit. From up here, it gets much easier to spot birds nesting in the nearby trees and listen to the melodious calls of birds like the Malabar Whistling Thrush, Racket Tailed Drongo, Rufous Treepie, Peacocks, and many Bee Eaters that are common to this route.
3. Trek to Kunthi River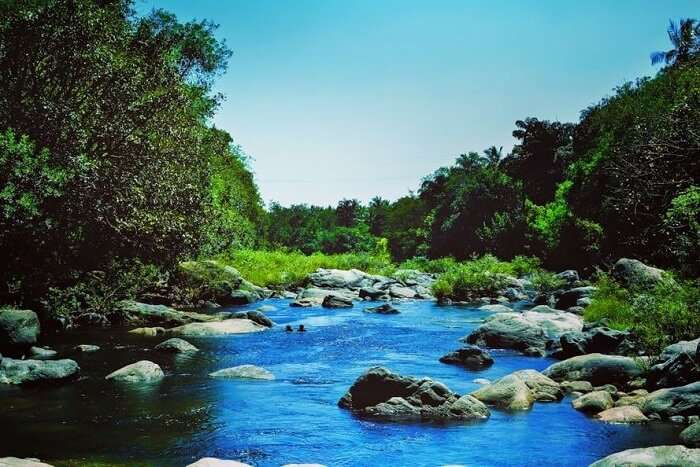 Image Source
Ever wondered the Silent Valley national park is situated on which river? Kunti it is. After a visit to the watchtower, the third segment of your safari tour will be the trek from this point to the Kunti river. A short walk through the lush evergreen forest, this trail leads to a small, pristine river where you'll find anchored boats tied to the banks. Enveloped by the densest of forests interspersed with cane, Silent Valley trekking beckons you into this biodiversity hotspot and is nothing short of a carpet of dry leaf litter like in the Autumn season.
Silent Valley National Park Accommodation
Though few in numbers, Palakkad has great hotels and resorts that are located close to the park.
1. Planters Retreat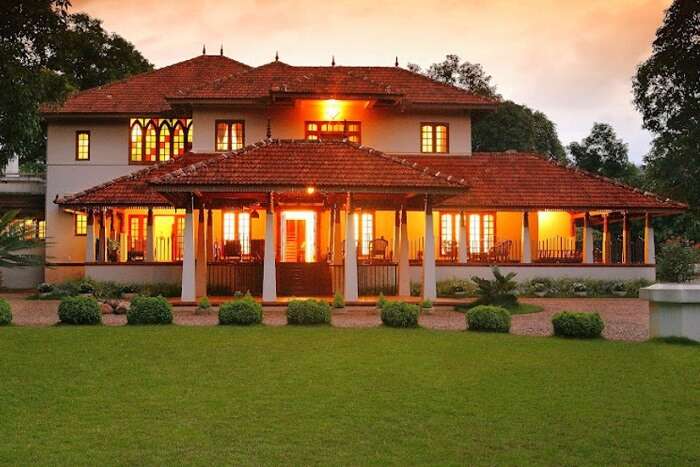 Image Source
Set amidst lush tropical plantations of cocoa, rubber, and spices in Palakkad, the Planters Retreat is a treasure trove for nature lovers, adventure seekers, and for those looking for a peaceful getaway in the lap of nature. This luxurious retreat is one of the best hotels near Silent Valley forest and is set in an exclusive locale to make it easily accessible by road and rail from major cities like Kochi, Calicut, and Coimbatore.
Location: Kizhakkekara House, Kanjirapuzha P.O., Palakkad 678591
Prices starting from: INR 7,276/- per night
Google Rating: 4/5 | TripAdvisor Rating: 4.5/5
Website | TripAdvisor Reviews
2. Silent Valley Resort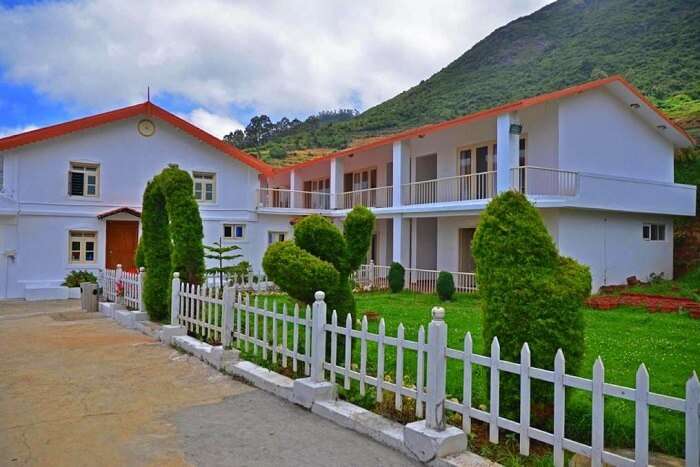 Suggested Read: 20 Most Amazing Places To Visit In Kerala In December
Located 5 km from the centre of Ooty, the Silent Valley Resort is a pristine accommodation option sprawling over 40 acres. A mere 15 minute drive away from the town of Ooty through lush green farmlands, this hideaway in the Nilgiris offers you the solitude you desire. Surrounded by shoals on one side and tea gardens on the other, this resort overlooking the valley is your best option when visiting the Silent Valley Park. Indulge yourself in homely food under the glass house dining lounge, utmost luxury, beautiful furnishings, and utter comfort at one of the best Silent Valley National Park resorts.
Location: 2/343 Ada Solai Road, Ada Solai, Ooty 643007
Prices starting from: INR 2,208/- per night
Google Rating: 4.3/5 | TripAdvisor Rating: 4/5
Website | TripAdvisor Reviews
3. Tree Top Resort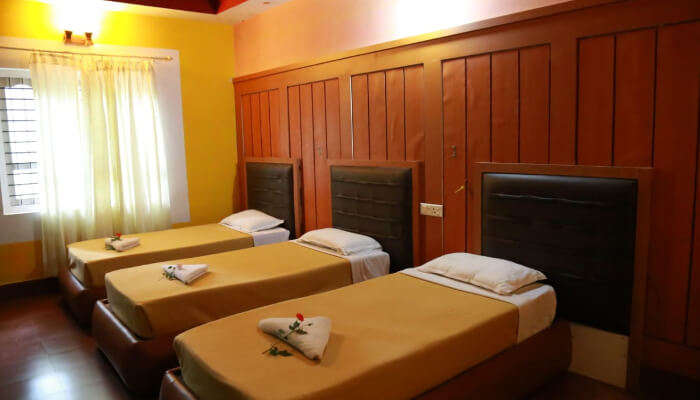 This resort is surrounded by lush green forests. This relaxed resort is just 4km from the rare plants and animals that reside in a national park. Moreover, it is 77km from Coimbatore International Airport. Tree Top Resort provides accommodations that range from cottages to airy treehouse. All the rooms are equipped with flat-screen TVs and an additional sitting area. Some rooms also consist of terraces and balconies with a garden view. The additional amenities such as kids' play area, swimming pool and others make this resort popular among the tourists. With so many amenities offered, there is no doubt that it is one of the best resorts in Palakkad.
Exclusive features:
State-of-the-art conference hall
Restaurant
Swimming pool
Kids play area
Indoor & outdoor games
Laundry service
Tribal massage
Address – Treetop resort Mukkali, Silent valley road, Palakkad, (DT), Kerala – 678582
Prices – INR 9,500 approx. per person
Website
Traveller Reviews Of Silent Valley National Park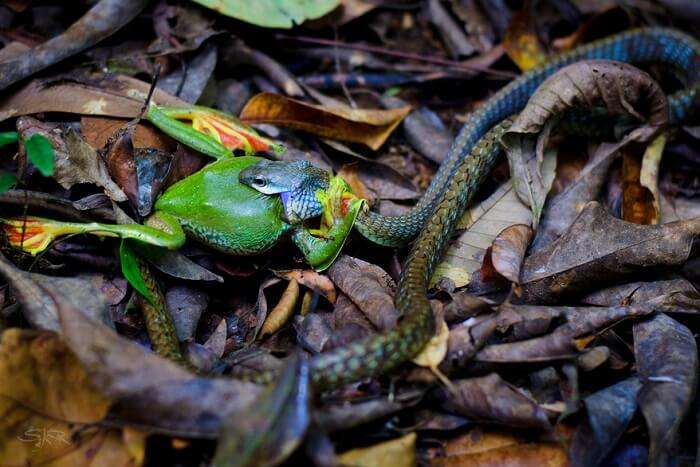 Image Source
No information about Silent Valley is complete without a mention of what it's past visitors felt about their experience here. Which is why, we've put down experiences of some
1. Shihab says: "It's an entry to another world! In this modern busy era it's a really good place to refresh the mind and soul. Had heard and read a lot about this place, but now got lucky to be here. Everyone who loves nature must visit this place!"
2. Shankar says: "An out of the world experience! A five hour excursion where one gets away from the noise, dust, and disturbances of our everyday lives. Our group of 5 were given a Jeep with Lajju as our forest guide. 3 hours of driving up and down a narrow forest path, bumpy most of the way and still craving for more – that is the journey from the SVNP office at Mannarkad to the Sairandhri watchtower. We saw a Giant Malabar Squirrel and the Lion Tailed Macaques on a humid Monday. While one group of adult Macaques were aloof and seemed to be camera shy, a second group of young kids were more playful, jumping around and coming close to where we could see and photograph them. These apart, thick green tree cover, colorful butterflies and flowers and rain fed streams made us ignore the bumpy ride. Though I didn't climb the 100 feet watchtower, my wife and kids told me that the view of the forest and the Kunti river from up there were great. I opted out of the two hour, 3 km trek to the Kunti river but my family said that it was great, especially when it started raining very heavily. All praises to the forest guard! The Jeep driver, the Kerala forest officials at the top, and the people at the reception were absolutely helpful and friendly. Would definitely love to go back!"
3. Alex says: "The Silent Valley National Park is a unique and precious piece of geography in India. We were fortunate to see a rich variety of trees, plants and animals, that included, the Lion Tailed Macaques (sometimes fierce, and sometimes sleepy), large slithering snakes, a dozen Malabar Giant Squirrels, a variety of beautiful birds, particularly a darter that flew 'pilot' ahead of our Jeep, as if desirous of leading us safely through the densest of forests; Large mushrooms, lizards, butterflies, moths, eagles, woodpeckers – other multi-hued birds added to the spectacular experience. What makes Silent Valley unique? From the beginning of time this 90 square km area of tropical evergreen forest was never populated nor trod upon by man. Now, it offers sights of pristine natural beauty to the present generation."
Further Read: Mudumalai National Park: Every Adventurer's Heaven In The Nilgiris
What's the delay for? Book your trip to Kerala at once and lose yourself in the charm of the Silent Valley National Park nestled amid the lush Nilgiris. And if you think we missed something out in this Silent Valley tourism guide, tell us in the comments below.
Disclaimer: TravelTriangle claims no credit for images featured on our blog site unless otherwise noted. All visual content is copyrighted to its respectful owners. We try to link back to original sources whenever possible. If you own the rights to any of the images, and do not wish them to appear on TravelTriangle, please contact us and they will be promptly removed. We believe in providing proper attribution to the original author, artist or photographer.
Please Note: Any information published by TravelTriangle in any form of content is not intended to be a substitute for any kind of medical advice, and one must not take any action before consulting a professional medical expert of their own choice.
Frequently Asked Questions About Silent Valley National Park
What's unique about the Silent Valley National Park?
The park holds many unique aspects that draw travelers to it and help promote Silent Valley tourism.
1. Core of the Nilgiri Biosphere Reserve, Silent Valley is closed on all sides owing to its high and continuous ridges and steep escarpments. The valley is thus shielded from climate extremities as well as anthropogenic interventions, because of which it is something of an ecological island with it's own micro climate.
2. Silent Valley is home to the largest population of lion-tailed macaques in the world. In fact, one of the main purposes behind creating this park was to protect these endangered species of primate monkeys.
3. Other than these primates, one shall also find a wide range of rare birds and more than 100 species of butterflies.
4. The sylvan environment of this region owing to the unique preserve of tropical rain forests cannot be find in any other national park across India. The Silent Valley bioreserve has an almost unbroken ecological history.
Do the hotels and resorts in Palakkad provide safari tours inside Silent Valley Park?
Most of the hotels, resorts, inns, and guest houses near Silent Valley provide guided safari tours inside the park, usually at discounted rates. One can simply request the hotel management to book a safari tour for them and enjoy a hassle-free safari ride in Silent Valley.
---
Looking To Book A Holiday Package?
Book memorable holidays on TravelTriangle with 650+ verified travel agents for 65+ domestic and international destinations.
---
People Also Read
Gir National Park Periyar National Park Jim Corbett National Park
Comments
comments