Dubai with its ambitious and construction projects have transformed itself so much that it tops almost every travelers' bucket list. If you are a travel enthusiast, you definitely cannot miss out on visiting this desert beauty. Not only the magnificent architecture, but Dubai has a lot more to offer, especially if you are an adventure traveler you can go for skydiving in Dubai. All the skydiving locations in Dubai is operated by Skydive Dubai, an organization that holds multiple Guinness World Records.
Now if you are wondering, is skydiving in Dubai Safe? Then let me tell you, Skydive Dubai has an excellent reputation when it comes to the safety of the individuals. You will interact with professional experts and you'll be in absolutely safe hands of experienced skydivers.
So if you are all in for a thrilling adventure of a lifetime, here in this elaborative guide we will discuss in detail about skydiving in Dubai and other important things one must know before heading to this marvelous city!
Types Of Skydiving In Dubai
There are basically two types of Skydiving that you can take part in while in Dubai. Outdoor skydiving or indoor skydiving, you can go for any of these as per your preference. We will discuss a little bit in detail about these forms of skydiving and offer you with some valuable insight, so that you can make your choice accordingly.
1. Outdoor Skydiving

If you want the real deal, like the ones you so often see in television and Instagram videos then you should go for Outdoor skydiving. In outdoor skydiving you are taken in a flight up to quite a height and then you jump with all the security measures properly secured in place. Most of the first timers and newbies choose to go for tandem skydiving, where you are fastened tightly to a professional instructor and in case you have a skydiving license you can definitely go for a solo jump.
The Dubai skydiving takes place in two locations where you are taken to a flight of around 13,000 ft. from ground level and you are strapped securely to an expert instructor and then you take the leap of a lifetime over the desert land. The entire dive experience is recorded by a professional videographer who will accompany you on your dive, while you spread your wings and pretend to fly!
Must Read: Aquaventure Waterpark: Slides, Rides, Sharks, Sting Rays And More In Dubai
2. Indoor Skydiving

Indoor skydiving is a comparatively new concept but this too, has gained popularity all around the world. Indoor skydiving includes a vertical tunnel where free fall conditions are recreated with the help of various simulations.This form of skydiving is perfect for individuals who are trying out the skydiving experience for the first time, without any potential risk involved.
Compared to outdoor skydiving, indoor skydiving costs a lot less and in a short time, you can experience the simulation of an actual skydive. Even children above the age of 2 years can go for an indoor skydiving experience.You can choose indoor skydiving in Dubai to get the simulated experience of an actual skydive or give your young ones the experience of a lifetime with indoor skydiving in Dubai.
Suggested Read: Ajman Shopping Guide: 7 Famous Places To Splurge And Shop At This UAE Capital!
Skydiving Locations In Dubai
Skydiving in Dubai takes place in two exotic locations, Desert Campus drop zone and Palm drop zone, both managed by Skydive Dubai, one of the leading companies for skydiving.
1. Desert Campus Zone

This location is situated at the outskirts of Dubai and it hosts both experienced skydivers and
first timers. The desert is absolutely stunning and when you take the dive, you will meet with breathtaking views of the sand dunes, the wide desert that leads up to the stunning Dubai skyline. You will mesmerized by the breathtaking views and this thrilling adventure will forever be stamped in your mind.
Not only skydiving, the desert drop zone also boasts of one of the largest outdoor skydiving
school in the entire world where you can take courses to become a professional skydiver.
Price: AED 1699
Address: Al Ain Road – Dubai
Suggested Read: Dubai Marina: The One Stop Destination For Breathtaking Panorama And Unparalleled Luxury
2. Palm Drop Zone

It is a premium skydiving location in Dubai. The jump takes place above the magnificent Palm Jamaica and you get some stunning views of the Palm Islands and the Dubai skyline along with bird's eye view of prominent locations like Ain Dubai, Atlantis hotel, Burj Al Arab and the Dubai Marina.
Skydiving is quite an expensive sport, costing a few thousand dollars for a single jump but skydiving cost in in Dubai for the entire skydiving experience in Palm Drop is around 2199 AED. The skydiving price in Dubai is equivalent to 45,000 rupees in Indian currency. There are also many skydiving offers in Dubai going throughout the peak seasons.
Address: Al Seyahi St – Dubai
Price: AED 2199
Suggested Read: All You Need To Know Before You Visit Bollywood Parks Dubai
3. iFly Dubai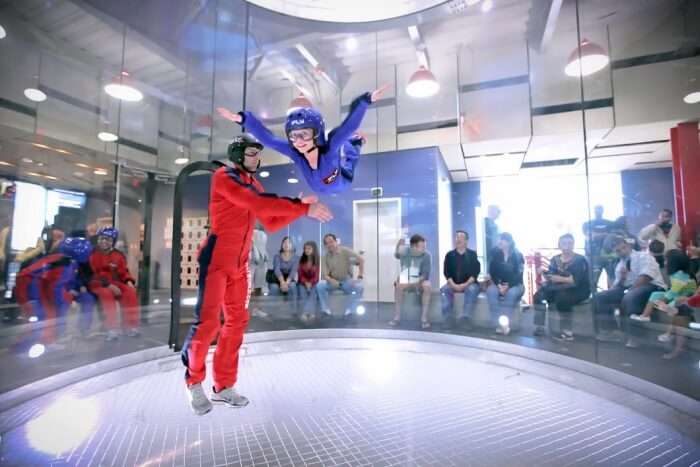 If you wanna go for indoor skydiving, iFly Dubai is your spot. The double vertical wind tunnel at iFly takes you to a whole new level of simulated, gravity defying skydiving experience.
The tunnels are 10 meter long surrounded by acrylic glass. Your security is totally ensured with high degree safety measures. The experienced instructors are there to guide you while you take flight in this controlled environment and enjoy to your fullest.
Address: Third Floor, Play Nation Area, City Centre Mirdif, Ghoroob, Sheikh Mohammed Bin Zayed Road
Price: AED 220 for 2 mins
Suggested Read: Dubai New Year: The Guide For A Celebration You Will Never Forget!
4. InFlight Dubai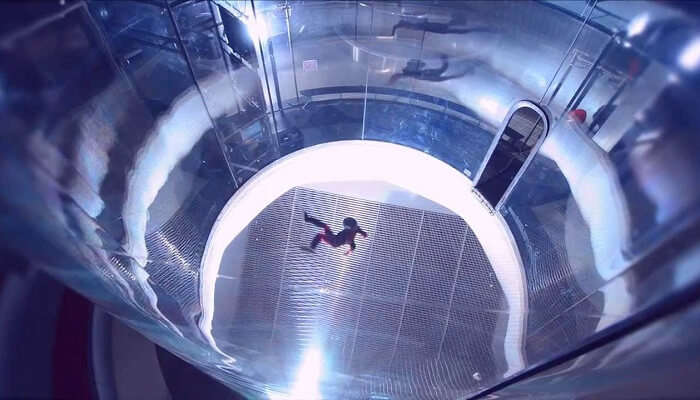 Another place to experience indoor skydiving in Dubai is the InFlight Dubai. It's tunnel is sized at a diameter of 16.5 which is one of the largest in the world. Situated at one of the prime spots close to the desert zone of Skydive Dubai, this is one of the best locations for skydiving. The visitors can indulge into a an adventurous combination of outdoor and indoor skydiving.
Address: E 66, Skydive Dubai Desert Campus
Prices: AED 262 for (2 mins), AED 497 for (4 mins),  AED 706 for (6 mins), AED 889 for (8 mins), AED 1,048 for (10 mins)
Rules For Indoor And Outdoor Skydiving In Dubai
Outdoor Skydiving In Dubai 
The ideal age of the diver should be at least 18 years old.
No one should be under the influence of alcohol and drugs
One should be in a reasonable state of health.
BMI Requirements: 
Male – Weight: 100.0 kg or less. BMI – maximum of 30.0
Female – Weight: 90.0 kg or less. BMI – maximum of 27.5
Indoor Skydiving In Dubai
The indoor skydive age limit in Dubai is 12 years old.
Weight Barrier should be under 180 cm: 105 kg max. Over 180 cm: 115 kg max.
Height And Speed Of The Fall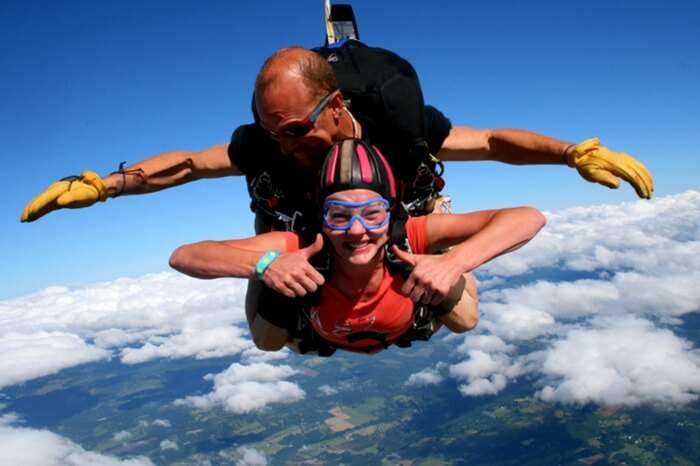 The Tandem jumps for skydiving in Dubai are usually done at height of 13,000 feet (which is approximately 4000 meters). This is one of the fastest ways to enjoy a real life adventurous experience while you descend at a speed of 120 miles an hour. In the Tandem skydive, the diver is attached to the trainer  and it happens to be the easiest and safest way to experience skydiving.
Things To Remember About Dubai Skydive
You need to be at least 18 years of age.
You need to carry your passport, driver's license, valid photo ID card as well as Emirates ID.
The BMI along with your clothing and shoes should be 27.5 or less and weight 90 kg or less for women and BMI 30 or less and body weight 100 kgs or less for Men.
Some Pro Tips For First Time Skydivers

If you are a newbie, when it comes to skydiving then take a look at these tips for first time skydivers. These tips will help you enjoy your experience to the fullest and prepare you for what is about to come.
You need to be well nourished before you go for a dive. A dive in an empty stomach is definitely not a fun experience to remember. Get yourself a healthy breakfast before you head out for your first skydiving experience. Also make sure that you don't over eat, the idea is to be energized and nourished for this awesome experience.
A good night's sleep is very necessary. You don't want to start this exciting experience with an exhausted body and a tired mind. So get some nice hours of sleep before the day of the adventure.
Wear comfortable clothes. Ditch your sandals and shirts for another day. Choose athletic wear that is comfortable and suitable for the purpose.
Be patient and prepared to wait. Skydiving depends greatly on the weather and the officials at Skydive Dubai are constantly monitoring the weather. So in case the weather turns a little unfavorable, it might take a little longer than you expect, so be prepared to wait.
Skydiving doesn't require you to be a pro athlete, if you have a seemingly average weight and live a moderately healthy lifestyle, you are good to go.
Finally, just breathe and jump! Enjoy your first diving experience to the optimum.
Further Read: Bastakia In Old Dubai: The Ancient Foundation Of The Dazzling City Of Dizzying Heights
If you are an adventure enthusiast and your adrenaline level kicks of just by thinking about any adventure than skydiving in Dubai is definitely the sport for you. Skydiving makes your heart skip beats and the experience simply gives you the chance to fly like a free bird! So, if the mere thought skydiving excites you, then make sure to start planning your Dubai holiday!
---
Looking To Book An International Holiday?
---