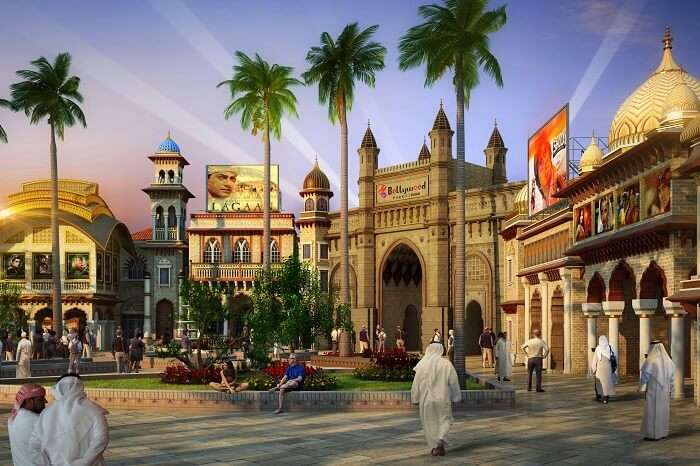 As the world gets ready to bounce back after the pandemic, Dubai is attracting the Globetrotters with its enthralling experiences. Being one of the first few countries that reopened after the coronavirus outspread, Dubai came up with exquisite experiences while keeping the safety of the visitors in mind. If you are a cinephile for Bollywood movies and looking for a filmy escape from the mundane then it is time to visit Bollywood Parks Dubai. The one and only of its kind in the world, it boasts celebrating the legendary film industry of Mumbai. There is everything from romance to comedy, action to adventure, music to dance, Indian food to Indian handicrafts sprawled over the five distinguished zones.
Bite-Sized Info On Bollywood Parks Dubai
The Bollywood parks Dubai opening hours are 1 PM – 9 PM. The 1-day Bollywood parks Dubai ticket price is INR 3526/-. Bollywood parks Dubai can be reached on car via Sheikh Zayed Road or on taxi after reaching Jebel Ali through Red Metro Line. From Dubai International Airport and Al Maktoum International Airport, taxis run on E11.
Must Read: The Lost Chambers Aquarium: Know All About This Exciting Avenue In Dubai
9 Attractions Not Be Missed At Bollywood Park Dubai
Here's what you can expect in this 1.7 million square feet themed Bollywood Parks Dubai. Please ensure that you reach this sites way in advance before they get crowded:
1. Rajmahal Theatre
The opulent Rajmahal Theatre is the heart of Bollywood parks Dubai. It bears the grace of the vintage period of Indian cinema to its exterior and state-of-the-art technology to the interior. With a seating capacity of 856, the theatre looks nothing less than a royal palace, and hence, the live shows look more poised with its backdrop.
Suggested Read: Honeymoon In Abu Dhabi: For A Romantic Rendezvous In The Charming Capital Of UAE
2. Jaan-e-Jigar
As a speciality of the Rajmahal Theatre, the Broadway-style Bollywood musical Jaan-e-Jigar is a pioneering initiative of Middle-East. The live drama, action, romance, dance in the larger-than-life studio gets enriched with high-quality visual effects. In this 30-minute program, you will see the intriguing story of two brothers namely Jaan and Jigar in their battle against evil Marjani for ruling the kingdom.
3. Lagaan
Among the Bollywood Parks Dubai rides, Bhuvan's Wheel, Gauri's Carousel and the simulating roller coaster of The Thrill Of Victory are worth-mentioning. The setup of the laid-back Indian village flanked by rolling terrains and farmlands looks idyllic and will let you have the best view of a moving deuce ball. Kids over 80cm height are allowed on the mini Ferris wheel.
Suggested Read: 10 Best Abu Dhabi Festivals & Events That You Must Attend On Your UAE Trip
4. Dabangg
While buying Bollywood theme park Dubai tickets, make sure to include this 19-minute show performed by ten efficient stunts-men. Here you will enjoy the cheesy one-liners along with Bollywood music. Chulbul Pandey, the police officer's spectacular rescuing of his beloved Rajo along with her friends and an explosive encounter with rogues in a warehouse bring out the truest spice of Bollywood drama.
5. Sholay
The multi-shooter ride in the 3D interactive darkened Rustic Ravine will be full of a thrill as you are handed over the laser guns for shooting down dacoits led by the all-time infamous Gabbar Singh from the legendary movie Sholay. Compete with friends in aiming and hitting mangoes and treat yourself with those mangoes you have hit. Anyone over 90 cm of height is welcome to take part with family.
Suggested Read: 10 Top Things To Do In Sharjah That'll Help You Unravel The Mysteries Of UAE
6. Don
At the Mumbai Chowk in the Bollywood parks Dubai location, you can get on the 3D motion simulator tunnel ride with make-believe Interpol agents to catch the mafia Don running through Dubai streets. Don keeps taunting you with his cunning moves as you precisely drive past the iconic skyscrapers. In this game of adrenaline rush, one wrong move will let Don slip away to carry on his audacious heists.
7. Krrish
This flying theatre can be visited by anyone over 120 cm of height. The ride will take you soaring over the 4D virtual sky above the vibrant Indian landscape while you will be accompanied by Indian superhero Krrish. Sitting on a front row seat, you can not only enjoy the realistic landmarks of India but also engage in the battle against alien invasion to save the Earth.
Suggested Read: 8 Best Things To Do In Ajman That Are Perfect For An Offbeat Vacation In The Heart Of UAE!
8. RA.One
Plan your visit as per Bollywood parks Dubai timings to take the multi-sensory 4D virtual ride, where you are a shareholder of Shekhar Subramaniam's company, now run by his son Prateek. In the unveiling of Game Glove Controller, RA.One emerges with supreme power and the challenge begins with the hero G.One. You are sure to feel like you're part of the action in real life!
9. Zindagi Na Milegi Dobara
The lively and positive vibes of the superhit movie Zindagi Na Milegi Dobara can be relieved for thirty minutes with the behind-the scenes journey of production house. In the live show hosted by a brilliant interpreter, all the members of the family can take part in creating magic while learning about post-production and filmmaking.
Top 5 Zones Of Bollywood Parks Dubai
After learning about the timings of Bollywood Parks Dubai, enjoy exploring the five zones at ease. Make sure to get hard copies of your e-tickets and keep them safe:
1. Bollywood Boulevard: Full of entertainment, shopping stores, street food stalls and cafes, here in UAE you will find heritage buildings of vibrant colours.
2. Mumbai Chowk: From double-decker buses to glamorous portrayals of film-themed surroundings, Mumbai Chowk is the truest interpretation of the city of dreams.
3. Rustic Ravine: Thatched houses, white-washed walls, rocky terrains, limpid water-bodies will show you the raw essence of rural central India.
4. Royal Plaza: Bollywood parks Dubai will take you to the bygone opulence and glamour of Indian cinema.
5. Bollywood Film Studios: Enter the filmmaking world of Bollywood while taking the whirlwind simulating 4D ride.
Further Read: Al Ain Nightlife: 8 Places For Adding A Little Extra Fun To Your Splendid UAE Vacation!
Bollywood Parks is truly a delightful experience for Hindi movie lovers. If you wish to capture the true vibe of Dubai on your future tour then don't forget to add the Bollywood Parks Dubai to your wish-list. Celebrate the glorious legacy of Bollywood cinema in the post COVID times with Traveltriangle on an amazing trip to UAE and get an itinerary optimized exclusively according to your preferences.
---
Frequently Asked Questions About Bollywood Parks Dubai
When is Bollywood Parks Dubai open?
Bollywood Parks Dubai remains open at the following timings: Every Friday: 1:00 PM - 11:00 PM Saturday to Thursday: 1:00 PM - 10:00 PM
Do you need to book Bollywood Parks Dubai tickets in advance?
It is not mandatory to buy tickets in advance. However, the park can be crowded and it is recommended to book e-tickets ahead of time to secure your spot.
What are the best experiences of Bollywood Parks Dubai?
The following are the best experiences that should not be missed out in Bollywood Parks Dubai: 1. Bollywood Film Studios 2. Rustic Ravine 3. Bollywood Boulevard 4. Mumbai Chowk Royal Plaza
Which are the popular hotels near Bollywood Parks Dubai?
The following are the most popular hotels near Bollywood Parks Dubai: 1. Lapita, Dubai Parks and Resorts 2. JA Lake View Hotel 3. Rove at The Park 4. JA Palm Tree Court
What attractions are near Bollywood Parks Dubai?
The following are the most popular attractions near Bollywood Parks Dubai: 1. LEGOLAND Water Park 2. Dubai Parks and Resorts 3. Riverland Dubai 4. The Wonder Maze
---
Looking To Book An International Holiday?
People Also Read
Dhow Cruise In Dubai Indoor Forest In Dubai Theme Parks In Dubai