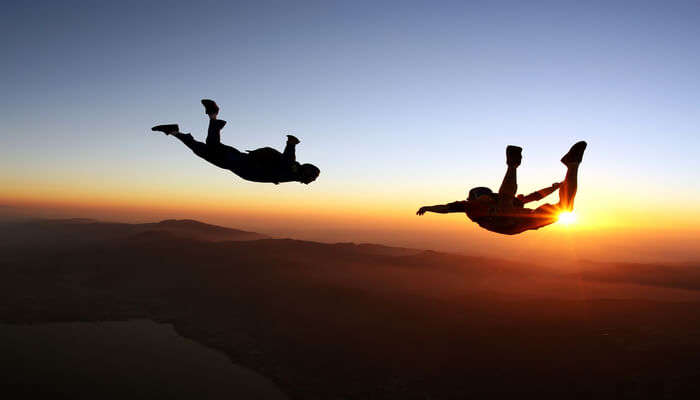 The adventure sport of skydiving is all about parachuting from enormous heights and basking in the endorphin rush of the free fall. The free fall is carried out from 4000m and lasts for about 50 seconds. Falling against the backdrop of stunning mountains and oceans while somersaulting in the sky is an adventure you cannot afford to miss. Croatia is the most sought after destination for skydiving in the world. Croatia is the country of balmy days and sapphire waters.
Skydiving in Croatia is what dreams are made of. Dotted with islands, cascading waterfalls and canyons, Croatia is the hotspot for all adventure sports. The Croatian population is enthusiastic about all adventure sports, and skydiving here is a luxury. Croatia is a small country in Europe, but it's beautiful terrain and adventure sports are the most talked about all over the world. Equipped with the best planes, parachutes and skydiving trainers, Croatia offers world-class service and skydiving experience.
Tandem Skydiving In Croatia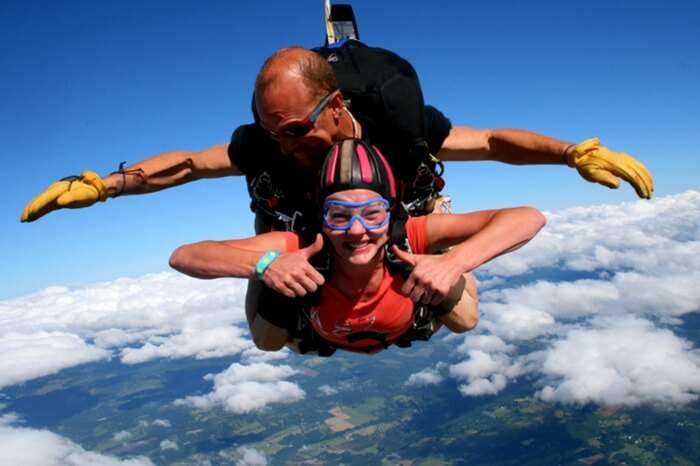 Croatia is known as one of the best skydiving locations in the world. Some of the most thrilling skydiving adventures can be found here. Check out the best skydiving experience – Tandem skydive, which Croatia specializes in and enjoys the endorphin rush that ensues.
Tandem skydiving is an experience where you are attached to your instructor throughout the fall. The instructor guides you from the beginning to the end. A tandem skydive places the entire responsibility of the dive on the instructor, and you do not have to worry about piloting the canopy, freefall, and landing. Fall from about 13000 ft at a speed of 200km/hr in 60 minutes and be delighted with the beautiful sceneries of Croatia.
Tandem skydiving is usually cheaper and is an excellent choice for beginners who want to experience what skydiving is all about. This does not require any prior experience and is thus a prominent choice for solos. Tandem skydiving costs £326 for an hour. You can also get the entire adventure recorded on a high-resolution digicam for a price of £60 and reminisce about the enjoyable experience later.
Best Places For Skydiving In Croatia
The best place to skydive in Croatia is over the mountains and seas of Zagreb, Hvar, and Adriatic split. If you are looking for the answer to where to skydive in Croatia, here's your list if the best places to skydive in Croatia-
1. Zadar
2. Zagreb
3. Hvar
1. Zadar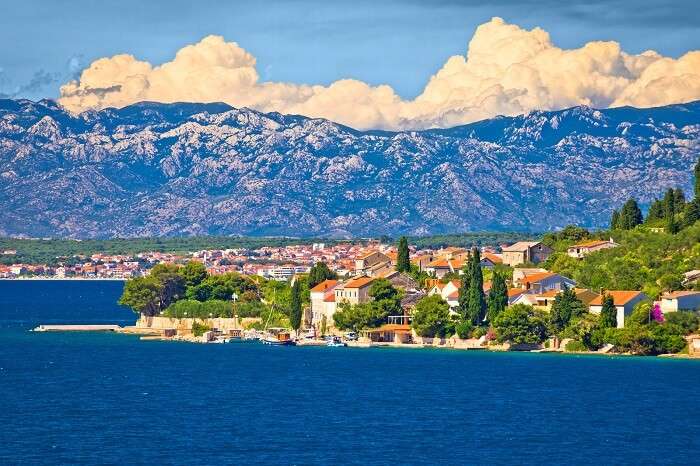 Zadar is one of the most beautiful cities to experience tandem skydiving in Croatia. Located against the backdrop of stunning mountain Velebit and close to the national park Kornati, Zadar is the prime spot for all skydivers. The old town of Zadar has a vintage charm with medieval architecture and ancient world aura. Zadar offers the best skydiving in Croatia.
2. Zagreb

Skydiving in the capital city of Croatia, Zagreb, should be at the top of your bucket list. The panoramic views offered here are breathtaking. Experience the freefall from 35000 AGL at a speed of 230 km/hr. Located near the primary market, Zagreb skydiving zones attract a lot of thrill-seekers every year.
3. Hvar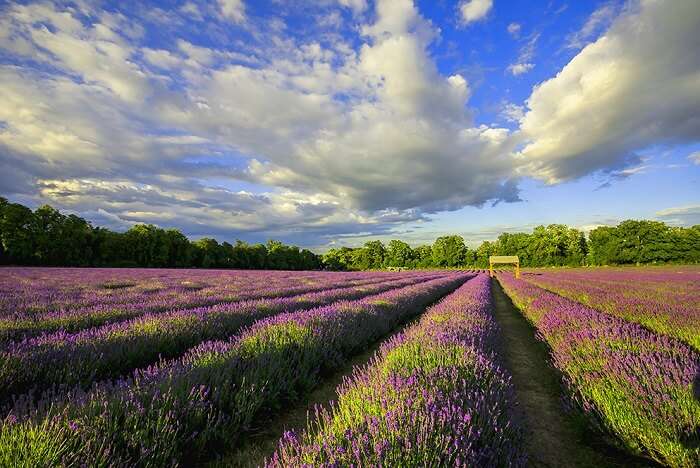 Hvar is the sunniest island in Croatia. Fly at the height of 3000m and experience a freefall over the Hvar like never seen before. Situated in the Adriatic sea, Hvar is a town with famous beaches. Skydivers and tourists swarm this place during summers, and the astounding views here are indescribable.
Must Read: 10 Best Dubrovnik Beaches For Soothing Every Mood On A Croatian Vacation
Best Time For Skydiving In Croatia
The best time to skydive in Croatia is between May to September when the weather is cold and pleasant. The peak time is during July and August when tourists from all around the world rush in to experience skydiving and other adventure sports in Croatia. Croatia is a seasonal destination, and the views of the place are best enjoyed during this time.
Skydiving in a sport that is hugely dependent on the weather, and you are not allowed to jump in case of bad weather. If the weather on your scheduled day is unpleasant, the tour company will postpone the date to when the weather is pleasant, and the airs are suitable for the descent. Strong winds and big clouds usually are an indicator of bad times, and it's always advisable to reschedule.
Suggested Read: Plitvice Lakes In Croatia: An Ultimate Guide That Leads You Straight To Paradise
Tips For Skydiving In Croatia
Prepare yourself mentally for skydiving: Do not think about failing or passing out before you are jumping. It's important not to freak out during the tandem skydive and freefall. Always trust your instructor and yourself to survive the best experience.
Dress appropriately before going for the skydive: Wearing the best clothes during skydiving can enhance your experience like nothing else. Wear comfortable, tightly laced shoes that will not fall off during the dive. Loose-fitting or strapped shoes are always a menace during skydiving. Wear stretchy breathable pants that have room for movement. Wear clothes that do not have any embellishments or designs that will flap around during the dive.
Ensure to take a pre-event meal: Skydiving is a sport that requires you to be active and energetic to enjoy it the best. Always consume a nutritious meal that will provide all the necessary protein and energy needs. Do not skip meals before skydiving as you may experience a low blood sugar level. If you feel squeaky and unable to eat, munch on some nuts and fruits, smoothies, etc. before going for the dive.
Suggested Read: 10 Best Croatia Cottages That Let You Enjoy A Serene Holiday Amidst Nature
How To Reach Croatia
Croatia is a European seaside country that has a mixed terrain of islands, mountains, oceans, and the gorgeous waters of the Adriatic sea. Croatia is a beautiful location for all adventure sports and has some of the best sights Europe has to offer. Here's a list of ways you can reach Croatia.
By Air: Croatia has several International airports like Dubrovnik, Zagreb, Split, and Pula. These airports are well connected to major city airports all across the world.
By road: If you are traveling to Europe, you can drive through the neighboring countries like Hungary, Bosnia, and Serbia by several buses that run daily. You can also fire a car that can drop you to the starting point of skydiving location. Numerous Eurostar buses frequently run from Germany and Bosnia to Croatia.
By Rail: Croatia has a strong network of well-connected railways. You can travel from Germany, Switzerland, Italy, Greece, and Austria easily.
Further Read: 10 Best Croatia Resorts That Offer A Soul-Satisfying Stay Amidst Nature!
The gorgeous national parks, waterfalls, islands, and mountains of Croatia are unforgettable life experiences you will always come back to. The panoramic views here are the best in Europe, and tandem skydiving in Croatia is an excellent choice for beginners. Other than Tandem skydiving, several other adventure activities like ATV, safari tours, and bungee jumping are accessible too! So, Pack your bags today to soar free in the skies of Croatia and fall in love with adventure and thrill sports all over again on your next vacation in Croatia .
Disclaimer: TravelTriangle claims no credit for images featured on our blog site unless otherwise noted. All visual content is copyrighted to its respectful owners. We try to link back to original sources whenever possible. If you own rights to any of the images, and do not wish them to appear on TravelTriangle, please contact us and they will be promptly removed. We believe in providing proper attribution to the original author, artist or photographer.
Frequently Asked Questions About Skydiving In Croatia
What are the age requirements for Skydiving?
The minimum age to perform a skydive is 18 years. You must also sign a mandate that states all the risks and basic safety requirements. Anyone below the age of 18 is not allowed even with parental consent.
At what altitude will the parachute begin opening?
Parachutes in Tandem skydiving usually open at a distance of 1300 m above the ground at about 60 seconds after freefall.
What is the maximum weight allowed for skydiving?
The maximum weight is not defined, but all candidates above 100kg should consult with their doctor and the tour company if they are allowed. Physically fit active individuals are recommended.
What is the cost of skydiving in Croatia?
Skydiving in Croatia will cost anything between £300-£360 based on your location and duration. Additional charges include the camera and video recording charges.
Are the Tandem instructors certified?
All the tandem instructors are well trained and have a tandem license and certificate.
People Also Read: