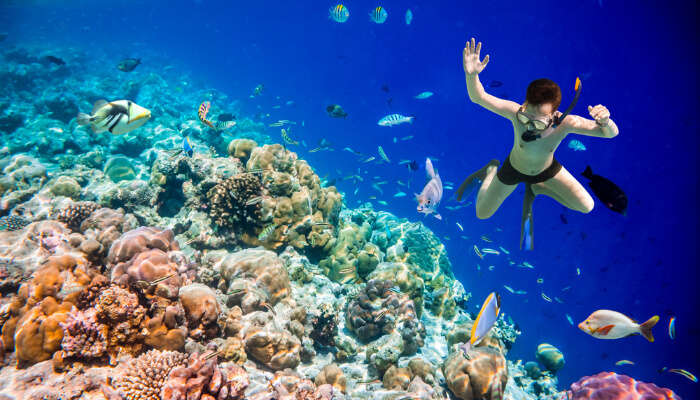 When you visit the Maldives, you simply must experience one of its most popular activities – snorkeling. With about 2500 reefs, it is the ultimate destination for people who love underwater adventures. Of these 2500 or so reefs, nearly 900 are house reefs. Needless to say, there is nothing like snorkeling in Maldives. You can explore crystal clear, blue waters and have an unforgettable time by snorkeling at Maldives and enjoying a myriad of other attractions that it has to offer.
Best Places For Snorkeling In Maldives
Are you looking for the best experience of snorkeling at Maldives? Some of the best places in Maldives where you can indulge in snorkeling include the following. Also indicated alongside are the cost of snorkeling here and the best time.
Banana Reef – Kuda Kalhi
HP Reef – Malé Atoll
Manta Point – Lankanfinolhu Island 
1. Banana Reef – Kuda Kalhi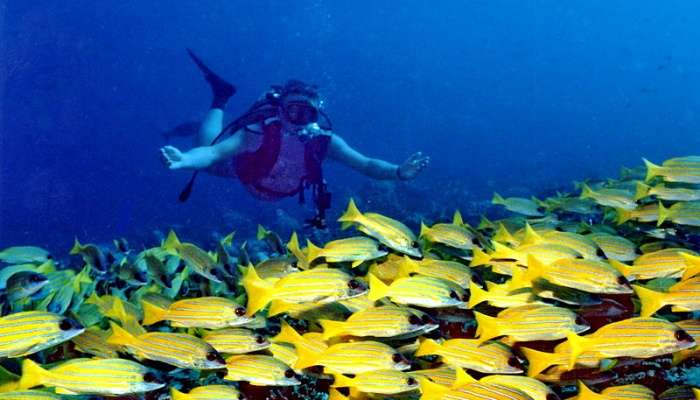 It derives its name from its legit banana shape and is home to the most exquisite species of marine beings. The reef provides a habitat to beautiful fish, corals, and marine life that you will be delighted to swim with. Some of the prominent species you can spot here include the Palette Surgeonfish (Finding Nemo's "Dory"), while other species include bannerfish, rays, black snapper fish, sharks, barracudas, giant squirrelfish, oriental sweetlips, soldierfish, as well as grub fish.
Location: North of Male Atoll inside Kuda Kalhi
Starting price: MVR 1,400 (INR 6,400/-)
Best time to snorkel: Late May to July
Must Read: A Detailed Post-Covid 19 Travel Guide To Maldives: Your One-Stop Solution On How To Break The Monotony
2. HP Reef – Malé Atoll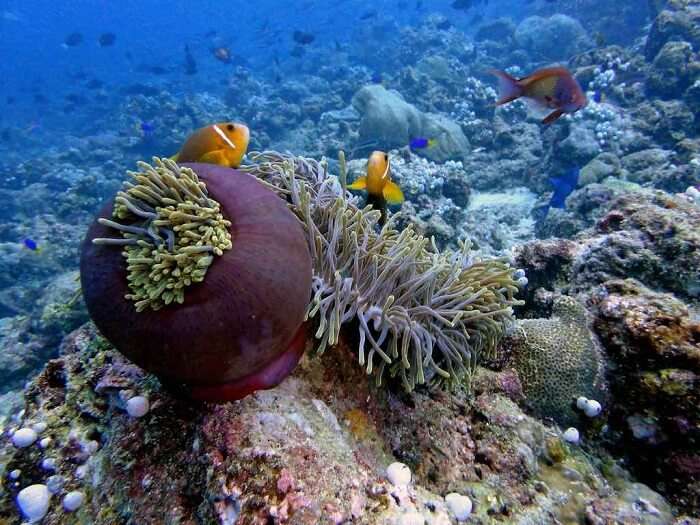 In the local Maldivian language this place is called "Girifushi Thila". The HP Reef is famed for housing the most brilliant and diverse array of small reef fish as well as large pelagic species including grey reef sharks, eagle rays, tuna, and barracudas. In addition to the fish and other underwater creatures, your mind will be blown by the vivid colors of the soft corals here, the one thing that has given this reef its name of the 'Rainbow Reef'.
Location: North Male Atoll
Starting price: MVR 925 (INR 4,270/-)
Best time to snorkel: December to April
Suggested Read: Maldives In February: A Guide To Witness The Beauty Of The Island
3. Manta Point – Lankanfinolhu Island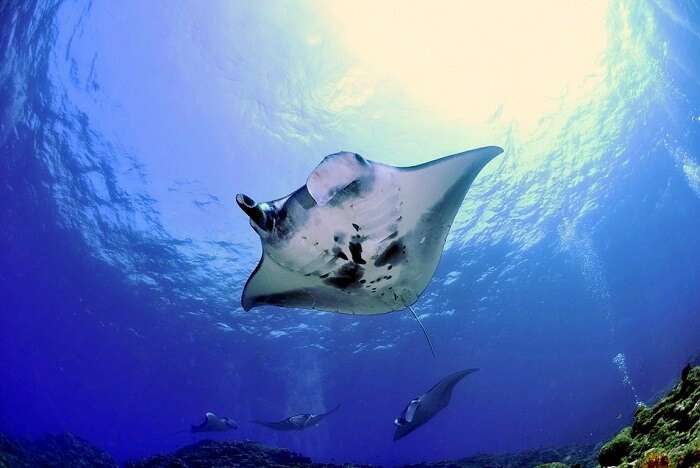 This reef is a must for snorkelers seeking an unusual yet adventurous experience underwater along with an exposure to the innocent and huge Manta Rays! You will need to stay extremely calm if you want to be able to observe these gentle being at a close range. If you're lucky, you may even have a ray swim up to you to say "Hello"! The reef also goes by the name of Emas Thila and is about a kilometre in length where mantas gather. Other species you can spot here include masked bannerfish, squirrel fish, spangled emperor fish, napoleons, and sharks.
Location: Off the coast of Baros Island
Starting price: MVR 1,230 (INR 5,600/-)
Best time to snorkel: May to November
Suggested Read: Maldives Vs Thailand: Which Is A Better Honeymoon Destination?
Best Islands For Snorkeling In Maldives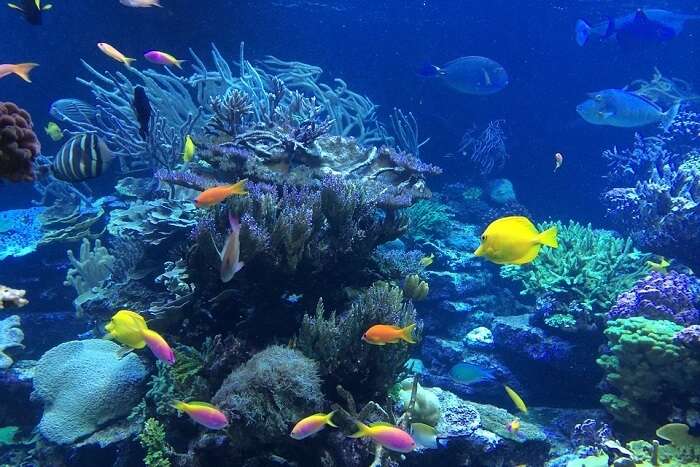 Image Source
Maldives has many beautiful islands for visitors to explore and enjoy. Each has its own charm and offers a vast array of fun and exciting things to see and do. It is difficult to name one island for the best Maldives snorkeling experience as there are more than just a few. You will find a number of small private islands with enchanting luxury resorts that offer more than just comfortable accommodation. This activity gives you chance to witness the best islands in Maldives.
Some of the best Maldives resorts for snorkeling include Banyan Tree Vabbinfaru (North Male Atoll), Constance Moofushi (South Ari Atoll), W Maldives (North Ari Atoll), and Dhevanafushi Maldives Luxury Resort (Gaafu Alifu Atoll), just to name a few. There are a few places for snorkeling in maldives for beginners too where they can experience the joy of being underwater.
Suggested Read: 20 Best Maldives Beach Resorts That Are A Perfect Blend Of Luxury & Elegance
---
Maldives Holiday Packages On TravelTriangle
---
Places To Stay In Maldives For Snorkeling
Snorkeling in maldives for nonswimmers is a no biggie. Apparently, you don't have to be a good swimmer to enjoy snorkeling. If you want to know where is the best place for snorkeling in Maldives is, then you are in luck because there is not one but too many options for a thrilling underwater experience.
1. Baros Maldives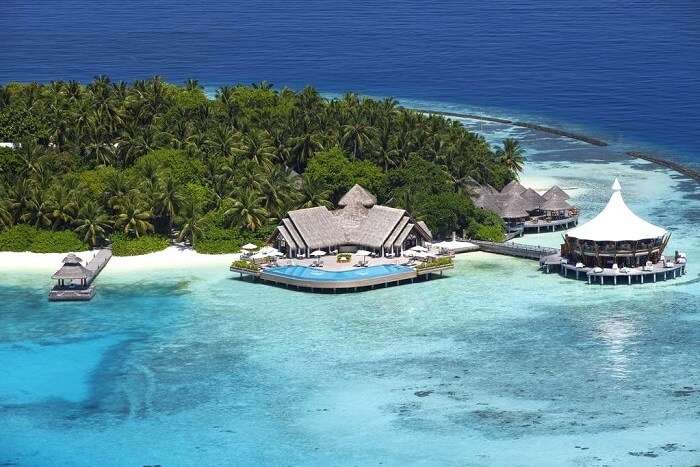 Image Source
Baros Maldives is a five-star resort in Male' Atoll with 75 villas. It is a small island – just 230 meters in diameter – but do not be fooled by its size. It is one of the most fabulous destinations for the best snorkeling in Maldives. What makes this luxury resort a superb choice for snorkeling is its gigantic house reef, which extends to 4 kilometers in total length. There are other isolated reefs that are very close to Baros aside from the house reef. This makes Baros Maldives a rich habitat for marine life. The biodiversity here is more or less unmatched, allowing you to see unbelievable marine life once you go underwater.
Accessing the house reef is easy from the island or its water villas. The western part of the island has a deep blue area in the lagoon, which is the perfect place to get an up-close and personal look at manta rays. If you want to experience snorkeling in one of the most gorgeous islands in Maldives, you should definitely choose Baros Maldives.
Address: PO Box 2015, Malé 20-02, Republic of Maldives
Tariff Starting From: $700 per night
Suggested Read: St. Regis Maldives Resort Brings Home The World's Most Advanced Luxury Yacht Norma & It Looks Insane
2. Bandos Maldives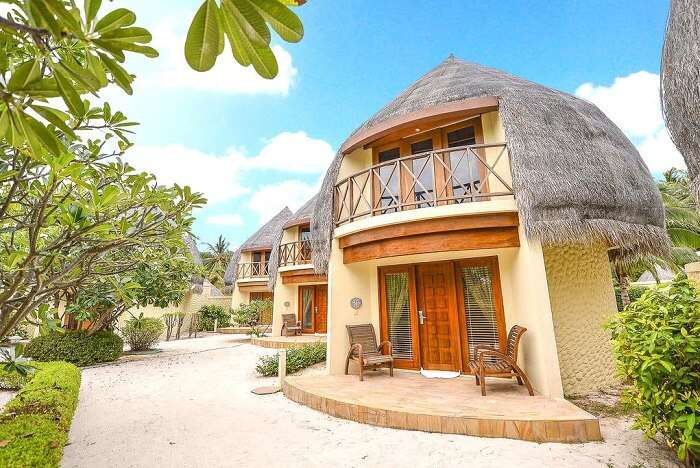 Another name you should remember for the ultimate Maldives snorkeling experience is Bandos Maldives. This is an upscale island resort that offers luxurious accommodations, privacy and all of the comforts you need to enjoy your stay in Maldives. Bandos Maldives snorkeling is an experience unlike any other as you get access to some of the best spots to explore the underwater realm and swim among the beautiful marine life.
Keep in mind that not all of the islands in Maldives are equal when it comes to snorkeling. What you want is an island that has its own good quality house reef, and the good news is that there are several islands with great house reefs. Some of these islands include Chaaya Reef Ellaidhoo, Embudu, Eriyadu, Reethi Beach and Fihalhohi. To make sure that you have an amazing Maldives snorkeling experience, make sure to research the best places to stay for quality snorkeling.
Location: Bandos, North Male atoll 08480, Maldives
Tariff Starting From: $150 per night
Suggested Read: 13 Spellbinding Water Villas In Maldives In 2022 For A Calming Vacation
Best Time For Snorkeling In Maldives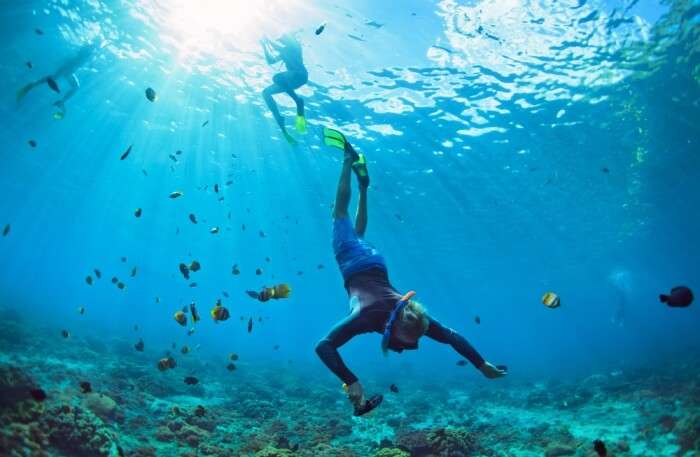 Maldives is beautiful no matter what time of the year you visit. However, January through April are the best months overall for snorkeling as well as swimming, and diving. This is when you are likely to experience the best weather as well as the clearest waters, which are important factors for an unforgettable snorkeling experience.
Suggested Read: This Maldives Resort Offers An Instagram Butler Who'll Help You Capture Extraordinary Shots!
Snorkeling In Maldives Cost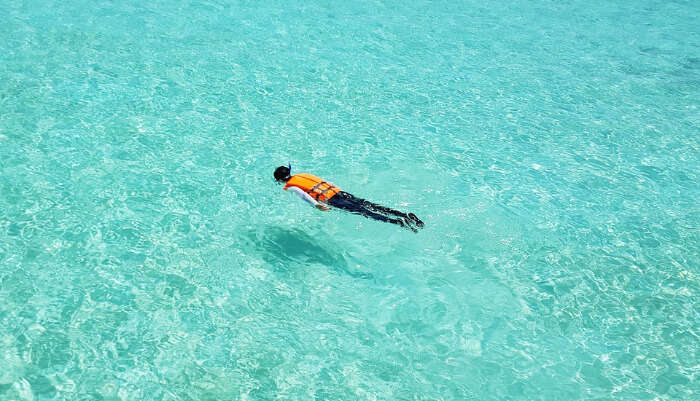 When it comes to cost of snorkeling in Maldives, you do not have to worry much as you can save a lot by doing the math for a couple or family if you plan to spend several days snorkeling. All resorts provide guests with exclusive snorkeling packages along with well-maintained equipment, which will cost you roughly $8 per day/per person excluding taxes. Snorkeling in Maldives price depends on how many days you plan to go snorkeling and how many of you will be taking part in the activity.
Suggested Read: Social Distancing In Maldives: Creative Ways To Stay Safe, Sanitized, And Yet Close To The Nature
Benefits Of Snorkeling In Maldives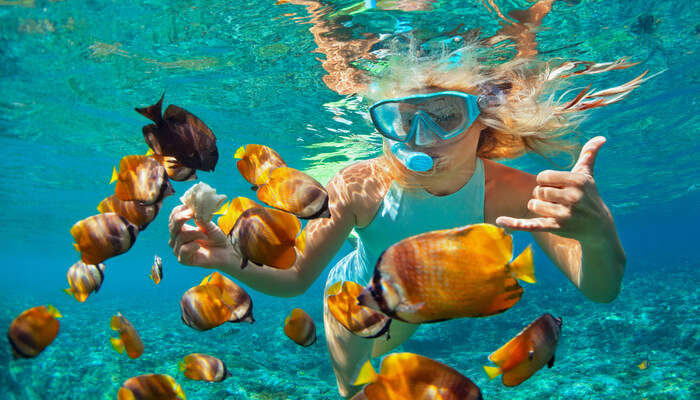 Secluded locations
Excellent visibility
Diverse marine life
Ideal for all kinds of divers and swimmers from beginners to advanced
Suggested Read: Parasailing In Maldives – A Complete Guide To This Fascinating Sport
Tips For Snorkeling In Maldives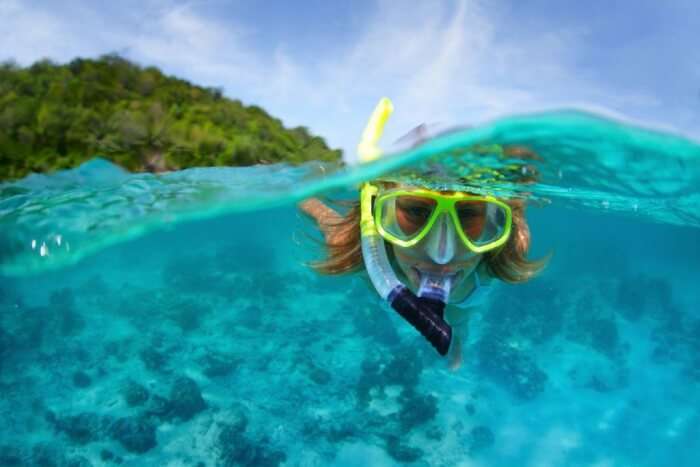 Pick the right season for snorkeling.
Rent equipment from only certified suppliers.
Check the quality of equipment before venturing into the water.
Always snorkel with a trained guide.
When you're in the water, do not touch anything. Wait for your guide's instructions.
Stay calm underwater and do not panic.
Pick a good location where water visibility is maximum.
Apply SPF 30+ generously 15 minutes before treading into the water.
Further Read: 10 Fun Things To Do In Maldives For A Thrilling Holiday
To make sure that you have the most unforgettable time, have this best Maldives snorkeling guide handy that will offer important information right at your fingertips. Also, make sure you are well prepared for the best adventures while snorkeling in Maldives on your next holiday in Maldives.

Frequently Asked Questions About Snorkeling In Maldives
Is snorkeling safe in the Maldives?
The Maldives is known to be one of the safest places in the world for snorkeling and other watersports. Also, you can easily get a good and certified instructor for snorkeling in the Maldives as well as quality equipment like a snorkel, fins, and mask.
How much does snorkeling cost in the Maldives?
An amount of INR 570 ($8) per person is what you'd typically be paying for a snorkeling tour in the Maldives if you book it through your hotel (which is always the ideal case).
Which Maldive Island is best for snorkeling?
Some of the best resorts that provide commendable a snorkeling experience include: 1. Anantara Kihavah Villas on Baa Atoll 2. Six Senses Laamu on Laamu Atoll 3. Baros Maldives on North Malé Atoll 4. Jumeirah Dhevanafushi Maldives Luxury Resort on Gaafu Alifu Atoll
Are there sharks in the Maldives?
Yes, the Maldives is among the only destination in the world that allows travelers to see these gentle beings year-round. And the best part is - the species here are totally harmless! You'll be able to spot plenty of hammerhead sharks, spotted leopard sharks, and blacktip reef sharks here on a typical whale watching tour.
Which Maldives resort has the best house reef?
You'll find the best house reef for snorkeling at these Maldivian resorts: 1. Robinson Club Maldives, Gaafu Atoll 2. Lily Beach Resort and Spa, Ari Atoll 3. Safari Island, North Ari Atoll 4. Anantara Kihavah Maldives Villas 5. Dusit Thani Maldives 6. W Maldives 7. Hurawalhi Island Resort
What is the cheapest time to go to the Maldives?
The time period form May to October marks the off-season in the Maldives, and is considered a great time to visit if you want to save yourself big bucks on flights and accommodation.
---
People Also Read:
Maldives Holiday For Couples Snorkeling In Bali Snorkeling In Sri Lanka