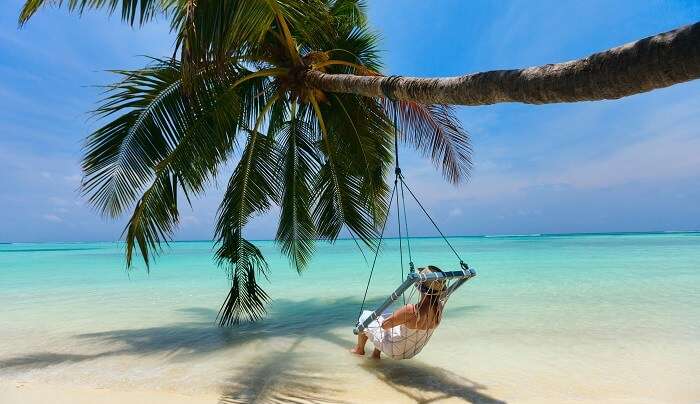 Have you ever wondered what will you do when you are surrounded by beauty all around and waste expanse of sandy beaches, turquoise waters and luxurious treatment being given to you? Well, many people will think it is impossible to visit such a place. But such a place does exist, the cluster of more than two thousand small coral islands the Maldives is your ticket to paradise on earth. While it is an amazing place to relax and rejuvenate, it will not disappoint the excitement and adventure seekers too. So, why sit at one place, when there are a variety of fun things to do in Maldives.
14 Fun Things To Do In Maldives
Be it your honeymoon or a family trip or an adventure tour with friends, Maldives never disappoints you. It promises to provide an experience of a lifetime and more than delivers on the promise. Here is a list of a few fantastic things to do in the Maldives.
1. Snorkeling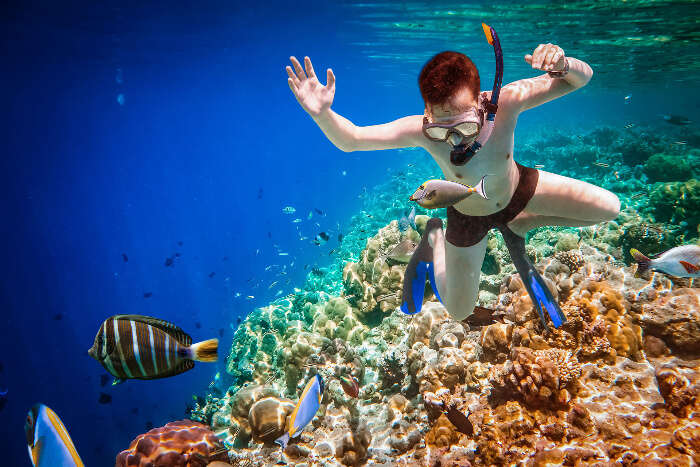 Image Courtesy: caradonna.com
One of the biggest attractions of Maldives is its beautiful seas and its extraordinary variety if its sea life. Due to its great flora and fauna, Maldives is one of the most amazing places for snorkeling. The Maldives are a group of islands in South of India in Indian Oceans which offers a stunning snorkeling destination. The reefs in waters of Maldives are primarily hard corals, a mix of table, finger, staghorn, boulder, lobe, and brain corals.
One can also have a look at an incredible variety of fishes and other aquatic creatures such as anemonefish, colourful Giant Clams, Blacktip and Whitetip Reef Sharks, Hawksbill Turtles, Whale Sharks, Eagle Rays, massive schools of brilliant fusiliers, Clown Triggerfish, butterflyfish, bannerfish, and various types of octopus. If you ever plan a snorkeling trip to the Maldives, then March is the best month for the trip.
Where: Maafushi Island
Cost: Starting at INR 600
Maldives In April: A Guide To Help You Have The Most Blissful Beach Vacation
---
Maldives Holiday Packages On TravelTriangle
---
2. Fun Tubing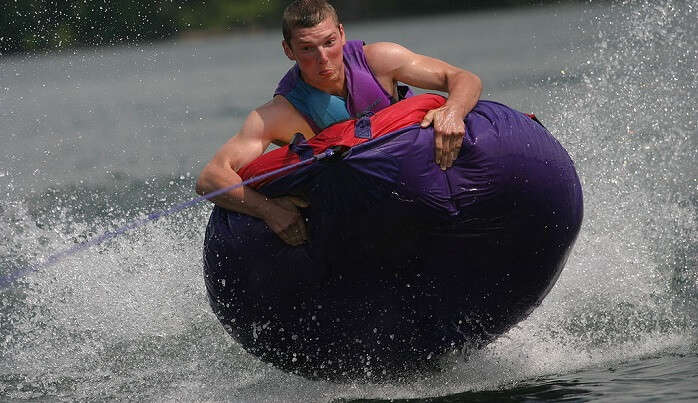 Image Credit: Peter Opatrny for wikipedia
Vacation is the best time to walk out of your comfort zone and try your hand on crazy and happening stuff around the globe. Fun tubing is one of the craziest things to do in the Maldives. Do you like getting high on speed ( like a little more than average speed) and adventure- Then. Fun tubing is for you. Tubing is like a roller-coaster ride into the beautiful and natural water theme parks of Maldives.
It is an unpowered, inflatable tube which will tow you over the water at high speeds as you sail over the waves. Tubing gives you a fun and bumpy adventure ride which you can enjoy with your kids as well. Thrilled Huh!
Where: NA
Cost: NA
20 Best Maldives Beach Resorts That Are A Perfect Blend Of Luxury & Elegance
3. Parasailing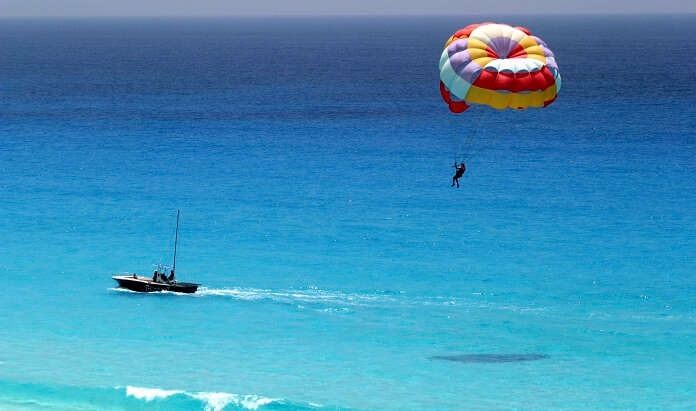 Looking for an exciting experience, then Paragliding is a must. Racing in the air and feeling the sea wind on the face, aerial view of sea waters, thrilling experience. Here a person wearing an open parachute is towed down by a motorboat glides through the air at an amazing speed.
Where: Multiple locations
Cost: Starting at INR 14,000 / 2 people
4. Water Skiing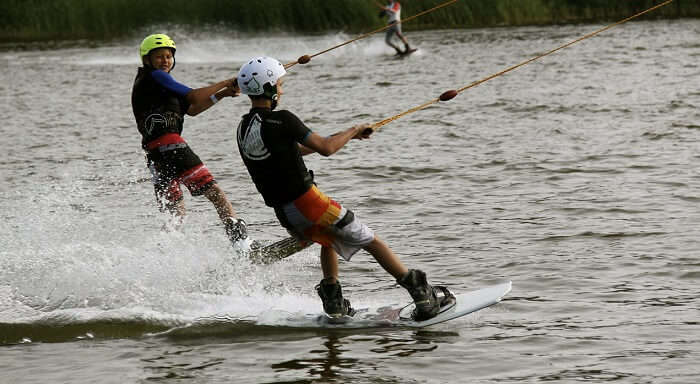 Water Skiing is one of the easiest and enjoyable water sports in the Maldives. Water Skiing is done in two ways in one way the person is pulled behind a boat and in the second way a cable ski is installed on ocean water. This is a safe sport and you can find a lot of lifeguards on the coast in time of need.
Water Skiing is not a good option in months from June through September as it is a rainy season making it difficult to ski in high winds, rain and choppy ocean currents.
Where: Multiple locations
Cost: Starting at INR 2800
These New Nature Parks In Maldives Will Surely Make You Crave For A Holiday Right Now
5. Kitesurfing or Kiteboarding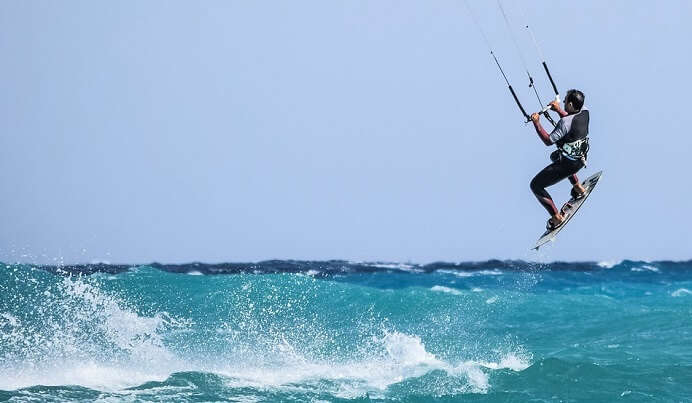 Image Credit: dimitrisvetsikas1969 for Pixabay
The constant winds and warm environment from the month of June until October makes the Maldives a perfect Kite surfing or Kind boarding destination. The weather conditions are especially favourable for the first-timers.
In this sport, the windsurfer ( Kitesurfer or Kite Boarder) is supposed to balance himself or herself on a longboard which has more surface area in comparison to a typical surfboard and hold onto a triangular sail at the same time.
Where:
Cost: Starting at INR 2100
---
Planning your holiday in Maldives but confused about what to do? These Maldives travel stories help you find your best trip ever!
---
6. Fishing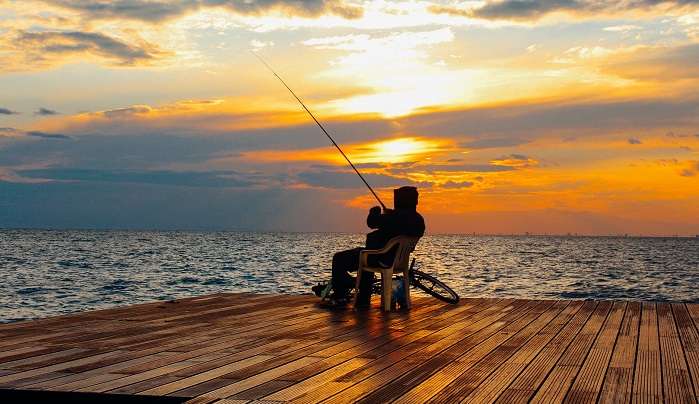 Being rich in marine life, fishing is a great water sport in the Maldives. There are two types of fishing done in Maldives- morning fishing and Night fishing. Morning Fishing (also known as big games fishing) is simple as one can easily find big exotic fishes like Sailfish, marlin, barracuda, yellowfin tuna, wahoo, swordfish just around the atoll enclosure reefs.
Night fishing is an exciting sport as the natural setting, star-studded sky enhances the experience. One can find fishes like emperors, snappers, squirrel fish, jacks and other reef fishes.
Where: Multiple locations
Cost: NA
5 Underwater Restaurants In Maldives That Offer An Out Of The World Experience
7. Scuba Diving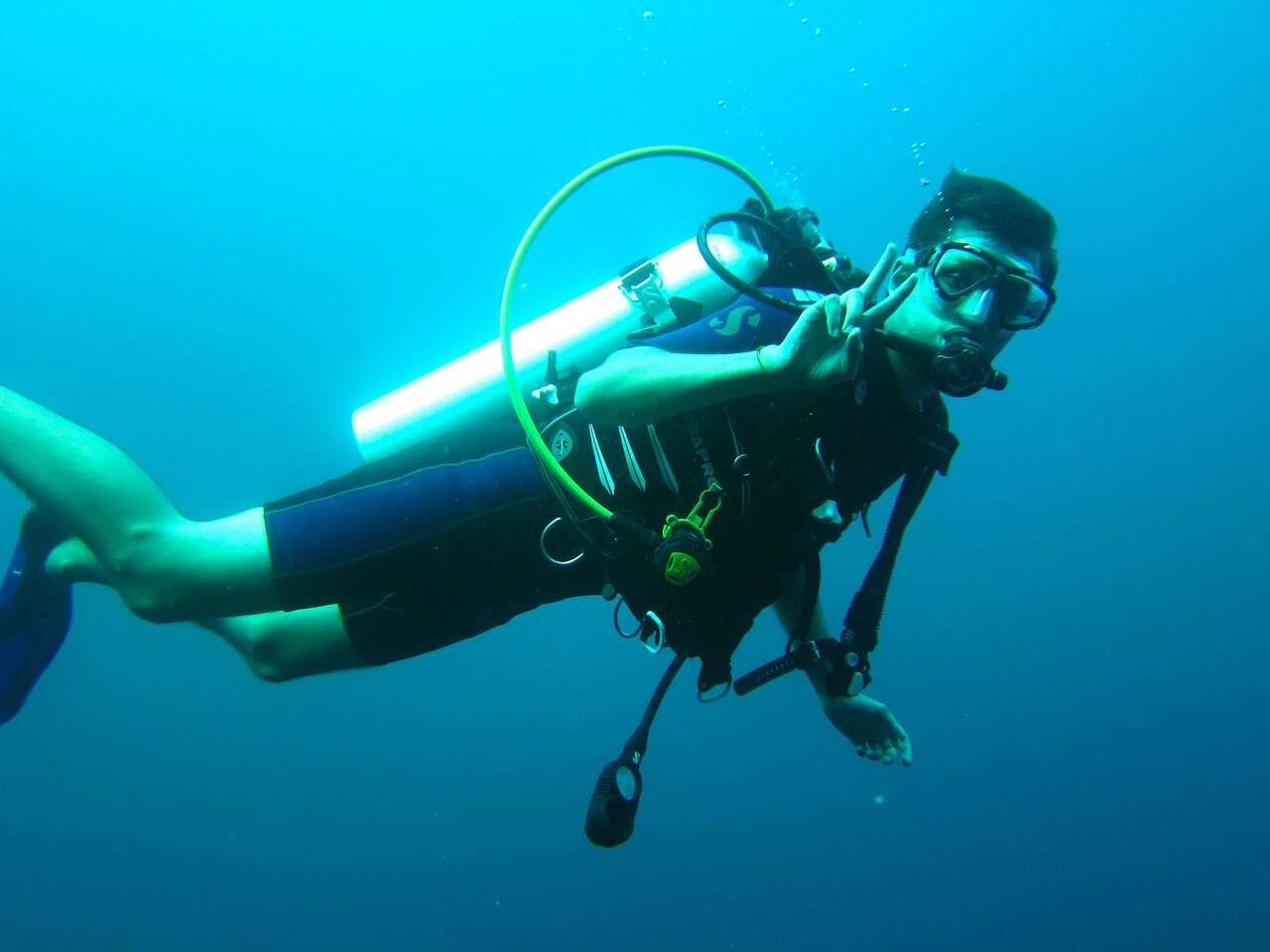 This sport provides divers with a great insight into the life beneath the Indian Ocean. If you want to witness the innumerable number of aquatic creatures then Scuba diving is the best option. You can see almost 70 different species of colourful coral reefs and more than 700 species of fishes and other aqua creatures. The warm temperature of ocean water makes the diving experience much more special in nature.
The best time to go diving in the Maldives is between the months of June to October and December to March. Lions Head, Kudu Haa, Girifushi Thila, Middle Point, Nassimo Thila, Okobe Thila, Sunlight Thila, Maldives Victory and Banana Reef are a few diving sites. Some of the Marine creatures are Napoleon wrasse, parrotfish, snappers, barracudas, jacks, sweetlips, hammerheads, grey reef sharks, white tip reef sharks, eagle rays, manta rays, turtles, frogfish, triggerfish and surgeonfish.
Where: NA
Cost: Starting at INR 3,900 / per dive
8. Whale Shark Sighting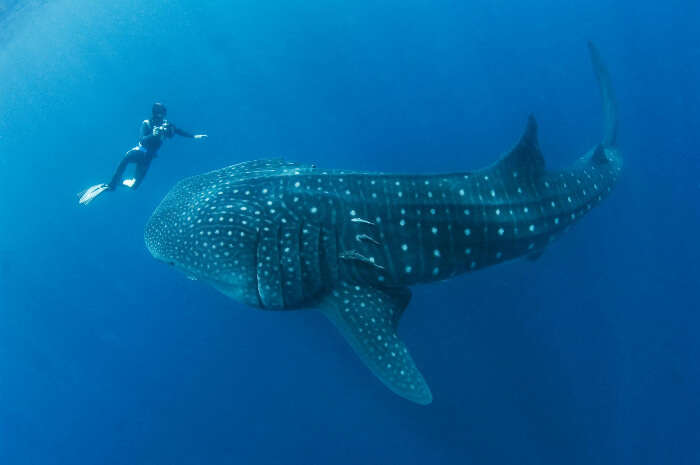 Image Courtesy: nationalgeographic.com
This is definitely an amazing thing you can try during your Maldives trip. Trips and packages offer you a chance to see one of the most beautiful and astounding fish, Whale Shark in its natural environment. A Whale Shark which is one of the endangered fish species and South Ari Atol in Maldives is one of the best places for the sighting. These fishes are very large with enormous mouths nd thousands of teeth yet these gentle giants pose no risk to humans. These docile creatures are accustomed to swimming alongside humans and you really need to experience this once in your life.
Where: NA
Cost: NA
9. Walking Tour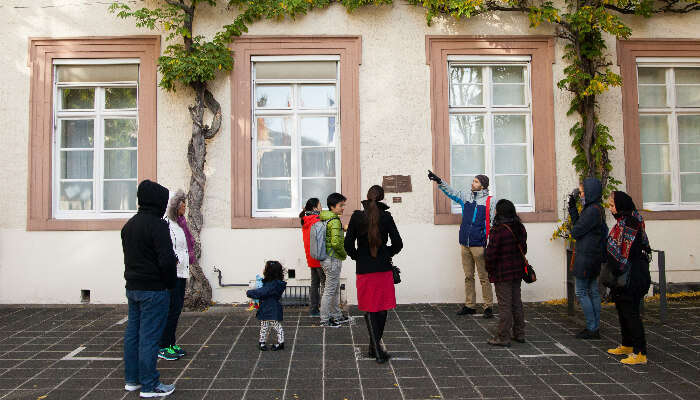 If you ever visit the Maldives and are looking forward to an enriching experience, a tour like this is all that you need. Take a half-day walking tour through the city of Male to explore its history and culture. This is a small group tour with a guide who will walk you through various places of interest. Walking tours things to do in the Maldives for couples.
Where: Male city, Maldives
Cost: Starting from INR 2,900
15 Exciting Water Sports In Maldives For Your Adrenaline Fix
10. Sunset Cruise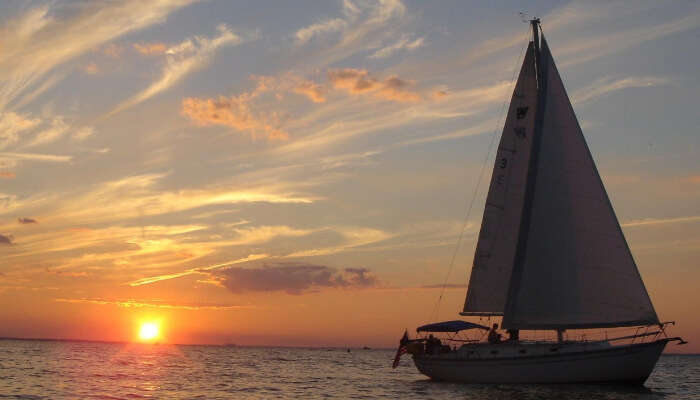 If you are in the Maldives, this is the best way to witness the beauty of this gorgeous island. Take an hour-long cruise on a boat or a local dhoni. It is a traditional small boat made of wood. Watch the breathtaking sunset during your cruise journey. Along with the stunning landscape, you would also get a chance to spot the adorable creatures of the sea – the dolphins. This is one of the best things to do in Maldives at night or just before sunset.
Where: Male city, Maldives
Cost: Starting from INR 9,200
11. Dolphin Watching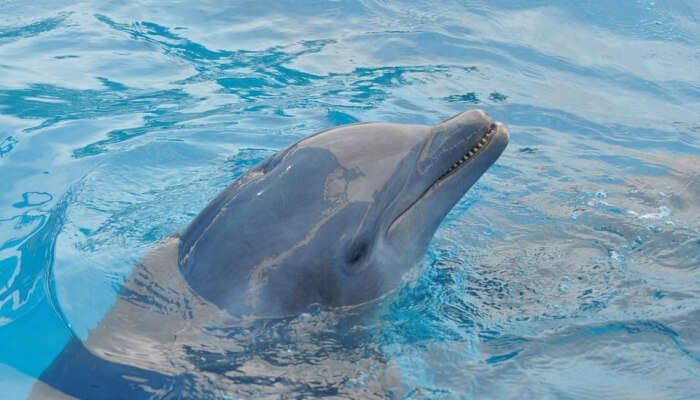 Dolphin watching is another exciting thing to indulge in while holidaying in the Maldives. Cinnamon Hakurra is known for hosting unbelievable dolphin excursions. Plan a visit during sunset to witness playful creatures beautifying the stunning backdrops. This is amongst the popular fun things to do in Maldives, especially if you are holidaying with kids.
Where: Cinnamon Hakurra
Cost: Starting from INR 3,400
12. Island Hopping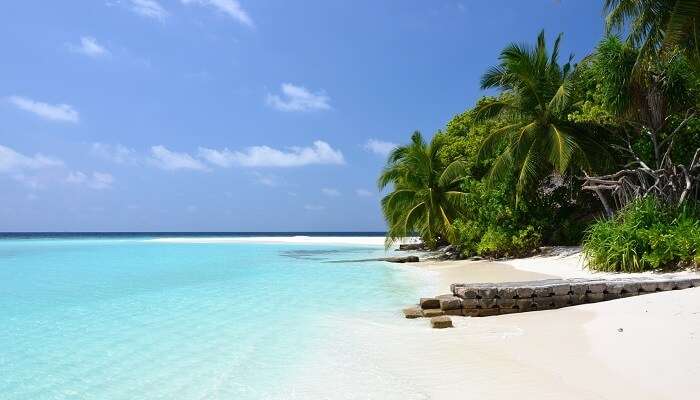 Who would dare to miss out on enthralling experiences of island hopping while holidaying at the island paradise, Maldives! Whether staying on a private island or at a lively hotel in the capital city, exploring exotic islands of the Maldives with each one having something unique in itself is an amazing experience to undertake on a vacay. This is amongst the best activities to do in Maldives.
Where: Maldives
Cost: Starting from INR 8,700
13. Interact with Locals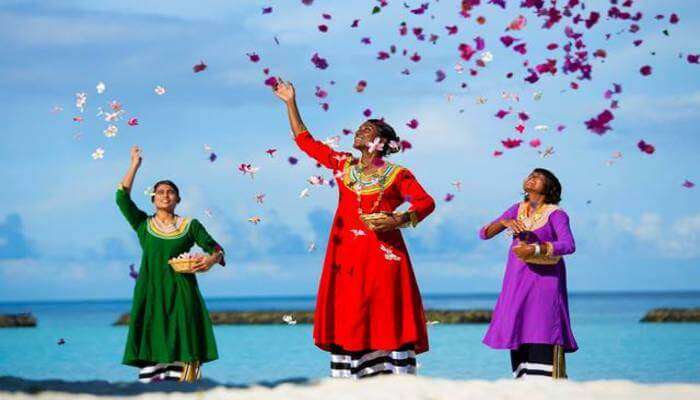 Another fun thing to do in the Maldives is to interact with locals. The Maldives is known for its exquisite culture and its impressions can be traced by interacting with the locals of the region. Take a sneak peek to the nearby villages and indulge in culinary celebrations, customs, and ceremonies to know the true vibe of the region.
Where: Mule, Naalaafushee Island, and more
Cost: NA
14. Surfing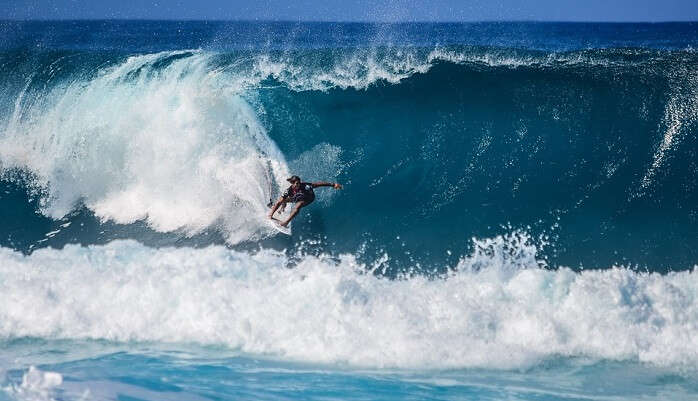 The Maldives is a world-class destination for surfers and attracts adventure enthusiasts from across the world. The place is known to have the best break in the world and you can indulge in the sport while staying here. This is amongst the most adventurous things to do in Maldives.
Where: North Male Atolls, Himmafushi Island Kaafu Atoll
Cost: Starting from INR 22,000
10 Reasons Why a Honeymoon in Maldives is Sexier Than Any Other Place
Already excited to take a trip to the Maldives? Let us help you plan a fun vacation to Maldives with your family. head to this gorgeous island nation and indulge in all the above-listed adventure activities to make memories that you can treasure for the rest of your life.
For our editorial codes of conduct and copyright disclaimer, please click here.
Frequently Asked Questions About Fun Things To Do In Maldives
Is there any nightlife in Maldives?
The Maldives features an exquisite amalgamation of adventure, romance, and excitement when it comes to nightlife. Nightlife in Maldives is far beyond bar hopping and clubbing, whereas, you can also indulge in crab racing, jungle cinema, isolated dinners, and a lot more.
Can I take alcohol to Maldives?
Alcoholic drinks are available at resort islands. Kindly note that alcohol is not allowed on local islands including Male. A strict ban on importing it into the country is followed.
Is it safe to visit Maldives during Covid times?
Make sure that you have completed both the doses of vaccinations before planning your journey to the Maldives. Follow all the mandatory travel guidelines mentioned by the authorities to ensure a safe travel experience. Remain masked while stepping out and maintain social distancing.
What are the best things to do in Maldives for couples?
The following are the romantic things to do in Maldives: Diving, Island Hopping, Romantic Massage, Underwater Snooze, Submarine Ride, Hiking, Photography, Boat Ride, Luxury Cruising, Fishing, Dining, Swimming, etc.
What are the things banned in Maldives?
Make sure that you are not importing the following items to the Maldives - explosives, weapons, firearms, ammunition, pornographic material, materials deemed contrary to Islam including 'idols for worship' and bibles, pork and pork products, and alcohol. You can only drink alcohol on resort islands.
How many days do you need in Maldives?
Plan a trip for at least 4 – 7 days to explore the Maldives. There are countless activities to indulge in and the enticing topography is worth a week's stay.
Is the Maldives family-friendly?
Yes, though a general perception about the Maldives is that it is a honeymoon destination, it is also a great destination for the family. There are villas and resorts that offer kids-friendly facilities.
What can I buy in the Maldives?
The following are the popular things to buy in Maldives among tourists - Jewellery & Hand-made Necklaces, The Sarongs of Maldives, Mini Dhonis, Fridge Magnets, Coconut Products, Maldivian Mats – Thundu Kunaa, Edible Fish Products, Cultural Lacquer Products, Cosmetics, Wicker Mats, etc.
---
Looking To Book An International Holiday?
---
People Also Read:
Fun Things To Do In Perth Fun Things To Do In Melbourne Fun Things To Do In New Zealand