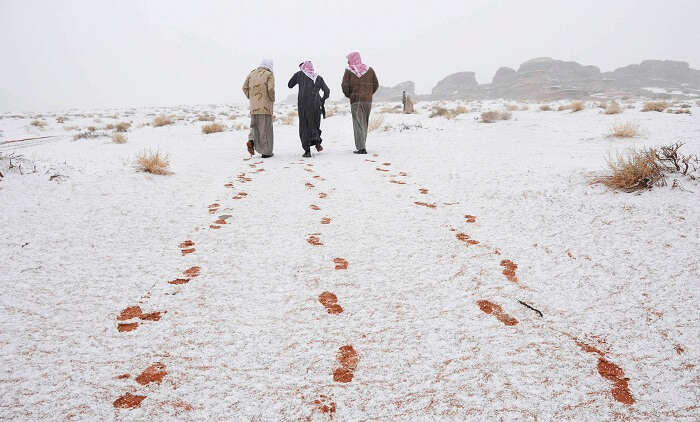 Over the last decade or so, the world is experiencing unusual climate patterns. Much to our surprise, recently it snowed in the Arabian Desert. Although it's not entirely unexpected since last month it was the Sahara – the hottest desert in the world – which turned overnight into a winter wonderland.
#جبل_اللوز من المواقع التي تعمل هيئة السياحة والتراث الوطني لتوثيق مساراتها ومصباتها في منطقة #تبوك، إضافة إلى جبال الشفا، مدين، وجبل شار .. وأكثر من 183 وادياً. pic.twitter.com/qpcUVUuxCG

— هيئة السياحة والتراث (@SCTHKSA) January 26, 2018
Suggested Read: Saudi Arabia To Start Accepting Tourist Visa From Females Above 25 Years Traveling Alone
A rare phenomenon occurred in the Middle Eastern country which is characteristically known for its desert landscape and blazing temperatures. A short bout of snowstorm turned the crimson desert into a white fairyland. The Tabuk region, along the coast of Red Sea, in the northwest part of Saudi Arabia was swathed in snow as the mercury level suddenly dipped to a freezing minus 2 degree Celsius. The frosty weather is not entirely unusual, however, snowfall in Saudi Arabia is an uncommon occurrence. The accumulation of snow was heavier and thicker in the higher elevations. Traditionally, during the winter season in Saudi Arabia, the average temperature hovers around 20 degrees. While the jury's still out on what caused this event, the locals can be seen, in the pictures below, making the most of this random cold snap, by either sledding down hills or taking their vehicles for a spin before the freshly fallen snow melted.
#جبل_اللوز Winter is here in tabuk ❄️. pic.twitter.com/v9FIcPiR5S — خالد. (@ikld10) January 26, 2018
Suggested Read: A First-Timer's Guide To Jordan: History, Attractions, Cuisine, Tips
While many people seized this unique opportunity to click selfies and share their excitement on social media platforms, the Bactrian camels looked handsome and somewhat surprised with a layer of snow. Here are some more visuals of snowfall in Saudi Arabia:
An adorable image of families playing in a smattering of snow in northern Saudi Arabia, from the official Saudi Press Agency. pic.twitter.com/kJ06beHd6q

— Vivian Nereim (@viviannereim) January 27, 2018
Comment your opinion on what could have caused this beautiful yet alarming incident in the desert country of Saudi Arabia.