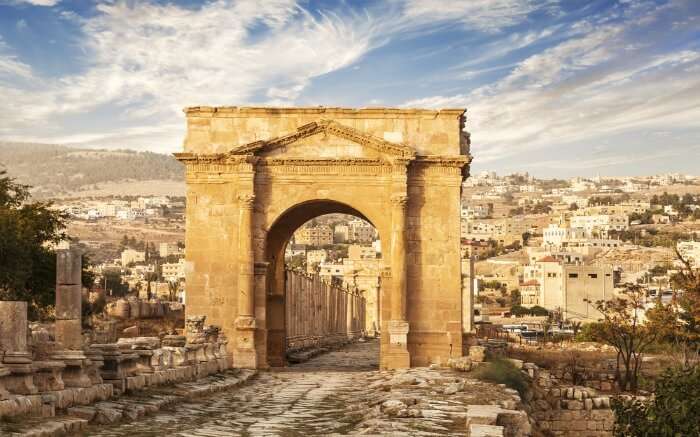 Colin McAdam—An award-winning Canadian novelist says "The best advice I heard before going to Jordan was 'don't read anything about it.' " But if you're already in love with the Hashemite Kingdom of Jordan, you won't be able to stop reading about it. Here's your handy piece – a first-timer's guide to Jordan that explores its history, geography, culture, cuisine, safety tips, & more.
Some part of Jordan is about open-air museums with ancient ruins and cities dotting the horizon, while some of it has the most happening nightlife and beaches you'll ever see. Delicious cuisine, warm and welcoming people, and wonderful experiences, all of this makes Jordan an adventurous and absorbing destination for tourists.
1. Jordan—A land steeped in history
A brief history of Jordan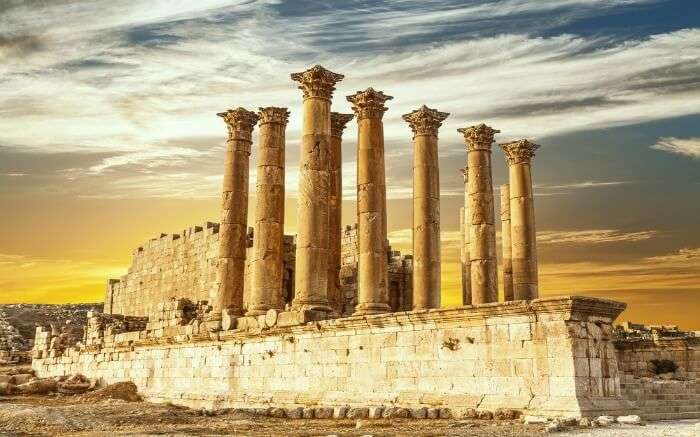 Jordan has been serving as a center of humanity ever since the emergence of civilization. In the past, ancient Jordan has been invaded many times by Sumerians, Babylonians, Persians, Mesopotamians, Akkadians from the east, and by Greeks, Nabateans, Romans, and Crusaders from the south. In 1923, Jordan, which was then known as Transjordan was declared to be a government under the rule of the then king of Transjordan, Abdullah I bin al-Hussein. In 1994, Jordan signed a peace treaty with its neighbor, Israel.
Jordan is right now facing economic challenges such as poverty and unemployment, however, it has immense potential for tourism. Now the government is developing its tourism industry, which has become an essential player in its economy.
Suggested Read: 8 Best Places To Visit In Amman That'll Let You Peek Into Its Past & Present In 2022
---
Looking To Book An International Holiday?
Book memorable holidays on TravelTriangle with 650+ verified travel agents for 65+ domestic and international destinations.
---
The geography of Jordan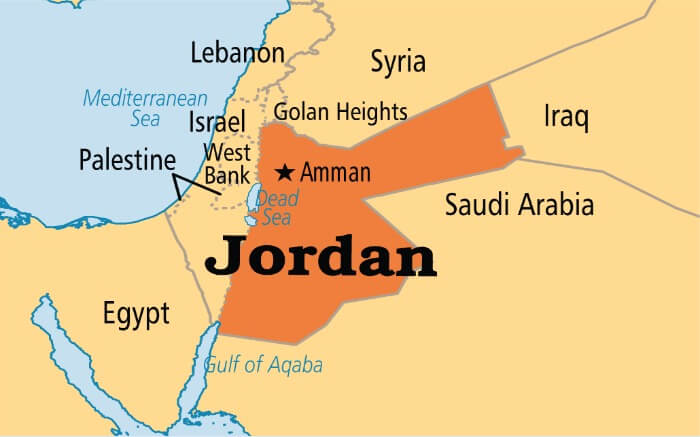 Jordan is located in the rugged desert of the northern Arabian Peninsula. The young country occupies an ancient land, which has marks of many civilizations on it. It is bounded by Syria to the north, Iraq to the east, Saudi Arabia to the southeast and south, and Israel and West Bank to the west.
At about 400m below sea level, the Dead Sea, located in the northwest of Jordan is the lowest point on earth and undoubtedly the unique feature of the country. It also has a coastline of 26 km on the Gulf of Aqaba in the southwest, where Al-Aqabah, the only port of the country is located.
Suggested Read: Petra Caves In Jordan: A Rose-Red City Half As Old As Time
2. How's the weather of Jordan?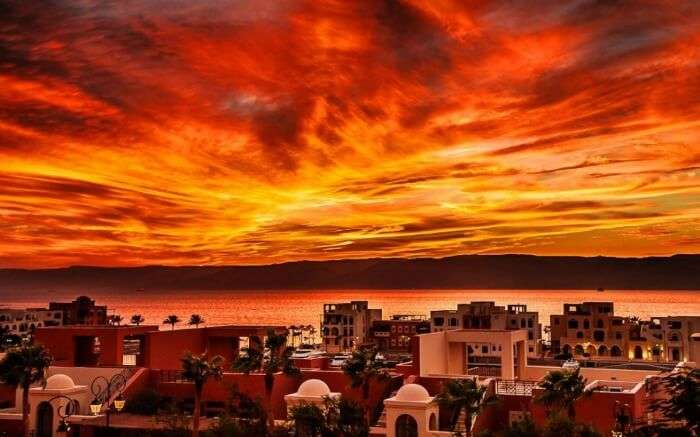 Jordan is a year-round destination. Even during the summer months of June, July, and August, most areas of the country, including Amman—the largest city and capital of Jordan—are not extremely hot due to the influence of the altitude. Amman is about 850 m and Petra is about 1,100 m above sea level, and that's what makes the weather of these cities pleasant enough for sightseeing, however, Petra can get intensely cold during nights and evenings, even in summer.
The Jordan Valley area and Aqaba (the Red Sea coast) are warm during winter months of December, January, and February, but extremely hot during summer. Places like Dana and Petra receive snowfall in winter.
What to wear in Jordan?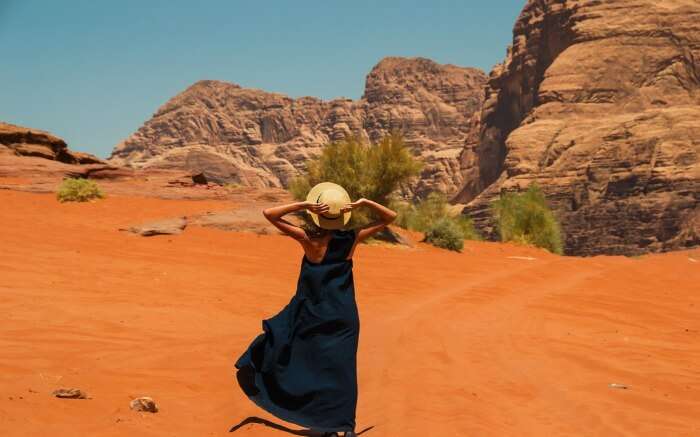 According to the weather: If you're visiting Jordan from May to September, you must carry light clothes with you. Those planning to visit from December to February must carry heavy woolen clothes. Rainwear is recommended for those visiting it between November to March.
According to Jordanian culture: Jordan has a relatively liberal society and tourists can wear western clothes in modern cities like Amman and areas like the Dead Sea but there are a few things visitors must keep in mind while walking in more conservative areas. Women should wear loose-fitting clothes covering their legs, arms, and chest, while men should wear long loose-fitting trousers, T-shirts, or high collar shirts.
Suggested Read: 8 Best Things To Do In Jordan To Make The Most Of Your Trip
3. People, culture, and language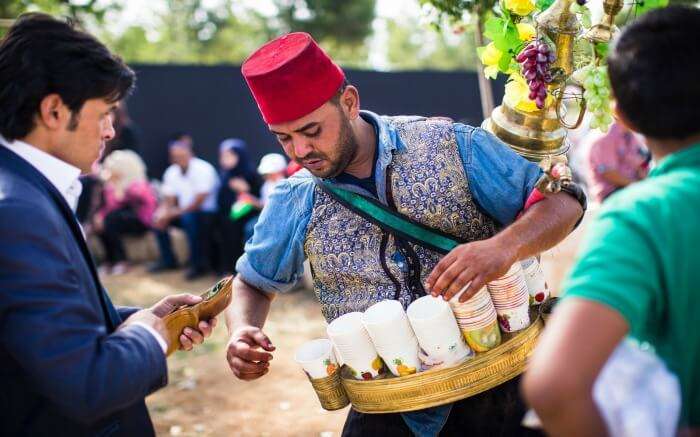 Although over 95 percent of Jordanians follow Sunni Islam, it is also home to one of the world's oldest Christian communities. Muslims and Christians co-exist peacefully in Jordan.
The way of life of people in the country varies from religion to religion and person to person. With about 80 percent of the population living in the cities, Jordan's people are urbanized. In cities like Amman, one can see mostly young people living their lives, partying in clubs, and doing jobs.
Bedouins, the Arabic-speaking nomadic people of Jordan occupy the desert area of Jordan. You can see and become a part of Bedouin people's lives while visiting places like Petra and Wadi Rum.
Arabic is the official language of Jordan. Although people of Jordan can speak and understand English, it's advisable to learn a few words of Arabic, as it'll help you break the ice and make you sound friendlier.
Salam or Marhaba – Hello
Ismi… – My name is…
Shukran – Thank you
Afwan – You are welcome (answer to Shukran)
Jameel – Beautiful
Ibtihki ingleezi? – Do you speak English?
4. Jordanian cuisine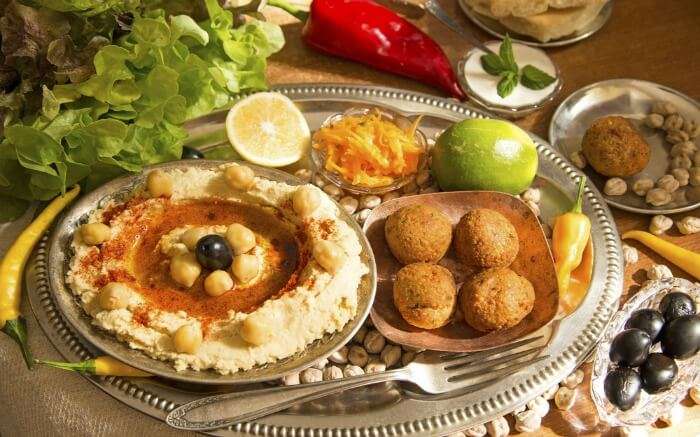 You'll always find hummus, baba ganoush, falafel, kebabs, and tabbouleh on Jordanian dining tables. Mansaf (lamb seasoned with herbs & spices), which is almost a national dish, is prepared on special occasions. Jordan has some of the oldest wineries and it's not a taboo to drink alcohol here unlike other Muslim nations. Jordan has incredible street food; you can grab a shawarma wrap soaked in tahini sauce, or a Turkish baklava, or some meat dishes while walking on the roads on Amman.
Suggested Read: 15 Best Places To Visit In Jordan In 2022: A Blend Of Old And New
5. Interesting facts about Jordan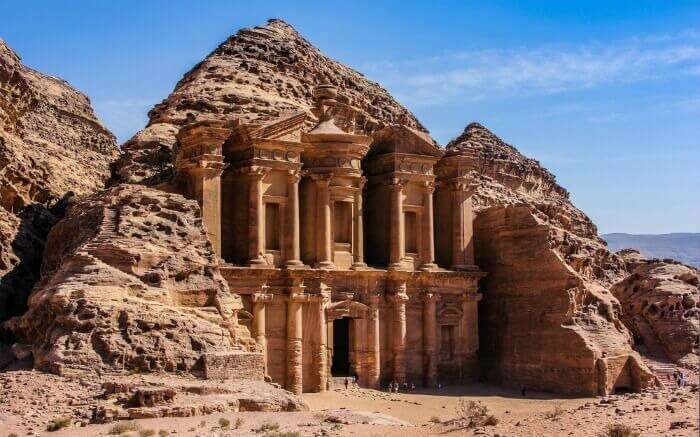 Jordan is home to Petra—a UNESCO World Heritage Site and one of the new 7 wonders of the world.
The city of Petra was actually carved into a giant rock about 2,000 years ago.
The Dead Sea is the lowest point on earth at an altitude of 402 m below sea level.
Each building in Amman is built using stone or concrete and covered with thin white limestone slabs, which makes all of them look similar.
You'll find ancient archaeological sites in the middle of the modern capital.
Amman was once named Philadelphia, which was later changed by the Muslims.
The cafe culture of Amman is as good as that of Europe.
Parts of movies like Indiana Jones and the Last Crusade, Lawrence of Arabia, Red Planet, and The Martian were shot in Jordan.
Jordan is the best place to see early Islamic art in its original setting.
It is considered polite to refuse the offer of a meal twice or thrice before finally accepting it.
Suggested Read: Top 7 Reasons To Visit Jordan Right Now
6. Safety tips for travelers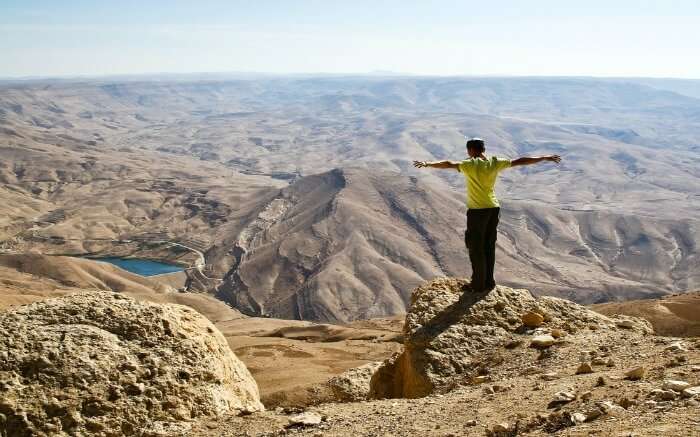 Jordan lives in a dangerous neighborhood, but the country is reassuringly calm and peaceful. Although it's a safe country to travel, but there are a few things you need to know to keep yourself away from troubles.
Don'ts and Do's
If you come across a civil unrest, don't get involved.
Don't strike up conversations of a political nature with locals.
Be vigilant and be away from large public gatherings.
Cooperate politely with security checks.
If you have any concerns, consult your embassy or consulate in Jordan.
The police, military and security officers are extremely helpful and hospitable, trust them.
Some frequently asked questions about Jordan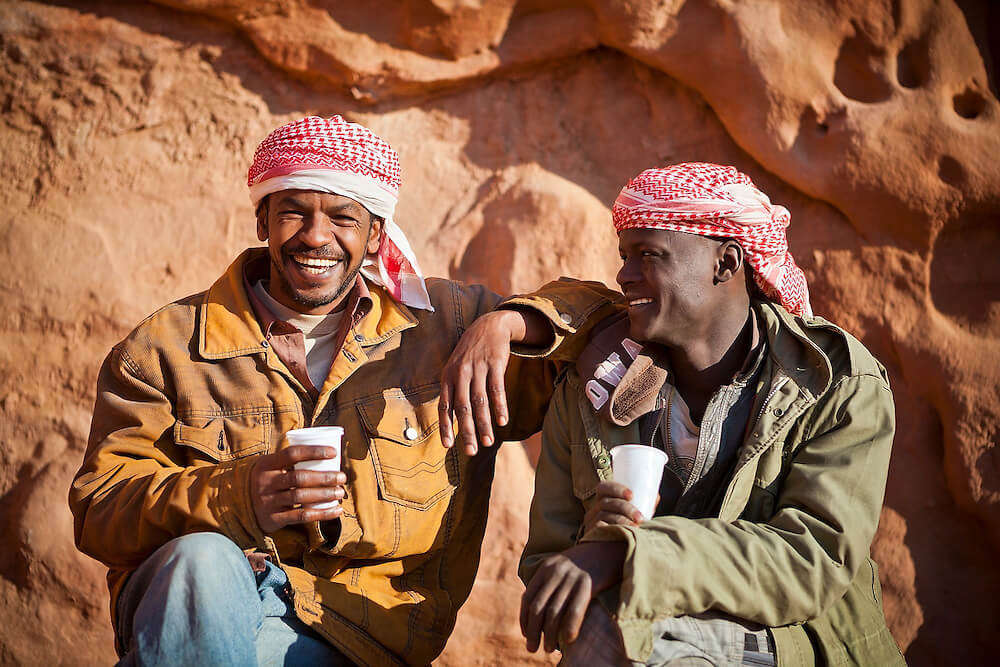 Is it safe to travel to Jordan?
This is the question of the hour, and it must be answered. According to the World Economic Forum, Jordan is one of the safest countries in the Middle East. Jordan is a progressive country and the locals are extremely friendly towards foreigners.
What are the safety rules in Jordan?
Keep abreast of the news in newspapers English-language published in Amman.
Read the latest travel warnings online.
Carry your wallets or purses in a front pocket and don't carry too much cash in public.
Always keep a copy of your passport in your luggage.
Be careful while enjoying the nightlife of Amman: muggers and pickpockets love intoxicated and vulnerable foreigners.
What are some tips for travel in Jordan?
Get a Jordan Pass to save a great deal of money. You can buy it online.
Securing a visa for Jordan in India is quite expensive. Jordan offers Visa-On-Arrival for about JOD 50 per person, for all nationalities.
Must take a day-long jeep tour offered by Wadi Rum Bedouins.
Buy water and beverages for your hike in Petra.
The best way to experience Jordan is by renting a car.
Is it safe to travel to Jordan as a solo female traveler?
Absolutely. A lot of women travel solo to Jordan every year and have loved the experience. On rare occasions you may experience banters and leering, but this can happen in any country. Unlike the small towns and villages in Jordan, modern cities like Amman and Aqaba are mostly welcoming of solo travelers.
Whether you're planning a honeymoon in Jordan or a solo trip across the country, this journey is going to be one of the most rewarding experiences of your life.
Have we missed anything you would want to know about? Let us know to help you plan a safe and worthwhile trip.
Further Read: Honeymoon In Jordan: Guide To Top Attractions And Stays For Newlyweds
---
Looking To Book A Holiday Package?
Book memorable holidays on TravelTriangle with 650+ verified travel agents for 65+ domestic and international destinations.
---