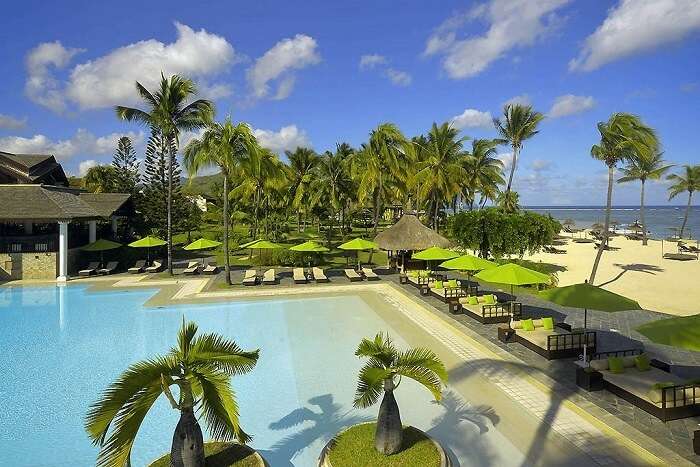 Overview
Sofitel Flic En Flac Hotel Mauritius is a 5-Star tropical heaven sheltered along the west coast of Mauritius. With lush gardens surrounding the hotel and magical interiors opening to the beach, this tropical beachfront resort is nothing less than a paradise. The hotel is a visual treat, particularly for families. Many services like childcare, laundry, sports activities, spa, fitness centre etc can be availed at the hotel. This hotel houses the biggest pool in Mauritius. So Spa of the hotel pampers the body and mind of the guests and fills them with energy. The fully equipped gym overlooking the mountains is another attraction at the hotel. The rooms at Sofitel Flic En Flac Hotel features Asian-style architecture. All the rooms and suites in the hotel have flat-screen TVs, open-plan bathrooms and sea views. Some rooms and suites also have a private terrace, ideal for watching the sunset.
Amenities
There is a fitness centre with a gym in Sofitel Flic En Flac Hotel and along with this, facilities for various outdoor activities like cycling, archery, boules, table tennis, volleyball, and tennis, is also available. Water activities like kayaking, pedal boat and water skiing are also organized by the hotel. Rental bicycles are also provided by the hotel. The hotel also features a unique kid's club for children from 4-12 years of age which also houses a special swimming pool. The hotel also arranges for the airport transfers of its guests taking care in the best way they could. Laundry services, babysitting and other such facilities are also available.
Dining
Sofitel Flic En Flac Hotel Mauritius has five restaurants namely, Tamassa Beach Restaurant, Ming Court, Teppanyaki, Ravinala, and Jakaranda. These restaurants have talented chefs who produce exquisite food of different cuisines. Jakaranda serves delicious Gourmet cuisine, Ravinala and Tamassa restaurants plate up appetizing International cuisine, Teppanyaki dishes out mouthwatering Japanese food, Ming Court gives out extremely exquisite Thematic Cuisine meals. One can relax by the pool or beachside relishing the cocktails from Tamassa Bar on the Beach and Kestrel Bar. Asian and Thai cuisine lovers should definitely plan to have a meal in Ginger Thai Restaurant which is near to the hotel.
Hotel Accommodation
Superior rooms
Luxury rooms
Prestige Suites
Opera Suites
Imperial Suites
The rooms and suites offered in Sofitel Flic En Flac Hotel Mauritius are the pinnacles of comfort offering an astonishing view of the Indian Ocean. Guests can choose from the range of rooms and suites available here and decide on the one that is the most convenient, comfort wise, as well as rate wise. There are two kinds of rooms: Superior Rooms and Luxury Rooms and three varieties of suites: Prestige Suite, Opera Suite, and Imperial Suite. All the rooms are fully furnished with flat-screen TVs and some of them also face the views of the beautiful sea.
Hotel Highlights
Three rooms have been specially designed and dedicated for all business meetings
Enjoy windsurfing, water skiing, snorkeling, scuba diving, boating, and kayaking
Services like Hammam, Massages etc are offered in these spas by trained professionals at So Spa
An in-house hairdressing salon is also present
Currency exchange office is present within the hotel premises
Babysitting on request is available
Indian Restaurants Near The Hotel
Roti Aka Vinoda
Menu Des Iles
Zub Express Restaurant
FAQs
Q1. Is there a children's club in the hotel?
A. Yes, there are two children's clubs in the hotel one for the children of the age group 4-6 years, and
another one for the children of the age group 6-12 years. For Children younger than 4 years, babysitting
service is also provided.
Q2. Is there a salon inside the hotel?
A. Yes, there is a salon in Sofitel Flic En Flac Hotel Mauritius.
Q3. Are there any special services for people with reduced mobility?
A. Yes, there are rooms designed for people with reduced mobility which have accessible bathrooms.
Q4. What is the check-in and check-out time?
A. Check-in any time after 03:00 PM and check-out up till 12:00 PM.
Q5. Are there extra charges for early check-ins and late-check outs?
A. Yes, one will be charged extra for early check-ins and late check-outs.
With the most friendly and helpful group of staff members and the most varied services, it becomes very comfortable and convenient for all guests to stay and experience an exhilarating vacation in Mauritius. There are many water sports activities at Sofitel Flic En Flac Hotel as well, which are easily accessible. Restaurants of this hotel offer the most varied cuisines for lunch and dinner. With almost everything available inside the hotel like, restaurant, bar, watersports, children's club, spa, salon etc guests here don't even feel the need to venture outside. The suites of this hotel have an amazing sea view with world class luxurious amenities like Whirlpool bar, Hèrmes Bar etc. Sofitel Flic En Flac Hotel Mauritius is truly the best hotel in this area of Mauritius as it offers the best stay with a mesmerizing view of the sun setting beaches and eye-catching design and architecture.