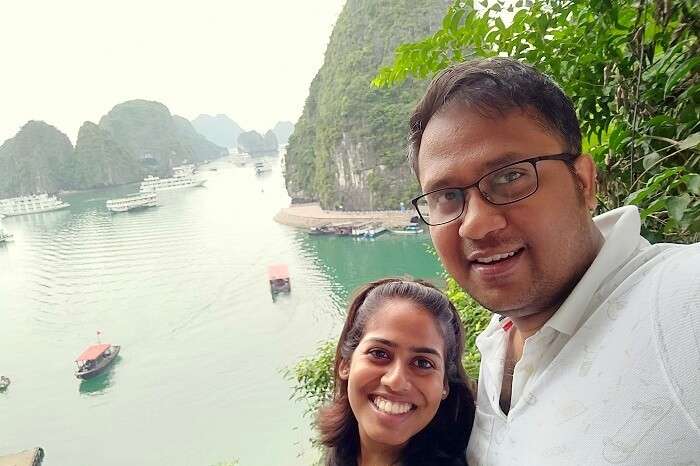 Sreekanth and his wife moved away from a clockwork style of living to indulge in various thrills in life via travel. Read about how they rediscovered many of their passions on a 7 day romantic trip to Vietnam that opened their horizons to an irresistible way of travel.
As travelers, my wife and I have predominantly visited places with a peaceful vibe and mellowed energy levels. Whenever we visited a place, we exposed ourselves to the local culture to have an immersive experience. One thing we've never forgotten on our travels is the need of pampering ourselves with a day of spa and shopping each.
Our holidays in the past had been to places with lots of beaches (Maldives,Bali) and scenic locales (Turkey). This year, we wanted to visit an offbeat location. My wife Ratna, is a travel-and-living channel buff who wanted to give Vietnam a shot. Her reasons were pretty convincing and soon we started searching for Vietnam tour packages.
Details of our romantic trip to Vietnam
Trip Cost: INR 85,000
Trip Duration: 7 nights 8 days
Agent Name: LVP Travel Co Limited
Inclusions: Flights within Vietnam, transfers, accommodation, breakfast, sightseeing, and taxes
Exclusions: Meals, international flights, and other expenses
A Google search for Vietnam tour packages led us to the TravelTriangle website. Once we inquired about a package, they were extremely prompt in addressing all our queries. Our food, stay, hotels and transfers were spot on and the entire arrangement for our romantic trip to Vietnam had been made in a highly professional way.
Best Things To Do On An Ultimate Budget Trip To Vietnam And Cambodia!
Day 1: Landed on a day of festivities!
We were welcomed Ho Chi Minh city airport and were transferred to Hotel Harmony in Saigon District 1. This hotel was spot on in terms of vicinity to all major attractions. The day was at our leisure so we decided to take a stroll after checking in.
We walked down to Saigon center where we found out that we were lucky that our trip coincided with Vietnam's National day on September 2. That day we witnessed some amazing cultural performances at the Saigon center. For dinner, we had great food and a unique fruit-based shisha at Warda Cafe. Later on, we came back to our hotel for the night.
---
Cambodia Vietnam Honeymoon Packages on TravelTriangle
Visit Cambodia- Vietnam for your honeymoon and enjoy gorgeous beaches, sparkling bays, colonial structures, stunning landscapes, and colorful culture. Experience luxury at at low cost.
---
Day 2: The tunnels in Cu Chi blew our minds
We started off the second day of our romantic trip to Vietnam early with some good breakfast and then followed by the city tour. Our first stop was the Independence/Reunification Palace. It was an opulence palace where the highlight was the bunker where the war room discussions happened. The palace was so majestic that all the rooms in there made us look in awe and set some house goals for ourselves, especially the walk in closet.
Afterwards, we stopped at the Notre Dame Cathedral which we could not enter due to renovation work. Therefore, we headed over to the opposite street which had the Ho Chi Minh Central Post Office. These two buildings stood as a fresh remembrance of the French colonization in Vietnam. Finally, we then proceed to the War Remnants Museum where we witnessed some of the scars of Vietnam's war. This was our last stop before we had lunch.
Post that, we took a short nap and then departed for the Cu Chi tunnels. We walked through a jungle that told the story of the Vietnam Civil War like a 3D book. It was quite fascinating to see how Vietnam braved the US army during the 1960s through guerilla methods. The tunnel's network was spread for more than 250 kms and the US army was able to detect and demolish only a fraction of that! After an intriguing day filled with historical relevance, we headed back to our hotel for quiet dinner and night's sleep.
Top Things To Do On An Adventure Trip To Vietnam With Friends
Day 3: The day was as sweet as honey
Yet another day with fond memories on our romantic trip to Vietnam began with a nice breakfast before we proceeded for the Mekong Delta. Upon reaching there, we had an opportunity to do island hopping. We visited three islands which had their own specialties.
The first island was about sweet honey and beekeeping where we took a ride in a hand rowed Sampan- a canoe that took us through the naturals water canals. The second island was about coconut trees where the highlights were the amazing toffees and the coconut wine. Finally, the third island was just about relaxing where we indulged in some crocodile feeding and lazing around.
After a couple of hours, we checked out of Ho Chi Minh and moved to the airport for our flight to Hanoi. After arriving, we checked-in around 10 pm at La Siesta Hotel for the night.
A Romantic Trip Relishing The Scenic Beauty Of Vietnam
Day 4: Witnessed the incredible sights of Hanoi
Located in the heart of Hanoi, hospitality at the La Siesta hotel was amazing. They remembered every guest and personally came up to each one of them and spoke to them at breakfast which had a nice personal touch to it.
This day, we began the Hanoi city tour by going to to the Craft Center of Lacquer paintings. We were thrilled to have a first-hand experience of seeing the artists create a beautiful painting. Next, we took a short break for lunch and treated ourselves with delicious local food.
After lunch, we visited the Ethnology Museum that exhibited the ethnic groups of Vietnam. It was interesting to see how these ethnic groups were very different from each other. They had cultural influences from China, Thailand and Cambodia. Our next stop was at the Literature Temple followed by a visit to the Buddha Temple at West Lake. The temple was a serene place of worship for locals and foreigners alike.
Later on, our guide got us tickets for the world famous Water Puppet show. It was one of our "Been there done that" moments of this romantic trip to Vietnam.
Our Romantic Trip To Vietnam Was Nothing Short Of Heavenly
Day 5: Halong Bay- Our unforgettable sailing experience
We began the day by checking out from Hanoi and moving to the beautiful Halong bay. On the way, we stopped at a cultural center to buy beautiful silk thread paintings. We were welcomed at the Flamingo cruise at Halong Bay. This cruise-day of our romantic trip to Vietnam was packed with activities like kayaking, swimming, and cooking classes.
The evening began with some amateur squid fishing where we were not successful in catching any but the night was beautiful with the calm waters and sea breeze soothing our tired bodies.
 Best Places To See On A Trip To Vietnam And Cambodia
Day 6: Explored caves with a touch of humor
On the next day of our romantic trip to Vietnam, we were woken up for Tai Chi- a Chinese martial art. Later in the morning, we were taken to explore caves. Upon entering, we were stunned by the interiors of the caves we saw.
After our tour got over, we were taken back to the pier, but not before we were served a scrumptious meal. We got dropped back at the hotel by 5 pm, after which we had an evening of leisure in Hanoi which went by in a lovely local cafe.
Day 7&8: Vietnam was etched in our memories forever
The next morning, we checked out of Hanoi and flew back to Ho Chi Minh. After landing, we checked into the Harmony Hotel. On this day of our romantic trip to Vietnam, we decided to spend some time with each other by taking up a great Spa deal offered to us by the hotel we stayed in.
In the evening, we were pretty excited to head out for shopping at the Night Market in Ho Chi Minh. We bought plenty of souvenirs at a very good price.
The next morning, with a heavy heart, we checked out of the hotel in Ho Chi Minh, proceeded to the airport, and bid goodbye to sunny and vibrant Vietnam.
We thanked our travel agent for organizing such an amazing romantic trip to Vietnam and giving us such good memories that will be cherished forever. The travel agent was also extremely courteous and ensured we did not face any inconvenience. We do not recollect a single instance where we felt we were stuck in our ongoing conversations with Travel Triangle. The pricing was also extremely competitive and transparent.
Best Things To Do On A Solo Trip To Vietnam And Cambodia
High point:
There were multiple wow moments for us during this romantic trip to Vietnam. The high points were our experience while visiting the Independence Palace, Cu Chi Tunnels, Water Puppet Shows and Halong Bay.
Low point:
Thankfully, there weren't any as the trip scheduling was done seamlessly and we did not face any untoward incidents or experiences.
Tips for travelers:
Pick a hotel that is convenient for you to visit nearby attractions in your leisure time.
Avoid boutique style hotels if you are prefer spacious hotel rooms.
Make sure the travel agent arranges for all transfers to avoid any hassles later.
A perfect romantic vacation awaits in Andaman. Book your Vietnam tour package now and enjoy the delights of South-East Asia!
---
Looking To Book An International Honeymoon?
Book memorable honeymoon on TravelTriangle with 650+ verified travel agents for 65+ domestic and international destinations.
---