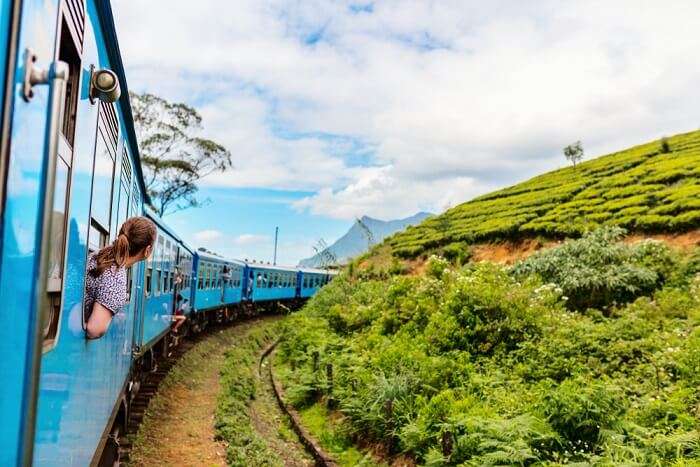 Sri Lanka is one of the most captivating and appealing destinations for a traveler. It is the city with the legendary history, beautiful greenery of nature and the traditional culture of tribal forks. Sri Lanka is not just a place, it is a city of experiences, adventures and lively emotions shared by all the people who have come across to have a glimpse of the sun warming solitude and taste the moment of the cold breeze of the sea.
For those who do not travel much, it is one of the cheapest travel destinations that are not only budget friendly but will help you gain knowledge about the Asian culture, wildlife, monuments and lifestyle of the people of Sri Lanka. There are a number of heart throbbing tourist places where you can visit and enjoy the authentic taste of Sri Lankan cuisine and dishes as well. The coastline of the country is covered with several amazing beaches and the highlands have numerous beautiful places such as Polonnaruwa, Adams Peak, Pinnawala Elephant Orphanage, Sigiriya Rock Fortress and many more.
Sri Lanka train journeys are considered the most convenient way to travel and enjoy the scenic views of the land of Sri Lanka. These trains were manufactured at the time of Colonial British rule in order to transfer coffee from one place to another.
They are not only comfortable but a time-saving means of transportation especially for tourists who want to travel to numerous places due to a limited period of their vacation timings. These trains provide a unique experience to travel and enjoy the beauty of nature. There are a number of trains that move around the whole country and each train varies in terms of cost, facilities, machinery, speed and functioning as well.
3 Best Sri Lanka Trains Journeys
Let's have a look on some of the most famous scenic train journeys in Sri Lanka that will provide you a unique experience of untouched countryside and thrilling sea coasts.
1. Viceroy Special

The Viceroy Special is one of the traditional steam trains that provide you with a luxurious Sri Lanka train tours. With a nominal fee of 897 LKR, it will deliver you all the basic facilities like comfortable seats, neat toilets, no air conditioning and a canteen for general eatables. This train will also provide you the sumptuous amenities such as bar drinking area, smoke zone, dining cabinet with full course meals, board music, Wi-Fi networking facility and a lot more but it will cost you a bit high for this It is basically an island train that moves along the sea coast. It provides the best hill country rail tours Sri Lanka.
2. Viceroy Second

This train shows the authentic charm of ancient history along with the elegance of a luxurious lifestyle. It furnishes you with lavish facilities like 24 convenient seats with tables alongside, air conditioning with dining cabinet and bar, Wi-Fi and high-class sound system. Sri Lanka train journeys are incomplete without its presence and functioning. This train will help you to add to your meeting with new people and you can enjoy the delicious cuisine of Sri Lanka along with your journey around the country. Its glory can be seen from its affordable service which is much better than Viceroy Special.
Must Read: 15 Things To Do In Ella That Will Take Your Sri Lanka Trip To The Next Level
3. T1 Railcar

T1 Railcar was made by English Electric Co. UK in order to give a magical experience of Sri Lanka scenic train rides. This rail has tried to recreate the entire rail car into a symbol of the traditional background besides the magnificent modern machinery. This train can carry up to 32 passengers and is most suitable for family trips and corporate vacations. It is a time saving and cost effective means of transport that offers you experienced and heartwarming staff delivering you comfortable travel experience along with tourist guiding throughout the train journey. This train will also provide you all the facilities with elegance and class.
Scroll down to look at some of the most amazing routes in Sri Lanka and the ways through which you can catch a train while youre out and about in this stunning land.
3 Best Train Routes In Sri Lanka
Scroll down to look at some of the most amazing routes in Sri Lanka and the ways through which you can catch a train while you're out and about in this stunning land.
1. Northern Route

This route usually consists of pilgrims and devotees who are traveling to Anuradhapura Temple or Jaffna. It is one of the common long route traveling train to the north of Sri Lanka enjoying the best services by the Sri Lankan Rail staff along with the spectacular views of northern Sri Lanka. It travels all the way from the coastal place to the mountain hillslope in order to carry the passengers and help them experience the taste of true Sri Lankan beauty.
Suggested Read: Viharamahadevi Park: A Handy Guide To Explore This Nature's Paradise In Sri Lanka!
2. Southern Route

This train journey travels all the way from Colombo to Galle in order to take the passengers to the south of Sri Lanka. It is a great journey comprising of enchanting by the Tamil devotees and food vendors selling their special Sri Lankan street food which includes wade. There are many private trains offering convenient seats with delicious meals.
3. Nine Arch Bridge

This bridge is the glory of Sri Lanka Train journey as it is one of the oldest bridge which was built in 1900 with rocks and steel. The Demodara Nine Arch Bridge offers a perfect captivating view to the travelers apart from its marvelous construction. Travelers can enjoy this bridge while traveling along in the opposite direction or by going over the bridge in trains.
Sri Lanka Train Journeys: Ticket Classes
Sri Lanka Railways has furnishes its rail into different classes. A rise in the level of the class also increases the quality of service provided by the professional rail authority. The rain experience has been divided into the following subgroups.
1. First Class Ticket

The first class rail ourney from Nanu Oya to Ella is one of the impressive Sri Lanka Train Journeys experience. This class will furnish you with all the lavish facilities like world-class seats and windows with curtains, healthy well hygienic food in all flavors, dining cabinet with drinks and bars of all kinds and much more. Tourists from Europe, Australia and America usually consider first class ticket as an option for traveling and in order to enjoy the long route journey in Sri Lanka. This ticket costs for 1000 LKR and in order to avoid the risk of non reservation of your seats, make sure that you book your tickets one day in advance of your train travel.
Suggested Read: The Ultimate Guide To Sri Lanka's Dambulla Cave Temple
2. Second Class Ticket

The second class train cabinets are more overcrowded with middle class working parents, grandmothers with their lovely innocent grandchildren and common tourist forks from the neighboring cities of Sri Lanka. This class will offer you basic amenities like comfortable seats, doors and windows, working fans, clean toilets and a common canteen that provides you with general eatables and drinks. People traveling in this cabinet would prefer opening their doors and windows in order to enjoy the scenic beauty of highlands, waterfalls, beaches along with the mesmerizing glimpse of nature. Although the cost of this class is a bit cheaper still it varies from place to place. For example, you need to pay 340 LKR to travel from Weligama to Kandy.
Suggested Read: 7 Most Haunted Places In Sri Lanka To Make You Face Your Darkest Fears
3. Third Class Ticket

This class is famous for its cost rate. The only difference lies is with the level of facilities provided as there are common seats and windows with no fans facility. This class is more convenient in case you are traveling shorter distances like from Colombo Fort to Hikkaduwa will charge you a nominal fee of 160 LKR, from Hikkaduwa to Galle will charge you only 35 LKR and from Kandy to Hatton will cost you 160 LKR. This cabinet is more suitable for those who had missed their train or who didnt seat in the second class. This class will also provide you with the most amazing scenic views from your window where you can enjoy your train journey by watching the beauty of nature and the wildlife without getting bored. Each journey describes a different experience and each view explains a unique set of stories made of the Sri Lankan forks.
Further Read: The Definitive Guide To National Museum Of Colombo In Sri Lanka
Sri Lanka Train Journeys are much more comfortable and affordable means of traveling. If you are booking your tickets online, please make you are that you choose the most secure and best site for booking in order to avoid fraudulent websites or payment loss. Also, take care of your belongings while you are traveling. Ask about the station twice before the train goes off the platform. This will not only enlighten you about the new cities of Sri Lanka but will also save you from getting lost. So, plan your trip to Sri Lanka for a serene vacation experience in this gorgeous land!