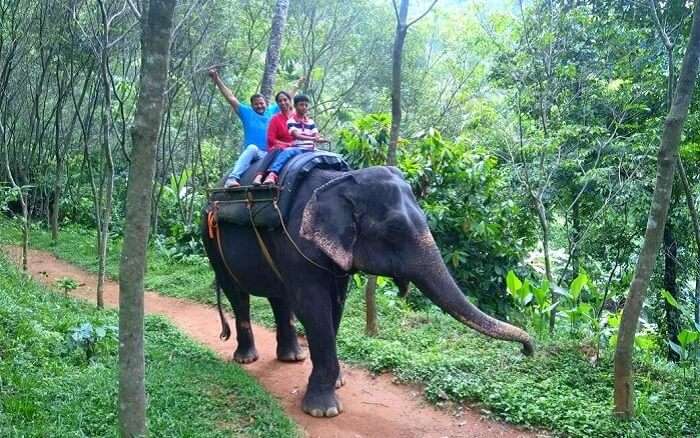 It was time for a family vacation and living down south in Hyderabad, we were looking to explore the hills of Shimla, Kullu, and Manali. At the same time, however, we were also seriously considering a vacation to God's own country, Kerala.
Thankfully, TravelTriangle came to our rescue. Found on the internet, as I was looking for tour packages, TravelTriangle, offered us a customizable itinerary as per our budget. Moreover, its travel experts also guided me well regarding which place we should go on a holiday, and I ultimately chose Kerala.
After connecting me to the various local agents on board the platform, I finally got my very own customized Kerala Family Package and was now all set for a vacation that would take me to the hills, backwaters, and beaches, and rivers.
Duration: 6 Nights and 7 Days
Cost: INR 59,106
Inclusions: Flights, Hotels, Transfers, Sightseeing, Breakfast
Exclusions: Other paid sightseeing, and meals
Day 1: Munnar – Witnessing the greenery of Kerala!


We took a flight from Hyderabad and reached Cochin in the morning. Upon our arrival, we were greeted by our driver cum guide for the journey and after a few refreshments, we quickly proceeded for our first destination, Munnar.


On our way, we experienced beautiful sightseeing which included a waterfall, an extremely enjoyable elephant ride, and fantastic views of the mountains, tea gardens, and more.
Overall, Kerala felt very rejuvenating and after seeing the beauty of Munnar, we knew, we had made the right decision.


57 Best Places To Visit In Kerala For A Vacation To Remember In 2022!
Later, we checked into our resort "Misty Mountain Resorts" which is a great property that offers excellent services and views. So, after taking a short nap, we proceeded for a village tour (not part of the itinerary, paid by us), which turned out to be the best experience in Munnar.
The Village tour took us to various points including the Mattupetty Dam, mountain viewpoint (from where we could see the whole of Munnar), Chennai Express Point (scenic point as shown in the movie), a waterfall, and finally the local village tour, all of which, were awesome experiences.
My husband and kid loved the whole cool vibe of Munnar and frankly, our vacation couldn't have started on a better note.
Day 2: Munnar – Time for some more sightseeing!




Today, after our breakfast, we left for the Eravikulam National Park at 9 am. The ride was scenic and the park was infinite times more. We spent good 5 to 6 hours here and climbed a mountain top from where we could see a majestic view of the valley. Later, we came down the peak, had our lunch, and then proceeded to the other sightseeing places like the Echo Point, Tea Estates, Spice Gardens, and a dam.



Our second half of the day was spent relaxing at the hotel only. During the night, the hotel staff had arranged a campfire dinner for all and this too was a great experience for my whole family.
Day 3: Thekkady – Experiencing the culture of Kerala




After breakfast, we left for Thekkady and reached there by 2 pm. Our hotel, Periyar Meadows, was once again and excellent one and after checking in and resting for a while here, we proceeded for our planned musical night, Kathakali, and Kalaripayattu show. Needless, to say, all of these performances were beyond excellence and we loved the whole vibe and culture that we witnessed here.

Monsoon In Kerala: Explore The Coastal Gem Like Never Before In 2022!
Overall, although the weather in Thekkady was quite sultry, we did enjoy everything that we saw.
Day 4: Alleppey – The incredible backwaters


Today, after breakfast, we tried going for a river boat ride at the Periyar National Park but could not do so since we got late. Although this wasn't a part of our itinerary, we expected the driver to be informed about the whole ticketing procedure, timings, and points of interest.
Later, we proceeded towards Alleppey and reached our destination by 1 pm. Here, we checked into our houseboat, where after freshening up, we began our backwaters tour.
This tour was a natural experience like none other. It was as if, roads were replaced by waters and everything that you generally find on roads including street shops, were found in the waters here.
So after some shopping, we then went in for some adventure and did the speed boat ride. Overall, our houseboat experience was a nice one.
Day 5: Kovalam – Good times were spent here!


After checking out from the houseboat today, we began our journet to Kovalam. We reached the scenic beach town by 2 pm and after checking into our hotel "Sagara Beach Resorts", we rested for a while.


Out of all the resorts that we stayed at, this one was the best since it is 2 minutes away from the lighthouse beach, has an ocean facing view from almost all the places, and comes with a grand pool where my family had a great time chilling.
Overall, we loved the overall vibe of Kovalam and everything from its weather to its beaches was awesome.
Day 6: Kovalam – Witnessing the magic of Poovar beach!

We started our day with a visit to the 2000-year-old Lord Parshuram Temple and after the darshan, visited the Marine Aquarium. But what took our breath away was the Poovar beach visit.

Situated about 20 km away from Kovalam, a ride in the river of this town (Neyyar, which meets the ocean) is a one of a kind experience on its own. There were floating restaurants and resorts here and the point where the river met the ocean was spectacular.

Best Of Shopping In Kerala In 2022: What To Buy And Where
We almost went till the border of Kerala and Tamil Nadu and seeing the sunset here was once again, surreal.
Later, we returned to our resort.
Day 7: Goodbye Kerala
After breakfast, we relaxed at the beach for a while and then visited the famous Sree Padmanabhaswamy Temple. We came back to our hotel and checked out of it at around 2 pm.
We were dropped at the Trivandrum Airport and our rest of our time was spent here only, waiting for the flight.
Final thoughts




Kerala was an excellent trip for us. From the hills to the backwaters to the beaches and temples – everything was pure and calming in its essence. There was serenity, fun, nature, and a perfect mix of leisure and travel that got us hooked on to this destination like anything. In the end, we were rejuvenated and refreshed beyond our expectations. And for that, I would like to thank TravelTriangle.
Things we loved:
Munnar ambience and the Village Tour
Cultural show in Thekkady
Backwaters in Alleppey
Everything in Kovalam, especially the resort and Poovar beach tour
Things that could have been better:
Our driver cum guide, although very good, had little knowledge about points of interest in Thekkady, as a result of which, we could not see the best of what the place had on offer.
Tips for travelers:
I would recommend people to take the backwaters tour during the winters since the weather during this time is more suitable for sightseeing and stay.
This family witnessed the best of houseboat and hills in Kerala and you can do it too. Select a Kerala Family Package and let us do the planning!