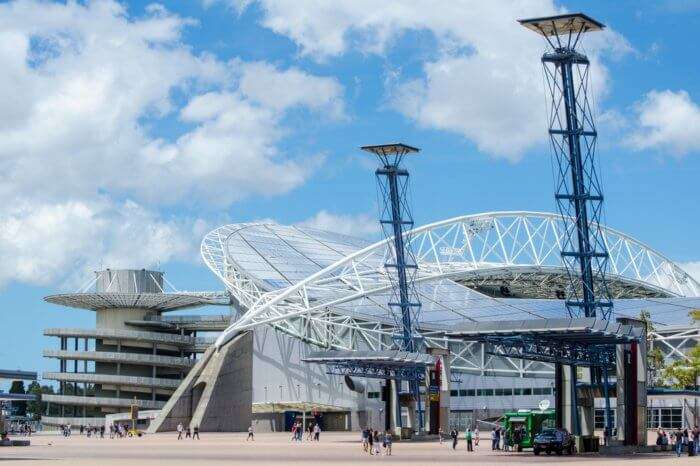 Often people get bored with their daily life routine. They need some type of relaxation and enjoyment. People living in Sydney or visiting there can definitely pay a visit to Sydney Olympic Park. A park is a great place where people can enjoy, relax and spend a wonderful day. There are various types of games and most of the games are interesting. The park comprises about 4300 hectares of land. It is full of greenery and so people can take fresh air from the atmosphere.
About Sydney Olympic Park
This park was mainly formed for complete enjoyment and relaxation. There are ample facilities in the park. If you wish, you can spend a wonderful outing in this park. There are many eating places where you can enjoy tasty drinks along with delicious foods. Most of the foods that are served here are of top quality. You will really feel refreshed.
Location: The park is exactly located in the western part of Sydney. It is a large sports complex where you can experience a wide variety of things. It is about 14 km from the west of Sydney and in the local Government area that comes under Parramatta Council. This place can be easily connected.
10 Things To Do At Sydney Olympic Park
Now let's go through some exciting things that can be done at this Sydney Olympic Park.
1. Outdoor Activities
If you are planning to come to this park with kids then it is perhaps the best place for them. There are ample outdoor activities that can be played here. There are scramble walls, tunnel slides and similar type of games that can be enjoyed by them. There is also an option of outdoor water games, especially for the kids. Most of the water games are very safe for kids of all ages. They are also provided with full protection. There are trainers who always keep a deep watch on the kids. So you can leave the kids safely in this place. Most of the events in Sydney Olympic Park is s mind-blowing.
Must Read: 10 Best Homestays In Sydney Where You Can Enjoy A Comfortable Stay & Save Some Bucks!
2. Picnic With Family And Friends
This park also has an awesome picnic spot that is ideal for spending a good time along with friends and relatives. It would be better if you plan for a picnic at this spot. You can also bring your own prepared foods and have it inside the park. During the winter months, there is a good demand for picnic. Thus, most of the people accumulate here for doing a picnic. Most of the time, the Sydney Olympic Park weather remains pleasant and this adds in the ideal reason that you should have a picnic with your friends or family.
3. Cycling
If you have a passion for cycling then you can hire a cycle and take a ride along the whole park. It would be an amazing experience to ride in the 430-hectare land. The park also offers the option of safest bike trail trails in the whole of Sydney. Most of the people opt for these options. Cycling in a fantastic environment gives complete peace of mind. If needed you can also follow the Sydney Olympic park map.
Suggested Read: 10 Best National Parks In Sydney That You Cannot Miss On Your Next Trip
4. Ice Cream
There is a small corner in the park where you will get to taste the famous ice creams. In fact, the famous cream and mix-ins are available in this park. You have the option to taste it nicely. The ice cream has a special taste that cannot be found in any part of Australia. If you have a strong crush to taste ice creams, then this is the best way.
5. Military Items Corner
There is a place in the whole park where some tanks and other war-related items are placed. It is a great place where you can come through military products. The whole area is full of greenery and this is the main attraction. You have ample time to see these things. If you are in this park, take out sometimes and come to this place.
Suggested Read: 10 Best Sydney Cottages That Will Compel You To Take A Break And Fly Away Right Now!
6. Armory Wharf Café
Armory Wharf café is another place where you can taste some awesome coffee along with various types of side dishes. The whole café is by the side of the lake and the whole place is very peaceful and lovely. There are good sitting arrangements in the café.
7. The Bring Pit Brick Walk
The Bring pit Brick Walk is another such place in the park where you can really enjoy the entire nature very closely. Prepare your camera to take the snaps of beautiful nature. The mangroves that surround the whole park really looks beautiful during the daytime. Don't miss to capture it.
Suggested Read: Sydney Harbour Bridge: Witness This Stunning Place For An Exclusive Holiday Experience
8. Mellow Me
Never forget to taste the amazing trapeze coffee and the mango juice. It will be a refreshing item in the entire tour. Mellow Me is such a place where you can enjoy such a drink. It is a few minutes walk from the Aquatic Center.
9. Games
Time to play some amazing and exciting games. In this case, the best option is the flying discs. You can also join your friends and relatives in the game and allow them to play with you. The clear blue sky and the green environment is simply perfect for such a game. So come and cherish such a wonderful moment.
Suggested Read: 10 Safaris In Sydney To Experience A Food Spree And Wildlife Sightseeing In 2022!
10. Ribs And Rumps
Ribs and Rumps is the best place for dining inside the game. You can taste here wide varieties of meat dishes that you may not have ever tasted. All the foods are of high-quality and they have a different taste the one that is prepared in ordinary restaurants. Apart from this, the whole ambiance is perfect for dining. You can take your special guests for dining. Most of the time it remains crowded, so prior booking is important in such case. Never miss tasting such awesome dishes.
How To Reach Sydney Olympic Park?
Sydney Olympic Park is located in a prime position in the city. So it can be easily reached and there is no such problem. There are regular bus and train service through which you can reach this place. The trains are available at regular intervals. So it is best to know the exact timings.
Further Read: 10 Luxurious Villas In Sydney To Experience A Lavish Stay In Australia In 2022
In short, it can be said that Sydney Olympic Park is an awesome place for spending a good time. You will never realize how time flies. At the end of the day, you will feel bad while leaving this place. Once you are inside the park you will not feel bored or monotonous. However, it is not possible to complete all the activities in a single day. It might take some few days more for completing each and every game. So don't miss the awesome chance of enjoyment. The park remains overcrowded during festive seasons and special occasions. So, get packed and book your trip to Sydney right away!
---
Looking To Book An International Honeymoon?
Book memorable honeymoon on TravelTriangle with 650+ verified travel agents for 65+ domestic and international destinations.
---