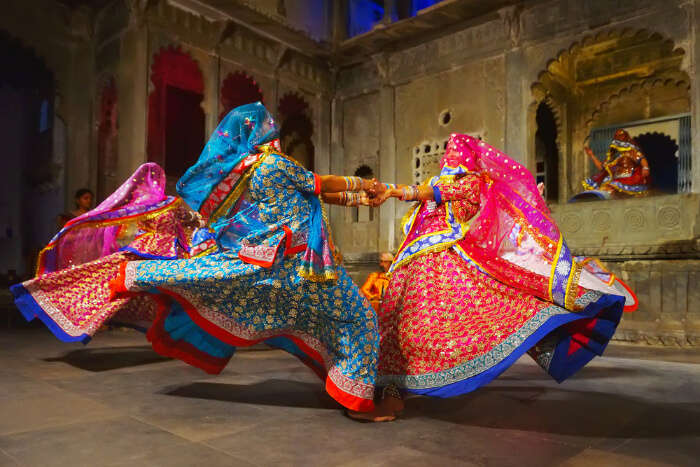 If you too are searching and have been asking people whether you should choose Jaipur this year or head to Udaipur, then this "Jaipur vs Udaipur" blog is sure to help you figure out what makes each one of them unique. Both of these destinations have their own charm and significance. While Jaipur is a busy city with a business centre, Udaipur is a peaceful city with less crowd and serene . If you're someone who loves sitting by a lake as the sun goes down, then Udaipur is the place you should go to and if you enjoy the grand architectures and forts, then it is Jaipur for you.
Here's what Udaipur has to offer
i. Udaipur has Lake Pichola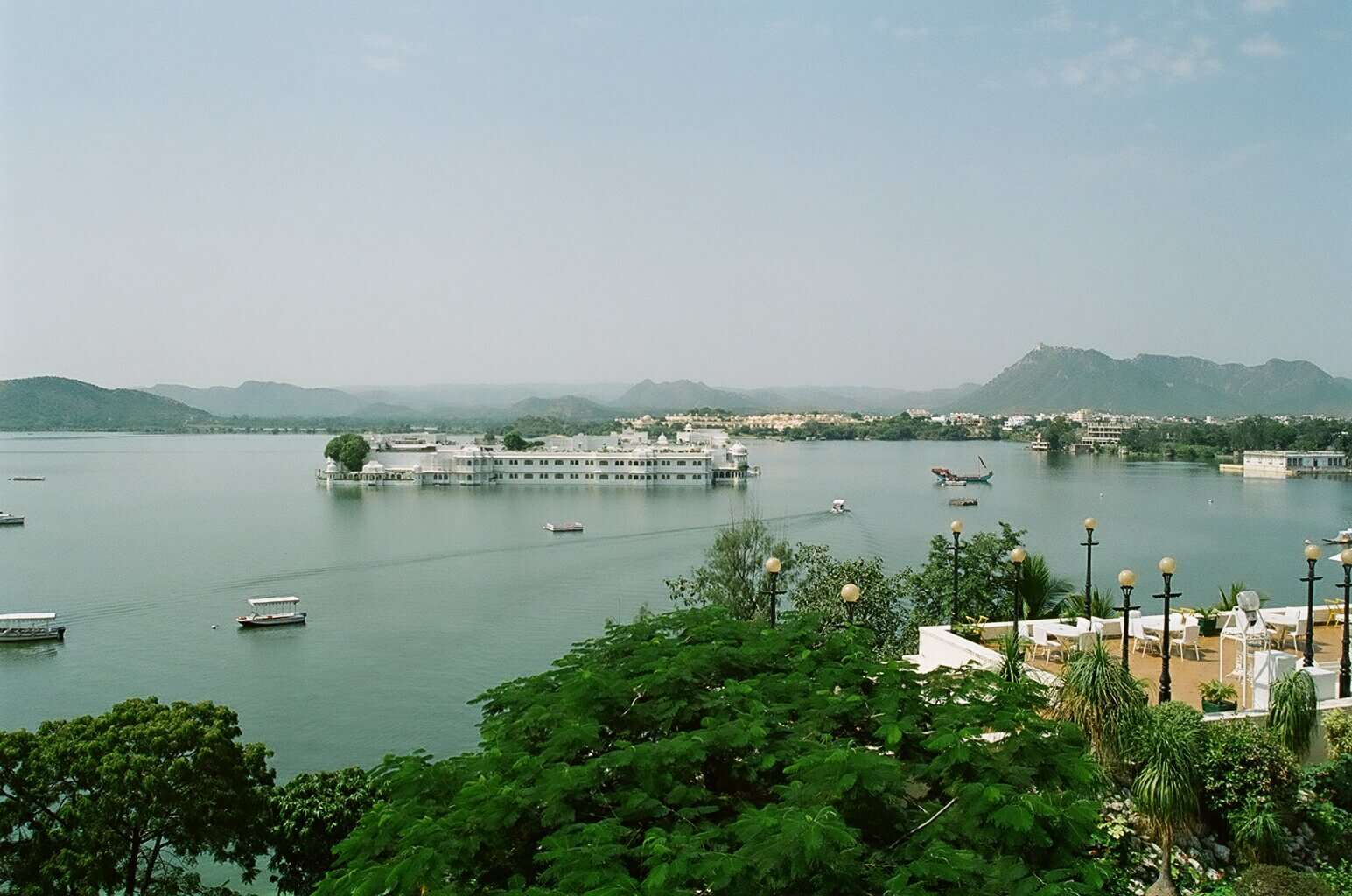 Interestingly, Lake Pichola is a man-made fresh water lake located in the heart of Udaipur. The lake is named after the quaint Picholi village of the town.  It is among the several lakes that have been developed over the last 600 years by the different kings. Many dams have also been built on the lakes to fulfill the requirement of drinking water and irrigation.
ii. It has Fateh Sagar Lake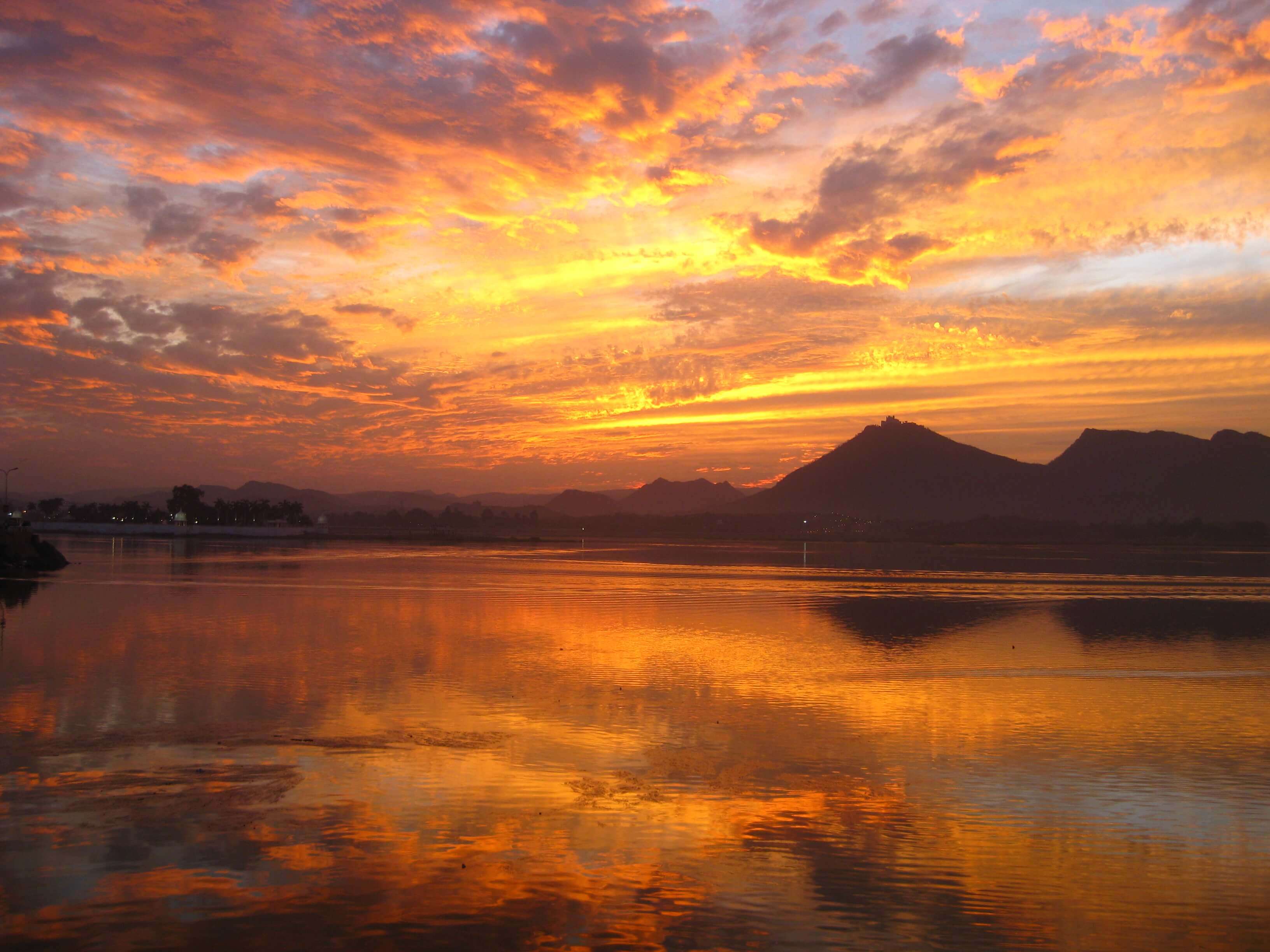 Fatesh Sagar Lake can be easily visited through Pichola Lake. It is probably one of the most beautiful lakes in Rajasthan that you can visit with your partner. The lake has three islands and each of them has a well maintained public park, that can be reached by a boat ride. You can spend your evenings here as the city gets ever more romantic and beautiful when the sun sets at the horizon.
iii. It has serene Ambrai Ghat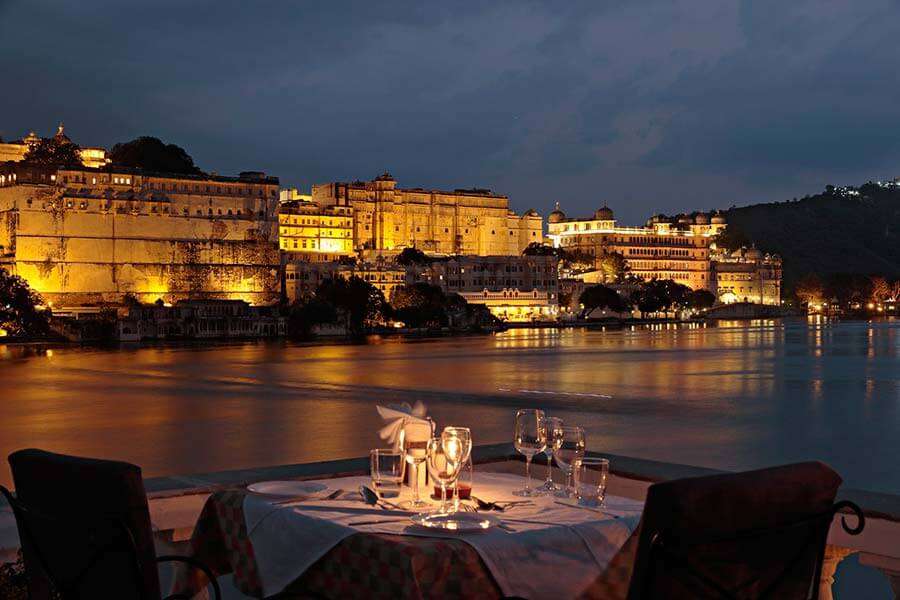 You can catch a spectacular view of Lake Pichola from Ambrai Ghat during a sunset. Situated right on the bank of Pichola Lake, it makes a perfect place for photography. Lake Palace, which is a luxury hotel can be accessed from the ghat. On Diwali eve, the fireworks in the sky make the palace look even more magnificent.
Suggested Read: 53 Magnificent Tourist Places In Jaipur
iv. It has the secluded Monsoon Palace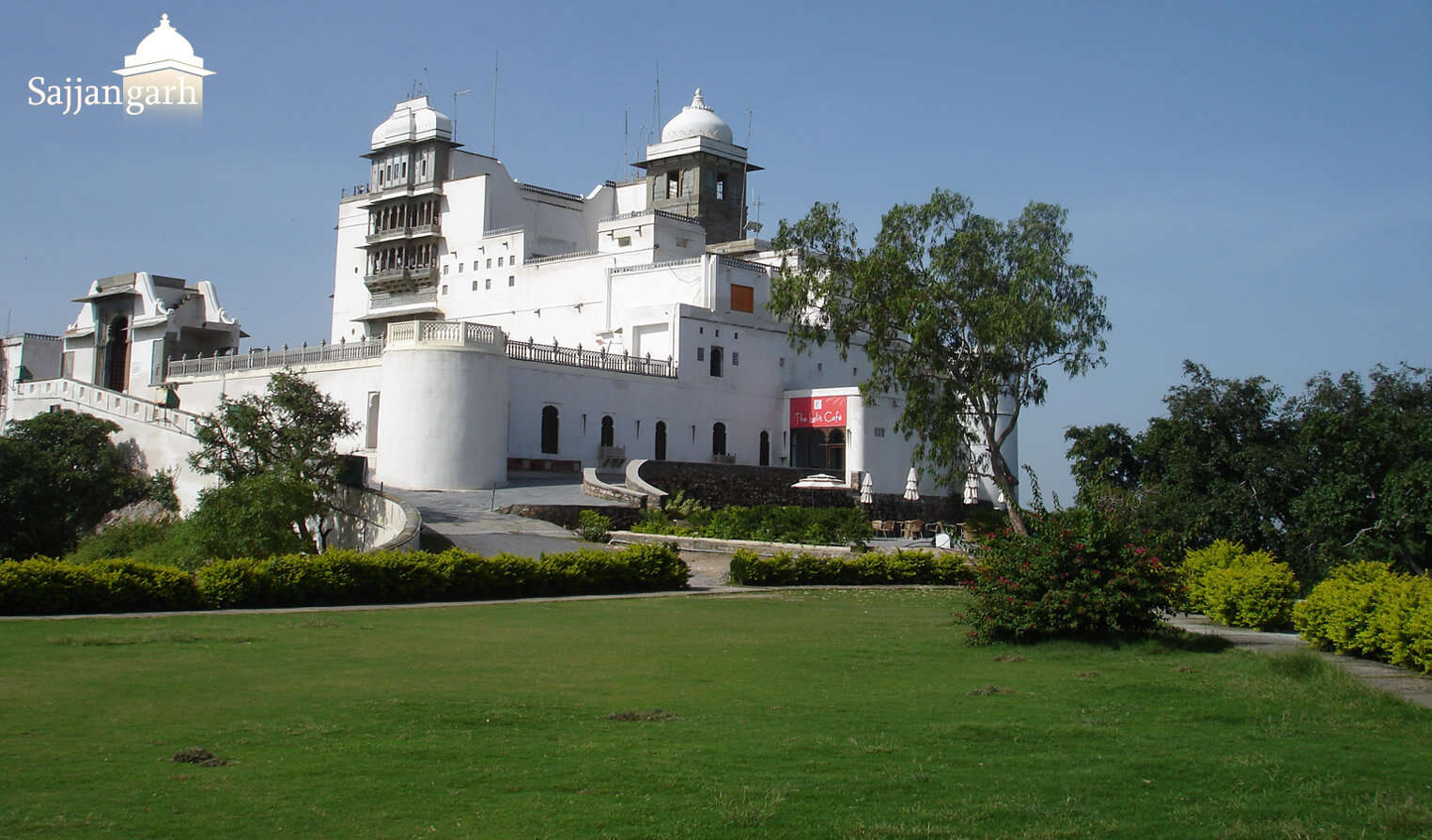 Not many have heard of Monsoon Palace, but this is a jewel of Udaipur and makes your sunset experience more romantic than ever. This is a palatial palace located on a hilltop offering some secluded time away from the city. The palace also offers a panoramic view of all the lakes of the city as well as the surrounding countryside.
v. And it has the quaint Shilpgram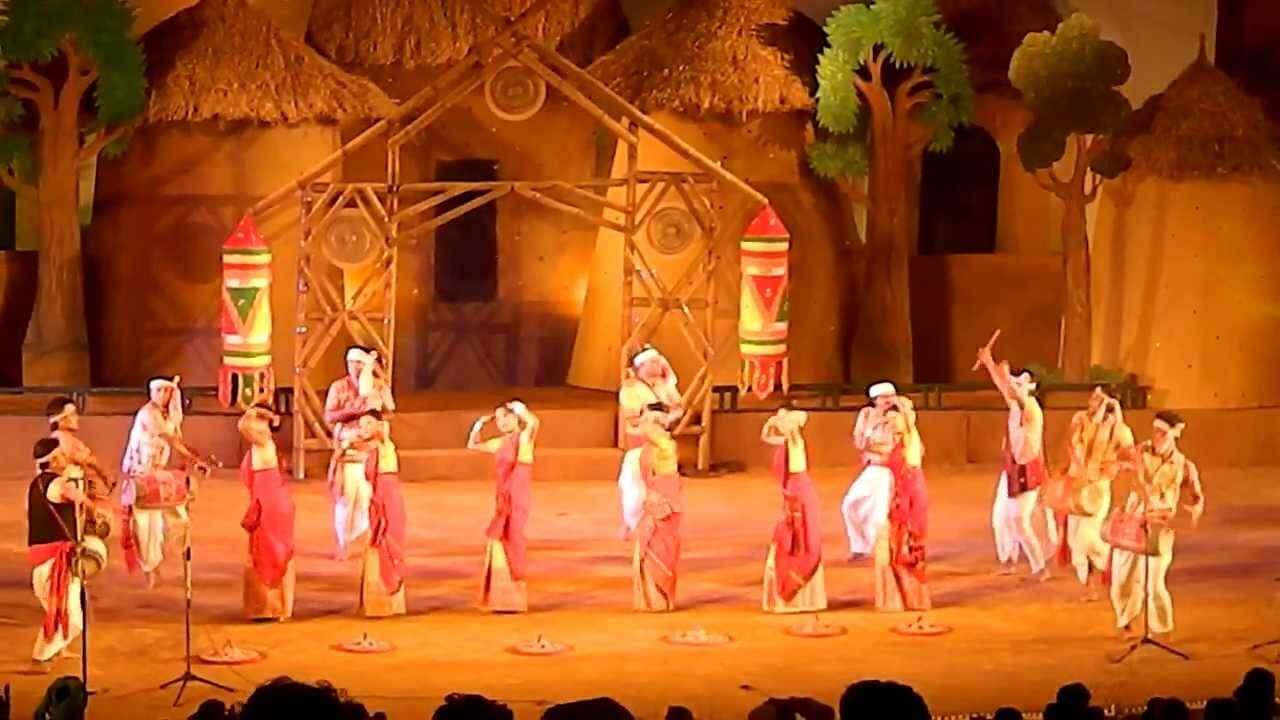 While in Udaipur, you can experience the rural life of Goans, Marathis, Rajasthanis, and Gujaratis in Shilpgram. The artists perform dance and other activities that give you an idea of the lives of trball people living in rural India. It is the hub of arts and crafts that you won't find anywhere else.
What all you should expect while travelling to Jaipur
i. Jaipur has the grand Amber Fort and Palace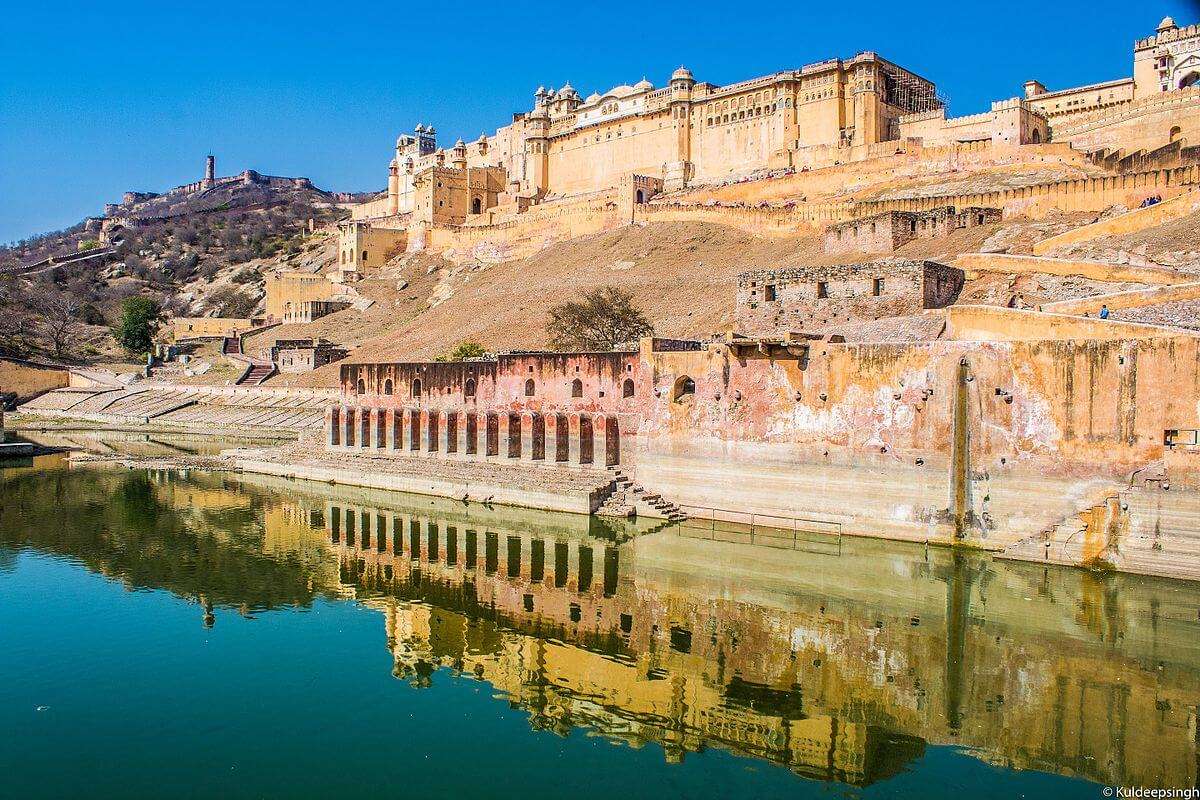 Calmly situated atop a hill in Udaipur, overlooking the picturesque Maota Lake, Amber Fort is a place that attracts many to the city. It is a bit away from the city center, which means there's total peace here and you can spend some "me" time. Within the fort, there are marvelous palaces, temples, and gardens that are worth a visit.
Suggested Read: 20 Historical Places In Rajasthan That Will Take You Back To The Glorious Past
ii. It has the spectacular City Palace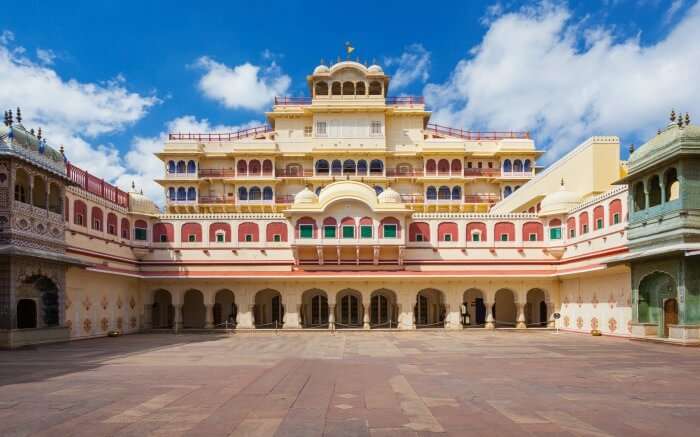 A perfect combination of Mughal and Rajasthani architecture, City Palace is something every traveler falls in love with. It has got a museum and an art gallery that'll keep you engaged for a while. It consists of two palaces: Chandra Mahal and the Mubarak Mahal. Anyone who admires a fusion of European, Mughal, and Rajput architecture must check it out.
iii. It has the iconic Hawa Mahal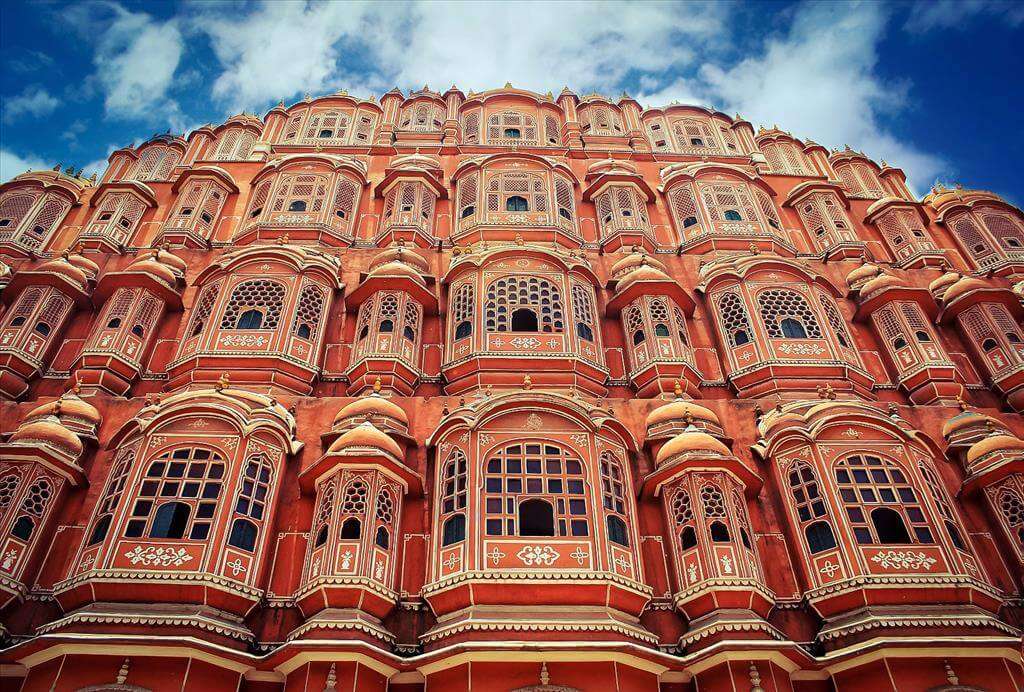 Have you been to any palace that had more than 900 windows? Well, Hawa Mahal is one such place that amuses every tourist. This is an extremely breezy place that offers spectacular views of the city below. Although the city has become very busy and crowded now, but the palace is still magnificent structure that you should explore.
iv. It has the amazing Jantar Mantar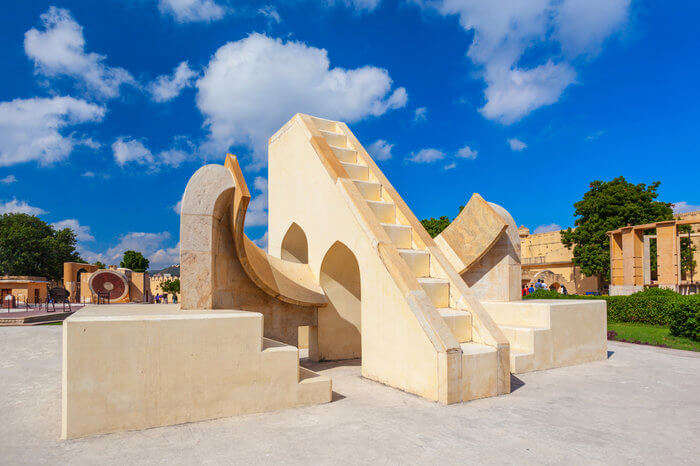 With the world's largest sun dial, Jantar Mantar, Jaipur has become a UNESCO World Heritage site. The observatory is among the most popular tourist places in Jaipur. This place is sure to impress you!
Suggested Read: 33 Palaces In India That Can Give Buckingham Palace A Run For Its Money
v. And it has the most stunning Nahargarh Fort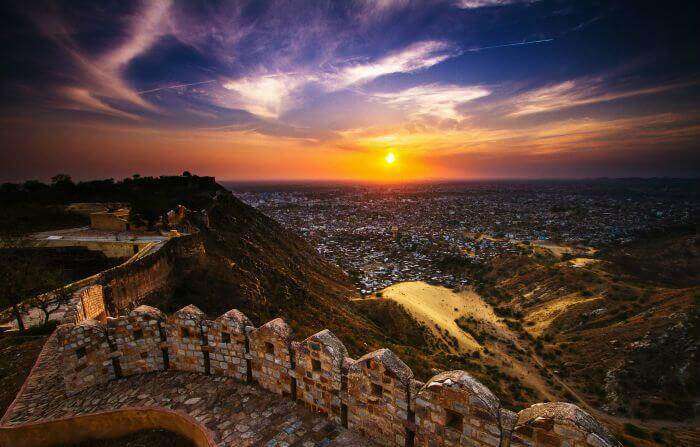 Nahargarh Fort is the crown of Jaipur, and anyone who has ever visited the city fell in love with this place. The fort also has a cafe where you can have food while enjoying the panoramic view of the city below. It is among the most popular sunset points in the entire Jaipur, due to its location on the Aravali hills.
Further Read: 12 Luxurious Hotels In India That WILL MAKE YOU SELL YOUR KIDNEY!
As you can see there are more places to see in Jaipur, but that doesn't mean you should stop yourself from travelling to Udaipur. If you love smaller cities and the old-world charm of small places, then do not miss Udaipur at all.
Frequently Asked Questions About Jaipur vs Udaipur
Is Udaipur worth visiting?
Udaipur is definitely worth a visit as it is tamer and more scenic. Udaipur would seem like a royal city with its palaces, lakes & gardens. The surroundings of Udaipur are green & you will have options of forts to cover as an excursions or day tours.
What is the best time to visit Udaipur?
The best months to visit Udaipur are August, September, October, November, December, February, and March. The temperature remains comfortable and is apt for visiting the monuments and other places of interest in Udaipur.
Which is the best place to visit Jaipur or Udaipur?
Both cities have their fair share of beautiful historic forts and palaces Amer fort in Jaipur and the City Palace of Udaipur are both the top tourist attractions.
How far is Pushkar from Jaipur?
The distance between Jaipur to Pushkar is 142 km by Road. There are direct buses plying between Jaipur to Pushkar. The minimum time a bus takes to reach Pushkar from Jaipur is 3h.
Is Rajasthan safe for tourists?
Rajasthan is a very safe and secure place for traveling. It is not only the safest but most celebrated tourist destination in India.
Is Jaipur safe for female Travellers?
Jaipur is pretty safe for women travelers. Jaipur is generally safe for lone women. That being said, groping of females does sometimes occur; even if you dress conservatively.
What should I buy from Udaipur?
Some of the famous things to buy in Udaipur are Ethnic Sarees, Jackets, Diaries, Pagdis (Turbans), Paintings and Sculptures, Cushion Covers, Authentic Jewellery, and Wall Hangings.
How many days is sufficient for Udaipur or Jaipur?
Whether you are visiting Jaipur or Udaipur, you will need a least 3 days to see the best of either of the places.
---
Comments
comments