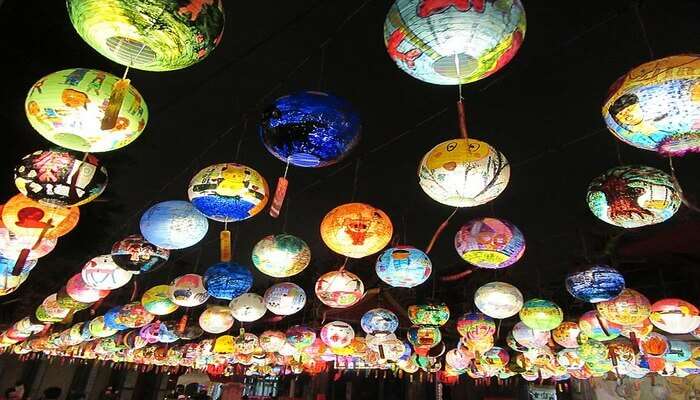 Cover Image Credit: Wikipedia
One of the greatest attractions of Taiwan's is the sheer depth and diversity of its festivals. All the Taiwan festivals are celebrated with vigor and fervour. The biggest festivals among these have Chinese roots and are declared public holidays in Taiwan. The wide ranging collection of aboriginal festivities and an amazing array of regional religious festivals are also a part of the Taiwanese festival calendar.
In order to get a proper taste of the Taiwanese culture, one needs to experience these festivals and be a part of time-honoured traditions. If you are planning to visit the country in future then read on to gain some knowledge about some of the most popular Taiwan festivals.
Top 10 Taiwan Festivals
The best Taiwan festivals are listed down along with some additional informations about them that will come in handy:
1. Chinese New Year
2. Dragon Boat Festival
3. Grappling With The Ghost
4. Mid-Autumn Festival
5. Zhongyuan Festival
6. Aboriginal Festivals
7. Guanin's Birthday
8. Yimin Festival
9. Double Ninth Day
10. Mazu Birthday And Pilgrimage
1. Chinese New Year
The Chinese New Year has to be the most popular and well known Taiwan festival. This is also known as the passing of the year as people like to discard the old and accept the new. This spring festival is held on the first day of the lunar calendar year. The people carry out spring cleaning on the last day of the old lunar year to get rid of all things bad.
On New year's day people distribute traditional food items and sweets while kids and elders enjoy a great fireworks display. Be a part of this festival if you want to have a second New year celebration.
When: 1st to 5th day of the Lunar Calendar
Must Read: 10 Things To Do In Taiwan That Will Have You Packing Your Bags Right This Minute!
2. Dragon Boat Festival
The Dragon Boat Festival is one of Taiwan's most popular annual festivals. The festival originates from ancient times commemorating the old poet Qu Yuan. That is the reason why this festival is also widely known as the Poet's Festival. The main attraction of this festival includes Dragon boat racing and exchange of dumplings made of rice known as Zongi. Take part in this amazing festival to get a better understanding of the nuances of the festival.
When: During the lunar new year and mid-autumn
Suggested Read: Top 10 Taiwanese Restaurants: Know Why Foodies Love This City!
3. Grappling With The Ghost
Grappling with the Ghost is a competition which primarily includes climbing up poles. This festival is held during Ghost Month and hence the name. The people who came to the Yilan province were frequently hit by numerous natural disasters and diseases. As a result many of them died and passed on to the afterlife.
Therefore, after reaching Yilan, the migrants celebrated pole climbing ceremonies. This was done for the souls of the dead to give easy access to the heavens. In the modern era, people also organize many poleclimbin competitions.
When: Ghost Month or the 7th month of the Lunar Calendar
Where: Toucheng and Hengchun
Suggested Read: 10 Popular Places To Visit In Taiwan You Must Not Miss On Your Trip
4. Mid-Autumn Festival
The Mid-Autumn Festival is celebrated by people after the first autumn harvest. They thank the almighty for the abundant harvest and pray for a healthy year ahead. This festival is also the only romantic festival in Taiwan as most celebrations are religious in nature. Couples ingest moon cakes as well as specially prepared wines and stroll under the moon to symbolize strength in love and unity.
Families celebrate this by hosting barbeque parties and eating together with tourists. You can witness this up close by going to a local's house.
When: During Autumn
Suggested Read: 32 Budget International Trips For Your Holiday In 2021 Which Will Cost You Less Than An iPhone!
5. Zhongyuan Festival
The Zhongyuan Festival is celebrated with much fervour and energy in Taiwan. This traditional festival entails devotees to prefer foods like fruits, flowers and meat to serve as sacrificial elements to the hungry ghosts at the temples. The people who can't go to temples build beautifully ornamented traditional altars and place them in front of their houses. Then they move on to serve the sacrificial goods.
People pray for a good afterlife and universal salvation for their loved ones who are no more. This is also known as Zhongyuan Pudu. The locals also prepare chicken, fish and duck dishes to exchange with each other.
When: Ghost Month from the 1st day to the 29th day
Suggested Read: 3 Trending Restaurants Near Yishun, Singapore For All The Foodies!
6. Aboriginal Festivals
Although many Taiwanese religious and traditional festivals are well documented, many aboriginal or local tribal celebrations still stay as closely guarded secrets. Even the indeginous people are sometimes unaware of the various events and dates of the aboriginal festivals.Every local village has its own set of rules and traditions to follow. Only, the village elders know the actual dates of the festivals.
If you are lucky, then you may get a chance to witness the aboriginals during one of their celebrations. However, beware that local chiefs are apprehensive and frown at the idea of their culture turning into a spectacle. So, no cameras are a strict no-no.
When: The dates are tentative and are usually set by the tribal elders
Where: In the tribal regions of Taiwan
Suggested Read: 5 Best Restaurants In Tanglin For A Tour Down The Singaporean Exquisite Delights
7. Guanin's Birthday
The image is for representation purposes only.
The goddess of mercy also known as Guanine is an important deity in Taiwan. The birthday of the benevolent mother Goddess is celebrated throughout the various Buddhist temples in the country. This festival has its main centres at the Longshan Temple in Taipei and the Zizhu Temple. The 300 year old rich history behind the festival has many things to offer for visitors.
Festivities include food distribution and ritualised martial arts performances. If you want to observe local culture and its minute details, then this festival is a good option for you.
When: March/Lunar February
Where: Taipei
Suggested Read: 25 Best Honeymoon Destinations In Asia In Summer Of 2021
8. Yimin Festival
The Yimin Festival is held in Lunar July. This marks the annual meeting of the Hakka people in remembrance of the Hakka militia group that fought during the 1700s. The Yimin Temple is the main venue of the festivities. People gather here to pay respects to their elders and make them offerings. However, this festival does not witness many foreigners as it includes animal sacrifice.
When: Lunar July
Where: Fangliao
Suggested Read: 23 Best Places To Visit In May In Asia In 2021 For A Cool And Carefree Vacay
9. Double Ninth Day
The number 9 often symbolises male energy or yang. Double Ninth Day is celebrated on the 9th day of the 9th month in the lunar calendar, hence the name. There are activities that signify male vitality and strength like hill climbing, walking, kite flying and drinking Chrysanthemum wine. This day is also celebrated as Senior Citizen's Day and is considered to be an auspicious time to pay homage to elders of the community.
When: 9th day of the 9th Lunar Month
Suggested Read: Top 8 Places To Visit In January In Asia For A Great Time
10. Mazu Birthday And Pilgrimage
The Dajia Mazu Pilgrimage is a tremendous journey and is considered as one of the world's largest religious events. Devotees will form a caravan and march towards the Dajia temple with the Mazu deity. This 8 day long festival is always celebrated before Mazu's birthday. Festivities include traditional food, dance and prayers to Mazu.
Mazu's birthday is one of Taiwan's most important festivals. This folk fest is celebrated in reverence to the sea Goddess Mazu. Mazu deities are taken on a journey by the people and then returned to their respective Mother Temples.
When: April/Lunar March
Where: Dajia, Beigang, Lugang
Further Read: 34 Best Places To Visit In Southeast Asia In 2021!
The culture of Taiwan is one of the most versatile and old cultures in the world. To experience it, you must be a part of the Taiwan Festivals that we have listed for you. The list is comprehensive and gives you a good understanding of the events for you to enjoy your trip to Taiwan. We hope you gain great knowledge and memories while you take part in these festivities.
Disclaimer: TravelTriangle claims no credit for images featured on our blog site unless otherwise noted. All visual content is copyrighted to its respectful owners. We try to link back to original sources whenever possible. If you own the rights to any of the images, and do not wish them to appear on TravelTriangle, please contact us and they will be promptly removed. We believe in providing proper attribution to the original author, artist or photographer.
Please Note: Any information published by TravelTriangle in any form of content is not intended to be a substitute for any kind of medical advice, and one must not take any action before consulting a professional medical expert of their own choice.
Frequently Asked Questions About Taiwan Festivals
Why is the Taiwan Lantern Festival celebrated?
Chinese Calendar is followed all across Taiwan. The Lantern Festival, celebrated annually on the 15th day of the first lunar month to mark the grand finale of the Chinese New Year. Additionally, it is also the first full moon day of the New Year, symbolizing the onset of spring.
What is the Dragon Boat Festival?
There was a poet and minister named Qu Yuan who commited suicide by throwing himself into the Miluo River. It is said that the locals raced in their boats to save him but couldn't find him. The women threw sticky rice balls into the water to feed the fish so that the fish wouldn't eat his body.
The locals racing in the boats became the origin for modern day Dragon Boat Racing Festival in Taiwan.
What are the major holidays in Taiwan?
There are around 10 major holidays in Taiwan including Chinese New Year, Memorial Day, Tomb Sweeping Day, Dragon Boat Festival, Mid-Autumn Festival, National Day and more.
What is the special food eaten at the Lantern Festival?
The special food eaten on the Lantern Festival is Tang Yuan or Yuanxiao, a sticky rice dumpling that symbolizes reunion, harmony and happiness for the family.
Is Chinese New Year celebrated in Taiwan?
Yes. The people in Taiwan celebrate the Spring Festival with other traditional Chinese customs. Since Chinese New Year is one of the most vibrant holidays in Taiwan, all celebrations are aligned to having a fun time.
Does Taiwan celebrate Christmas?
Christmas is not a national holiday in Taiwan. But, Christmas is celebrated more vigorously in Taiwan than mainland China. Although only 5% of people in Taiwan are Christians, you will find stores selling Christmas related items.
People Also Read: