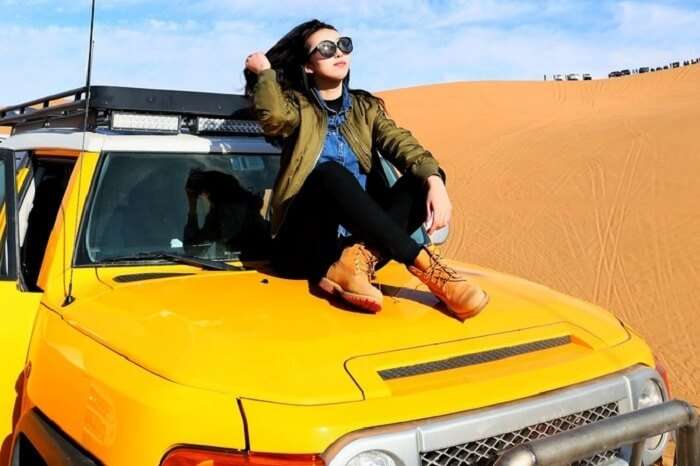 You know how there are some trips that just happen, out of the blue and when you have the least clue? Well, my excursion to Ulan Buh and Tengger on an inner Mongolia desert tour was exactly an affair like this! I took a trip with my friend Jane Shu and his friends, and it felt like we had already struck gold in our life. And I'm sure you too would agree the moment you scroll through our pictures and read about the journey.
Trip Type: Desert Tour
Trip Duration: 3 Days in December's last week
Cost Per Person: 3000 RMB or INR 28,190
Desert Safari In Dubai: Top 10 Experiences And Attractions
We began our journey from Beijing in an SUV, which was driven by an old driver of the team I was traveling with. It took us a whole day to reach Wuhai, from where we finally headed to our destination. The last desert trip I took was to the Sahara, and I did come back with a lot of learning. So, this time I made sure I had packed well and headed out well prepared to face the desert. After all, it's a dangerous environment.
So, just in case you plan to take a similar Mongolia desert tour or any other, here's what you must pack:
A sunscreen with SPF 30 or above to keep your skin protected.
A good pair of sunglasses. Believe me, you don't want your eyes to be blinded by the sun out there.
Carry one big down jacket to survive the evening and the nights.
Avoid carrying heavy luggage bags. The bumpy rides in the desert will not let them stay stable in the car. So, a light shoulder bag would be an appropriate choice.
Desert Adventurous Honeymoon: Experience The Combined Thrill Of Romance & Adventure!
After savouring the views of the gorgeous snow-capped mountains, brightly lit sun, and the beauty beneath us, we reached Wahui and checked into our hotel. And here's what we did on each day of our Mongolia desert tour::
Day 1: Touring Ulan Buh Desert
As soon as we reached the hotel, our hearts started to yearn for the desert. The adrenaline rush got us so high that none of us grabbed even a single bite, and we got into our car to leave for the tour.
Desert Safari In Jaisalmer: Experience The Thrill
Now no trip is fun unless you experience some unplanned adventures. We faced our first on day one itself – we had to deflate the tyres of the car so that we could drive along safely in the soft sand of the desert. This was kind of a news for me, but an enriching one. So, I'm quite thankful to our driver who enlightened us about the whole procedure.
24 Best International Trips Under 50k For Your Bucket List 2022!
I also learned about a group of high-powered off-road vehicles in the desert, which are best for such tours. Soon after, there was a thunder in the desert, and my heart skipped a beat. Well, because I'm have always been a little afraid of thunderstorms, and experiencing it that time was something I didn't see coming at all.
Safari Honeymoon In South Africa Is About Kindling Love In The Wilderness! Are You Game?
The driver realized my fear. So, we followed the road, left the rut line in the desert up and down, and the key slope. At this moment, all I could recall was this girl who compared the desert to a roller coaster. And believe me, it was truly a roller coaster ride. I felt so uneasy that later on I bombarded our driver with a lot of health related questions. Thanks to him, I felt better and survived the turmoil.
Travel Story Of Sophee Smiles: A Wandering Couple's Fascinating Tryst With India & Pakistan
During the first set of our resting points, we clicked a lot of pictures. And during the third rest, we got converted into a 'casserole' of a 'pot top'.
25 Breathtaking Photos That Will Inspire You To Travel
This was the first day of our running through the desert, where we tried the sand, and the car. Honestly, it wasn't an easy day, since we ran a triangle in the desert, running through three resting points. But, it was absolutely worthwhile!
Day 2: Enroute Alashan Zouqi – the home of the Tengger Desert
On the second day of our Mongolia desert tour, we got up early in the morning, took a shower, and checked out of the hotel. The driver and I tried some local food nearby, and it turned out to be a refreshing treat to our taste buds.
Things You Ought To Know Before Traveling #PackingHacksIncluded
One thing that had changed on this day of the tour was my state of mind. From day one's worry, fear, and sweating palms to the day two's craze, excitement, and eagerness, I felt like a horse in search of a grassland. But nevertheless, I kept my spirits high, with the zeal of living in the moment and making the most of it.
35 Things To Do In Jodhpur That Should Instantly Be Added To Your Travel Bucket List In 2022!
We again prepped up to move forward towards Tengger, and so it was the time to stop and change the wheels. This moment was quite heartwarming, for the foremost reason, which is the team effort. And this charm of traveling together really touches my soul. Unknown people come together, become friends, share their wisdom, and put in efforts to achieve a common goal.
This Traveler Sketches Wherever He Goes And His Art Is Surely The Best Thing You Will See All Day
After getting done with the changes that the car needed, we along with a few other groups began the most difficult journey of our Mongolia desert tour. We reached the confluence of the first car in the noon, and meanwhile everyone listened to the radio, my friend took me to the nearest hill. We clicked a zillion number of pictures, which I knew that I could see anytime in my life, and cherish forever.
35 Spectacular Road Trips In India For That Passionate Traveler In You
The next goal was to reach Alashan Zuoqi. So we looked at the map and decided to hit the road directly. It was certainly a better feeling to be driven on the road, with other cars gearing up for the same goal. In the evening, we finally made to our destination and checked into the hotel.
Day 3: Exploring The Tengger Desert
This was the final day of our Mongolia desert tour. Everyone woke up early in the morning and we all finally had a hearty breakfast together.
Wanna Get Paid To Travel? Check Out 10 Lucrative Careers For The Wanderer In You!
The slopes of the Tengger Desert and the Ulan Buh Desert were very different. Before making our way into the desert, I felt that the weeds would affect the driving, but it largely depended on the type of vegetation that was done there.
Maddie The Rescued Coonhound Is On New Adventures & Her Pictures Are Paw-dorable!
We had spent a lot of time in Ulan, so upon reaching the 17th stroke, the big force was divided into two teams. Huang Ge, one of our travel buddies led our team of five cars, and another friend led the rest of the cars.
6 Most Popular Jordan Tours For A Trip To Middle East's Most Easy Going Places
Another learning that I had during our Mongolia desert tour was that the sand in the Tengger Desert was very hard in comparison to the one in Ulan Buh. And definitely a bad place to go in the beginning, since the weeds only increased the difficulty of driving. It took us a lot of time to finally reach the confluence point, where we met two other groups from our team.
We also realized that the Tengger Desert was quite rough as compared to Ulan Buh, since it had lots of vegetation and rivers. So, the best time to visit Tengger Desert and savour the beauty would only be the summer or the autumn season.
Since we had to hurry and hit the road back to Wuhai, we left from this confluence point to touch down another desert near the river.
5 Beautiful Digital Detox Destinations In Southeast Asia
After taking a few more pictures, we returned to the car and realized that another desert adventure awaited us! The door was locked and didn't open even when we tried a couple of times. It was completely a moment of ruckus. Our phones had no signals, and even the walkie-talkie was still in the car. We had no idea what to do next. But then the fortunate happened. The left window of the door was shaken down, and we tried to unlock the door with our hand.
Finally, when this little adventure got over, we prepped up to hit back the road to successfully return to the Wuhai Grand Skylight Hotel, where we had stayed on our first day. The whole place felt like a gorgeous painting that summarized the end of our adventurous Mongolia desert tour.
Glamping In Wadi Rum: 5 Exclusive Properties For The Luxe Staycation
With this, our expedition came to an end. Overall, I had an unforgettable time on our Mongolia desert tour. I know that a desert tour is surely not as pleasing as an island holiday. There are no signals, so getting in touch with anyone is barely possible. The food choice available is too minimal, and the whole environment is full of risk, but still it stays closer to my heart because no matter how many stories you make of the desert, no one will ever know what really happened. And that just leaves you in awe!