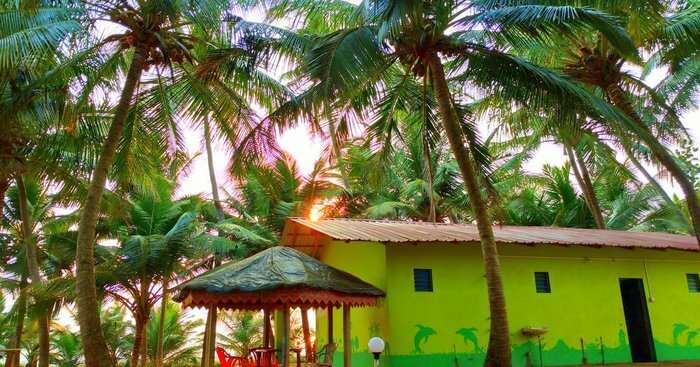 Parties, drinks, loud music, and hippies dancing on the beach, if this is what comes to your mind when you think of a beach vacation in India, then it's time for you to experience a vacation beyond this. Tarkarli, a village where time slows down and people wake up to the soothing sounds of waves crashing onto the shore, is a heaven for all of you in search of a quaint holiday destination. There are enough Tarkarli resorts for travelers to offer them a slice of tranquility.
Here's a list of budget to luxurious resorts in Tarkarli that'll help beach lovers plan a restful holiday without much hassle.
Tarkarli resorts under 3K
1. Silica Beach Resort

One of the best budget resorts in Tarkarli, Silica Beach Resort is a few minutes walk from Tarkarli Beach. The family that owns the resort is absolutely caring and friendly, and their staff is so polite. You'll love the simple yet delicious food cooked in their kitchen.
Tariff: INR 1,000 per night
2. Babla Resort

Among the best resorts in Tarkarli near beach, Babla Resort offers mesmerizing views of the beach and palm trees. From the amazing sea-view rooms to the mouthwatering Malvani food, there's everything you'll ever need for a comfortable and satisfying stay.
Tariff: INR 1,500 per night
3. MTDC Tarkarli Resort

Among the budget Tarkarli resorts, the government run MTDC – Tarkarli Resort is one of the most peaceful accommodations to stay on the beautiful beach. You can take long and lazy evening walks on the wet sand and watch a spectacular sunset right from your room or the beach. The hotel also organizes sports activities like snorkelling, boating, and scuba diving for the guests at reasonable prices.
Tariff: INR 2,000 per night
Suggested Read: 19 Sun-kissed Spots For Family Beach Vacations In India
4. Shripad Beach Resort

Situated right on the sandy beach and overlooking the beautiful azure water of the sea, Shripad Beach Resort is among the best Tarkarli resorts for families and couples. It has 5 cozy and simple cottages with attached toilets and hammocks for your relaxation. Guests love the homely stay, delicious food, and prompt services of the resort. The staff is also highly hospitable and takes care of all your needs.
Tariff: INR 2,000 per night
5. Marine Oasis Resort, Tarkarli

Marine Oasis Resort is one of the finest Tarkarli resorts for a romantic vacation near Mumbai. Offering a calm stay on the gorgeous beach of Tarkarli, it is known for its Applaudable hospitality and courteous staff. The resort staff also organizes water sports like scuba diving, snorkelling, and boating for their guests. You can swim all day long and witness beautiful sunsets on the beach with your love.
Tariff: INR 2,000 per night
6. Kinara Resort

One of the most popular resorts near beach in Tarkarli, Kinara is a perfect abode for all those planning a lazy and scenic vacation. They have enough cottages and AC rooms and serve some of the tastiest Malvani cuisine. They serve fresh fish food, including Surmay pamplet, Kolambi, Bangada Fry etc.
Tariff: INR 2,500 per night
Tarkarli resorts under 5K
7. Blue Water Resort

Blue Water Resort is among the best traditional resorts in Tarkarli for a memorable beach vacation with family and friends. Located right in the heart of Malvan, it offers a peaceful stay. Their USP is their traditionally decorated rooms and Konkani cuisine that attract many tourists from nearby cities. The resort has spacious rooms equipped with all basic amenities you'll need for a comfortable stay. People usually book this resort for long-term stays.
Tariff: INR 3,500 per night
Suggested Read: No Parties, No Goa: 10 Beach Experiences In India That Define Unconventionalism!
8. Fantasea Beach Resort

Fantasea Beach Resort is set in a sprawling campus right on Tarkarli beach with a delightful view of the beach. A luxurious resort with modern amenities and a traditional Konkani interior, this is usually preferred by families and large groups. If you want to witness the beautiful views of Tarkarli – Devbaug beach every morning you wake up, then Fantasea is the right place for your vacation.
Tariff: INR 4,000 per night
9. Avisa Nila Beach Resort

A few hours drive from Mumbai, Avisa Nila Beach Resort is situated at the confluence of river Karli and Arabian Sea. Anyone who wants to spend a quiet vacation on the beach, listening to the soothing sound of the waves, will love this place. From deluxe premium sea-view rooms to simple deluxe rooms, they have the most comfortable rooms available in Tarkarli. Their in-house multi-cuisine restaurant serves lip-smacking Kokani, Goan, Malvani, North Indian, and Chinese food.
Tariff: INR 4,000 per night
10. Sairaj Beach Resort

Sairaj is a little tropical paradise overlooking the blue waters of the ocean and sandy Tarkarli beach. One of the best Tarkarli resorts, Sairaj has small and cozy cottages surrounded by tall coconut palms. There are hammocks and seating arrangements made under the shades of the coconut palms. Guests can also enjoy the delicious Malvani cuisines prepared in traditional Malvani style in the resort kitchen.
Tariff: INR 4,000 per night
Further Read: 25 Budget Destinations In India To Welcome New Year In Style
If you want to experience beaches beyond partying and drinking, then Tarkarli is a perfect weekend destination from Mumbai and Pune. Book a weekend getaway package and enjoy a perfect beach vacation with family and friends.