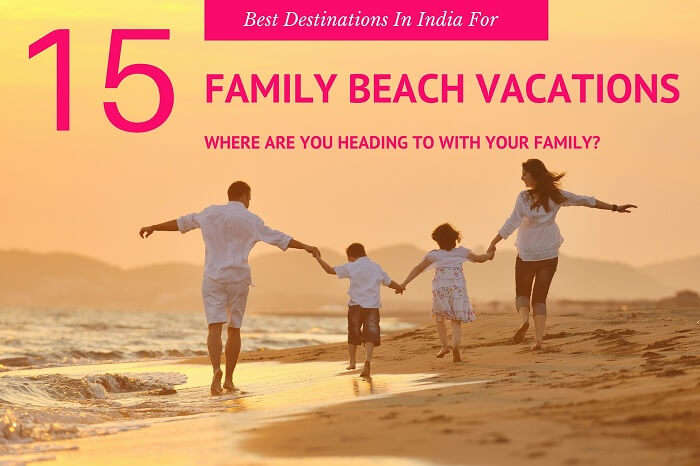 Family holidays are the most awaited time of the year. These vacations are loaded with fun-filled & thrilling activities. And nothing beats the family beach vacations in India.
The Indian coastline is a long one. The best beaches in India, with their sparkling sands and amazing views, are perfect for family vacations. Here is our comprehensive list of places for best family beach vacations.
19 Best Family Beach Vacations Spots In India 
Looking for a destination for a holiday with your family? There are a lot of options in beach destinations to choose from, in India. Select your preferred one from the following family beach vacations in India. Here is a list of the best family beach vacations spots in India which one must definitely visit and have a great time away from the hustle-bustle amidst the tropical beauty.  
1. Raghanagar beach, Andaman and Nicobar Islands

Radhanagar Beach has been ranked as Asia's best and the world's 7th best beach by Time Magazine. And it comes as no surprise that this sparkling white sand beach, also known as Beach No 7 of Havelock Island, is a popular hangout place for some of the best family beach vacations. The beach boasts of its turquoise water, luxuriant coastal vegetation, serenity, and ample options for water sports & beach fun.
Things To Do: Scuba diving, snorkeling, sunbathing, swimming, and game fishing
Accommodations: Barefoot, Silver Sand Beach Resort, Dolphin Resort, and Seashell Beach Resort
2. Varca Beach, Goa

Varca is one of the most exotic and best family beach vacation spots in Goa. Located 2 km from Benaulim, this is one of the cleanest white sand beaches. Wooden boats, fishing nets, and other equipment used by the fishermen can be seen on the entire shoreline here. And some of the best beach resorts for families here are known for their luxury and casinos.
Things To Do: Relishing sumptuous seafood in the beach shacks, sailing, dolphin spotting, and sun basking
Accommodations: Club Mahindra Varca Beach, Ramada Caravela Beach Resort, and The Zuri White Sands Goa Resort & Casino
Suggested Read: Other Famous Beaches In Goa
3. Palolem Beach, Goa

The scenic Palolem beach is one of the best places for family beach vacations in South Goa. Its serenity, nearly transparent waters, plush green coconut plantations, and crescent-shaped sparkling stretch of sand is to something die for. One can take a long stroll or the entire family can enjoy the beach parties in the shacks. It is one of the best beach destinations in India to enjoy and relax with your family.
Things To Do: Sunbathing, swimming, scuba diving, and dolphin spotting
Accommodations: The Tubki Resort, Art Resort Goa, and Marron Sea View Resort
Suggested Read: 20 Happening Beaches In South Goa
4. Cavelossim Beach, Goa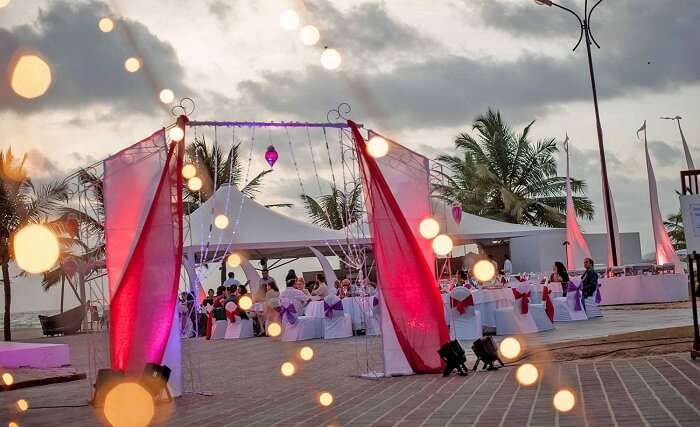 Cavelossim is one of the popular beaches of South Goa and showcases black rocks and sparkling white sands. This is a famous family vacation spot for a really chilled-out retreat.
Things To Do: Dolphin trips, windsurfing, paragliding, and jet skiing
Accommodations: Resort Dona Sylvia, The Byke Old Anchor Beach Resort, Holiday Inn Resort, and The Leela Goa
Suggested Read: 22 Best Beach Resorts In Goa
---
Planning your holiday but confused about where to go? These travel stories help you find your best trip ever!
---
5. Paradise Beach, Pondicherry

Paradise Beach in Pondicherry is an awesome collage of golden sprawling sand and turquoise blue water. Also known as the Chunnambar, it is isolated from the mainland and can be reached by boat. Though secluded, this beach pulls large number of families and other tourist groups as it is ideal for super cool beach fun, sports, and chilling out. A wonderful spot for fun family beach vacations, Paradise Beach is known for the calm waters where even the kids can play safely.
Things To Do: Playing beach volleyball & with frisbees, relaxing in hammocks, and sea-bathing
Accommodations: No accommodation on the Paradise Beach Island
Suggested Read: 40 Things To Do In Pondicherry For A Fulfilling Retreat
6. Promenade Beach, Pondicherry

The scenic Promenade Beach in Pondicherry is one of the favourite destinations of family beach vacations. The cleanliness of the beach and the lofty boulders spread across the shore present a charming picture. It is amongst the best beach places in India.
Things To Do: Strolling on the beach and clicking pictures at sunset
Accommodations: Le Pondy, The Wildflower Resort & Spa, and Le Dupleix – A Sarovar Hotel
Suggested Read: 42 Amazing Places To Visit In India's French Colony : Pondicherry
7. Kovalam, Kerala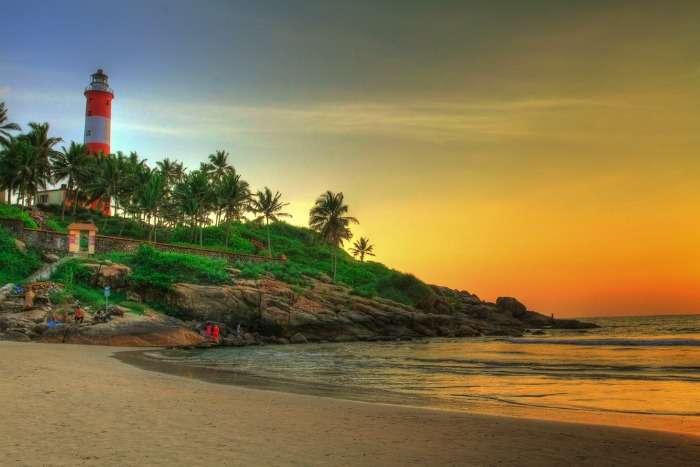 Kovalam is famed for quite a few charming beaches. Among these, Lighthouse Beach and Hawah Beach are the best family beach vacation spots. With a wide range of stay options, one can hope for some affordable family beach vacations in Kovalam.
Lighthouse Beach offers water sports and beach activities. Overlooked by a vintage lighthouse on the Kurumkal Hill (hence the name), this crowded & bustling beach has a lot of shacks and restaurants. Families can also enjoy delicious pastries, aromatic coffee, cheesy quiche, perfect pancakes, creamy milkshakes, and spicy pizza in the German Bakery here.
Hawa Beach is famous for photogenic sunsets and sunrises. Also known as Eve's Beach, this place is not so favourable for swimming.
Things To Do: Paragliding, surfing, parasailing, surfing, sunbathing, and riding catamarans
Accommodations: Niraamaya Retreats – Surya Samudra, The Leela, and Hotel Uday Samudra Leisure
8. Alappuzha Beach, Kerala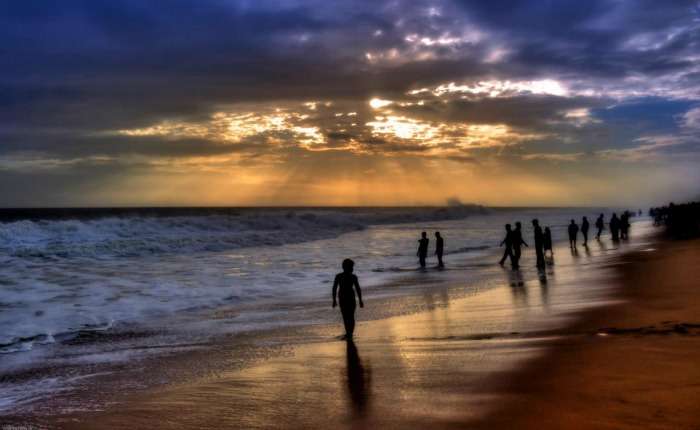 If you want to spend some exclusive time with your family, Alappuzha Beach in Kerala is the place to be. Popularly known as the Venice of the East, this is a small piece of paradise on Earth with supreme scenic beauty and serenity. And some of the best beach resorts for families here ensure a wonderful holiday in Alappuzha.
Things To Do: Kayaking and canoeing
Accommodations: Lemon Tree, Alleppey Beach Resorts, Vasundhara Sarovar Premiere, and Punnamada Resort
Suggested Read: Manish's Family Trip To Kerala Illustrates The Beauty Of God's Own Country
9. Marina Beach, Tamil Nadu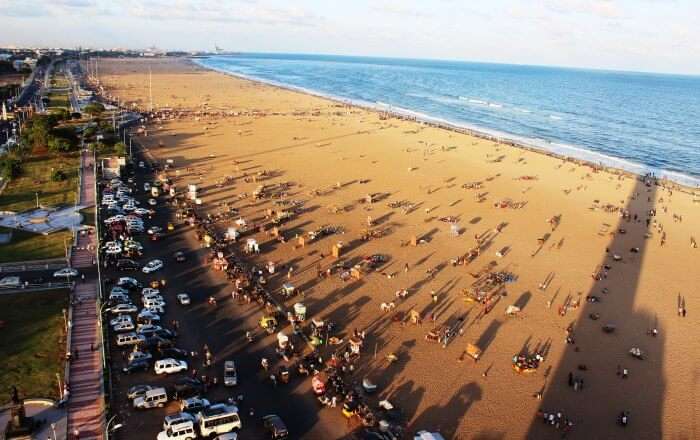 Marina Beach is the longest beach in India and the second-longest in the world. This destination ensures some of the best family beach holidays. This natural urban beach in Chennai runs from Fort St. George in the north to Foreshore Estate in the south. Lighthouse, rocky formations, and a long list of things to do add to the charm of this beach.
Things To Do: Strolling on the beach, trying delicious sundal, idli, vada, & murukku from beach shacks, horse riding, and exploring the sprawling beach drive
Accommodations: Hyatt Regency, New Park Hotel, and The Royal Regency
Suggested Read: 20 Exquisite Beach Resorts In Chennai To Appease Your Coastal Cravings
10. Mahabalipuram Beach, Tamil Nadu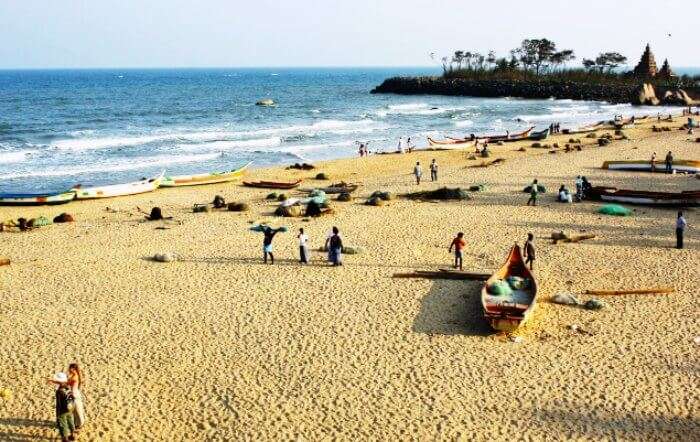 Mahabalipuram Beach is known globally for surfing. Also famed for its rock-cut sculptures, caves, and monolithic rathas & chariots, it is one of the best places for family beach vacations near Chennai.
Things To Do: Surfing, trekking & hiking, leisure boating, and indulge in the turtle walks programme
Accommodations: Radisson Blue Resort Temple Bay, Mamalla Beach Resort, and Chariot Beach Resort
Suggested Read: 43 Most Famous Historical Places In India: You Think You Know Them Well Enough?
11. Tarkarli Beach, Maharashtra

Tarkarli Beach is one of the most pleasant beaches of Maharashtra. Surrounded by Shuru vegetation, the beach offers fantastic views of the crystal blue water and sun-kissed white sands. This is considered as one of the best beach vacations for families due to a large number of water sports.
Things To Do: Scuba diving, snorkelling, and sun-basking
Accommodations: Tarkarli Resort – MTDC, Sea View Tarkali Resort, and Tarkarli Holiday Homes & Beach Resort
Suggested Read: Camping Near Mumbai: 20 Spots To Escape City Life & Kick Back
12. Ganapatipule Beach, Maharashtra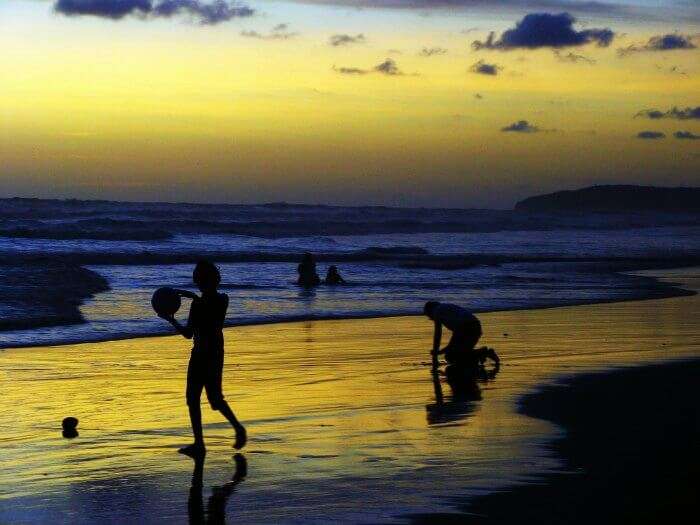 Ganapatipule is one of the favourite spots for family vacations, especially for people in Mumbai and Pune. The spectacular white-sand Konkan beach is best known for the marvellous Ganapati Temple located on the shore.
Things To Do: Relaxing in beach shacks, horse riding, camel riding, and visiting the temple of Elephant God
Accommodations: Abhishek Beach Resort and MTDC property of Ganapatipule
13. Gopalpur Beach, Odisha

Gopalpur Beach is one of the most popular beaches in Odisha. Its tranquil environment, comfortable weather, and super cool beach activities make it one of the best family beach vacation spots. Once a busy seaport, it still has remnants of walls & pillars of the jetty.
Things To Do: Swimming, surfing, and exploring the age-old lighthouse located off the coast
Accommodations: Mayfair Palm Beach Resort, Hotel Ocean Inn, Song of the Sea, and Panthanivas – OTDC property
Suggested Read: 30 Tourist Places In Odisha – The Land Of Incredible India
14. Chandipur Beach, Odisha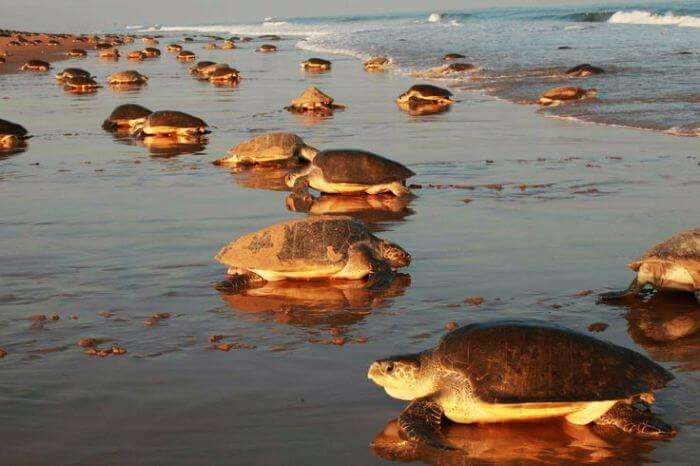 Chandipur is one of the popular family holiday destinations in Odisha. Its sprawling golden sands, plush green coastal vegetation, and transparent waters create a scenic picture. However, it is best known for the 'hide-and-seek' nature of the beach. The water here recedes up to 5 km during low tide twice a day and gets back to the original shoreline during high tide.
Things To Do: Swimming and beach walking
Accommodations: Hotel Subham, Lucky Beach Resorts, and Arpita Beach Resorts
Suggested Read: 15 Unique Beaches That Aren't Just About Building Sandcastles & Collecting Sea Shells
15. Rushikonda Beach, Andhra Pradesh

Rishikonda or Rushikonda is one of the best family beach vacation spots near Vizag. The rocky beach with its golden sands offers ample beach activities, especially for a weekend retreat.
Things To Do: Skiing, surfing, swimming, and playing beach volleyball
Accomodation: Haritha Beach Resort – APTDC property, Sai Priya Resort, and Oak House
16. Daman And Diu, Union Territory

This place is located on the southern coastline of India which is famous for its vast number of beaches which is perfect for a tropical vacation. Located close to Gujarat, Daman and Diu is famous for its pristine beaches. Called a union territory, this was once under the Portuguese occupation for more than 450 years and till the present day, it boasts that.
Things To Do: Go sailing on the boat and click beautiful pictures of sunset and sunrise. Alongside that one can also go swimming at Devka beach and Jampore beach. One can also indulge in adventure sports like parasailing and surfing.
Accommodations: Hotel TGH – The Grand Highness, Cidade De Daman Beach Resort, The Deltin
17. Kochi, Kerala

Also called Cochin, this is a port city located in Kerala and often referred to as the "Queen of the Arabian Sea". This is considered to be one of the best places to visit in South India and is known for being the fishing village in the 16th century. In the present, it is surrounded by surreal beaches and resorts which are worth exploring.
Things To Do: Indulge in a relaxing massage session, explore the food culture of the place
Accommodations: Dream Catcher, Lake County Heritage Home, Old Lighthouse Bristow Hotel
18. Karwar, Karnataka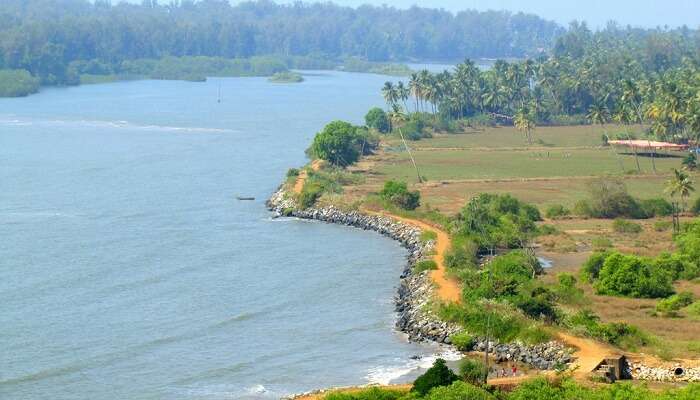 This is a surreal place in Karnataka which is known for its 5 magnificent beaches in Karwar. From here the Goa airport is also located at a close distance and easy to commute. Surrounded by the pristine water and palm trees, this is one of the ideal places to explore by families. The most ideal time to visit this place is during the months of October to May. One of the most famous beaches to visit here is the Devbagh beach which is also praised by poet Rabindranath Tagore.
Things To Do: Go for adventurous activities like snorkelling and diving, indulge in a delicious food spree by eating spicy seafood, visit temples like Naganatha Temple and waterfalls like Magod falls and Lalguli falls
Accommodations: Citrus Hotel Karwar, Amrut Aura, Westend Karwar Hotel
19. Lakshadweep, Union Territory

This place is a collection of a varied number of islands which is collectively known as Lakshadweep. There is no doubt that this is considered as one of the best places to enjoy a tropical vacation. Situated alongside the Arabian Sea, this place is considered one of the best for enjoying a family vacation.
Things To Do: Go fishing at this place, enjoy swimming, scuba diving and also enjoy a knee boat ride
Accommodations: Agatti Island Beach Resort, Bangaram Island Resort, Coral Paradise Beach Resort
Further Read: 13 Places In India You Must Visit With Your Family
These are handpicked locations in India that are perfect for a tropical family beach vacation. Now when you plan a vacation in India make sure to not miss out these places and have a fun time. 
For our editorial codes of conduct and copyright disclaimer, please click here
Frequently Asked Questions About Family Beach Vacations
Which is the most beautiful beach in India?
You can find a number of mesmerizing beaches in India. Gokarna in Karnataka, Tarkarli in Maharashtra, Kaup in Karnataka, Tharangambadi in Tamil Nadu and Radhanagar in Andaman and Nicobar Islands is to name just a few.
How do you get to Varca Beach in Goa?
You can reach Varca beach either by air from Dabolim airport is at a distance of 32 km from Varca beach or by train by boarding the train from Margao Railway Station, which is at the distance of 14 km from Varca beach.
Which beach in Goa has blue water?
Palolem Beach is the only blue water beach of Goa.
Is scuba diving in Tarkarli safe?
Scuba diving at Tarkarli is a form of modern scuba diving which is very safe and easy to learn.
What is the best time to visit Tarkarli?
Winter is the best season for visiting Tarkarli. The months from October to March is when Tarkarli becomes an ideal holiday destination. Monsoons can also be a favorable time for planning a trip, although the heavy rainfall might ruin your plans.
How can I go to Radhanagar Beach?
Firstly you have to reach Port Blair, by flight or by ship. From Port Blair, you have to board cruise (daily ferry service) namely " Makruzz" for Havelock Island. Radhanagar is a beautiful beach at Havelock.
What is famous in Alappuzha?
Alleppey or Alappuzha is also known as the traditional business hub of Kerala and is famous for its backwaters and houseboats.
Which is the cheapest place to visit in India?
Places such as Kasol, Pondicherry, Goa, Jaipur, Allepey, Ooty and Varanasi are a few of the places that you can visit on a shoestring budget.
---