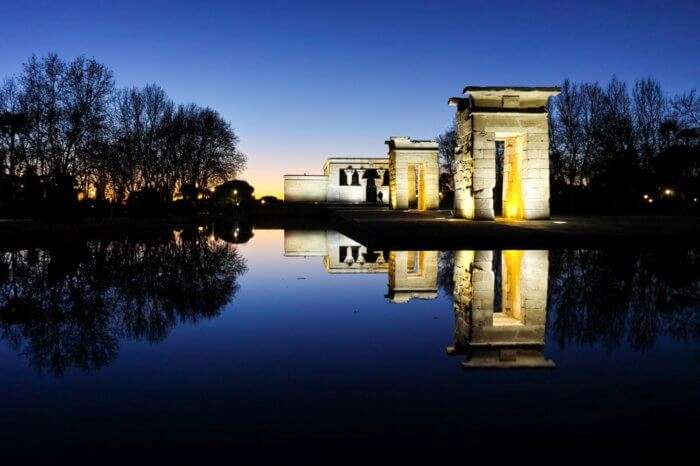 Whenever anyone talks of Egypt, the first scene which pops up in someone's mind is that of endless deserts and ancient tombs and temples. Many imagine the grandiosity of such structures, but visiting one and experiencing it evokes a feeling of awe which is seldom matched. But not everyone can make it to Egypt so for them, there's an authentic Egyptian temple right in Spain. The Temple of Debod is a mesmerizingly beautiful temple that all history lovers should definitely visit.
About Temple Of Debod
The temple of Debod is a historical Egyptian temple which was built in the 2nd century BC. It was first dismantled and then rebuilt in Madrid, Spain. Originally, the shrine was erected about 15 km to the south of Aswan in the upper region of Egypt, which is really close to the very first cataract of the Nile as well as to the religious center present in Philae that was dedicated to the great goddess Isis. Visitors will find that starting from the quay, there is a long way which leads straight to the stone built wall enclosure. The sopranos had four columns with very composite capitals, but that collapsed in 1868, behind it was a sanctuary dedicated to Amun.
It was in the year 1960 that the construction of the great dam of Aswan as well as the consequent threat posed to various archeological sites and monuments made UNESCO take a stand to save this gem. Donated to Spain as a sign of gratitude for saving the temples of Abu Simbel, this temple is a spot you can't miss out on.
Best Time To Visit
The temple is open throughout the day but the best time to visit it is definitely when the sun is going to set. Temple of debod sunsets is enchanting phenomena to witness. During summers this time falls around 9 pm and when it happens then this spot becomes nothing short of magical and ethereal. Also, remember the timings so that you can plan your romantic escapades here accordingly:
It is open from 10 Am until 2 Pm Tuesday to Sunday.
From April to July and then from September it is open from 10 am to 2 pm and 6 pm to 8 pm Tuesday to Friday.
For the weekends and holidays, it is open only from 10 am until 2 pm.
9 Things To Do At Temple Of Debod
Here is the list of things you can do while you explore the beautiful temple of Debod in Spain. Keep scrolling down and read along!
1. Plaza Mayor
This is a pretty popular place with both locals and tourists alike. Come to the central square to admire the architecture of the place and have a cup of delicious coffee. Previously, the Plaza Mayor was a great stage for various events like soccer games, bullfights, public executions and such. Once you are here you will see the beauty of this plaza which has lots of markets, people milling around playing music and more such. There are so many options in here- you can eat or go witness the culture and history of the place or perhaps go see an event, it's all up to you.
Must Read: 6 Beautiful Beaches In Seville For An Amazing Vacay Smack In The Middle Of Spain
2. Explore Temple Of Debod
This place is a perfect combination of both history and romance. If you are coming here with your significant other then sunset is the best time. The temple of debod insides is infinitely fascinating as well. If you are here just for seeing the carvings and writings then mornings are the ideal time. Here to do both? Then free your day and hang out here.
3. Teleférico De Madrid
Very near to the temple of debod in Madrid is this service. Teleférico de Madrid is a tram system and it is here to show you the city from a completely different perspective. It is a really nice way of accessing the Casa de Campo Park as well and enjoying a beautiful view of the city. The journey will be from Pintor Rosales to the house located on the Manzanares River and then you will get to see views of both the Royal Palace and the Temple of Debod.
Suggested Read: 8 Best Villas in Madrid For 'Maravilloso' Staying Experience On Your Trip to Spain
4. Plaza Del Dos De Mayo
The Plaza del Dos is located in the heart of Malasana and it is surrounded by amazing historic streets. The plaza was built to commemorate the location of the people of Madrid setting up a proud resistance against the French invasion on May 2, 1808. Upon entering you will get to see a monument dedicated to the first Spanish artillery officers and heroes, Pedro Velarde y Santillán and Luis Daoiz de Torres. Apart from the architecture, enjoy the cafes and bars which line up. You might also get to listen to some music while there are budding artists like musicians, writers, photographers, and others frequent this place on the weekends.
5. Casa De Campo
Come here to go boating or walking. Situated just outside the city, this area is a great place which is equipped with places like Parque de Atracciones, Almudena Cathedral, the Loyal Palace along with a zoo to just draw your eyes to it. The parkland also has an aquarium where you can go to relax and have a picnic as well. Or maybe a cable car ride is more up your speed and will also let you enjoy the sightseeing tour.
Suggested Read: 7 Best Cottages in Spain That Will Provide You With Comfy, Hassle-Free, & Private Stay
6. Royal Palace Of Madrid
Full of fascinating artwork, this palace is famous as it is the official residence of both the Spanish Royal Family in the city of Madrid. It is used for only state ceremonies. Come here with a guide but if you are a student, then you can avail some discounted prices as well. The Royal apartments and such will let you peep into the lives of the royals from centuries past.
7. Gran Vía
This grand Street harbors restaurants, historic buildings, numerous plazas, shops, hotels and such. The wide streets in here cater to pedestrians like you as you pass by beautiful 20th-century architecture. But architecture isn't all that this place has. Stay at night here to see it lit up like a festival with all the bars in here and maybe spend some time there if you want to experience the nightlife of the place.
Suggested Read: 12 Indian Restaurants In Barcelona: A Treat To Those Looking For Indian Cuisine In Spain
8. San Miguel Market
You can find some of the best and fresh culinary offerings abusive in downtown Madrid, Spain. The vibrant atmosphere, combined with the fresh produce and the scent of it all makes it a very popular hub.
9. Puerta Del Sol
People come here to celebrate the new year but Puerta del Sol is also an important point called zero points of Spanish geography. It is the point from which all distance is measured in Spain.
Suggested Read: 8 Top Things To Do In Seville – The City Of Pride In Spain
How To Reach?
The address is Templo de Debod, Paseo del Pintor Rosales, 2; 28008 Madrid. You can reach this place by taking subway transportation. Take either of these two subways, as per your convenience:
Line 3- Plaza de España or Ventura Rodríguez stations.
Line 10- Plaza de España station.
Further Read: 10 Best Homestays In Spain For A Reviving Holiday Experience In This Country!
This Egyptian temple of Debod tells many tales, of civilizations long gone and of the people who visited it to give it shape. The artwork and the history on its walls tell stories which many yearn to decode but everyone can enjoy. All the history enthusiasts, get packed and book your trip to Spain right away!
---
Looking To Book An International Holiday?
Book memorable holidays on TravelTriangle with 650+ verified travel agents for 65+ domestic and international destinations.
---