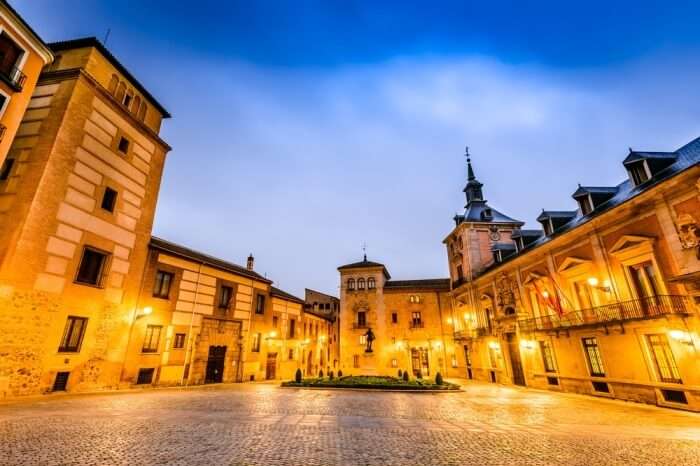 Madrid offers villas which are exquisite and exceptionally well built and constructed. The astonishing villas provide the finest luxury villas in Madrid. There are private and public pools and gardens to relax. The luxurious villas will not attract you and your family members, but also will give you an experience of a lifetime. This season is perfect for spending days and nights in the luxury villas in Madrid. There are hotels and other facilities which will never dishearten you. The combination is just perfect for you and your lovely family. Take a look.
8 Best Villas In Spain
Here are some of the best villas in Madrid equipped with all the facilities one would want during their vacation in Spain.
1. Modijo 8

It is a beautiful, luxurious and comfortable and one of the Madrid villas with pools in Benissa which is situated on the Costa Blanca. Modijo 8 is a villa which is located in a hilly as well as the residential area. There is a golf course, a number of bars and restaurants. The famed L´Ampolla beach is just 3 km away from the villa. Spread over two levels, the villa features 4 bedrooms and 4 bathrooms and 1 toilet meant for the guests. From shopping centers to sports activities, you will find almost everything here. In a word, Modijo 8 is an ideal villa for you and your family. It is exquisite, lovely and above all bears the mark of supreme craftsmanship. Do not miss visiting it at any cost.
Must Read: 10 Beautiful Museums In Madrid That Will Enchant The History Buff In You
2. Villa NEORURAL in El Islote

This is something extraordinary. There is a shared pool, terrace and most importantly, sights of the volcanoes. And WIFI connectivity, it is not at all an issue. This optional 'WIFI' on the 'GO' can be availed on request which will provide you a portable WIFI modem in order to enable you to connect from your personal computer, phone or even tablet. It is understood that it is the era of digitalization. The most outstanding feature of the villa is that it is full of contrasts and is varied to the extreme. Its topography is dominated by the beautiful Timanfaya National Park. It is definitely a must see for you and your family.
3. Family villa in Cotos de Monterrey

There is no dearth of cheap villas in Madrid. The great and grandeur 'Family Villa' in 'Cotos de Monterrey' is a promising villa which will never leave you disheartened. It is exquisite and will give you a feeling of heaven, a paradise. The house in 'Cotos de Monterrey' is but a luxurious development which boasts of having of 500 plus houses situated near the beautiful town of Venturada. It is very easily accessible from Madrid and can be reached through the famous AI highway. It has a basketball court, tennis court, indoor gymnasium, paddle tennis courts, a supermarket, a café, restaurant, pharmacy, and church. Do you need more or need we say more?
Suggested Read: Madrid In December Is The Best Place To Celebrate Your Christmas In Spain This Year!
4. Villa El Escorial

Villas near Madrid are beautiful and serene. It is an excellent and exceptional villa situated in the tourist town of the famous 'San Lorenzo de El Escorial.' The views from it are spectacular and provide incredibly and some of the most stunning views. Each and every room of the villa is suites and is attached to their own bathing space and of course an out-of-the-box plot. The place itself is of great cultural and tourist interest and importance. The swimming pool, large plot and hot tub are things which you and your family can enjoy to the fullest. Not only have that, one can avail it for conducting business meetings. Discounts and special offers are there, just check it out.
5. Villa in Hoyo de Manzanares

Nothing can be more beautiful and soothing than this. This villa is located in 'Hoyo de Manzanares' and a perfect getaway for vacationers. There are 6 luxurious bedrooms, a surrounded garden which is close to nature, a private and of course Wi-Fi. The lounge is ideal to unwind, relax and breathe life into your busy schedule. Just get cozy and lie down on the sofa which is extremely comfortable and provides you with a heavenly feeling. There is also a fireplace; Amenities like Wifi, radio, DVD player and even a CD player are there for you and your family to enjoy each and every moment of your stay. Do not worry about the kitchen, it is well-equipped and even provided with a dining table.
Suggested Read: Winter In Madrid Is All About Sunny Sky, Crisp Weather, & Whiff Of Tasty Churros
6. Villa in Aranjuez, Madrid, Spain

Nothing seems to be more stunning than this. It is located just at the center and so accessibility is not at all an issue here. It is cozy; apartments are lofty which are of 60 square meters. It is luminous, modern, classy, elegant, spacious, decorated and adorned in an assorted style which speaks volume. You will find all sorts of facilities and amenities like WIFI, television, bathroom, kitchenware and of course exquisite bedrooms. The quiet and picturesque neighborhood and vicinity are attractive and indeed calls for an instant booking now. It is in fact, not necessary for anyone to book or hire a vehicle. Everything is at a stone's throw.
Suggested Read: 10 Most Beautiful Churches In Madrid That Are On Every Globetrotter's Bucket List
7. Villa Dinah

It is one of the best luxury villas in Madrid. The villa which is in Fornells has two beautifully decorated bedrooms and can capacitate 4 people. It is just 5 km away from the famous Binimelá/Pregonda sand beach, just 5 km from Minimarket supermarket. So, shopping is not all an issue here. It is to be mentioned here that the lodging is equipped with garden furniture, barbecue, iron, private swimming pool, and a television set, refrigerator, oven, freezer, dishwasher, washing machine, dishes and cutlery, kitchen utensils and coffee machine, toaster. Do you need anything more than that? Book your ticket and flew over here to enjoy life to the fullest. There cannot be anything better than this.
Suggested Read: Mosques In Madrid: Soak In The Sights Of The Multicultural Spanish Heritage
8. Marta's Treasure

In the 'Sierra de Guadarrama', 40 minutes from the city of Madrid, is Marta's Treasure. Now, who does not loves a beautiful and decorated wooden house which has two floors with large windows and is also surrounded by greeneries which looks exactly like a garden. Your heart will be filled up with love and affection for nature. It is close to nature and will soon get closer to your heart once you start living here. There is a tree in a house which separates them form large windows loft.
You can get cozy before the two fireplaces, living room, 4 bathrooms, and 5 bedrooms and a small detached house with bathroom. Both these have double beds. In fact, the third bathroom provides you with a terrace which offers a mountain view, one twin and a fifth which is now a nursery. It has one bed. The well-equipped kitchen is having a dining room and also has direct access to the outside. It is certainly heaven on earth. There is WIFI system, satellite channel, 4 television sets, 3 DVDs, stereo, washing machine, dryer, last model oven, microwave, gas stove and other kitchen utensils which you can use and avail at your own sweet will. The beautifully decorated rooms have been featured in various magazines, films, and even television commercials. The textiles and beds are also of excellent quality. It has a very well maintained garden with an area of 3800 m2. It has also a 24-hour security system, a private club and facilities are horse riding. It can be said that it is certainly one of the finest villas which provide matchless facilities and amenities.
Further Read: 9 Beaches Near Madrid That Add Charm To The City's Beauty!
So what are you waiting for? Just pack your bag and fly to Madrid to enjoy life as never before. Madrid is a pleasure to visit and its villas are too exquisite. You will never forget once you visit the villas of Madrid. They are beautiful, exquisite and adorned with some of the best designs that you will ever find in your life. Visit these places and get an unforgettable experience of your life. Nothing can get better and beautiful than these villas.
---
Looking To Book An International Holiday?
Book memorable holidays on TravelTriangle with 650+ verified travel agents for 65+ domestic and international destinations.
---