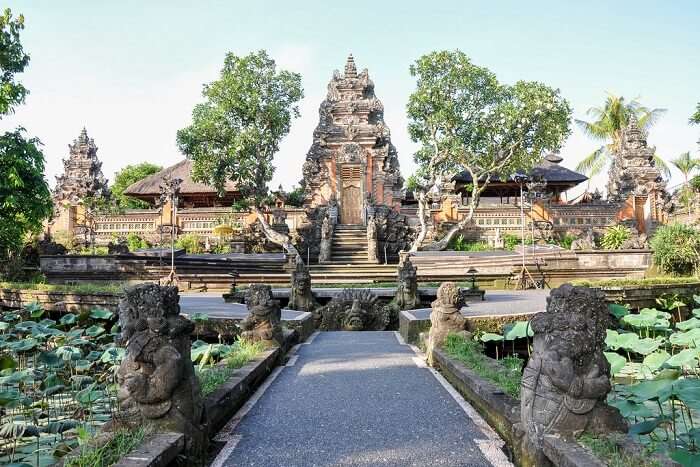 Bali, a beautiful island-dotted by the Indian Ocean is a pleasant place to spend a perfect getaway with your buddies and families. Famous for its cultures, offbeat architectures, heavenly beauties, and wondrous coral reefs. Filled with all this, Bali offers a year-round destination to all those wanting plans a holiday. Be it a holidaymaker or a honeymooner the place is admired and preferred by many diverse travelers from all over the world. Even the breathtaking temples in Angggabaya Bali are one of the prime reasons a major chunk of humans is seen traversing to nowhere but here. Temples are one such thing that catches the attention of both tourists and natives alike.
Also famous as "Island of Gods" houses many charming beaches, aesthetic attractions and religious temples Bali is a perfect place that offers a whole package of religions, cultures, beauty, and romance. The temples are filled with natives usually during the time of prayers, so if you wish to avoid the crowd then it is suggested that you must enter the temples some hours before the prayer or after the prayer. Stop by at the spectacular places of worship in Bali and breathe in optimism and freshness throughout. Check out the listed below temples and include them in your Bali itinerary now.
5 Great Temples In Anggabaya Bali
While discovering the Island of Gods do not forget to miss out on the amazing temples and relish your eyes with their breathtaking architectures. Try the ones listed below to witness the diverse religions of Bali.
1. Jagatnatha Temple

Another top thing to do in Denpasar is to visit the famous Jagatnatha Temple, located near the Bali Provincial Museum and the city square. After going through a series of renovations, this temple now stands tall and outshines most of the attractions in the city. The tone motifs and carvings inside the temple however offer an insightful glimpse into the past.
Location: Jl. Surapati, Dangin Puri, Denpasar Tim., Kota Denpasar, Bali 80232, Indonesia
Timings: 7 am to 6 pm
Entry Fee: NA
13 Things To Do In Denpasar For A Fun-Filled Vacation In Bali In 2022
2. Pura Taman Ayun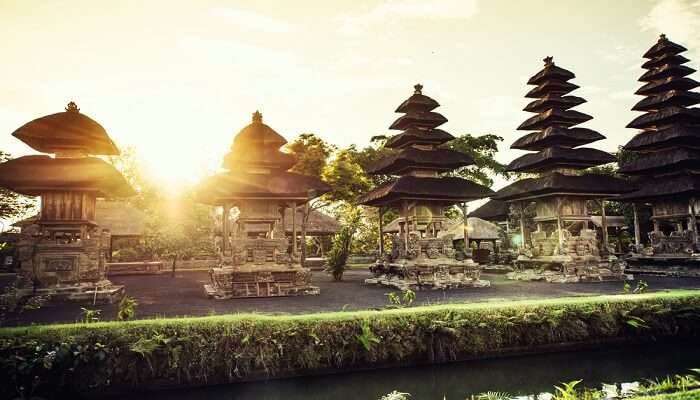 Constructed in 1634 by the kind of Mengwi dynasty so as to honor his ancestors, the Pura Taman Ayun, translated to Beautiful Garden is an ancient temple located in Mengwi, Bali. The gateway of the Temple is beautifully ornamented and leads to a beautiful fountain that sprouts water through its nine jets. These nine jets represent the nine gods in the Hindu Pantheon. There is an old-world charm to this place like it belongs to a time of past and perhaps that is the reason why visitors flock here throughout the whole year.
Things to do: Look at the carvings and sculptures, take pictures.
Can't-miss: The Fountain.
60 Spellbinding Bali Tourist Attractions To Visit In 2022
3. Taman Ayun Temple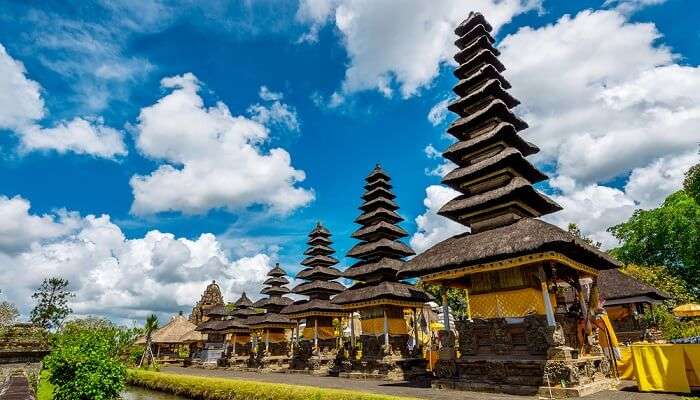 Wrapped with greenery and serenity, this is one of the most beautiful temples in Bali. The magnificent architecture, and expansive landscapes with fish and lotus ponds in between, make it a beauty worth witnessing. Among all the temples to visit in Bali, this will definitely make you fall in love with Bali. Visiting Bali temples- Well, you just cannot miss out on this one!
Must Witness: The traditional Balinese architectural features, best reflected via thatched multi-roofed shrines.
Entry Fee: IDR 15,000 per person
Timings: 9:00 AM to 4:00 PM
Location: Jalan Ayodya No.10, Mengwi, Kabupaten Badung, Bali
10 Bali Temples That Look, And Feel Like Magic Woven With The Stones
4. Puseh Batuan Temple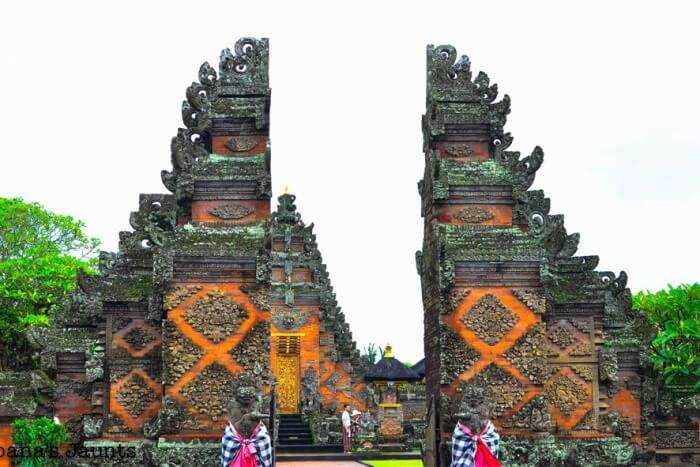 This temple is situated in the Batuan village and owned by the villagers. This is Balinese Hindu temple and it includes 3 temples. These three places are the temples of Brahma, Vishnu, and Lord Shiva. To check the local religion this place is a must-visit. You will get to experience the old traditions there and will get a surreal experience.
Ubud Celuk Village: An Ultimate Guide To Enjoying A Peaceful And Romantic Getaway In 2022
5. Sakenan Temple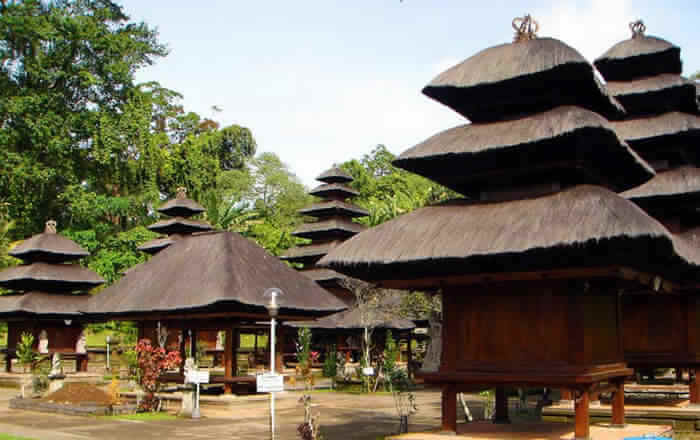 This splendid temple is located at the rusty village of Serangan, a part of sub-district of Denpasar and Badung regency. What makes it so beautiful is the view of the sea coastline, Nusa Dua Beach and hills from the south side of the temple. The name Sakenan comes from the word Sakya, which means to unite the mind. This temple play has been a culture of great significance for the people of Bali. One of the major attractions of the temple is the colorful religious festival a three-day-long celebration that happens every six months and is popular with both locals and tourists. One of the highlights of the festival is the Ceremony of Mapag Sakenan- a religious procession carried out by local Hindus.
Even before there was a proper road connecting the island to the mainland, pilgrims used to flock to this temple by foot or by boat to offer their prayers. Another fascinating thing about this temple is that both the complexes have been built with coral stones instead of bricks.
3 Denpasar Temples To Visit In 2022: A Symbol Of Past Glory, Culture, And Rich Heritage!
Best Time To Visit Bali

If you are wondering what is the best time to reach Bali, then the most preferred and suggested time to explore Bali falls between the months of April and early November. But many consider the place as a year-round destination and if you are a major traveler then the issue of season or weather changes must not hamper your visit to this captivating beaches.
How To Reach Bali

By flight: You can take a flight to Bali as the international airport of Bali witnesses many international flights coming in and flying out of the land. Indonesia is also very well connected throughout and therefore it has regular access to the domestic flights that fly to majorly all the domestic cities of the country. Once you reach the airport, you can book a cab and head towards your pre-planned destination. On your way, you must be aware of the breathtaking sceneries and magical buildings that'll pass by.
By ship: You can also travel to Bali through the sea routes. As Bali is a famous port for the majority of the cruises liners that come from South East Asia. To get in Bali through the sea route you must catch a flight to either Singapore, Java or Sumatra and from there you can take a ship that will take you to Bali.
Bewitching sceneries, captivating beaches, and amazing recreational activities. What else does a traveler aspire for? The place is perfect for all kinds of holidaymakers and tourists and especially for those who wish to explore and relish the diverse cultures and many types of rituals. There are many beautiful temples in Anggabaya Bali that you would love to traverse to. So get set and plan your trip to Bali now and be ready to discover all the distinguishing cultural practices with your friends and family..