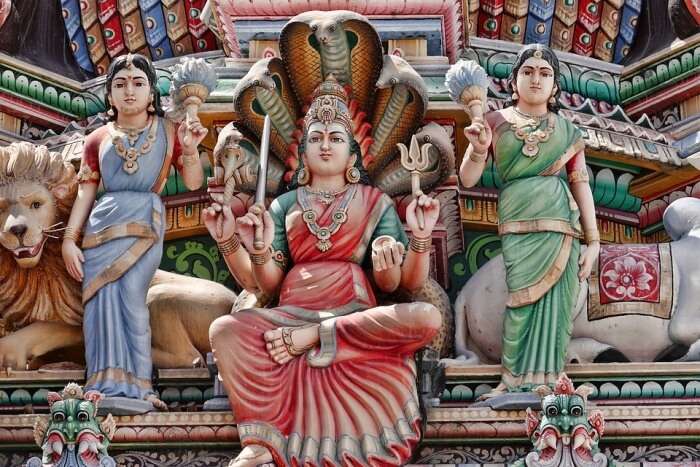 Singapore is known for its multiple cultures that have been formed due to the presence of numerous religions that are dedicatedly practised by the people here. The religion has been playing a significant role in this country since long and has contributed a lot in enhancing the value system of this Southeast Asian country. Buddhism, Hinduism, Taoism, Islam, and more have contributed significantly in adding cultural value. There are various temples the country is home to and one of them is Sri Veeramakaliamman Temple. Surprisingly, there are many temples near Sri Veeramakaliamman Temple too that you must visit for a peaceful experience.
To make your visit to Singapore religiously and culturally enlightening, visit the various heritage sites, including the various temples. These temples are not only known for their religious values but are also admired for their architectural quality. At every temple, you'll feel a calming vibe. On your visit to this Southeast Asian country, you can undergo a tranquilizing experience by witnessing the religious system prevailing in the country. This will even bring you closer to the locals.
Best Time To Visit Singapore
To make sure your trip to Singapore goes hassle free, make your travel plan during the months of February, March, and April. The country receives heaviest rainfalls in the time period between November and January. However, the months of January and February are ideal if you want to be a part of the Chinese New Year celebrations in the country.
If you have a thing for festivities, then October can be a great month to plan your trip to Singapore, as the mid-autumn festivals are celebrated during this time of the year! Moreover, if you want to satiate your shopaholic spirit, then a visit during June to August would be the best as the Grand Singapore Sale occurs during this time.
4 Temples Near Sri Veeramakaliamman Temple
Sri Veeramakaliamman Temple is established on Serangoon Road. The Hindu Temple has been built to pay respect to the Goddesses Kali, Shakti, and Parvati. The Singaporeans visit this temple with utmost belief and dedication. The architecture of this temple is Dravidian. This is one of the most ancient temples in the country.
In order to make your religious tour around the districts of Singapore more enriching and satiating, you can also visit the various temples located nearby. Each temple in Singapore is reflective of the eternal beliefs of the Singaporeans in different religions and has a vast historical, mythological as well as architectural significance attached to it.
1. Sasanaransi Buddhist Temple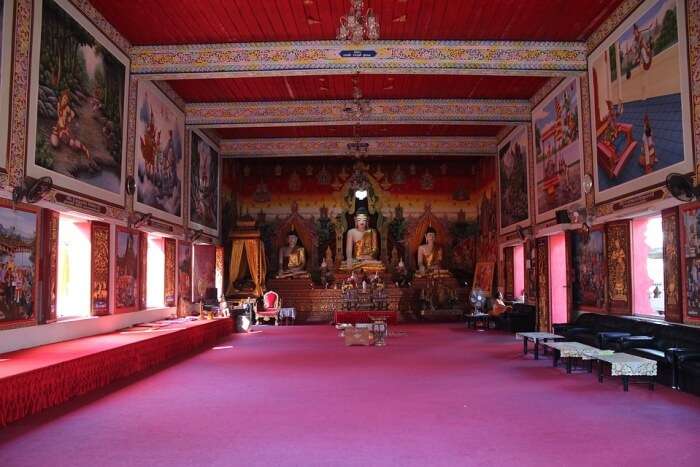 It was built by a Burmese expatriate to serve the overseas Burmese Buddhist community and is, therefore, also known as the Burmese Buddhist Temple. It was previously located in Little India, off Serangoon Road, and was relocated to its current location in 1991. It is a multi-storied building, the interiors of which are embellished with paintings depicting events in Buddha's life and on the third story is a standing gold image of Buddha. Surround by a halo of colorful lights, is a 3.3m tall Buddha statue built from a 10-ton block of marble.
10 Things To Do In Novena To Make Your Singapore Trip More Fun
2. Wat Ananda Metyarama (thai Theravada)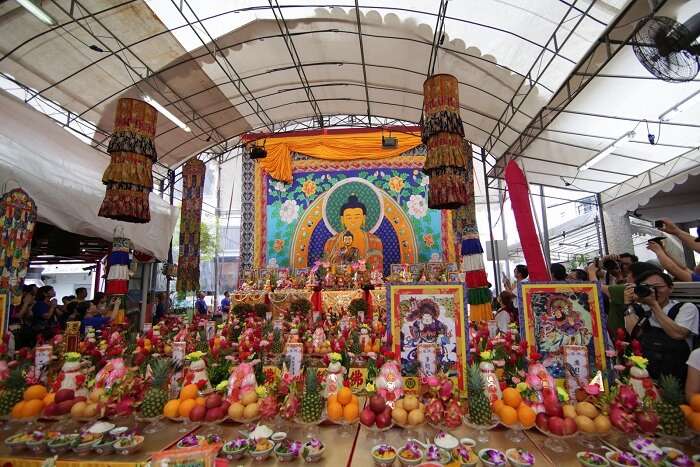 Thailand and its charm. Before renovation, this place was the Thai Theravada Buddhist temple while the new sections, completed in 2014, are a sight to behold with meditation halls, museum, and quarters for monks. All in all, the place is an eclectic mix of the old and the new.
Location: 50B Jalan Bukit Merah, Singapore
11 Stunning Temples In Singapore You Must Visit On Your Holiday
3. Thian Hock Keng Temple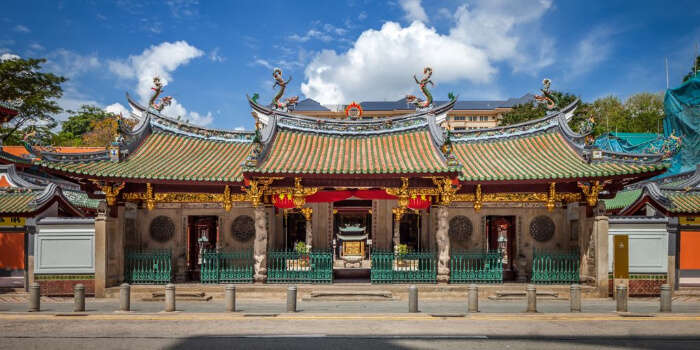 Among the most important historical buildings in Singapore, the temple is guarded by lions and tigers, this place is the oldest Chinese temple with attractive entrance and colorful interiors. It has two different temples, each dedicated to various god/goddess. One of the most serene and peaceful tourist attraction. This temple is very important to the Hokkien clan. This place is dedicated to Mazu – Goddess of Sea and Kuan Yin – the Buddhist god of mercy. This architectural masterpiece is filled with astounding sculptures and intricate carvings. With vibrant colored tiles this place also has detailed carvings of peacocks and roses. This breathtaking temple was built in 1824 and attracts a fair share of tourists due to its splendid beauty.
Location: 158 Telok Ayer Street
5 Heritage Places In Singapore To Learn More About South Asian Culture!
4. Tebrau Glass Temple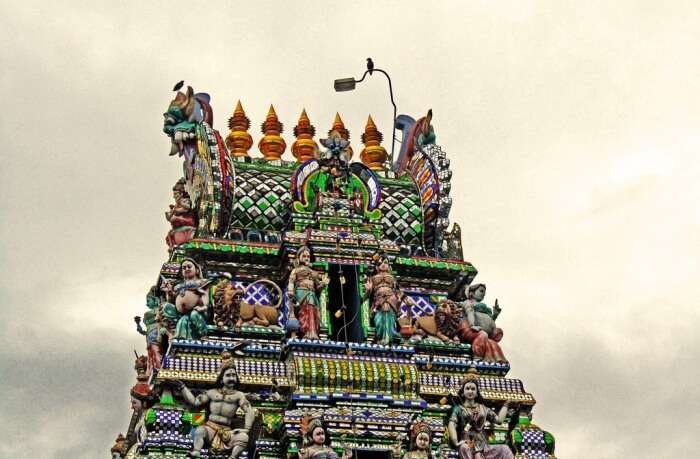 Malaysias famous landmark, Tebrau Glass Temple is a must visit in countrys Johor Bahru area. Also denoted with its name Arulmigu Sri Rajakaliamman Glass Temple, it is popular amongst the Indian community especially Hindu visitors from around the world. Current temple is a renovated one with the use of glass thus it earned the new name since 1996 while it had been inaugurate for the general public. It maintained rare destination of getting listed in the Malaysian Book of Records 2010 as the only glass built temple in the country.
9 Vibrant Hindu Temples In Malaysia That Describe The Country's Secular Spirit
Your Singapore holiday would be a once-in-a-lifetime experience if you explore the country to get a clear picture about the different aspects that have an important role to play. Just like its architecturally magnificent skyscrapers and natural wonders make for a great sightseeing experience, the elements like cuisine, heritage, mythology, and religion have their own role to play. This is why it is crucial to be a witness to the epic temples of this country. Make sure you visit the above-listed temples near Sri Veeramakaliamman Temple to make your holiday culturally enriching.
---
Looking To Book An International Holiday?
Book memorable holidays on TravelTriangle with 650+ verified travel agents for 65+ domestic and international destinations.
---
Comments
comments