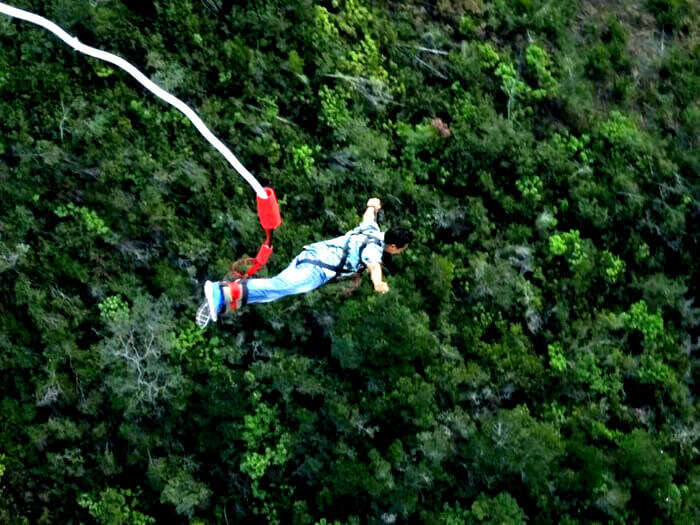 As the scenic beauty of South Africa leaves your jaw hanging on the floor, read the adventure of the Shivaramakrishnan family to a country blessed with a diverse wildlife, serene beaches and unforgettable landscapes. They customized a 13-day package which included their accommodation, meals, transfers, and sightseeing for a total of INR 230000.

The best way to spend time with my family I believe, is by going on a Family vacation. Hundreds of questions popped in my head because I wanted to make this trip memorable. We searched on the internet for places we could go to and as soon as I had a closer look at pictures of South Africa, I was ready to pack my bags.
While searching on the internet I found this website called Travel Triangle which provided me with an option to customize packages. As soon as I selected the package I liked, I was contact by a representative from Travel Triangle who linked us to various agents who offered their respective quotations and I finally got the best deal from Asmi Travels.
Day 1: Flying to Africa
Our adventure began with a very long flight. Having traveled the entire day, South Africa seems like a planet away from ours. I didn't pay much thought to it when I booked the 14-hour journey, but once we were traveling, I got to experience what a long flight feels like
We reached the bright and shiny Cape Town at night and as soon as we arrived, we checked into the Cape Milner Hotel and rested our tired bodies for the night.
Day 2: Cape of Good Hope
We woke up early morning to have some breakfast and then leave for the Cape of Good Hope and Camps Bay. First up was Camps Bay. It is a picturesque beach with a stunning backdrop of mountains to add to the charm of the area. The beach in Camps Bay is one the most popular beaches in South Africa. Owing to its serene beach and good surf, the beach attracts a lot of tourists in the summer.
There is something very pleasant about the name- Cape of Good Hope. As soon as I heard it, I knew we were going to a very special place. We were transferred there by 2-hour car ride.
Indeed, Cape of Good Hope has a lot of importance for India. In the historic times, ships from Europe which wanted to travel to India, made their way through this place. It was a route marker which told them that they are on the right path. I can only wonder how hard it would have been hundreds of year ago without internet helping you in reaching your destination.
In the cold breeze of Cape Town, we stopped for lunch and later on proceeded for Boulder's Beach to see a Penguin colony. We were excited to see penguins walking on the sea shore as it was our first time seeing these gleeful creatures in their habitat. My son, especially, had a very good time in getting to see all those penguins. After a long and eventful day, we returned satisfied and overjoyed to our hotel for dinner and overnight stay.
Day 3: Table Mountain
The next day, we were scheduled to visit one of the most iconic places of South Africa- Table Mountain. We were taken to the top of the mountain by a cable car. Once we reached the top, a stunning view of Cape Town awaited us. Words cannot describe our experience of overlooking the beautiful coastal city.
Afterwards, we had a delicious lunch in Jewel of India. It felt nice to have a taste of home so far away from Mumbai. Next, we visited the colourful and vibrant neighbourhood of Bo-Kaap. The residency is renowned for it's beautifully painted houses all in different colors giving the area a shine unlike no other.
Later on, we went to VA Waterfront for shopping and then a small stop back to the hotel for some rest. In the evening, we went to see Canal Walk in Cape Town, the leading shopping, and retail shopping centre. After yet another tiring and adventurous day, we returned to the hotel for the night.
Day 4: Leave for Hermanus
Suggested Read: 12 Handpicked Resorts In South Africa For A Glamorous Holiday
In the morning after a quick breakfast, we checked out of the hotel in Cape Town and traveled for Hermanus. We were taken via the garden route where we were blessed with picturesque views and a lush green ambience. Three hours of a scenic drive and we finally reached Hermanus as we checked-in the Oubaai Hotel and Spa.
Hermanus is a town in the South, best known for its whales and dolphin sighting. On our way to the hotel we saw the Dolphin's point. Later on, we had dinner and then retired for the night.
Day 5: Witnessing the Wildlife in Oudtshoorn
Suggested Read: 10 Best Holiday Destinations In South Africa To Enliven Your Soul
Had breakfast in the hotel and then checked out quickly to head towards Cango Caves. These magnificently preserved limestone caves are a work of art by mother nature. It has an extensive system of tunnels and pathways that go on for 3-4 kilometers.
Next up, was the Ostrich Farm. It was fun for the entire family having to meet these shy and often mysterious creatures. Following the Ostriches, it was our turn to see other more intense creatures of the fantastic wildlife present on this continent.
Cango Wildlife Ranch, which is located just on the outskirts of Oudtshoorn, is home to crocodiles, cheetahs, and Bengal tigers. My son really enjoyed this moment as it was a thrill for him to see these majestic creatures for the first time in a real-life form. A day filled with wildlife exploration came to an end as we headed back to the hotel for a well-earned night's sleep.
Day 6: Garden Route Game Lodge
Suggested Read: 10 Enchanting Honeymoon Destinations In South Africa For A Romantic Sojourn
We checked out from the Oubaai early morning and moved to the Garden Route Game Lodge. It is a neat and friendly place to stay in Albertina. For families who like a slightly less rough experience of a Safari combined with amazing kid-friendliness in the resort, this place is a must visit.
A unique feature about this lodge is that in the afternoon around 2pm, only the kids headed out into the forest for a ride and later on adults had a different forest ride at 4 pm. In the evening, as the forest rides concluded, we headed over for dinner and then eventually retired for the night.
Day 7: Bungee Jumping
On came the day, which tested my mettle in every which way possible. I was about to do something that would involve an adventure sport and a world record. Just the thought having done something like that still sends chills down my spine.
We checked out of Garden Route Game Lodge and moved towards Platten Bay for Bungee Jumping. I had decided to jump off the highest bungee jumping spot in the world. Staring down, with my entire body strapped with safety harness and equipment, looking down 216m for the drop of my life, sent my stomach for a tizzy. Eventually, I took a deep breath and took the leap, quite literally!! Having achieved that feat and coming out of it unscathed, I can clearly say that it's probably one of the biggest rushes I've had in my life.
As we were winding up from my bungee jumping and moving out of Platten Bay, I definitely had done something so amazingly adventurous that it was still taking me time to sink in. Afterwards, we returned to Oubaai Hotel in George for an overnight stay.
Day 8: Departure to Durban
After having breakfast in the morning, we checked out of the Hotel in Oubaai and move to George Airport for a flight to Durban. Upon our arrival in Durban, a representative was there to welcome and take us to the Hotel.
We decided to take the remaining half off and just unwind and relax in the hotel in Durban.
Day 9: Preparing for the Marathon
In the morning, it was time to start the second part of my adventure to South Africa. I had decided to take part in the Annual Comrades Marathon which goes from Durban to Pietermaritzburg. A 90-km long ultra-marathon held every year which attracts about 23000 participants every year from more than 50 countries. It is the ultimate test of stamina, willpower, and endurance.
Today I was scheduled to go the Comrades Marathon Bus Tour from Durban to Johannesburg. Later on, after returning to Durban, we had lunch and then proceeded towards the City Exhibition Centre to collect my running bib. Another step towards my dream marathon run was complete, now only the real challenge awaited.
Day 10: Relaxing in Durban
Just a day before the race, I thought of spending the day with my family and keeping my mind off the marathon. It was very important that I didn't let the enormity of the task ahead of me get to mind and let it weigh on me too much. After all, it's not every day you run a marathon half-way across the world with your family cheering you on.
We went to Little Gujarat to have lunch and then some shopping for some souvenirs right after. In the evening, we proceeded for a little stroll on the beach. Durban has very nice golden sand beaches along a stretch called the Golden Mile. Finally, we returned to the hotel for some sleep.
Day 11: Marathon Day
I woke up in the morning full of motivation and determination. I knew that the support of my family and my preparation for the ultra marathon will push me through the enduring challenge.
As the marathon was later in the afternoon, I started my day by doing some swimming laps in the hotel to get the blood flow in the body running at a fair pace. After which, I accompanied my family to do some shopping.
In the afternoon, I proceeded to the start point of my marathon where I witnessed a sea of people getting ready and the energy at the event point right before the start was very positive. Completing the marathon needed every ounce of the energy left in my body and more, but ultimately, I guess it was the sense of achieving something truly remarkable is what led me to the finish line. I was filled with joy and pride, and so could be seen on my family's face.
This was one of the happiest moments of my trip. Having set myself a challenge, pushing my body to the limit and winning gave me a great sense of satisfaction and self-fulfillment.
Day 12: Leisure Day
Woke up next morning with an abundance of pride and gratification. Every sore limb and tired muscle reminded me of my achievement yesterday. Naturally, after such a physically demanding day, my body would definitely need some extra rest. I took a bit of time to myself to let the feeling of completing one of my most important goals on this vacation.
So all we decided to do was to proceed to Johannesburg, and then check in to the hotel. After a quite and peaceful day with my family, quite like a lazy and relaxed Sunday, we called it a day.
Day 13: Flight back to Mumbai
We woke up in the morning and after having some breakfast we checked out of the hotel. With fond memories of an unforgettable adventure, we were transferred to the Johannesburg Airport for a flight to Mumbai.
I never thought I could see and achieve so much in a single two-week family trip to South Africa. Having spent such precious time with my family in a country as wonderful as South Africa is a true blessing.
High Points :
The Oubaai property was huge and awesome. We strolled around the property to have a good look with garden on side and sea on the other side.
Successfully crossing the finish line after 89.9 KMs in the Comrades Ultra Marathon.
Low Points :
Twice on our vacation, we were not provided with a promised pick up from the Airport. Once from Cape Town and the other time from Johannesburg. Although, we were reimbursed later for our use of the public transport.
We missed the helicopter ride in Cape Town which was part of our itinerary.
Tips for travelers :
If people are vegetarian, I would suggest going with a group so that the food is taken care of.
Cherish the wilderness and natural beauty of Africa For a never before experience, book your package to South Africa now!