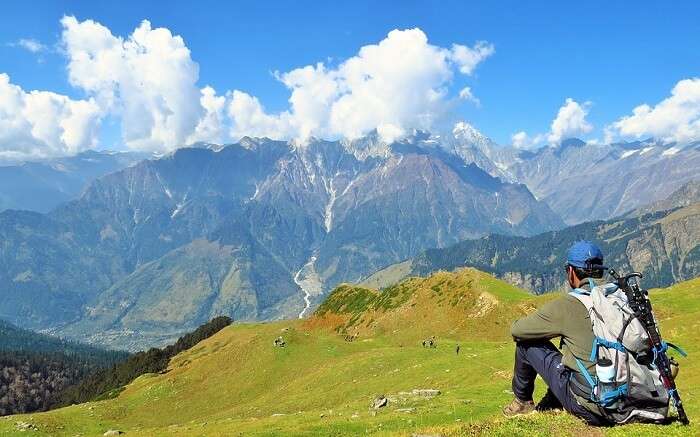 About 2250 meters above sea level and 63 km from Shimla, lies a sleepy little hill town called Chail. A perfect heaven for hikers and photographers, it's among the best weekend getaways from Delhi. From hiking through the pine and deodar forests to trying out the delicious cuisines, there are many things to do in Chail for explorers. Here's a little list of experiences that can have in Chail that'll surely let you spend a wonderful weekend in the mountains.
Top 10 Things To Do In Chail
Planning a trip to Chail? Here are a few things to do in Chail you should not miss out. Himachal is truly a magical place. From honeymooners to families, this destination in the mountains is certainly an idyllic escape. Do not forget to pack your cameras along!
1. Camping: Spend A Night Under Star-Studded Sky

Image Source One of the most exciting and fun things that one can do in Chail is definitely camping. During summertime, you can pitch your own camp or hire one amid the pine and deodar forests. You can cook your own meals over a campfire and indulge in stargazing. Camping is a famous activity in Chail and you must try it on your vacation. Where: Jungle Camp Site, StayApart – Braveheart Adventure Camp Cost: INR 800 – INR 5000 per head
Trekking In Himachal Pradesh: 23 Best Routes To Put On Your Bucket List In 2022!
2. Rock Climbing: Challenge Your Physical Strength

Image Source It's time to give those tired muscles a push and enjoy the adrenaline rush. Chail may not be among the places spots to try rock climbing, but it's worth a shot. Channelize the adrenaline junkie in you by climbing the massive rocks in Chail. Have you got your own rock climbing gear? No? worry not, you can get your gears on rent or book an adventure tour through local operators at a minimal cost.
3. Gaura And Jhajja: Go For A Trek

Image Source Are you an adventure freak? If so, you're going to love trekking through the rocky trails of Gaura and Jhajja. Trekking is one of the best things to do in Chail for all adventure enthusiasts. Walk under the shadows of tall pine trees while enjoying the cool and calm air of mountains. There are some great viewpoints where you can sit and enjoy the raw beauty of nature. Cost: INR 1000 – INR 2400 per head
River Rafting In Himachal Pradesh: Navigate Himalayan Waters On Your Mountain Getaway In 2022
4. Pine Forest: Take A Nature Walk

Image Source If you're looking for some relaxed activities while exploring the wilderness, then a nature walk through Chail Wildlife Sanctuary is something you would love to do. If you are planning to marvel at mother nature's creations then one of the best things to do in Chail is heading on a stroll. Spot sambar, goral, barking deer, etc on your walk through the jungle.
5. Kufri: Engage In Horse Riding

Image Source Just 30 km from Chail, Kufri is one of the best places to visit in Himachal. You can take a local bus or a shared taxi to reach Kufri and enjoy a thrilling horse ride up there. They take you through the beautiful and sweet-smelling apple orchards and lush valleys.
10 Places To Visit In Chail For A Perfect Hill Town Retreat In 2022!
6. Chail Palace Restaurant: Taste The Juicy Mutton Curry

Image Source Run by HPTDC, the café at Chail Palace serves sumptuous local and international food. Gorging on the local delicacies is another one of the best activities in Chail. Enjoying chicken anardana, mutton curry, cutlets, and noodles in an open lawn, amidst lush green mountains is surely one of the most entrancing experiences to embrace in this mountain village. Where: Chail Palace, The, Palace Road, Chail, Himachal Pradesh Must-Try: Mutton curry, Cutlets, Noodles
7. Tarika-e Jarokha: Gobble Down Delightful Kulfi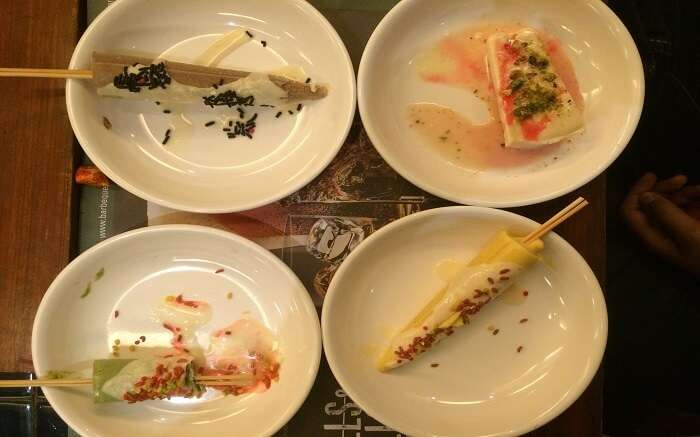 Image Source One of the best places to eat in Chail, Tarika-e Jarokha serves some of the most delectable non-veg dishes. The warm ambiance and gracious service make this Indo-Asian restaurant a perfect little heaven for food lovers. You must try the chicken kebabs and kulfi while enjoying a spectacular view of Solan and Shimla hills. Where: Chail, Himachal Pradesh Must-Try: Kulfi
8 Best Resorts In Chail For An Elegant Stay In The Mountains
8. Sharma Vaishno Dhaba: Have A Bite Of Ghee And Jaggery Paratha Roll

Are you craving for something sweet and unique? Try the unique and mouth-watering jaggery filled parathas. It's a jaggery stuffed flatbread served hot, mostly during winter months as it helps keep your body warm. All foodies will love this place for sure. You also get rajma rice, aloo matar sabzi, delicious raita, and many kinds of parathas here. Where: Chail, Himachal Pradesh Must-Try: Rajma rice, Paranthas
9. Religious Tour: Seek Blessings

Image Credit: Pushkar Prashar for Wikimedia Commons If you are planning a trip with your family, then one of the best things that you can do in Chail is to head out on a religious tour. Chail is home to various religious sites like Kali Ka Tibba, Siddh Baba Ka Mandir, and Gurudwara Sahib. To relax and meditate on your vacation, you can visit these places and spend time during your day. Kali Ka Tibba is visited by many devotees as it is believed that all your wishes will come true at this spot. Where: Kali Ka Tibba, Siddh Baba Ka Mandir
53 Best Places To Visit In Shimla On Your Soothing 2022 Weekend Getaway
10. Birding

Chail Sanctuary frames a brilliant forestland triangle with Shimla and Kufri in Himachal Pradesh and is one of the most popular places for birding around the region. This park is best for spotting the golden eagle and dark-headed flycatcher in the pine-covered landscapes.
Want to book weekend getaways from Delhi? Pack your bags and get ready for your journey of adventures. All of these things to do in Chail are a must-try. So, next time you are planning a trip to Himachal Pradesh, make sure you have Chail on your mind! 
For our editorial codes of conduct and copyright disclaimer, please click here.
Frequently Asked Questions About Things To Do In Chail
Where is Chail situated?
Located approximately 44 kilometers from the famous city of Shimla, Chail is a hill station in Himachal Pradesh. Situated in the district of Solan, Chail is sitting at an elevation of approximately 2,250 m.
What is the best time to visit Chail?
Chail is a destination that can be visited throughout the year. Although, the best time to visit Chail is during the summer season from the month of April to June. The extremely pleasant and favorable weather makes a vacation to Chail worthwhile.
What are the best options to stay in Chail?
There is no dearth of impeccable accommodations in Chail Some of the best stays in Chail are: 1. Mountain View Resort 2. Treehouse Chail Villa 3. Ekant Retreat Resort 4. Fernhill Resort Chail 5. Mint Tarika Resort 6. Deelux Cottage's Chail
How far is Chail from Delhi?
Chail is approximately 335 kilometers from Chail. It takes about 7 hours to reach Chail from Delhi by road.
What is Chail known for?
One of the most tranquil and peaceful hill stations of Chail, this destination is known for its enchanting beauty, pine forests, and the world's highest cricket ground.
Does it snow in Chail?
Yes, it does snow in Chail. This hill station of Himachal Pradesh looks nothing less than a magical land in the winter season when covered in snow. It is nothing less than paradise on earth for the snow admirers during the months between December-February.
What can I do in Chail?
Chail is one of those hill stations that is full of adventure. Some of the best things to do are camping, rock climbing, trekking, nature walks, horse riding, and indulging in delicious delicacies.
What are some places to visit in and near Chail?
There are some of the most beautiful places to visit in Chail such as a wildlife sanctuary, Palace Hotel, Cricket Ground, Kali Temple, and Sadhupuri amongst many others.

People Also Read:
Things To Do In Kochi Things To Do In Mukteshwar Things To Do In Ahmedabad