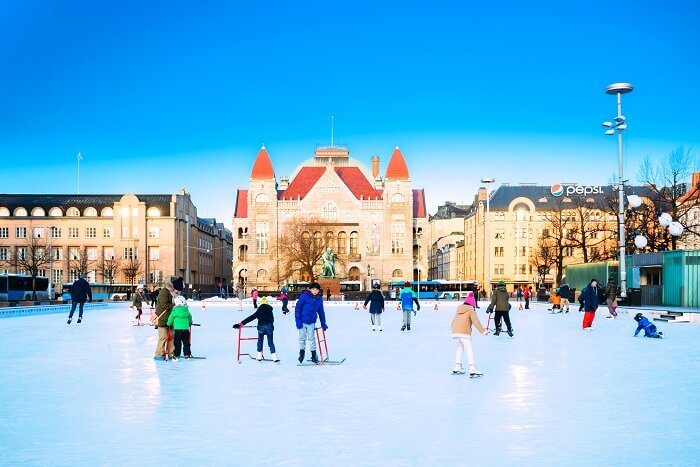 Overlooking the Baltic Sea, Helsinki is a cultural hub of Finland, Europe. It is rightly said that some places are all about experiences and Helsinki is one such city which would give you oodles of them. Broad streets to vibrant sprawling market squares, neoclassical mansions to quaint wooden neighborhoods, impressive architectural churches to hippy bars, beautifully landscaped environs to a beautiful archipelago of islands, Helsinki has it all.
10 Delightful Things To Do In Helsinki
Wondering what to do in Helsinki? It is a city where you can indulge in a lot of interesting activities and here is a list of top things to do here:
1. Ride the vintage tram
Must Read: Top 10 Helsinki Hotels That Offer Best Of Luxury
Turn back the clock as you ride the vintage tram in Helsinki. There are two kinds of trams to choose from. Experience the 1909's motor car tram or the open summer trailer of the 1919's. These trams can be boarded from the tram stop at Helsinki Market Square. You can enjoy these tram rides on the summer weekends for a blissful experience!
Timings: 10 AM – 5 PM (Summer Weekends)
Starting price: INR 480/-
2. Explore Suomenlinna, the sea fortress
Constructed in the second half of 1700s, this sea fortress boasts of European military architecture. The fortress expands over 6 islands and was built for protection from the Russians. Also a UNESCO World Heritage Site, today Suomenlinna is a top tourist destination. Enjoy guided walking tours or cycle around discovering Helsinki's heritage. You can carry bicycles on the ferry along with you! Some interesting sights here are the Church Park, Great Courtyard, Piper's Park, Russian merchants' quarter, and the fortifications of Kustaanmiekka.
How to reach: By ferry from the Market Square in Helsinki
3. Visit the Temppeliaukio Church
Suggested Read: 10 Must-Visit Places For A Finland Honeymoon As Romantic As The Northern Lights!
Also called the Rock Church, Temppeliaukio is a Lutheran church at the heart of Helsinki in the Töölö neighborhood. This beautiful church is quarried out of rocks. The copper dome, the natural rocks, and the unique architecture which is one of its kind makes for a striking experience. Amazing architectural acoustics makes the church a cool place for concerts!
Entry fee: INR 206/-
4. Enjoy crazy rides at the Linnanmäki Amusement Park
Have fun on the exciting rides at this amazing amusement park. There is no entry fee for the park, but you will need to buy tickets to the individual rides. You can also choose to just wander around in the park. Finland's oldest and popular park, Linnanmäki is owned by a non-profit organization, Children's Day Foundation that aims at raising funds for the Finnish child welfare work. You can go up the Panorama Tower and enjoy beautiful views of the city, or indulge in delectable street food at the stalls inside the park.
5. Pamper yourself and your beloved with a Finnish Sauna
Suggested Read: 10 Most Fascinating Places To Visit In Finland, The Unspoilt Paradise
For the Finnish, a sauna is an integral part of their culture where they can relax both physically and mentally. It is a necessity in their tradition more than a luxury. When in Helsinki, head to a wood-built retreat nestled in lush dense forests and rejuvenate at the smoke sauna. This is one of the best things to do in Helsinki in winter when it is snowing outside and steaming inside! Traveling with your beloved? Do not miss this experience as it is one of the most romantic things to do in Helsinki, Finland.
6. Attend a crayfish party!
Crayfish parties were introduced in Finland by Sweden. These parties start once the harvesting season begins in July. Enjoy a rooftop or terrace crayfish party as you drown your fingers into a bowl of appetizing crayfish. If you get an invite from a local, consider it a privilege! A cherry on the cake would be getting to experience the traditions and cultures, the local's way!
7. Stay at a Finnish cottage
Suggested Read: This Sled Hotel In Finland Lets You Move Around For The Best Views Of Northern Lights!
Book yourself a cabin in the countryside or a holiday cottage on a lakeside. Stay amidst nature in the quiet environs and get a true Finnish experience. These cottage houses are abodes of luxury equipped with all modern amenities. You can even find saunas in most of them owing to the Finnish sauna tradition. Escape into nature with your loved ones and spend some quality time with each other. The rentals would vary according to the kind of accommodation you book.
8. Shop at the Hietalahti Market Hall
Wander over to the Hietalahti Market Hall to shop at a flea market and for a gastronomical treat at some amazing restaurants with a cozy ambiance. Try authentic Finnish food at the cafes and restaurants here. This popular flea market is open Monday to Saturday and on Sundays too during the summer months of Helsinki. It is a treasure trove for antique collectors. Grab amazing deals on vintage and retro furniture and items. You can also buy fresh and local produce directly from the farmers.
9. Feel the rural Finnish life at Seurasaari Island
Suggested Read: This 'GoT' Ice Hotel In Finland Is The Ultimate Place To Live Like The Lady or Lord Of Winterfell
Seurasaari is the only island that can be reached without a ferry. It is a stone's throw away from the mainland and crossing over a wooden bridge lands you onto this beautiful island. The serenity of the place adds on to its beauty. There is an Open-Air Museum at Seurasaari which shows the traditional Finnish life. Learn about the local history treasured there from all across Finland.
Fun Fact: Helsinki's nudist beach is on Seurasaari!
10. Take a romantic walk at Töölönlahti
Beginning in the center of Helsinki, Töölönlahti has a walking path circling the bay. Enjoy sights of wooden villas and locals running anticlockwise around the bay, as you stroll along the way. The place is a paradise for bird watchers. After a leisurely walk here one can even explore the top attractions of Helsinki on foot as they are all located at a close distance. Public transport is easily available too. Kiasma Museum of Contemporary Art, Parliament House, and Helsinki Music Centre are all close to the Töölönlahti bay.
Further Read: 10 Places To Visit In Russia To Witness The Beauty Of This Incredible Nation
Now that you know of all these interesting things to do in Helsinki, why wait? Book your trip to Europe with TravelTriangle and go have some spellbinding experiences exploring this amazing destination!
Comments
comments