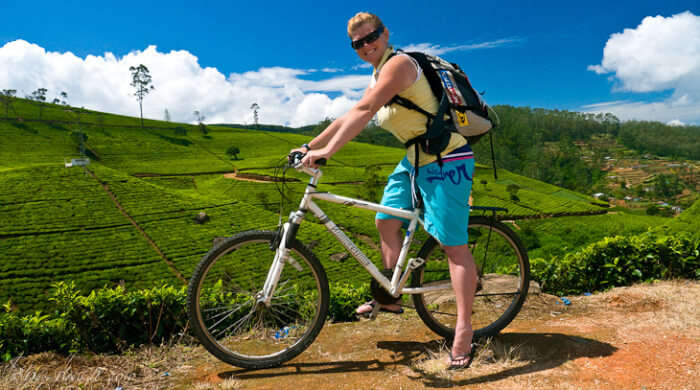 Hikkaduwa is a small town on Sri Lanka's south coast flanked by sandy shorelines and tropical woodlands. Voyagers will discover many leisure things to do in Hikkaduwa during their trip. Since it is so near to Colombo, the Galle Road goes right into the Hikkaduwa.
Regardless of the fact that you're a diver, surfer, snorkeler, or foodie, you are destined to get all kinds of solace and things to do in Hikkaduwa town. Let's find out how you can spend your vacation in this town of Sri Lanka.
Things you must try in while you're in Hikkaduwa
Whether you want to explore the expansive tea gardens or discover the underwater world, these things to do in Hikkaduwa will leave you speechless.
1. Water sports: Let the thrill fill you with fun
One of the best things to do in Hikkaduwa is its water sports. Hikkaduwa offers lots of water activities for you, like swimming, scuba diving, snorkeling, surfing, cruising, and sailing. There are also Professional Association of Diving Instructors (PADI) courses accessible from the primary diving shops. Diving lovers will also get to enjoy the specialized diving visits open to exploring shipwrecks and interesting night-diving trips.
Must Read: 6 Best Restaurants In Dambulla Where You Must Dine On Your Next Sri Lankan Trip!
---
Sri Lanka Holiday Packages On TravelTriangle
Book your Sri Lanka trip from TravelTriangle: Inclusive of Hotels, Sightseeing, Transfers, & Meals. Best Prices Guaranteed. Get Customizable Package & Free Guidance From Destination Experts. Book Now!
---
2. Glass bottom boat ride: Witness the sea-world from above
One of the best things to do in Hikkaduwa, Sri Lanka is taking a trip on the waters on a glass botton boat. There are boats decked with glass or transparent bottoms to give the tourists a chance to explore the sea in the simplest way conceivable. There are twelve types of butterfly fish and five types of angelfish you can found here during your ride. Get the glimpse of underwater vibrant beauty without getting wet!
Must Read: 11 Top Villas In Hikkaduwa To Enjoy In The Beachy Paradise Of Sri Lanka!
3. Tsunami Education Centre and Museum: Lets learn something
This locally persevered center is made to educate local people about tsunami as well as it possesses many nerve-racking photographs of the 2004 disaster caused in the area due to the tsunami, including a portion of the dead bodies.
Suggested Read: 5 Best Water Sports In Trincomalee That Will Add More Thrill To Your Sri Lankan Holiday
4. Coral reefs: Discover the colourful world deep in the ocean
One of the best things to do in Hikkaduwa Beach is taking a dip in the water to explore the underwater world. Hikkaduwa is additionally home to glorious coral reefs. Out of the two marine national parks of Sri Lanka, this comprises a fringing coral reef with a profundity of about five meters. The national park is found near the northern end of the shoreline and is a perfect place to observe Sri Lanka's submerged excellence! You can rent the snorkeling gear from the nearby shops. The perfect time to visit the coral reefs is from November to April, as the serenity appears to give great visibility!
Suggested Read: Snorkeling In Hikkaduwa: To Enliven Your Senses Amid The Crystal Blue Waters Of Sri Lanka In 2019!
5. Tea zone: Inhale the aroma of Hikkadua
One of the top things to do in Hikkaduwa include taking a walk in the tea zones of the city. This spot is visited to taste the various types of teas you'd never before and after that pick which one you want to buy. The range comprises of very good and unique kind of teas such as – coconut tea, Kandy tea, mixed fruits tea, lime tea, soursop tea, black tea and so on. Lovely place with the brilliant service.
Suggested Read: 9 Alluring Things To Do In Nuwara Eliya, The Heart Of Sri Lanka!
6. See the turtles: Spend time with these sea animals
Hikkaduwa is well known for its turtle hatchery ranches. The Kosgoda Turtle Hatchery is a most loved place for tourists and is highly suggested to spend some time with turtles. Found only a couple of minutes from Hikkaduwa Town is a little Turtle Hatchery which is owned by a man who lost his family in the tsunami tragedy.
7. Spa treatments: Give yourself a break
Tired of sea surfing or wandering around- Fortunately, Hikkaduwa has numerous centers and shops that offer a huge assortment of signature Sri Lankan ayurvedic treatments as well as massages to rejuvenate oneself and relax after a long day of touring and rigorous activities.
Suggested Read: 6 Best Museums In Sri Lanka That'll Walk You Through The Country's Rich Historic Past
8. Eat and drink: Indulge in the delicious flavours
Aside from the magnificent shoreline and its marvelous attractions, one of the top things to do in Hikkaduwa is to wander out on an excursion to fulfill their taste buds while being in this excellent beach front town. There are various beachside restaurants, roadside eateries, lounges, and guesthouses serving delicious nourishment alongside so many fun activities. The menu ranges of options from local dishes, fresh fish, curry rice to several international cuisines.
9. Go surfing: Sail on the waves
This beaches at Hikkaduwa brings a lot to enjoy for surfers in a good environment with the crowds gathering in the bays to watch and appreciate them. Additionally, amid the high season, the ocean offers the ideal conditions for novices as well to try this water sport.
Suggested Read: 10 Best Places To Visit In Trincomalee That Prove It Is A Hidden Gem In Sri Lanka
10. Shop handicrafts: Bring home a souvenir
A heap of spots along the Galle Rd offers a wide range of handcrafted collectibles, comprising of a plenty of signature high-quality kolam masks and more unique wooden figurines. Youll go crazy to buy such beautiful stuff for yourself or as a souvenir.
11. Enjoy the nightlife: Dance all night long
One of the top favorite things to do in Hikkaduwa is enjoying its nightlife! The city offers both beachside restaurants and a lively nightlife and has turned out to be one of the important destinations for voyagers to experience an extraordinary night out. Different discos on the shoreline where you can appreciate a cordial ambiance are not to miss.
Suggested Read: Top Places For Trekking In Sri Lanka For The Thrill Seekers!
12. Rent a bicycle: Ride on the breezy roads
Since Hikkaduwa is a back papers favorite destination, for them renting a bicycle is really a great idea to roam at this place. Various spots along the main street have knackered old bicycles available for lease or you can ask at your guesthouse, they likely have or know somebody to provide you with one. So, rent the cycle and just stroll the place at your own pace riding amidst the breezy roads.
13. Madhu river safari: Add a hint of thrill to your journey
Madhu River is an amazing spot one must visit during their vacation in Hikkaduwa. Madu Ganga flows giving a unique magnificence to the landscape at the coastal village Balaptiya. One can ride in a boat around mangrove forest watching different aquatic birds as well as fish. The journey is like discovering the secrets treasure. The flawless beauty of the river and surroundings will be forever cherished by all visitors.
Further Read: 10 Best Things To Do In Trincomalee, The Laid-Back Harbour Town Of Sri Lanka
Thus, a trip to Hikkaduwa will be your exemplary tropical vacation on a lively golden sand and turquoise ocean. Hikkaduwa has made considerable progress from its single beach days, to be one the best hotspots for backpackers. So, book your Sri-Lankan trip with TravelTriangle and discover Hikkaduwa's fascinating side by indulging in things to do here!
People Also Read:
Sri Lanka On Budget Budget Trip To Sri Lanka From India Things To Do In Sri Lanka
---
Looking To Book An International Holiday?
Book memorable holidays on TravelTriangle with 650+ verified travel agents for 65+ domestic and international destinations.
---
Comments
comments