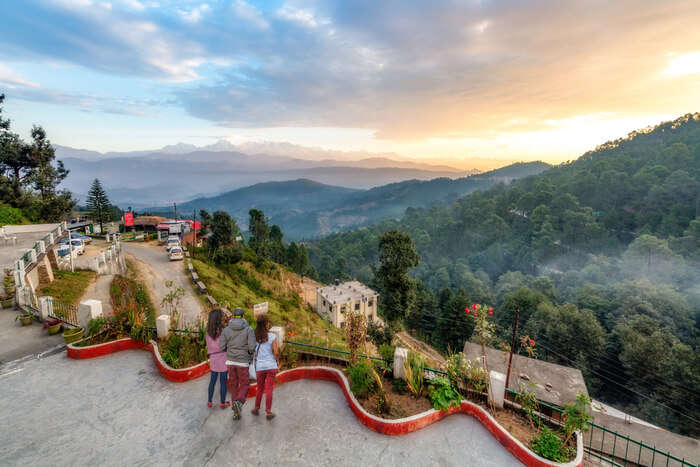 Kausani is a surreal and scenic extravaganza best known for its snow-capped mountains, misty valleys, luxuriant pine forests, and pristine beauty. Tagged as Switzerland of India by Mahatma Gandhi, this is one of the picturesque and heavenly hill retreats—splendid and romantic in a nutshell.
This quaint town is situated 6,075 mt above sea level and 53 km from Almora. It is known for its 250 km wide views of Himalayan snow peaks, which is enough to ignite the adventurer in you. Apart from admiring the paradise-like charm and beauty of the place, there are some fun and adventurous things to do in Kausani that'll make you visit the heaven over and over again.
Leisure things to do in Kausani
6. Dine at the Garden restaurant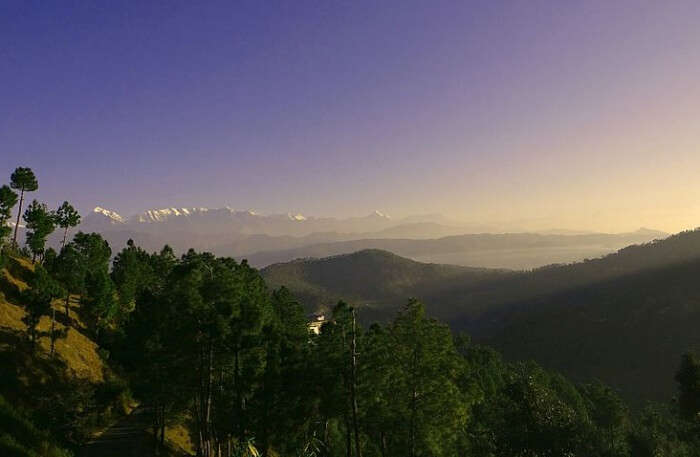 Enjoying a sumptuous meal at Garden restaurant is one of the most wonderful things to do in Kausani. It is a bamboo thatched roofed eating place where one can enjoy the stunning and spectacular vistas of snowy Himalayan peaks while relishing global and local delicacies.
Opening hours: 7 am to 9 pm
Must try: Mandwa flour chapatis with ghee
5. Shop at the Mall Road in Kausani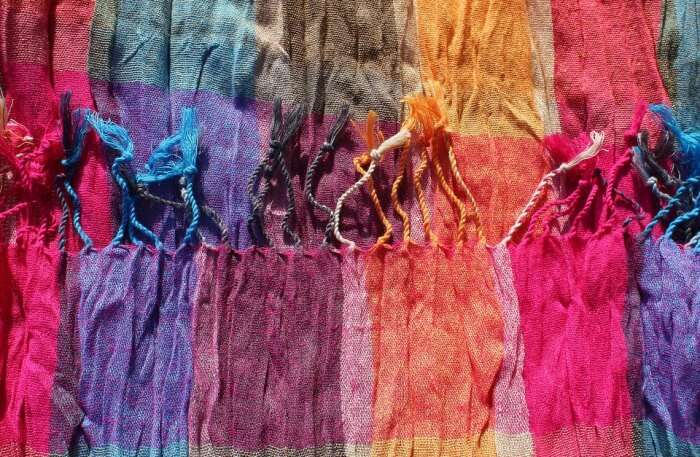 Whether you love shopping or not, don't resist picking some traditional craftware from MG road, which is the bustling market area in Kausani. The range is usually wide with best buys being warm hand knitted caps, shawls, pullovers and gloves.
Kumaoni jams, pickles, chutneys and tea from Puran Singh Tea Store and Anand and Sons are highly recommended.
Must Read: Here's Everything You Need To Know About How To Spend 3 Days in Kausani
The best of sightseeing in Kausani
4. Visit the famous temples in Kausani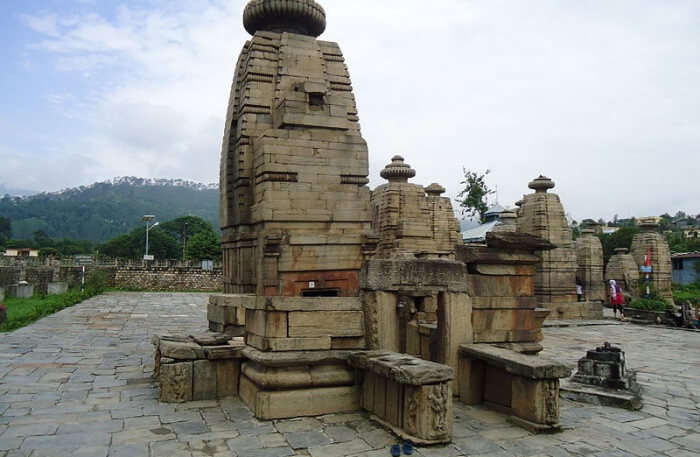 Kausani is known for many heritage temples and the excellent artwork and architecture they display. Temple excursion is one of the best things to do in Kausani for religious tourists as well as architecture admirers.
When you are out to visit the most famous temples in Kausani, here are the ones that must feature in your itinerary.
The artistic Someshwar temple devoted to Lord Shiva, founded by the Chand Dynasty
Rudrahari Mahadev temple – an incredible cave temple situated by the bank of River Kosi; also, there is a waterfall by the same name, which can be reached by a trek through a forested trail.
Baijnath temple in Kausani is a Shiva temple, popular for its marvels of Nagara style of architecture
Kot Bhramari Temple is snuggled on a hill top, dedicated to Goddess Bhramari. If you happen to be there in August, do not miss the gala annual fair on Nanda Ashtami, organised at the Kot Bhramari temple, also known as Kote-ke-mai, or Bhramari Devi temple.
Temple visit are a part of maximum Uttarakhand holiday packages. Picking a package helps you plan a trip without any hassles of booking a hotel or bus.
Suggested Read: 10 Restaurants In Longmont Serving Such Delicious Cuisines That You Will Love To Visit Again
3. Tour the famous ashrams and museums in Kausani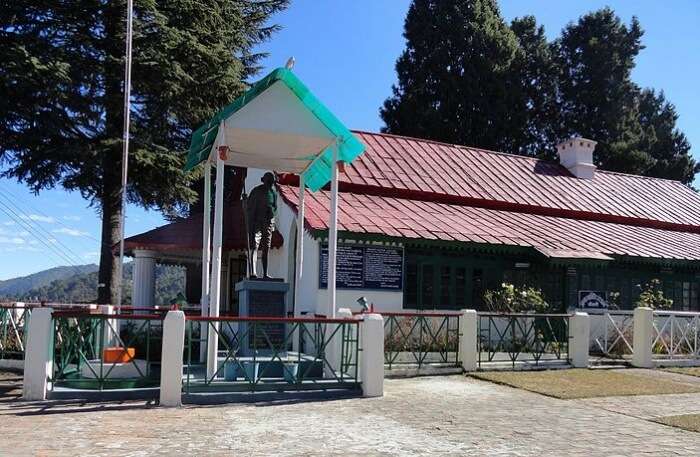 Kausani is home to many holy ashramas which add to the serenity and beauty of the place. Tourists from India and abroad come here to walk the lanes of history and see the cultural heritage of Kausani.
Anasakti Ashram, popular as Gandhi Ashram is one of the most beautiful and popular ones from the list. Gandhiji stayed here for a while writing Anasakti Yog. Now, the ashram has been turned into a museum showcasing his writings and photographs. There is no entry fees. From a visit perspective, spend approximately 2 hours exploring the ashram.
Lakshmi Ashram, which was started by Catherine Hillman is another tourist spot, surrounded by tranquil hills and plush green forests. This ashram aims at empowering rural women of Kumaon region by training them for growing vegetables, professional cooking skills, housekeeping etc. Taking a tour of these ashramas is one of the not-to-miss things to do in Kausani.
Another beautiful place to visit during Kausani trip is the Sumitranandan Pant Gallery. This is a museum displaying awards, drafts, and manuscripts written by the legendary poet, Sumitranandan Pant. The ashram's opening time is 10:30 am and it closes at 4:30 pm for tourists. You can explore this serene ashram for just INR 10 per person.
Suggested Read: Reasons Why A Weekend Trip To Kausani Will Totally Spoil You
Go for adventure sports in Kausani
2. Trek to the most beautiful trails of the hill station
One of the famous adventurous and fun activities in Kausani is trekking. This blissful and spectacular hilly retreat boasts of some famous treks that are highly recommended for beginners and amateur trekkers.
Trekking to Rudrahari falls is quite engrossing and thrilling through thick and plush pine woods
Nestled between the lofty Nanda Devi and Nanda Kot mountains, Pindari glacier is a spectacular sight. The Pindari glacier trek offers jaw dropping view of mighty Himalayas and valleys.
Pinnath is a temple dedicated to Bhairon and can be reached by a 5 km trek, which is simple and exciting
Suggested Read: Top 12 Summer Festivals In India You Must Plan Attending In 2022!
1. Adventure activities in Kausani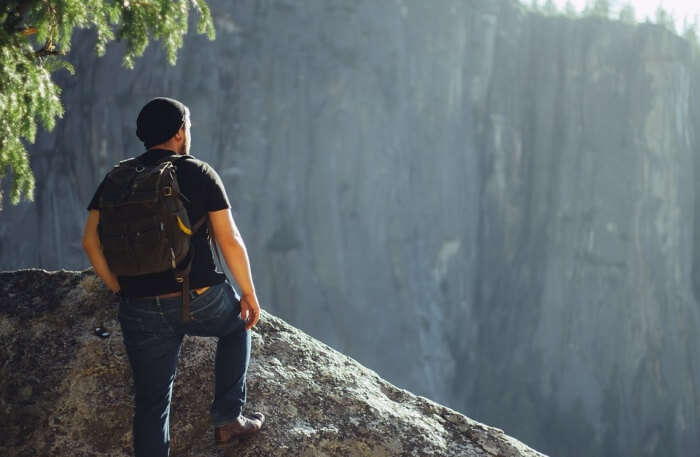 Kausani offers ample scope of super thrilling rock climbing, mountain biking, and rappelling. Various small and medium sized rocky cliffs are ideal places for this exciting adventure sport. Undoubtedly, rock climbing is one of the superb fun activities in Kausani- popular amongst youngsters and corporates on their offsite.
Further Read: The Ultimate List of Adventure Holidays In India For Summer 2022
Now that you know all about Kausani adventure sports, sightseeing, and other fun things to do, you can easily plan a thrilling vacation right away. Plan a trip to Kausani, A vacation in Kausani means a lot of fun and exploring the most beautiful peaks of Uttarakhand.
Frequently Asked Questions about Things to Do in Kausani
Which are the best places to visit near Kausani?
Ranikhet, Bageshwar, Someshwar, Pinnath, and Gwaldam are some of the best places to visit near Kausani.
Which are the best places to visit in Kausani for couples?
Some of the best places where couples can go are Rudradhari Falls, Kausani Tea Estate, Anasakti Ashram, Kausani Planetarium, Stargate Observatory, Lakshmi Ashram, Baijnath Temple, SumitraNandan Pant Gallery, and Rudrahari Mahadev Temple.
Can I visit Kausani during the current Covid situation?
Yes, you can plan a visit to Kausani during the current Covid situation. However, make sure that you are completely vaccinated and always carry your vaccination certificate. Besides this, you need to follow government protocols that include wearing a mask when in public, sanitizing hands at certain intervals, and maintaining social distance.
What is the special in Kausani?
Kausani is famous for its scenic beauty, snow-clad peaks, misty valleys, and pine forests. With so much to offer to tourists, Mahatma Gandhi tagged this destination as the 'Switzerland of India'. One must explore Kausani at least once in their lifetime.
When is the best time to visit Kausani?
The summer months of April to June is the ideal time to visit Kausani, Uttarakhand. Kausani weather is mild and hovers around 9 to 26 degrees.
Where can I stay in Kausani?
Some of the best accommodation options in Kausani are Pratiksha Himalayan Retreat, Himalayan Village Resort, Krishna Mountview Mountain Resort, Blossom Resort Kausani, Nature's Valley Resort, and The Heritage Resort.
Which are the best places to eat in Kausani?
Garden Restaurant, Valley Restaurant, Yogi, Quality Restaurant, Himalaya Valley Restaurant are some of the best restaurants in Kausani.
People Also Read:
Things To Do In Dehradun Things To Do In Rishikesh Best Things To Do In Nainital
---
Long Weekend Trips Starting @ Rs 3499/-
Take a trip to spend the upcoming long weekend with your buddies.
✓ Stay at 4 star rating hotels with local sightseeing, meals and transfers.
✓ Travel in AC coach round trip (from Delhi).
✓ All Inclusive Deal– Camping, Jeep Safari & Trekking as per itinerary
✓ Sign up NOW to celebrate the long weekend out of town!
---
Comments
comments