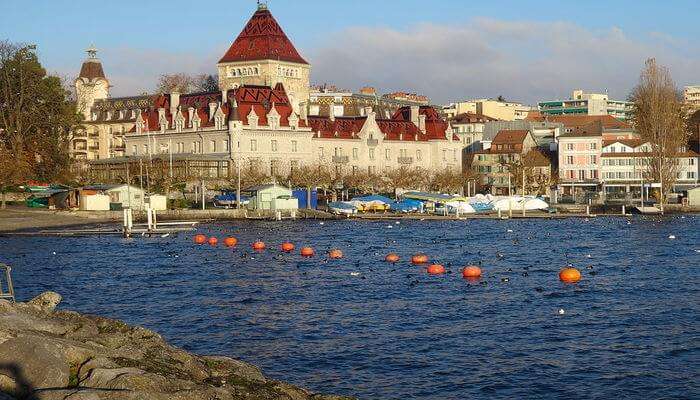 Cover Image Credit: Wikimedia
Lausanne, the capital city of the canton of Vaud in Romandy is known as the Olympic Capital of the World as the city houses the International Olympic Committee headquarters. The Olympic Museum in the city is the testimony to Lausanne's monumental relationship with the Olympics. Apart from that, Lausanne is also home to many famous cathedrals that date back to the 13th and 14th centuries and illustrious museums that are housed in heritage buildings. The city offers plenty of cool things to get involved in while making sure that you have unlimited enjoyment and time.
So, what are the things to do in Lausanne that spell your vacation awesome. Find out!
9 Cool Things To Do In Lausanne
Here is a handcrafted list of things to do in Lausanne that is considered to be one of the few cities in Europe with cleanest air quality:
1. Go On A Cruise Ride On Lake Geneva
2. Witness Panoramic Vista At Sauvabelin Tower
3. Explore The Vineyards Of Lavaux
4. Awaken The Athlete In You At The Olympic Museum
5. Marvel At The 13th-Century Cathedral Of Notre-Dame
6. Bellerive-Plage – Swim To Your Heart's Content
7. Climb Up The Stairs Of The Monumental Escaliers Du Marche
8. Shop At The Street Markets Of Lausanne
9. Go On A Museum Hop Tour
1. Go On A Cruise Ride On Lake Geneva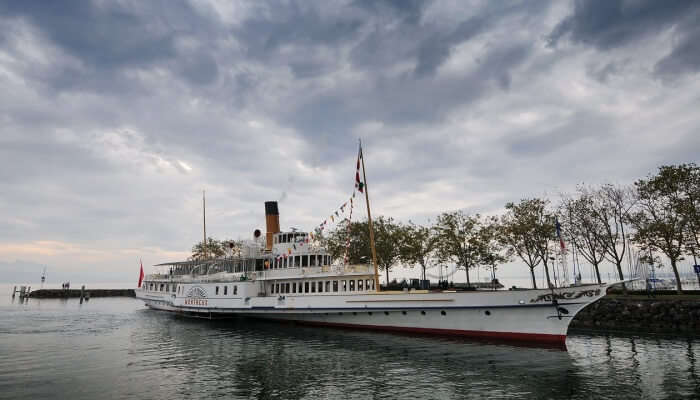 Lake Geneva is one of the most romantic lakes in Lausanne for its stunning views and what better way to revel in its beauty than sailing on a cruise over it. Most cruise operators provide sightseeing cruises, ice cream social tours, meals and cocktail cruises that are a sheer delight to experience. If you are looking for a lake destination wedding, cruises on Lake Geneva ascertain a poetic start to your love life.
Popular boat tour operators: Lake Geneva Cruise Line, U.S.Mailboat Tour, Geneva Cruises
Approximate Pricing for the 2-hours full lake tour:
Weekdays: Adult $37 Senior $35 Children between 4 and 17 years $22
Weekends: Adult $41 Senior $39 Children between 4 and 17 years $25
Must Read: 10 Fab Places To Visit In Basel On Your Switzerland Vacation
2. Witness Panoramic Vista At Sauvabelin Tower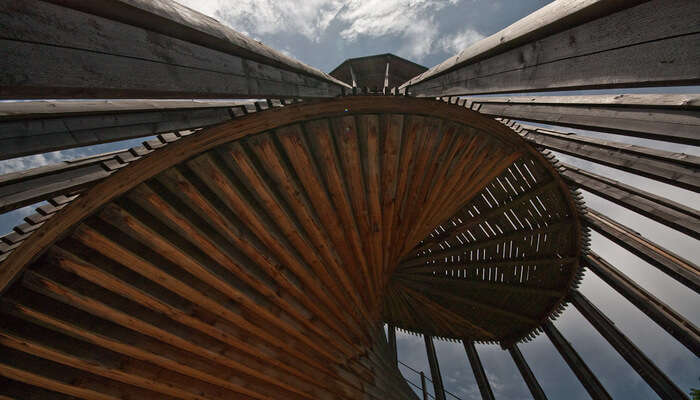 This wooden tower is built from Douglas fir wood and raises to about 35 metres from ground level. The tower was built to mark the beginning of the third millennium and the tower's design has been inspired by Château de Chambord in France. Climbing the 302 steps of this winding helix construction opens up 360-degree views of Lake Geneva, the French Alps, Jura, and the city of Lausanne. The park within which the Sauvabelin Tower is located has a playground and a lake with boat rides and so, if you are looking for places to picnic within Lausanne, Sauvabelin Tower is a great choice.
Location: 1018 Lausanne, Switzerland
Timings: 9.00 am – 8.00 pm Sunday – Friday; 9.00 – 11.00 pm Saturday
Entry fee for park and tower: Free
Suggested Read: Switzerland In October: See What Makes It A Great Time To Explore This Paradise
3. Explore The Vineyards Of Lavaux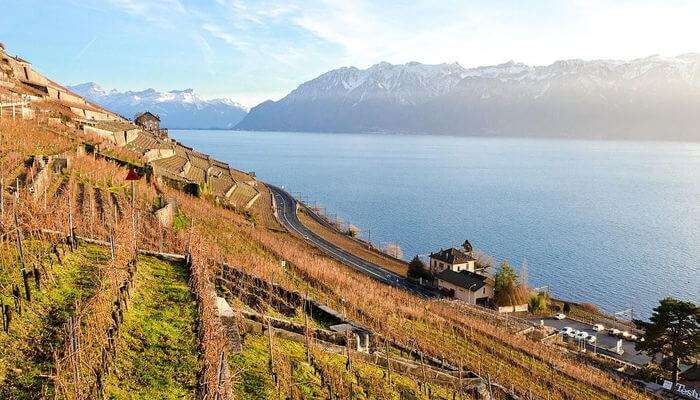 Just about 15 km away from Lausanne, lies Lauvax; a UNESCO Heritage Listed region that is popular for its lush terraced vineyards overlooking Lake Geneva and glistening in the sun. Lavaux vineyards sprawl for more than 800 hectares and tourists can enjoy an amazing time amidst Nature strolling or even cycling amidst the grapevines. The winegrowers in this region welcome tourists for day tours in their vineyards which includes spending a day helping the winemaker with his daily chores, sampling the wines straight from the cellar, going on tour around the area.
Location: Lutry, Switzerland
Total Area: 1,408 ha
Suggested Read: 12 Honeymoon Places In Switzerland To Visit For A Romantic Rendezvous
4. Awaken The Athlete In You At The Olympic Museum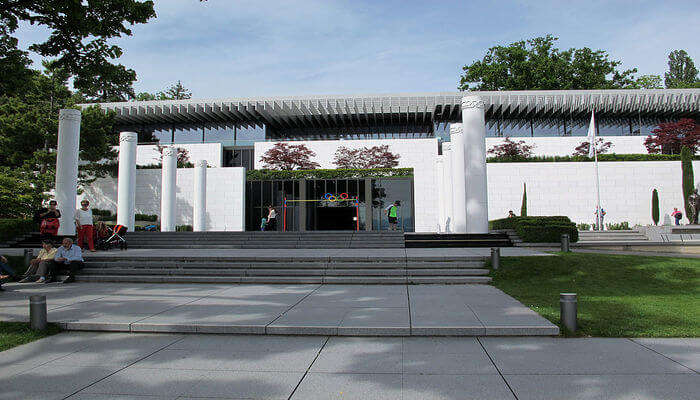 Lausanne is the headquarters for the Olympics and no surprise the Olympics museum here is the biggest source of information for everything related to this mammoth sports event. The museum has permanent and temporary exhibits relating to sport and the Olympic movement like torches, historic posters, equipment, and clothing worn by Olympians. The manicured lawns around the museum featuring Olympic themed sculptures and the famous Olympic Torch and the refreshing lake views from the museum make the trip to the Olympic Museum absolutely memorable.
Location: Quai d'Ouchy 1, 1006 Lausanne, Switzerland
Timings: 10.00 am – 6.00 pm on all days
Entry fee: CHF18 for adults.
Suggested Read: Indian Restaurants In Zurich: The Spicy, Tangy, And Sweet India Of Switzerland
5. Marvel At The 13th-Century Cathedral Of Notre-Dame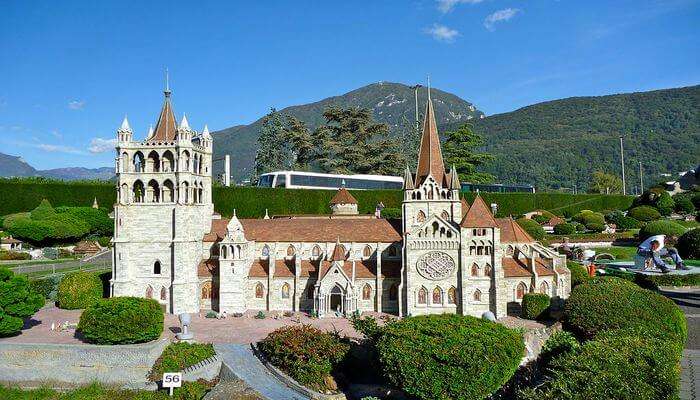 One of the imposing buildings from the Medieval Ages, the Cathedral of Notre-Dame is one of the most revered spiritual places in Switzerland. The cathedral dates back to the 13th century and looks splendid with painted stone sculptures, 5 iconic towers that are visible from most parts of the city, an eighth-century basilica with tombs, and painted stained glass from those times that deck up the windows. The interesting fact about this Protestant Cathedral is that a nightwatchman calls out the time of the hour every night from the central tower from 10.00 PM to 2.00 PM!
Location: Place de la Cathédrale, 1005 Lausanne, Switzerland
Timings: 9.00 am – 5.30 pm on all days from October to March; 9.00 am – 7.00 pm from April to September
Entry fee: Free
Suggested Read: Go Paragliding In Switzerland For The Most Amazing Swiss Alps Experience
6. Bellerive-Plage – Swim To Your Heart's Content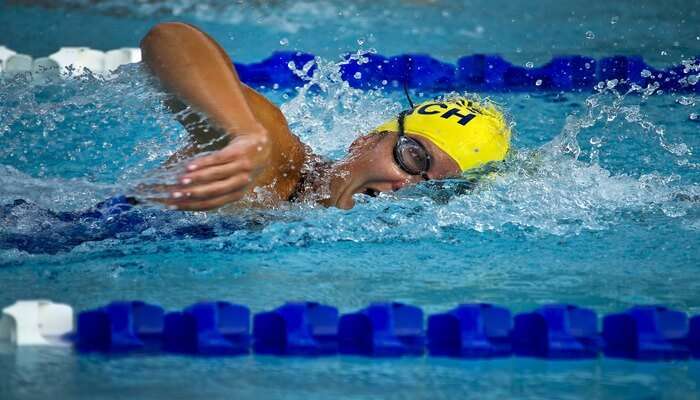 Perched by the lake, this swimming facility in Lausanne is the go-to place on a lazy day. This outdoor recreation center has a beautiful historic public swimming pool where you can enjoy lane swimming and a bigger diving pool for all those water stunts. Bellerive-Plage also has ping pong tables and volleyball courts so that you can enjoy a casual day out here with your friends and family. No mood for anything? Just laze around the grasses here on a bright sunny day!
Location: Avenue de Rhodanie 23, 1007 Lausanne, Switzerland
Timings: 9.30 AM – 8.00 PM on all days
Suggested Read: 10 Interlaken Restaurants Serving The Most Delicious Food In Switzerland
7. Climb Up The Stairs Of The Monumental Escaliers Du Marche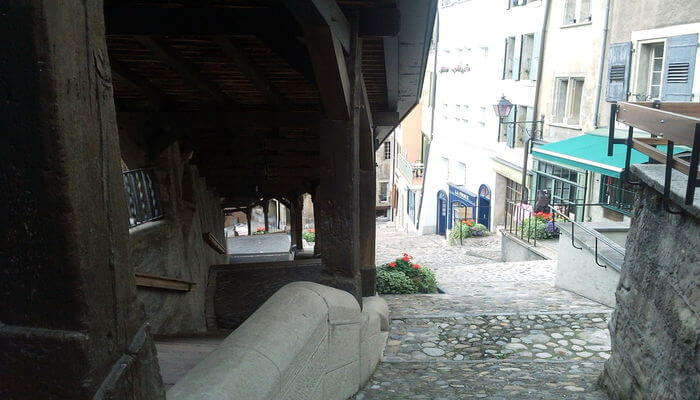 This winding timber-canopied staircase runs from Pl de la Palud to Rue Pierre Viret and beyond to the cathedral. A walk through this 13th-century staircase lets one enjoy gleeful views of buildings that date back to the 16th century. The historic Café le Barbare in the middle of the climb is a refreshing hangout spot for coffee and hot chocolate. This rustic staircase with great backdrops will interest the shutterbugs.
Location: 1003 Lausanne, Switzerland
Timings: Always open
Suggested Read: 10 Unique Museums In Switzerland That Walk You Through History Of Humanity
8. Shop At The Street Markets Of Lausanne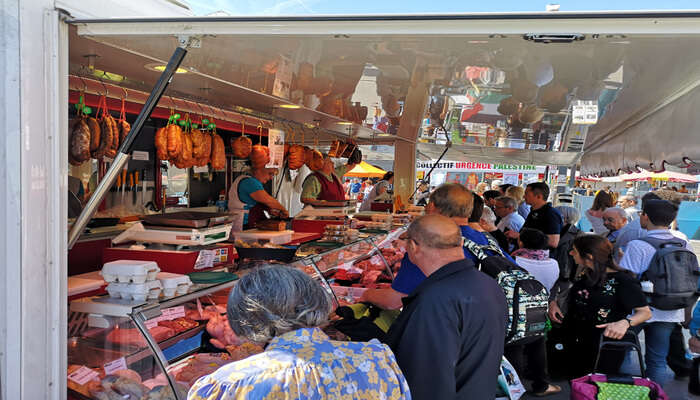 Lausanne has some of the best street markets in Switzerland where farmers and local artisans fill the pedestrian streets with shops selling fresh farm produce like fruits and vegetables, cheese, local food, beverages, spices, and flowers. The bi-weekly markets that are organized every Wednesday and Saturday bring in the classic Mediterranean market feel to the city and the smell of the wildflowers and spices are intoxicating.
Location: City Centre
Timings: Wednesdays and Saturdays from 8.00 AM to 2.30 PM
What to buy: Fresh fruits and vegetables, flowers, cheese, Antiques
Suggested Read: 24 Things That Make Visiting Switzerland In May An Awesome Experience
9. Go On A Museum Hop Tour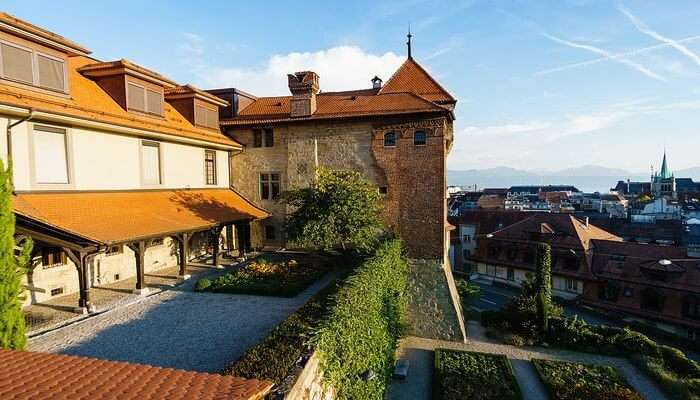 The whimsical city of Lausanne is home to as many as 20 museums which give the tourists an insight into the history, science, art, and culture of the city. Some of the must-visit museums in Lausanne are Collection de l'Art Brut, Cantonal Museum of Zoology, History Museum, Hermitage Foundation Museum of Contemporary Design and Applied Arts, Musée Romain de Lausanne-Vidy, Palais de Rumine, and Hand museum.
With museums dedicated to various streams of arts and sciences, the museums in Lausanne are interesting and just get on a museum hop tour around the city and we promise that you will never regret it!
Other Notable Museums: Vaud Geology Museum, ArchéoLab, Typewriter Museum, Centre Général Guisan and Archizoom
Further Read: 8 Enticing Festivals In Switzerland For Mirth And Merriment
Lausanne is the biggest town in the canton of Vaud in Romandy and the tourist attractions around the city are absolutely pleasurable for sightseeing. Also, with a plethora of things to do in Lausanne, this city in Switzerland is a must-include in your Swiss holiday itinerary. Book your Switzerland holiday with TravelTriangle and enjoy an amazing tour indulging in various activities.
Disclaimer: TravelTriangle claims no credit for images featured on our blog site unless otherwise noted. All visual content is copyrighted to its respectful owners. We try to link back to original sources whenever possible. If you own rights to any of the images, and do not wish them to appear on TravelTriangle, please contact us and they will be promptly removed. We believe in providing proper attribution to the original author, artist or photographer.
Frequently Asked Questions About Things To Do In Lausanne
Q. What is the best time to visit Lausanne?
A. The months from June to August mark summer in the Swiss village of Lausanne. These months are warm with abundant sunshine which makes it pleasant for outdoor activities and sightseeing.
Q. What are some must-buy souvenirs from Switzerland?
A. Swiss knives, Swiss watches, Swiss chocolates, wine, and cheese should top your list when shopping in Lausanne, Switzerland.
Q. Does it snow in Lausanne?
A. Yes, Lausanne experiences snow from January to April and February receives maximum snowfall.
Q. Are there any Indian restaurants in Lausanne?
A. Yes, there are many Indian restaurants in and around Lausanne that serve authentic Indian food. Some of the must-try restaurants are Laxmi Restaurant Indian, Restaurant Royal India, Nandanam, and Indian Zayeka.
Q. Is there an airport in Lausanne?
A. Yes, Lausanne has a domestic airport but not an international airport. The nearest international airport to Lausanne is Dole Airport (DLE / LFGJ) at a distance of about 108.3 km from Lausanne.
Q. What are the timings of Collection de l'Art Brut?
A. Collection de l'Art Brut museum is open from 11.00 am – 6.00 pm Tuesday to Sunday. The museum remains closed every Monday.
Q. What is special about Palais de Rumine?
A. Palais de Rumine is a 19th-century palace that is built in the neo-Renaissance Florentine type of architecture. Today, the palace houses the Museum of Fine Arts, Museum of Archaeological and History, Museum of Currency, Museum of Geology, Museum of Zoology, and Cantonal & University Library within its premises.
Q. How do I get around Lausanne?
A. Lausanne has a good network of metro, trolleybus and bus services that take you to every nook and corner within Lausanne and extensive regional train networks to surrounding areas. You can also book cars, cycle or just explore the city on foot too.
Things To Do In Switzerland Things To Do In Geneva Things To Do In Interlaken