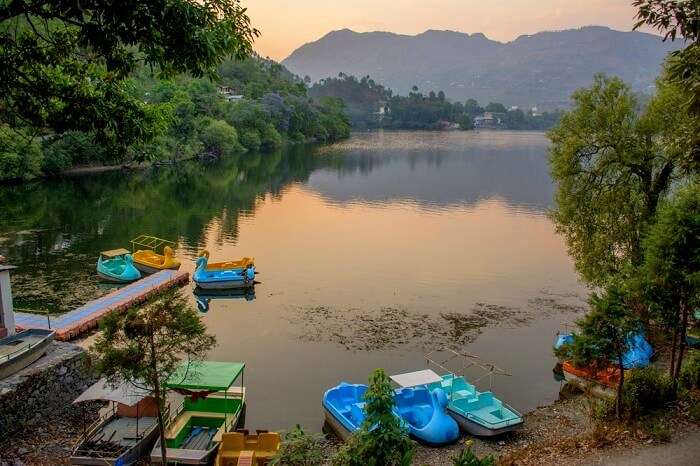 With a name that translates to 'Queen's meadow', Ranikhet is a charming hill station nestled in the picturesque Kumaon Himalayas. Legend has it that Queen Padmini was so enamored of its natural splendour that King Sudhardev built a palace for her here and christened the place Ranikhet.
A tranquil natural paradise with lush green meadows, bountiful fruit orchards and soaring coniferous forests, there are so many things to do in Ranikhet for those seeking a rejuvenating break from the hectic city life. Here are our recommendations:
10 Best Things To Do In Ranikhet
1. Enjoy a spiritual experience at Jhula Devi Temple
The sound of hundreds of tinkering bells will be music to your ears while spirituality is in the air at the reverend Jhula Devi temple. As per local folklore, Goddess Durga answered the prayers of local shepherds to protect them and their livestock from the menace of wild animals. The temple is at the site where the idol was found by a local shepherd. You will be awestruck by the sight of thousands of bells at the temple tied by the devotees for fulfilment of their wishes.
Timings: from sunrise to sunset
Suggested Read: 12 Best Hotels In Ranikhet That Will Compel You To Escape To This Paradise Right Away!
2. Have some family fun at the jungle-themed Ashiyana Park
If you're looking for some fun things to do in Ranikhet, then the jungle themed Ashiyana Park in the heart of the town is a great place to spend a few hours. While the kids can enjoy the swings at the children park, tour the herbal gardens and marvel at the colourful fountains, it is also a wonderful place for mesmerising views of the Himalayan peaks. Also called the Deodhar Udhyan for its green forested area, Ranikhet's first theme park is the perfect place for some family time.
Timings: 7AM to 7PM
Entry Fee: INR10/person
3. Go for a refreshing walk through the orchards at Chaubatia Gardens
A scenic 20 minute ride away from Ranikhet is the lush Chaubatia Gardens where you can spend some tranquil moments in the lap of nature. Nothing soothes the mind more than a quiet walk through cedar and pine trees, blooming rhododendrons & lilies as well as fruit laden orchards (apples, plums, peaches, etc) in the season. Sprawled over 600 acres of land at a height of 1800 metres, the gardens are also the perfect site to witness the majestic snow laden Himalayan peaks like the Nanda devi, Neelkanth and Trishul. After the refreshing nature walk, undoubtedly our top picks for things to do in Ranikhet, you can take a quick Maggi & tea break at the UK tourism canteen.
Timings: 10AM to 5PM
Entry fee: No entry fee. We recommend taking a guide (starts from INR 100) for an informative tour.
4. Soak in the tranquillity at Bhalu Dam
Very close to Chaubatia is this artificial reservoir built initially by the Viceroy for supplying water to the British soldiers. Today the dam is a haven of tranquillity with a gorgeous view of the Himalayan peaks. This is an ideal place for a picnic or camping with family and friends. Soak in the smell of the forests, get enchanted by sound of the birds and spend some memorable moments in this idyllic setting. Spending a few hours at Bhalu dam is undoubtedly one of the most relaxing things to do in Ranikhet.
Suggested Read: Experiencing The Thrill Of A Spontaneous Weekend Trip To Ranikhet With Friends
5. Seek divine blessings at Haidakhan Babaji Temple
Located around 5 kms from the main bus stand at Ranikhet is this hugely popular and highly revered temple named after the spiritual guru Haidakhan Baba believed to be an incarnation of Lord Shiva by the locals. Situated atop a hill with panoramic views of the valleys below, the temple and ashram is thronged with devotees from across the world. Of all the things to do in Ranikhet, meditating at the Haidakhan Babji temple and gazing awestruck at the towering Hanuman statue is an experience to remember. Surrounded by awe-inspiring views of the snow-clad Himalayas, the spiritual vibes of the place are sure to uplift your soul.
6. Play a game at the stunning Upat Golf Course
Counted amongst the highest golf courses in Asia, the sprawling 9-hole Upat Golf Course with perfectly manicured lawns is immaculately maintained by the Indian Army. Nestled in the Garhwal Himalayas and just 6 km away from Ranikhet, this is a must amongst Ranikhet things to do especially for golf enthusiasts looking for a chance to try their hands at a game up in the hills. Tourists can also visit the nearby Kalika devi temple for divine blessings of goddess Durga.
7. Get mesmerized by the mighty Himalayas at Majkhali
Though the entire landscape around Ranikhet is a treat for the city-weary souls, there are a few recommended spots nearby for unparalleled views of the Himalayan vistas. One such enchanting place is the small hamlet Majkhali just 12 Kms away from Ranikhet on the Almora road. One of our favourite things to do in Ranikhet is witnessing the majestic snow-clad Himalayan peaks like the Nanda Devi and Mount Trishul while sipping a hot cup of tea at this charming village.
Suggested Read: 20 Best Places To Visit In Ranikhet For A Delightful Weekend In 2022
8. Get awestruck by the ancient shrines at Dwarahat
The scenic Himalayan village of Dwarahat near Ranikhet holds tremendous religious and historical significance. Perched at a height of 1500 metres in the Kumaon Himalayas, the village is home to 55 ancient temples built by Katyuri kings. Divided into 8 distinct groups with shrines of all important Hindu deities, they are a shining example of the magnificent temple architecture of that era. Located close by is the extraordinary Vibhandeshwar Shiva temple and the highly revered Dunagiri temple. Devotees must climb 500 steps for the divine darshan of goddess Durga at Dunagiri, where they are also rewarded with spectacular views of the Himalayan peaks.
9. Witness the architectural splendour of the Katarmal Sun Temple
The second most significant sun temple in the country, after the KOnark Sun temple, this ancient site located 25 kms from Ranikhet has great historical significance. Built around 800 years ago, the Katarmal sun temple displays intricate carvings on its walls and panels and the magnificent architecture stands testament to the skill of artisans in ancient India. Visiting this ancient shrine must definitely feature on your list of things to do in Ranikhet.
10. Spend a memorable day at the scenic Naukuchiatal
Around 40 kms from Ranikhet is the beautiful and serene Naukuchiatal, the biggest and deepest lake in Nainital district. Driving up to Naukuchiatal is one of the most popular activities in Ranikhet as it offers a range of options to spend a fun-filled day. Adventure enthusiasts can indulge in paragliding, zipping by Flying Fox or Zorbing, boating and kayaking at the lake. While nature lovers can simply relax at this calm spot and soak in the scenic view of the surrounding woods, hills and valleys.
Paragliding price: short fly (3 to 5 minutes) starts from INR 1500/person
Zorbing price: starts from INR 200/person
Zip-lining price: starts from INR 1500/person
Further Read: Top 22 Places To Visit In Uttarakhand In Summer In 2022 To Dial Down The Heat
There's so much more to be experienced in this picture perfect hill town if you have more days to spare. So don't wait, book a Ranikhet Tour Package from TravelTriangle and enjoy an ideal getaway with your loved ones.
For our editorial codes of conduct and copyright disclaimer, please click here.
Frequently Asked Questions About Things To Do In Ranikhet
What can I buy in Ranikhet?
Some of the popular things to purchase from Ranikhet are Ball Mithai and if you love to have sweets then it will be the icing on the cake for you. Many people love to have Singaudi which is a blend of ghee and sugar. You can buy shawls at some of the famous outlets in Ranikhet such as Tweed factory, KRC shawl which sells some of the premium varieties of shawls.
How many days are enough in Ranikhet?
If you want to discover Ranikhet in a comfortable manner then you must take out 3 to 4 days. These days, you can discover all the popular spots in Ranikhet including Golf Course, Jhula Devi, Tarikhet Village, Haidakhand Temple, and more.
Is a negative RTCPR required while travelling to Ranikhet?
In some cases, tourists might be asked to show proof of the negative COVID report. Therefore, it is suggested that the tourists must be fully vaccinated or carry their negative RTCPR report while travelling to Ranikhet.
Why is Ranikhet famous?
Ranikhet is famous for its Gandhi Kuti- a museum dedicated to the life of Mahatma Gandhi. Golu Devta temple is another famous entity of Ranikhet which makes it a popular religious site.
Is Ranikhet worth visiting?
The beautiful mountain valley, the lush Chaubatia Gardens, tranquil Bhalu Dam, the sprawling Upat Golf course. And the splendid temples make Ranikhet a place definitely worth visiting.
How many days are enough for Ranikhet?
Two to three days are enough to explore the best places in Ranikhet.
Is there snowfall in Ranikhet?
As Ranikhet is very close to the Himalayan ranges, it receives a fair amount of snowfall during the winters which usually begins from November and lasts till February.
How can I reach Ranikhet?
The closest airport to Ranikhet is in Pant Nagar which is 109 km away. Kathgodam is the last railway station from where Ranikhet can be reached by taxi. You can also reach Ranikjhet by road from Haldwani or Bhowali.
Which is better Nainital or Ranikhet?
Ranikhet sees fewer tourists as compared to Nainital but is equally beautiful. While Nainital offers several adventure activities, Ranikhet is more serene and is a perfect place to spend a quiet and relaxing weekend.
When is the best time to visit Ranikhet?
The weather between February and November is the most comfortable to explore this beautiful place and hence the best time to visit.
Are there any lakes in Ranikhet?
Ranikhet has an artificial lake called the Rani Jheel which is bordered by tall trees on both sides and is quite a spectacular view. Naukuchiatal is also a lake in Ranikhet where you can do boating.
---