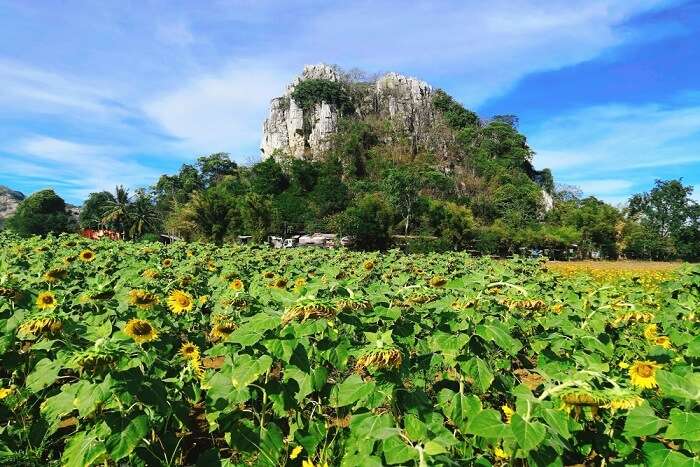 There are so many places to visit in the entire world, but there are some, which are popular than the others in the region. That is exactly what Saraburi is. Ever heard of this place? Probably not. This little province is just a couple of hours drive from the capital of Thailand, Bangkok. Eureka! Yes, as surprising as it may seem, this charming little place filled with so many interesting things, is very close to Bangkok. But, it slowly seems to be catching up. There are so many things to do in Saraburi, that you will be regretting why you did not know of this little gem, so close to the capital, before.
Top 10 Things To Do In Saraburi
There are so many fun things to do in Saraburi, some spiritual and some for pure entertainment, that you will be spoilt for choices. Here are our top picks of things to do in Saraburi, Thailand.
1. Crocodile Farm

Well, here is a good place to start your holidays in Saraburi. You will definitely not find it anywhere else and it is exciting. The Saraburi Crocodile Farm has many crocodiles on exhibit; the numbers are not exactly known and they also hold some extreme shows for the audience. Safety is of utmost importance here and of course, that has been taken care of. But, these ferocious reptiles are not the only species you will see in this crocodile farm cum zoo. There are other animals native to this region like their very own species of deer, monkeys, and birds. Your kids will love it and so will you. Interesting fact about this farm is that it breeds the crocodiles and sells them to the farmers.
2. Sunflower Fields

In the months of November and December, when the weather is cold, Saraburi paints a pretty picture; the roadsides and the fields are brimming with bright sunflowers. There are about 10,000 acres of these fields, spread across the province of Saraburi and each more spectacular than the other. There is also a sunflower festival which happens during that season. If you are a willing learner, you could also learn from the best there on how to plant those sunflower plants and how to take care of them. You could just take in all the beautiful views or soak in the winter sun, whatever it is, visiting the sunflower fields is one those experiences that you should definitely not miss, and especially, if you are there in the season, you should definitely go for it!
3. Wat Phra Phutthabat

This is one of the reasons you have to visit Saraburi and is an experience you are not going to forget for a long time. Located in Phra Phutthabat district of the Saraburi province, it is popularly known as the "temple of the Buddha's footprint" and is an important Buddhist pilgrimage site. There is a story behind this temple and it goes like this: King Songtham, King of the Ayutthaya Kingdom, sent out monks to Sri Lanka to pay tribute to the footprints of the Buddha there. But, the monks came back with the knowledge that his footprints were present in this country itself. It was finally a local man who discovered the footprints, while chasing a wounded deer. The deer came out of some bush, fully cured and that is where he found the large footprint filled with water. His skin disease also got cured when he took a sip of that water. That is when King Songtham ordered for a temple to be built over it. The footprint is now kept securely in a golden case, on top of a hill. Though the footprint is not visible, it is still a revered place of worship. There is plenty of entertainment, food and music at the festival.
4. Namtok Sam Lan National Park

Saraburi also has a National Park and a stunning one at that and it covers four districts. The park has a pretty dense forest and you can find trees like ironwood and Burmese ebony, among others. It is a paradise for hikers with its very many small and large mountains, waterfalls, caves and even a reservoir, where you can kayak or even take a dip in. Another interesting spot is the World War II Memorial of the Japanese Army, which is very close to the park office. You can find stuff like the trenches, command room, treasure room and bunker lines, which were actually used by the Japanese army, when they camped here during the war. There are also a few nature study roots, who are interested in learning more about the flora in the park, and it is pretty interesting.
5. Chet Sao Noi Waterfall National Park

The park, which is located between Saraburi and Nakhon Ratchasima provinces, has one of the most beautiful waterfall and an equally stunning nature trail. Chet Sao Noi, which literally means seven little girls, is a seven-tiered waterfall on Muak Lek River in Thailand. There is also a disturbing story behind this waterfall and that is seven little sisters actually drowned while swimming here. That being said, there is certainly something magical to this place. How else would you explain the fact that the water, that keeps falling from one step to another, does not cause a splash! There are also hundreds of banyan trees that surround this waterfall and the roots of which are dipped deep inside the water. The whole ambience of this place is so enchanting. While some parts of this waterfall is safe, there are some others where there are rather strong undercurrents and strictly off-limits to the visitors.
---
Planning your holiday in Thailand but confused about what to do? These Thailand travel stories help you find your best trip ever!
Real travel stories. Real stays. Handy tips to help you make the right choice.
---
6. Wine

There are also vineyards in this part of the region for your amusement! Khun Malee vineyard is one of them and one of the most popular ones at that. It is 96,000 square meters of pure bliss, where visitors get a chance to observe how to take care and breed vineyards and also taste them while you are at it and all this is fresh, even before the pounding happens. Their most popular item? Real grape toffee, go figure! Other items in the offing include grape juice, grape jam and the likes. Go taste some indigenous wines and also learn to trim those vines.
7. Big Tea Garden

If you thought that the sunflower fields were a thing of beauty, you definitely need to make a visit to this place too. This garden belongs to a retired Government teacher, Mrs. Prapimarn Phrompitak. These are acres and acres of chrysanthemum plant, of more than eight years of hard work and is a sight to behold. There is also a cafe there, from where you can sip on your coffee and thank God for nature's bounty.
8. Thai Culture

This museum, by Ajarn Srongchai, has made him and his place is very popular. If you want a sneak peek into the various types of Thai houses, then this is a fascinating place for you. For over 30 years, Ajarn has collected and preserved this collection of houses. He did not just stop at that though. He has also brought in the flora, fauna and everything else related to that particular type of house. There is also a Yuan Village Centre, just opposite to Baan Kao Kaew. Ajarn himself tells you the history of the place and while you are it, you can also enjoy some local performance, while you gobble up some delicious local noodles.
9. Central Botanical Garden

Located in Phra Phutthabat Phu Kae Superior National forest, it is the country's first botanical garden, which also serves as a research spot of the flora, that is in abundance here. The garden has over 35 types of trees and was once called the 'Heaven Garden' by the locals and aptly so, as the garden is blooming with all kinds of colourful flowers that it seems like you are in paradise. It is so famous for its research activities, that students of botany, from all the country, land here to do study the different types of trees and other plants available here.
10. Dao Khao Kaew Cave

This cave, located up 100 meters of stairs from the foot of a hill called Khao Kaeo, is a natural wonder and is a thing of stunning beauty. When the rays of the sun enter the mouth of the cave, the walls of the cave sparkle like little stars, in different hues. Star is Thai is called Dao, hence the name of the cave. Very many stalactites and stalagmites hang from this cave, and makes a pretty picture. Since, it is a cave, it gives your trip to it, an adventurous feel!
These are just a few things to do in Saraburi; there are so many other things that you can explore in this region. Saraburi is truly a hidden gem and has been overshadowed by cities like Bangkok and Pattaya, all these years. It is waiting to be explored and has the best of everything to offer to you. So, plan your trip to Thailand for a smooth journey in this scenic land with your loved ones!
Frequently Asked Questions about Things to Do in Saraburi
What are the best attractions in Saraburi?
Some of the best attractions that you can visit during your Saraburi tour are Crocodile Farm, Sunflower Fields, Wat Phra Phutthabat, Namtok Sam Lan National Park, Chet Sao Noi Waterfall National Park, Big Tea Garden, and Central Botanical Garden.
What are the best outdoor activities in Saraburi?
Some of the best things to do outdoors in Saraburi are hiking KrokE-Dok Waterfall, visiting Wat Pa Sawang Bun, exploring the Tea Garden, visiting Chet Sao Noi Waterfall National Park, and hiking around Namtok Samlan National Park.
Is it safe to visit Saraburi during covid times?
The Government of Thailand has issued some strict covid guidelines such as wearing a mask in public places, social distancing, etc. Individuals who are fully vaccinated are not required to produce a covid test report, but for unvaccinated individuals, a negative RT PCR report should be done 72 hours prior to departure and have to quarantine themselves for 8-10 days in order to explore Thailand.
Which are the best restaurants in Saraburi?
The best restaurants to visit during your Saraburi tour are:
1. The Garden Restaurant,
2. La Glace,
3. Nat Charnchala Restaurant,
4. Jeffer Steak and Seafood,
5. Rimna Cafe,
6. Kanom Jin Kru Eat,
7. Cafe Laura Bar and Restaurant.
Which are the best hotels in Saraburi?
Some of the best hotels in Saraburi are:
1. Baan Dara Resort,
2. Chuan Chom The High Resort,
3. Glai Gan Place Hotel,
4. Baan Souchada Resort and Spa,
5. Phurinda Residence, 6.I-oon Resort,
6. Simon Inn,
7. Grand Pruksa Siri Apartment.
What is Saraburi known for?
Saraburi is situated in central Thailand and is known for its rich cultura; heritage that can be experienced at several intriguing museums, temples, and monasteries. Visitors often love exploring various popular restaurants and try various appetizing Thai cuisines.
Which are the best months to visit Saraburi?
The winter months (November to early March) in Thailand are really pleasant and experience plenty of visitors, which is adequate to explore some of the impeccable destinations and indulge in various adventures that offer great experience.
How many days are required for Saraburi?
Saraburi is a major city in Thailand that comprises some of the most mesmerizing attractions that you can explore. Spending 2 days in Saraburi is adequate enough in order to experience some of the best attractions during your visit.
---
Looking To Book An International Holiday?
Book memorable holidays on TravelTriangle with 650+ verified travel agents for 65+ domestic and international destinations.
---