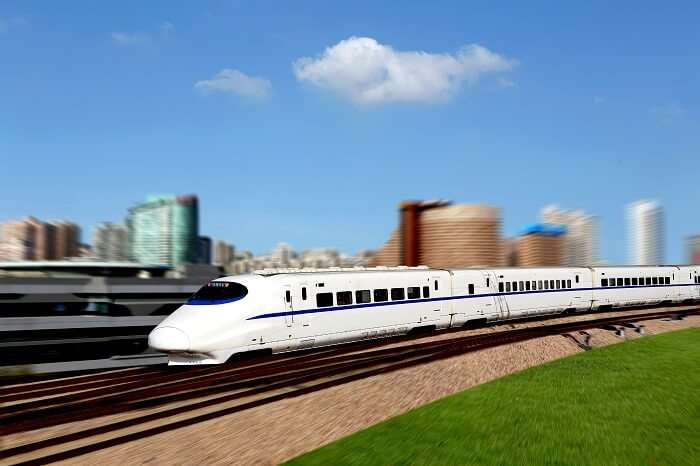 If you have been wondering that a ride on the bullet train will not come for cheap, you are right. The tentative ticket price for India's first bullet train has just been announced, and you might find it surprising.
The National High Speed Rail Corporation Limited (NHSRCL) in Maharashtra has finally revealed the tentative fares for the Mumbai-Ahmedabad train, and it likely seems to be 1.5 times higher than the ticket price of a first class AC local. Though, on a positive note, it is not that disappointing if you compare it to the amount you spend on a week's fuel or the hours you waste in commuting between the two cities.
While the ticket price for India's first bullet train ride is expected to start around INR 250 for a short 20-minute zip from Thane to BKC in Mumbai, and a 24 minute ride from Virar to BKC would cost around INR 500 against the 90 minutes taken to Bandra

Suggested Read Bullet Train In India: Here's How It's Going To Change Our Train Travel
The Mumbai-Ahmedabad high speed bullet train would span 508 km, and include various undersea tunnels. It is expected to have a total of 12 stations, wherein there would be a halt of 2-minute at stations like BKC, Thane, Virar, Boisar, Vapi, Bilimora, Surat, Bharuch, Vadodara, Anand, Ahmedabad, and Sabarmati. As of now, India's first bullet train is said to zoom at a speed of 350 km/hr and complete the whole journey in just three hours, against the six hours that it currently takes on the regular trains.
The government also plans to have 35 such trains in service that would do 70 trips every day. For all of this, the Mumbai-Ahmedabad bullet train project would cost around INR 1 lakh crore and is expected to launch in 2022, which doesn't seem too far away now, right?