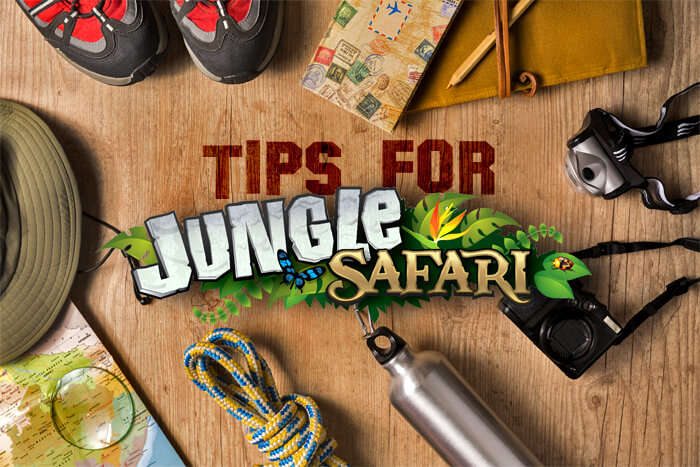 A jungle safari is one of the most coveted experiences to sight wild animals, birds, and exotic flora in a natural habitat. But there are certain rules and tips for jungle safari that one needs to keep in mind before and during the safari tour to ensure it's an enjoyable and safe experience. While traversing in a jungle is fun and adventurous, it can turn into a disaster if not planned and executed properly.
Whether you are going on your tenth safari or first, preparing for it beforehand cannot be taken lightly. Right from booking well in time, packing the right safari luggage, wearing proper clothes, preparing for the unexpected, to maintaining one's safety and welfare inside the park, everything needs to be spick and span for a memorable time inside the jungle. Thus, we have compiled for you some essential safari tips that will let you have the most fabulous time inside the world's biodiversity hotspots teeming with exotic flora, fauna, and avifauna.
Find Below The Best Tips For Jungle Safari
Leave your worldly pleasures and flashy gadgets back home and experience the magic of being one with nature. The more time you spend in the midst of the world's most primitive parts, the more connected you'll feel with your inner self. All you need to do is make sure you respect the given rules of the jungle and follow the mentioned hacks for a better safari experience.
1. Planning & Research
The best tips for jungle safari would be to do proper research about the forest reserve you're visiting and plan your trip accordingly. A well-planned jungle safari in India and abroad can help you have the best safari experience as well as cut down on unnecessary costs.
Know About The Safari Reserve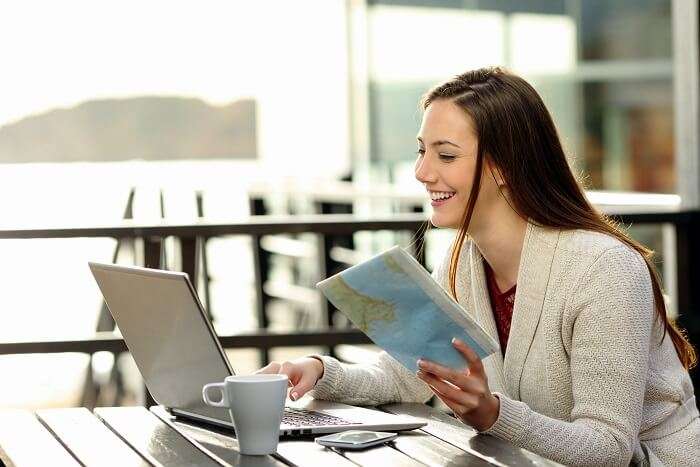 Do a proper research about the place you wish to explore through your safari tour – everything from the distance, area, best time to visit, type of flora and fauna you'll encounter, to the rules and regulations set down by the respective forest authorities. One should be well aware of what the place holds, not only to enjoy a great safari experience but also to determine what to carry.
Set Down A Budget
From the transport you're using to get to the location, to services like a guide, safari vehicle (jeep, canter, elephant, trek), safari duration, entrance fee, food, and accommodation, you will be required to pay for a lot of things, especially during India safari tours. So set down a limit to your expenditures. At the same time, try and be flexible with your expenditures as the cost may fluctuate.
Plan Your Safari In Dry Season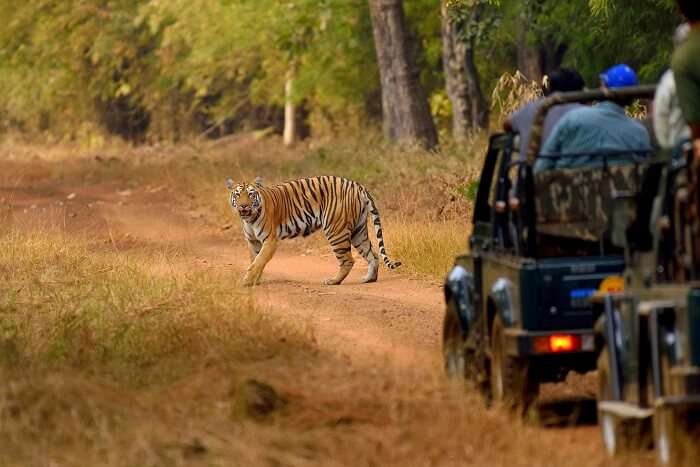 Must Read: Best Safari In South Africa: Adrenaline Pumping Experiences In The Wildest Corner Of The World
It is always advised to plan your safari in the dry season as the heat during this time forces the animals to lurk around waterholes more often. Other than that, there is hardly any vegetation around water holes which ultimately exposes the fauna and enhances the chance to spot them. Besides, many wildlife sanctuaries and reserves remain closed for tourists during the monsoon season since the chances of landslides and marshy terrains increases during this time.
Be Open To Staying Primitive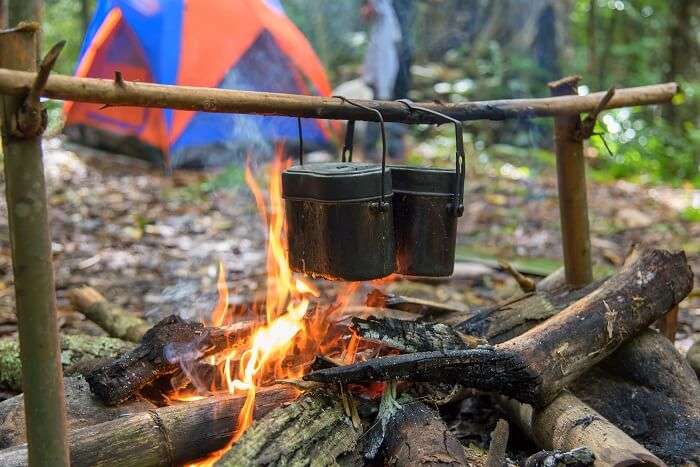 Too addicted to your tech? A jungle safari and camping is probably not a good idea for you then! One can only enjoy a jungle safari when they allow themselves to blend in with nature, disconnecting from the outside world, and forgetting about the worries of life and work. A safari trip takes you deep into the heart of nature, amid everything serene and secluded, so that you might be able to get a taste of how peaceful life was before urbanization and industrialization set in.
Be Prepared For Temperature Fluctuations
While the afternoons would squeeze the last drop of sweat out of you, the evenings might freeze you to death. It is always a good idea to keep a constant check on the temperature variations and predictions about the reserve area you're visiting and prepare yourself likewise. Thanks to Google, it is ever so easy to stay up to date on such information so that you may not have to suffer nasty surprises on your trip into the wild.
Pre-Book Your Safari And Accommodation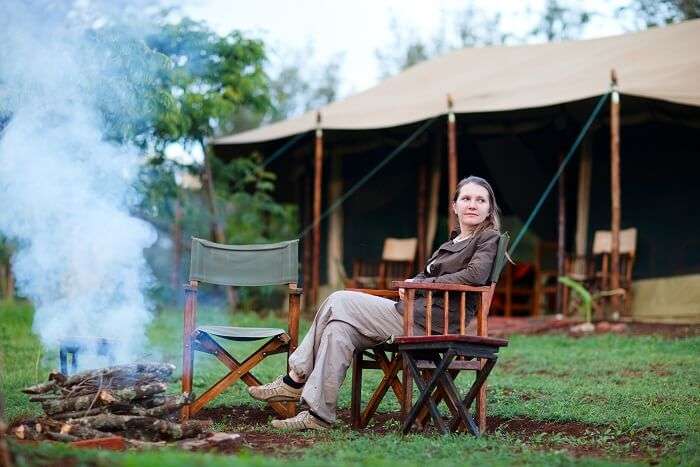 Suggested Read: Things You Ought To Know Before Traveling #PackingHacksIncluded
Most African safari tips would tell you to pre-book safaris so as to avoid last minute hassles of waiting outside the ticket counter in long queues. If you've pre-planned your vacay, then booking your safari in advance is the best idea. Indian wildlife reserves and nature parks too offer online booking facilities these days to spare visitors the trouble of standing in long queues before slow ticket counters.
Bookings start way before the onset of summer. With limited safari tours per day in a limited number of vehicles per wildlife sanctuary, your chance of taking your family on that much-awaited safari tour will grow lesser with every delay. So make sure you book well in time to reserve yourself and your loved ones a seat on the vehicle of your choice and a room in the best hotel, lodge, or eco stay in the area.
Opt For Guided Organised Safari Tours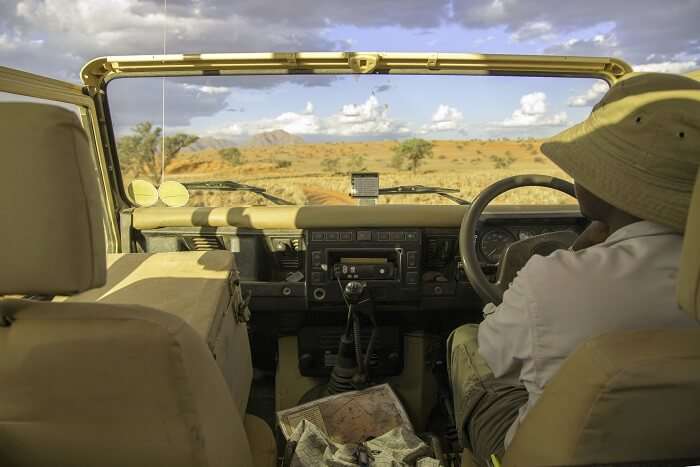 If you're a pro at wildlife safaris, you can surely opt for a private tour. But then there's no way you can know more than the (government authorized) forest guides who spend half their life inside the jungle you're visiting. They are well equipped with the who, what, when, why, and how of every animal and bird in that jungle so that they'll get you to the right place at the right time well before the beast has even graced the spot with his presence. All it takes them is a glance at that footprint to tell you which animal had crossed your path, and how long ago!
Book A Dawn Or Dusk Safari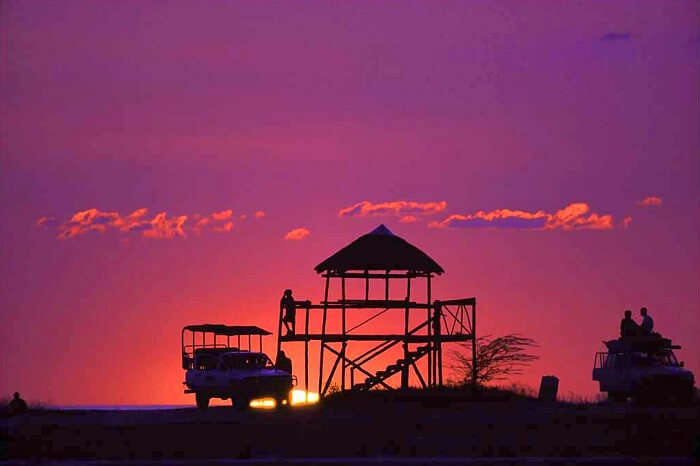 Suggested Read: 18 Places You Need To Visit For The Best Wildlife Experience in India
The animals and birds are most active at this time, which is why most tips for jungle safari would tell you to book a dawn or dusk safari, or a full day safari beginning at dawn and ending at dusk. Don't forget to leave very early in the morning for a dawn safari so as to avoid waiting at the entrance gates for things like permit checks.
2. What To Carry

Image Source
Packing right is essential for a jungle safari in India and anywhere overseas. If you're wondering what to take on safari, here are the things that we'd suggest:
Electronics: A charged camera, extra batteries, extra memory cards, binoculars (ideal – 8X40 or 10X50)
Sun Protection: A sunscreen lotion, sunshades, a wide brimmed hat, scarf (for dust)
Personal Safety: Antiseptic cream, insect repellent cream, medication (if allergic to dust or certain flora type), antiviral hand wash, first aid kit, flashlight
Important Documents: ID proof, tickets, booking confirmation (scanned beforehand)
Food: Packed snacks like glucose biscuits, energy bars food (only to be eaten during break time), sufficient water
Clothes: Thin layers (since the weather can be unpredictable)
Some handy cash
Now, here are some things that ought NOT be in your safari luggage:
A radio or any other musical item
Perfume, deodorant, or any other kind of body fragrance
Unwrapped, pungent food items
3. Dressing Up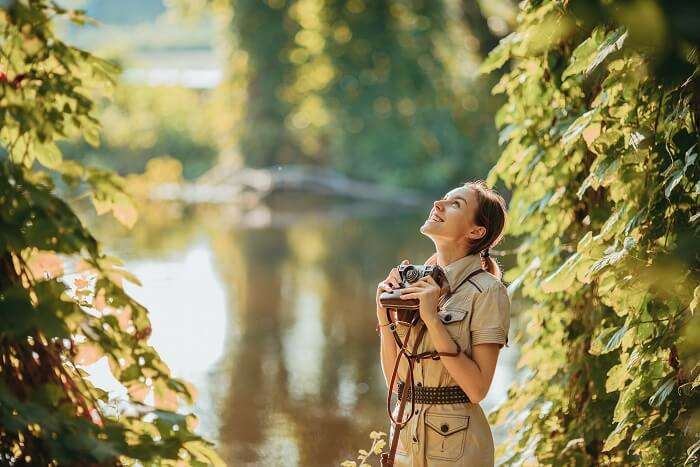 Suggested Read: Kruger National Park In South Africa Is Your Ultimate Date With The Wild
You may be a fashionista back home, but here, you have to dress up according to the norms of the jungle. Following are some basic things you need to keep in mind while dressing up for your safari. Abiding by these tips for jungle safari will ensure your safety and that of others.
Wear comfortable, airy t-shirts, convertible cargo pants (preferably waterproof), fleece jackets
Wear colours like Greens, Browns, Olives, and Khakis to blend in. Some African safari clothing tips tell visitors to avoid loud colours & bold prints
Pick cloth material that is lightweight and breathable, like cotton
Dress in layers to avoid plant allergies and beat the changing weather
Avoid wearing flashy things like jewelry
Cover your arms and legs. Sleeveless tops & capris won't protect against insect bites
Wear strong, comfortable, and covered sports shoes (or sneakers) with socks
Mask your face to protect from the dust
Wear a hat or a cap to keep the heat away
4. Safety
A jungle safari will surely take you on a joyride amid the wild and let you get up and close with nature. Though filled with exotic flora and fauna, a jungle can be dangerous if one isn't cautious. It is imperative to stay safe as one wrong move can turn your 'fun' into a disaster. Any general safari advice will always include the below mentioned safety tips.
Follow these DOs and DON'Ts of jungle safari in India and abroad for an enjoyable and safe time inside the jungle.
DOs Of Jungle Safari
Familiarise yourself with the park's rules and regulations beforehand and make sure you follow them when inside the park
Follow the safari guide's instructions at all times like your life depends on it (and it does!)
Maintain silence during the safari
Drive slowly and cautiously to avoid hitting animals as they might appear suddenly
Maintain a safe distance from the animals
You must follow the park timings
Allow the animals to cross first while driving through the forest
Honour safari timings. Reach on time and leave on time
Keep the camera flash off
Bring a flexible camera cover to protect it against the dirt and dust
Empty your bowels and bladders before you set off on the safari or wait for the toilet break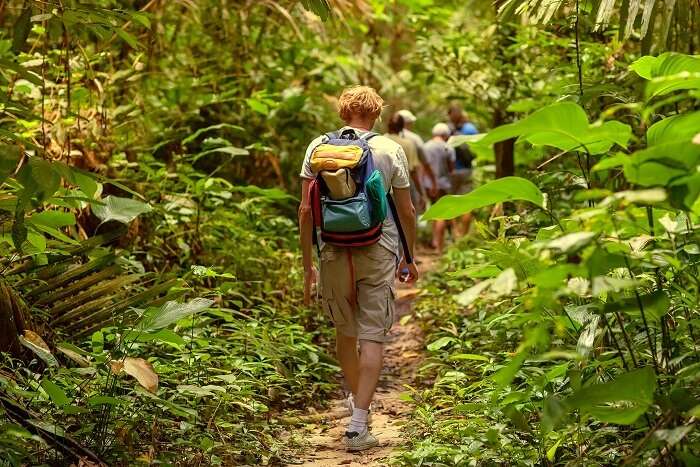 DON'Ts Of Jungle Safari
Speak loudly or play music inside the park reserve
Use your mobile phone as much as possible
Drink or smoke in the forest
Leave combustibles in the car
Offer eatables to birds and animals
Tease, disturb, or hit animals
Eat at any time other than the allotted break time
Litter around
Get off your vehicle unless asked to
Wear bright and exposing clothes
Wear deodorants and perfumes
Bring infants or children with dust and fur allergies
Enter restricted and prohibited areas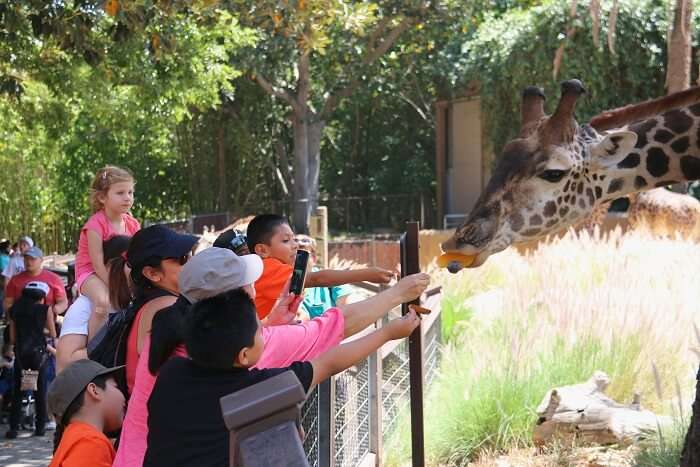 Suggested Read: 10 Packing & Luggage Hacks For The Smart Traveler
The forest may be a tourist attraction for you, but it's the home of the wild animals and birds you find inside it. They rule it, not you! If you expect your guests to respect the rules and regulations of your house, then you also need to follow the norms of the jungle where you are the guests. There can't be better tips for jungle safari to make one understand the importance of abiding by the guidelines set down by wildlife sanctuaries across the world.
5. Wildlife Spotting
You've planned your trip well, you have all you need for your safari by your side, and you are also following the forest rules. But, alas, you still haven't been able to spot a single wild animal or bird. Where then, did you go wrong?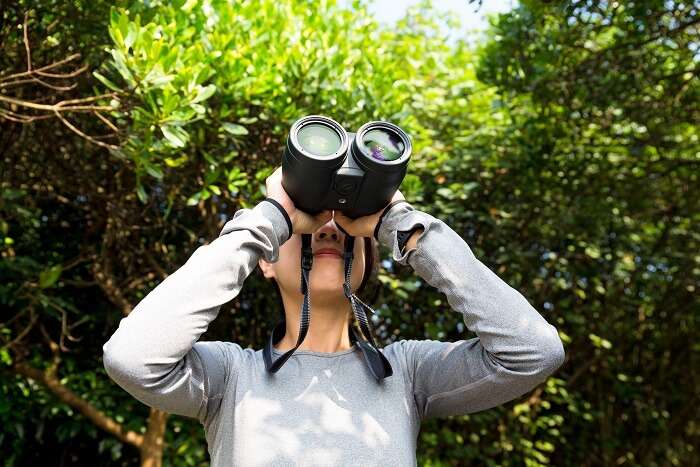 There are certain factors you need to consider before embarking on a jungle safari so that you have the maximum chance of spotting the beast of the jungle that you came all the way to see. The following tips for jungle safari will help you while you're planning and executing your safari ride so that you can make the most of your visit to the jungle.
Read about the animals and birds in the park to know where you are most likely to spot them on your tour
As established, visit the jungle in the dry season. During summers, most of the animals can be found lurking near the water holes, exposed owing to the less amount of vegetation at these spots
Start the safari at dawn and end it by dusk as most of the animals can be found outside their shelters during this time. Reptiles and crocodiles can be spotted during midday
Stay longer at the hotspots, like canals, river banks, lakes, ponds, etc
Pick a good guide. Safari guides always stay in contact with each other, so if one spots the highlight animal of the park, it will be communicated to the others and everyone will get a chance to witness it
Make use of your binoculars (or your camera's zoom lens). They can help you identify animals hiding in the bushes
Familiarise yourself with the sounds of different birds if you're into bird watching and photography
Be still and maintain silence while observing or photographing fauna, especially birds
In the end, let's wrap up with a very important safari advice – respect wildlife and do your bit to conserve nature.
Further Read: 15 Best Wildlife Resorts In India For A Thrilling Experience
We hope these tips for jungle safari will help you have an adventure of a lifetime when you traverse deep into the mighty jungle. Follow these guidelines to make the most of your trip and also stay safe at the same time. Know of any more safari tips? Let us know in the comments below.