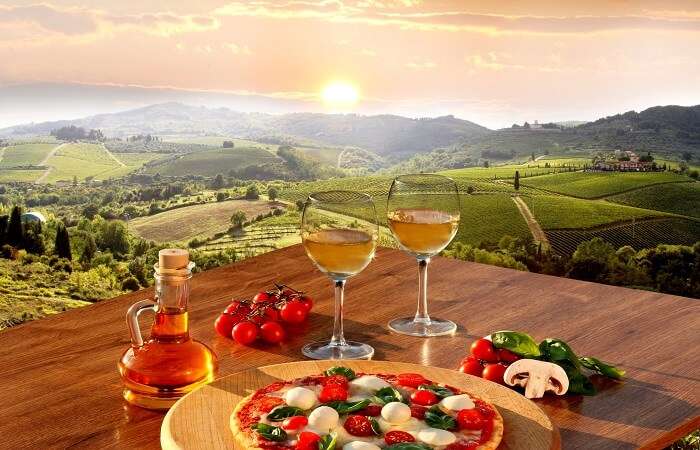 "Bad food leads to bad mood"
Food is a basic necessity of one's life and the people are back to basic. Apart from having adventurous and surreal experiences during their vacation, travelers, especially the Indian Millennials, are also searching for places that offer exotic and delightful cuisines. The social media is talking about it, and food photography is the emerging trend on Instagram. According to a 'Tastytravels' report, Italy, Singapore, and the US have ranked as the hottest food spots.
The 'Tastytravels' survey was conducted in March 2018 by One Poll in which 9000 respondents participated from 29 countries including India. The report says that 67% of Indian Millennials consider food as the biggest factor for deciding where to holiday. Italy (27%), Singapore (26%), and the US (26%) have topped the list of destinations treating the Indian taste buds.

Suggested Read: 10 Picture-Perfect Singapore Islands For An Enchanting Vacation In 2022
Besides good food spots, Indian youths have other preferences too. 13% of Indians prefer nightlife scenes, adventurous activities are considered first by 17%, while 24% consider art and culture as important elements of a vacation, the report revealed.

The report also revealed a rise in Food Photography on social media wherein it said that Indian youths click 172 photos on an average which mostly include food. During the survey, Indians disclosed that they prefer snapping food than taking selfies with friends. And five-star dining experience is not a concern anymore, the younger generation has turned to taste street food. They are more focused on enjoying local delicacies on a holiday rather than going to a beach or sitting by the pool.

While pasta and pizza (48%) are at the top of the list of Indians' favorite food, burgers and noodles (28%) are also preferred. Travelers are now defining their vacation by what they eat; their eating experiences have the most important place in their holiday memories.
Further Read: 20 Best Hotels In Singapore For A Class-Apart Stay
Excited enough to savor the best cuisines of the world? Plan your Singapore holiday with TravelTriangle and go on to have an amazing food experience on your getaway.