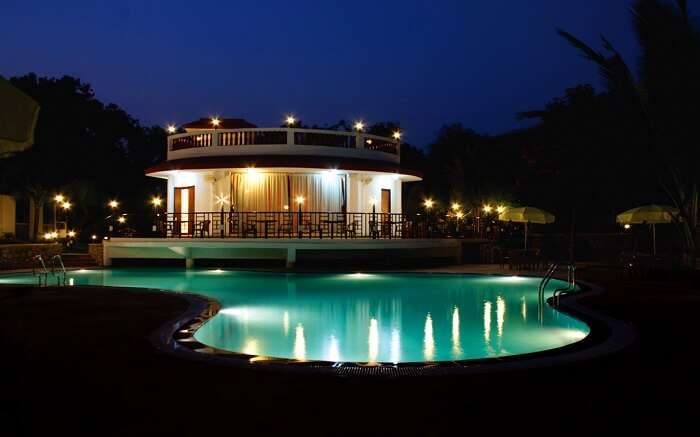 For all its wonderful tourist attractions and exciting places to see, Mumbai is every traveler's chosen destination! While looking forward to exploring the best of incredible India, a stay at these top resorts in Mumbai is a bounty of bliss for every nature lover. The city that thrives on chaotic city life and the bustling population has some quiet places to slip into nature's embrace even in the heart of the city. Mumbai has plenty of resorts that are wonderfully placed; some by the beach, some right in the city and some in nature's quietude. These resorts are good enough to grant nature's thick foliage and make for days best spent.
The Resort Mumbai
Domonica Beach Resort
Pali Beach Resort
Sun Beach Resort
Fonsecas Beach Resort
Golden Toff Resort
River Winds Resorts
Shangrila Resorts
Royal Garden Resort
Krishna Resort and Waterpark
Gandhar Eco Lodge
Monteria Resort
U-Tan Sea Resort
Pinewood Resort
Silent Hill Resort
Best Beach Resorts In Mumbai
The beach resorts in Mumbai need special mention for they have suites facing the vast sea, blue waters, and colossal sky right in front. The beach facing properties are good enough to comfort any distressed soul.
1. The Resort Mumbai – The best stay to explore Aksa Beach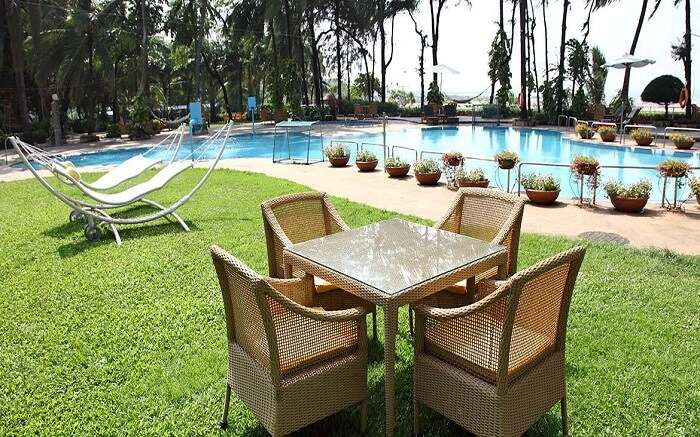 Address: Madh Marve Road, Malad West
Welcome to the world of optimum comfort by the grand Arabian Sea in Mumbai. The Resort Mumbai in the heart of Malad West allows you the luxury of staying in one of the best sea facing resort in Mumbai.
Tariff: INR 6500 per night onwards
What's special: Basketball and volleyball court and goofy park
2. Domonica Beach Resort – Perfect party place for bachelors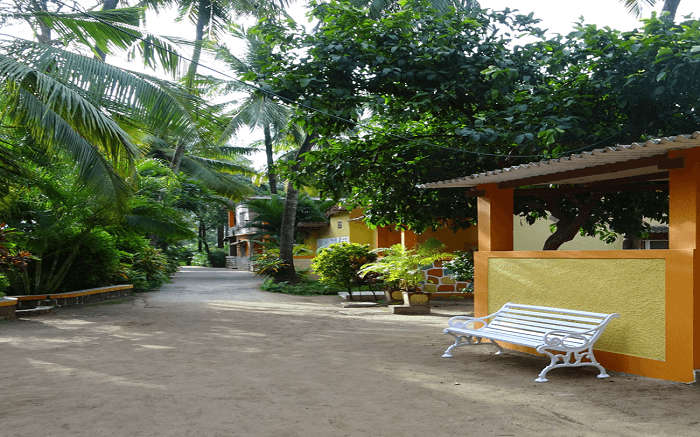 Address: Manori Village, Manori Gorai Road
Domonica Beach Resort located by the Manori Gorai Road in Mumbai. Surrounded by coconut and palm trees from all sides, the picturesque resort is the perfect place to seek nature's refuge. East Indian and Chinese cuisines make the highlight of food served at the resort. This place is the ultimate soul comforter for every peace seeker.
Tariff: INR 6500 per night onwards
What's special: Walking distance from Manori beach
Must Read: 30 Breathtaking Resorts Near Mumbai For Couples: Plan A Romantic Escape Now!
3. Pali Beach Resort – One of the top resorts in Mumbai for couples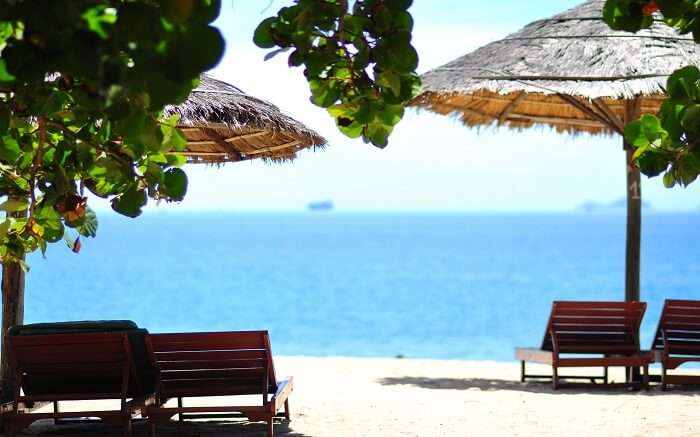 Address: Pali Chowk Road, Uttan Pali Road, Off Bhayandar West
Another popular beach resort in Mumbai, the Pali Beach Resort is the perfect place to spend a laid-back holiday. A cracking family weekend fun looks pretty much on the cards as you plan a stay at Pali Beach Resort. Good seafood, great nature views, and tidy rooms are just too good to leave you in awe.
Tariff: INR 2500 per night onwards
What's special: Gym, DJ, rain dance, and swimming pool
4. Sun Beach Resort – Great outdoors, plenty of activities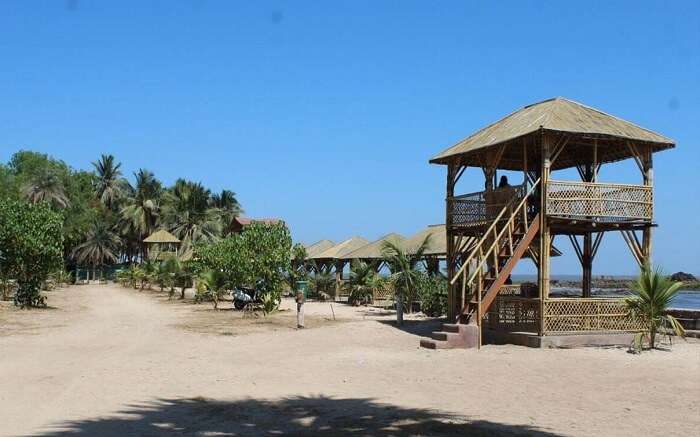 Address: Ponda Wadi, Gorai Beach, Borivali West
Located by the Gorai Beach in Borivali Mumbai, Sun Beach Resort is the place where your fancies and wishes come true. The versatile surroundings and ample of activities offered make Sun Beach Resort ideal to spend some of the most memorable days of your life.
Tariff: INR 1500 per night onwards
What's special: Beach volleyball, swimming pool, indoor games, and rain dance
5. Fonsecas Beach Resort – Guarded by the pines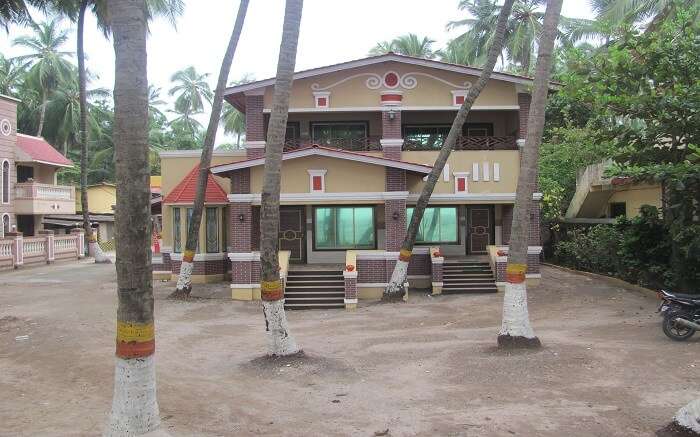 Address: Main Gorai Beach, Borivali West, Gorai
Another beach resort by the Gorai beach, Fonsecas has the right appeal and splendid property that enables every visitor to savor indescribable views making the just right place for a picture-perfect celebration. A stay here comes with perfectly curated facilities for nature enthusiasts. Malad Station is the closest form Fonesecas Beach from where you can easily get transport bus or rickshaw to reach the resort.
Tariff: INR 1450 per night onwards
What's special: Barbecue, children play area, swimming pool, and parking space
Suggested Read: 21 Best Beaches Near Mumbai For A Quick Weekend Trip
Other top resorts in Mumbai with exciting activities
Plan a stay in these holiday resorts and experience world-class facilities at their best. Here are the top 10 resorts in Mumbai to plan an upcoming vacay with family or friends. Also, you can check into some of the eco resorts.
6. Golden Toff Resort – An ideal resort in Mumbai for overnight stay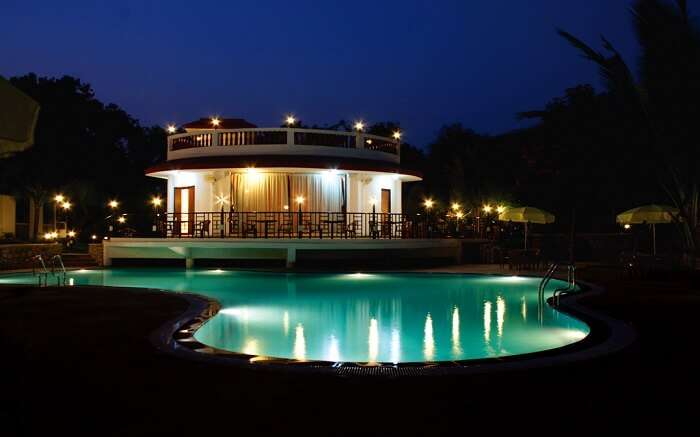 Address: Uttan Road, Opposite Stella Maris Hospital, Bhayandar West
Golden Toff Resorts is an oasis of tranquility in the tinsel town. Located in Bhayandar West region this is one of the top resorts in Mumbai with the right environs and perfect vibes around. It is after coming to this place that you can savor nature's grandeur at its best.
Tariff: INR 4500 per night onwards
What's special: Gorai Beach, attached balcony, water kingdom, and swimming pool
7. River Winds Resorts – Good surroundings, greater vibes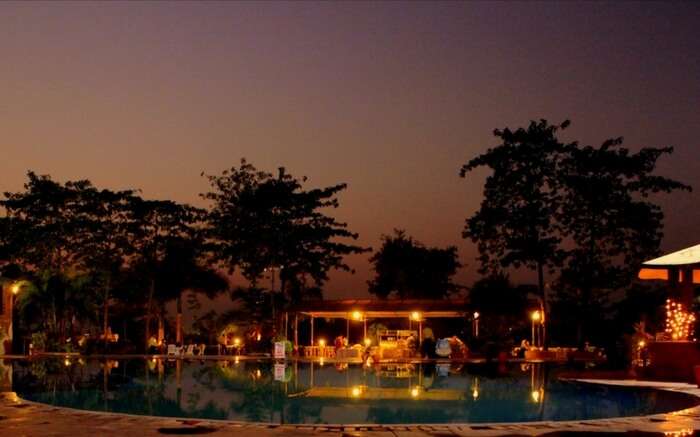 Address: Next to Meridian School, Kalyan Murbad Road, Kamba Village, Kalyan
River winds resort thrives on optimum service and exceptional facilities on the display. One of the best resorts in Mumbai to slip into the quietude of the night River Winds Resorts situated in Kamba and far from the choking city life is a wonderful retreat that one must take into the consideration.
Tariff: INR 4500 per night onwards
What's special: Swimming pool and multi-cuisine restaurant
8. Shangrila Resorts – 3-star stay with 4-star amenities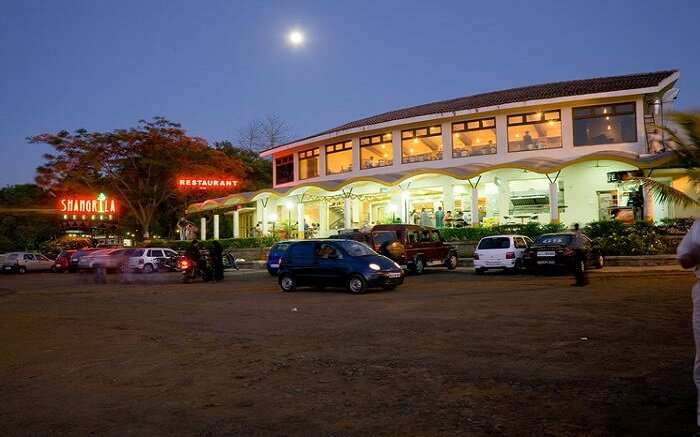 Address: Mumbai-Nashik Highway, Bhiwandi By Pass End, Vadpe, Thane
Shangrila Resort and Waterpark is an ideal getaway to take a break and spend some fun-filled moments with family. The carefree feel of the ambiance would make you indulge in the surroundings while spending a perfect holiday. A wide range of activities and world-class amenities await you at Shangrila Resort.
Tariff: INR 4000 per night onwards
What's special: Waterpark, kids zone, rain dance, water slide, pool den, and air-conditioned bar
Suggested Read: 33 Best Picnic Spots Near Mumbai For The Summer Of 2022
9. Royal Garden Resort – Perfect place for kids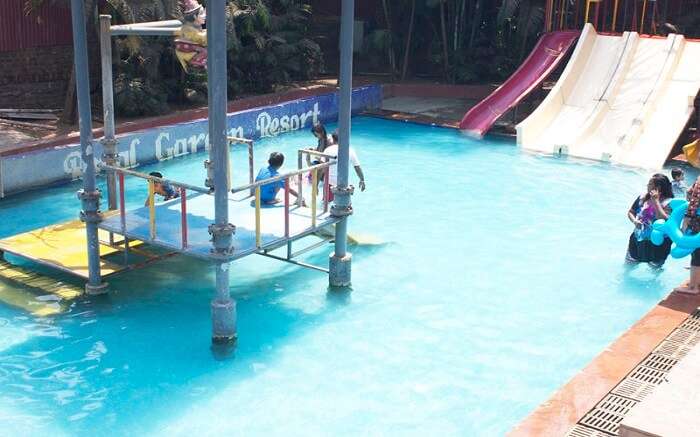 Address: Mumbai Ahmedabad Highway
Royal Garden Resort has been neatly crafted to catch the fancy of kids. The vibrant themes of the waterpark of Royal Garden are just perfect to leave you amused and even make the kids ecstatic. Plan a picnic with your near and dear ones, this is one of the top resorts in Mumbai.
Tariff: INR 3300 per night onwards
What's special: Waterpark, amusement park, and jungle kingdom
Suggested Read: 15 Super Fun Places In Mumbai To Spice Up A Dull Day, Anyday
10. Krishna Resort and Waterpark – Exemplifying laid-back vacation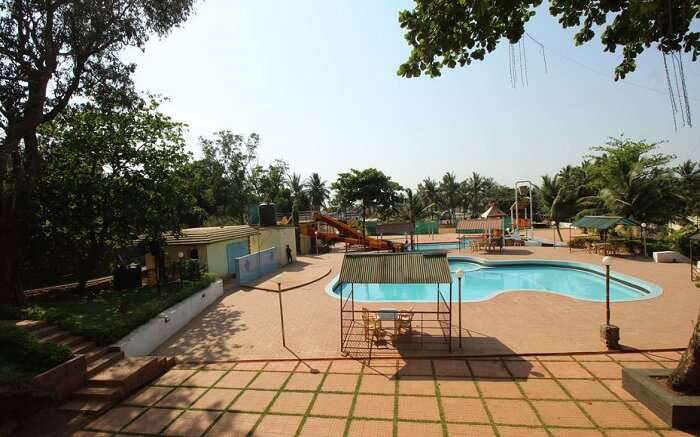 Address: 22 Sai Krupa CS Road, Novelty Petrol Pump, Malji Pada, Dahisar E, Vasai
Located in the Vasai area, the Krishna Resort and Waterpark is a wonderful place to spend some relaxing moments with family and friends. Among some lip-smacking dishes to try there is Chicken Goan Curry that must be tried. The price is quite reasonable for the quality of stay they provide. Don't forget to give it a try when you are in or around Mumbai.
Tariff: INR 2000 per night onwards
What's special: Waterpark, private parking, playground, and bar
11. Gandhar Eco Lodge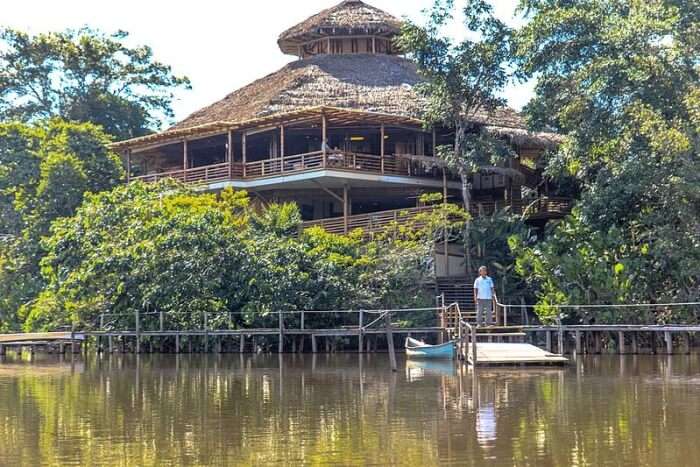 Image Source
GPS Coordinates: 18.682908,72.864344
If you are ready to enjoy peaceful countryside life, then Gandhar Eco Lodge is the place to be. However, it does not mean that there is a dearth of comfort in the hotel. One of the finest eco hotels that you will come across, it is one of the rare places that strike a balance between nature and comfort. You can watch a movie in the local theater or participate in rangoli making tradition.
Tariff: Rs 5,258/night
What's special: The presence of beach in an unpolluted natural setting
Website|Reviews
12. Monteria Resort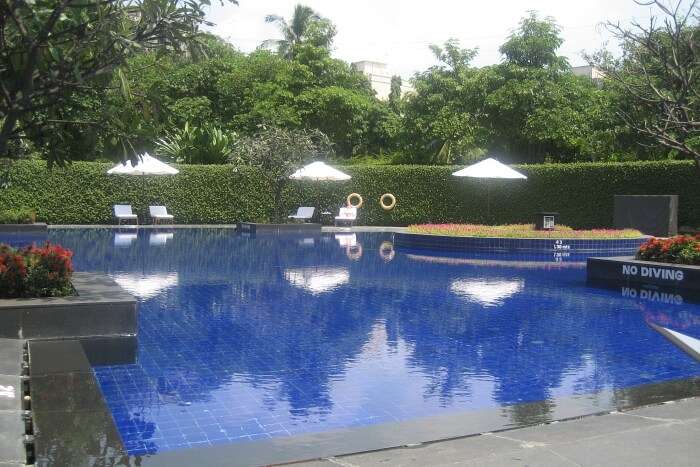 Image Source
Address: Near Nishiland Water Park, Vinegaon, Khalapur
If you want a comfy stay just outside of Mumbai on your vacay, this resort is it. It is only 4 minutes away from Nishiland Water Park. As of the rooms, you will be happy with uninterrupted Wi-Fi connectivity and mini-bars. There is a huge swimming pool as well which can be enjoyed by couples and families alike. From Irshalgad, this place is only 18km, giving you ample opportunities for sightseeing.
Tariff: Starting Rs. 1150/night
What is special: Amusement center, kid's playing area, Nishiland waterpark, Swimming pool
Website|Reviews
13. U-Tan Sea Resort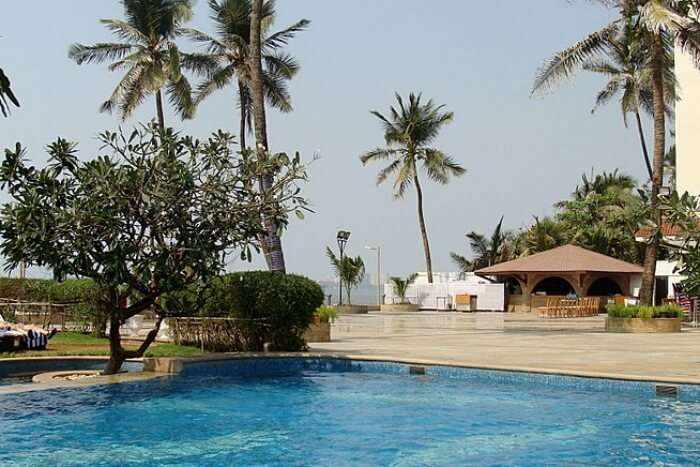 Address: Chowk Dongri Via Uttan, Bhayandar West, Near Pali Beach Resort, Mumbai
As the name suggests, this resort is located by the sea and is a great place if you want the best of both luxury and natural beauty. Since the place is only 4 km from city limits, it is perfect in terms of both location and fun. You can either spend your day by the swimming pool or simply go on to play one of the various games available here. It is one of the best resorts in Mumbai with rooms to die for.
Tariff: Starting as low as 340/night
What's special: Access to swimming pool and activities such as volleyball, cricket etc. are also provided. Breakfast is usually included in the package.
Website|Reviews
14. Pinewood Resort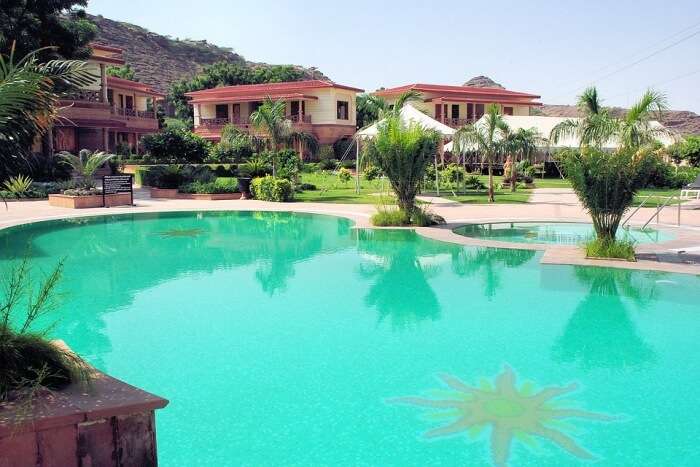 Image Source
Address: Village Varai, Karjat, Maharashtra
Situated only 65 km from Mumbai, Pinewood Resort welcomes you with a stunning view of greenery. Just far enough from the city to be considered secluded and near enough to be considered unexpectedly modern, the resort provides you with outings and picnics that are exciting enough to keep you hooked. There are 3 swimming pools on the premises with many indoor and outdoor games available for the entertainment of guests. It is one of the best resorts in Mumbai with swimming pool.
Tariff: 1036/night
What's Special: Activities like rock climbing, rappelling, and more are also available.
Website|Reviews
15. Silent Hill Resort

Address: National Highway No.8, Vaitarna River Bridge, Palghar
You might have been to the grandest of all resorts but have you been to a fully-planned resort? One of the largest resorts in the country, the Silent Hills spreads out on 60 acres of land and sits on the confluence of Dehraja and Vaitarna rivers. Apart from the view, you can also enjoy the rest of the day with hearty meals and mindblowing activities like camping and boating. It is one of the best resorts in Mumbai with water park
Tariff: Starting 750/night
What's special: Services like mini-trains, full-fledged meals, access to waterparks and availability of several activities
Reviews
Further Read: 42 Best Resorts Near Mumbai For A Quick Relaxing Getaway
These are the dreamy resorts where you can seek some respite from the routine life. As there are a number of resorts in Mumbai, it is quite tough to choose one and head to on the next vacation. However, carefully assessing your requirements and budget can help you come to a conclusion. Plan a stay naer Mumbai now!
Frequently Asked Questions About Resorts In Mumbai
What is the best resort in Mumbai for a bachelor's party?
A. Domonica Beach Resort and Fonsecas Beach Resort are some of the top resorts in Mumbai for a bachelor's party.
What are best resorts in Mumbai for couples?
A. Pali Beach Resort, Sun Beach Resort, and Golden Toff Resort are the best resorts in Mumbai for couples