For this adventurer at heart and travel blogger by choice, travelling comes as a necessity, a journey to find happiness and a fuel that fires up imaginations. The face behind Best Life in the World and Sophee Smiles, Sophee opens up about what inspires her to travel, write and more about the year-long adventure she undertook with the man of her dreams.
In an exclusive interview with Travel Triangle, she takes us through her intriguing experiences of travelling across India and Pakistan—their food, people and places, while rediscovering the immortal bonds of humanity.

TT: Before we bombard you with questions, we'd like to know a bit about the Sophee you were before you became the famous travel blogger?
Sophee: "I was on a journey to find happiness and good times, it made sense to write about the travel experiences, which delighted my soul and brought a smile to my face. Hence, Sophee Smiles was born."
I grew up as an only child in a single-parent household. My mum encouraged me to believe I could achieve anything, as long as I was willing to work hard, think outside of the box, continue learning and be patient. At the end of my Business (Advertising) and Media & Communications degree, I kick-started my own publishing business and worked my booty off managing a women's magazine. At the start of this year, I had no idea what my perfect job would entail but my itchy feet told me it was time to travel. So, my husband and I packed up our lives and decided to go on an epic year-long adventure. And my twiddling fingers begged to write again. So, I decided to start a travel blog.
TT: What was that central thought in your mind which made it possible for you to finally go for this decision?
Sophee: "My mum always prioritized travel as though it was a necessity, not a luxury. Besides, my husband and I inspire each other's intense wanderlust and always ensure we have the next big expedition waiting on the horizon."
She exposed me to different cultures and ways of life from a young age (my first trip was to Fiji at the age of two). Travel was her way of igniting my imagination and opening my mind to life's infinite possibilities. As a child, the idea of foreign cultures, foods, smells, sights, religious practices and lifestyles didn't frighten me – I yearned to experience them. I couldn't think of anything better than making travel a lifestyle and long-term career – I knew it'd bring me joy. Funnily enough, the man of my dreams (my husband, Ben Southall) turned out to be a professional adventurer and digital nomad.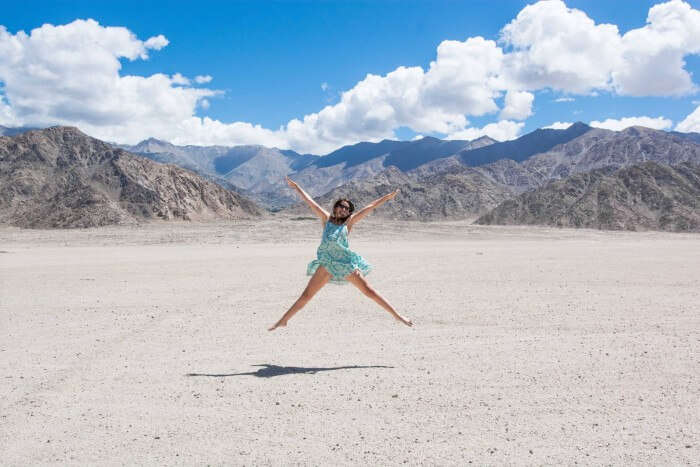 TT: And what was the most difficult thing for you to deal with before you took off?
Sophee: "While no single pre-trip task was particularly agonizing on its own, bringing everything together before take-off was an epic challenge. Like planning a wedding, there were so many minute and significant details to organize."
The biggest step was packing up our lives and putting it into a Land Rover and storage shed. We then had to find trusty tenants to take care of our home while we were away plus a long-term babysitter for our much-loved pooch, Chaos the pug. Ben took on the role of prepping our overland vehicle and managing the "operations" for the journey, from visa and paperwork requirements to maps and logistics. My job was to design our two websites (Best Life in the World and Sophee Smiles), develop content and brand strategies, and tie up our personal admin before we left (e.g. banking and insurance). But, the hard yakka in the beginning is totally worth the end result. From the moment Ben and I caught our flight out of Australia up until today, we haven't been able to wipe the smiles off our faces.
---
Planning your holiday but confused about where to go? These travel stories help you find your best trip ever!
Real travel stories. Real stays. Handy tips to help you make the right choice.
---
TT: It is clear that travel blogging is beyond mere description of landscapes. What according to you makes a fascinating travel story/blog?
Sophee: "I always love the work of creative travel writers, as they know how to paint pictures with words and take me on the journey."
Some people seem to love the Buzzfeed-style blogs, which focus on lists of "bests" or "must dos". I'm attracted to blogs where the author injects their personality and unique perspectives into their articles, but not to the point where they overwhelm the main ideas. Bloggers who have the courage to be really honest and vulnerable always connect better with me. I find their stories really inspiring and, I guess, that's the ultimate goal of any travel blog.
TT: Your Pakistan pit stop is the talk of the town. How was the experience?
Sophee: "We felt so welcome, it was wonderful."
I thought Pakistanis weren't particularly fond of Western tourists and I'd be greeted with detached disapproval or outright animosity. Instead, I was treated with absolute respect, kindness and generosity at every moment. The locals seemed hungry to show us a good time and make a great impression.
TT: And how was India? Did we treat you well?
Sophee: "I adored India! It was a brilliant assault to my senses."
From the colourful saris drifting across the dusty streets to the waft of spice-infused curries dancing through the air, every moment was a thrill – so foreign yet completely alluring. The people were incredible. They were intensely curious and packed with personality. I loved their extroverted approach to tourists. The thing that really surprised and delighted me about this multifaceted country was the diversity of the landscapes. Snow-capped Himalayan mountains, lush forests, arid deserts, contemporary cities, stunning beaches, mysterious historical sites and enchanting spiritual hubs…India is home to it all!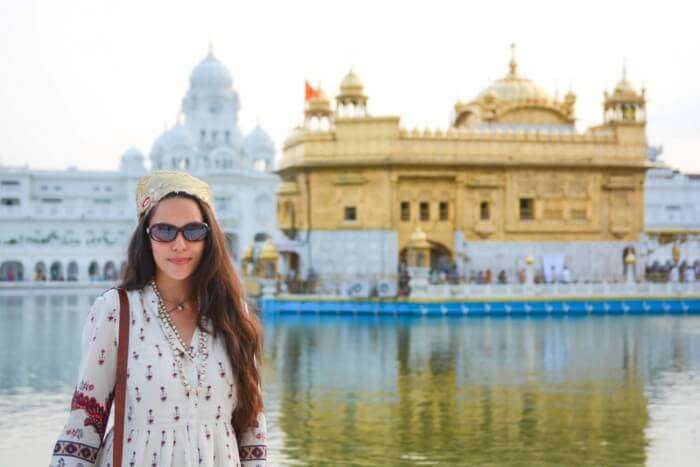 TT: And did you try the Indian food as well? Did you like it?
Sophee: "I'm convinced India dishes up some of the best food in the world."
Some of my favourite morsels included gulab jamun, jalebi, Goan fish curry, freshly prepared samosas, spicy tandoori chicken and creamy dal makhani. I also became addicted to chai tea during my travels. If I'd stayed in India any longer, I probably would have eaten myself to death. In fact, I had to stop off at a detox retreat in Goa halfway through my trip! Australians are used to very simple flavours and ingredients, so the rich meals and snacks in India started to get a bit full on after a while.
TT: We are sure you would have had many crazy experiences during your journey. Which is the most special one?
Sophee: "There's something about holding hands with a stranger that really moves me. It's such a simple act, yet it breaks down barriers instantly."
One of the most special moments I enjoyed during my journey was in Pakistan, en route to a glacier at Borith Lake. While my husband and I stumbled up a steep, rocky mountainside, we came across a local village man. Sensing our fatigue, he kindly took us to his makeshift café (a tea station wedged between two giant boulders) and served us warm chai with a side of fresh bread. After telling us about his family and love of Pakistan, he kindly took me by the hand and helped me hop, skip and jump all the way back down the mountain. The rocks were incredibly shaky and he saved me from a few nasty falls.

TT: Of the many cities you visited, which is your favorite, and why?
Sophee: "Singapore had me begging to call it home. I'd live there in a heartbeat."
Singapore, a cosmopolitan city-state is a mini-utopia, where everything works perfectly, diversity is celebrated and the culture is rich with different influences. The nightlife is non-stop and the locals seemed super social, which I loved. I was also captivated by places like Mumbai (India) and Bangkok (Thailand), as they offered the right balance of grit and glamour for me.
TT: Was there a moment during these months of travel when you felt really scared of anything? When the fear of the unknown, or the known gripped you like never before.
Sophee: "Being at the mercy of Mother Nature and losing control like that – it wasn't a good feeling."
When the first major earthquake rocked Nepal, Ben and I were chilling out on the sixth floor of a rickety hotel in Darjeeling. The whole building started to rattle and sway and we were completely petrified. Ben and I almost cancelled our trip to Nepal but decided to push on ahead, as the country was in desperate need of tourism dollars. Plus, if we took precautions, we figured we'd be ok. Thank goodness we plucked up the courage to move forward with our plans, as it turned out to be an incredible experience.
TT:
Which channel on social media has been the most effective for you?
Sophee: "For me, Facebook comes out on top. It is particularly awesome because followers generally remain loyal and actively express their opinions through likes and comments."
I judge effectiveness against three main goals: 1. number of visits to my website; 2. number of followers on any given social media platform; and, 3. level of engagement (are followers actively getting involved by leaving messages and comments). For me, Facebook comes out on top. But a lot of travel bloggers swear by Instagram, Twitter, Snapchat and/or YouTube.
Facebook is particularly awesome because followers generally remain loyal and actively express their opinions through likes and comments. It's quite hard to attract a loyal, expressive audience through other social media channels. Plus, I think Facebook supports the best two-way communication between a blogger and his/her fans.
TT:
If you had to give just one tip to the aspiring travel bloggers, what would it be?
Sophee: "Dare to be different, find your own niche."
There are thousands (possibly millions) of travel blogs out there, and you need to offer something unique if you're going to get people's attention. I've let my audience and intuition shape the nature of my blog over time. It's taken me six months to get a clear idea about sopheesmiles.com and the direction I want to take with it. Once you finally choose an "angle", make sure it's going to keep the fire in your belly burning over the long-term. If you're not passionate about it or likely to get bored, go back to the drawing board. What type of travel blog will inspire, challenge and excite you for years? What type of blog will have the same impact on your audience?
TT:
Also, which social medium would you recommend for them to gain a good reach?
Sophee: "When you're starting out, Instagram and Twitter profiles are great ways to promote your blog cost effectively."
Through the use of hashtags, it's easy to reach lots of people with a strong interest in travel or a particular destination. Your photos and comments act as powerful teasers which then compel people to check out your blog for more photos and information. The power of SEO can't be ignored by any travel blogger. It's important to learn how to improve a blog's listing in a Google search, as it's one of the best forms of web marketing there is. Plus, it's free. 
TT: Just like the myriad nuances in your stories, your pictures speak a thousand words. If you had to make a photo book of top 10 photos which ones would they be? (Please share pictures)
Sophee:
---
Looking To Book An International Holiday?
Book memorable holidays on TravelTriangle with 650+ verified travel agents for 65+ domestic and international destinations.
---