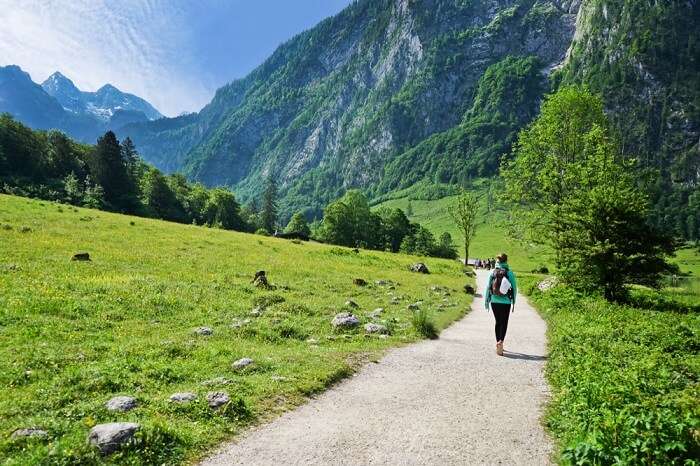 Germany offers nothing short than a vivid kaleidoscope of awe-inspiring travel experiences that overwhelm & inspire the dreamy-eyed traveller with their phenomenal range and depth. You could be exploring the streets of Berlin steeped in history and dotted with world-class museums one day and gazing in wonder at fairytale castles or Gothic architectural marvels the next. The cultural and culinary landscape of its cities is just as alluring as the soaring Alps and verdant river valleys.
Blessed with some of the most scenic natural landscapes, pristine lakes, and mystical forests Germany offers the perfect playground to those who love the outdoors and are drawn to wilderness. Trekking in Germany is not just an adventure but a national passion in its own right, with more than 200,000 kilometres of well-maintained hiking trails that take you across breathtaking vistas and surreal sights. Strap on your hiking boots and join us as we explore some of the best trekking places in Germany.
10 Best Trails For Trekking In Germany
These 10 trails in Germany are nothing less than a paradise, which is why you must explore them on your next Eurotrip. Of course, don't forget to take your camera along.
1. Painter's Way (Malerweg)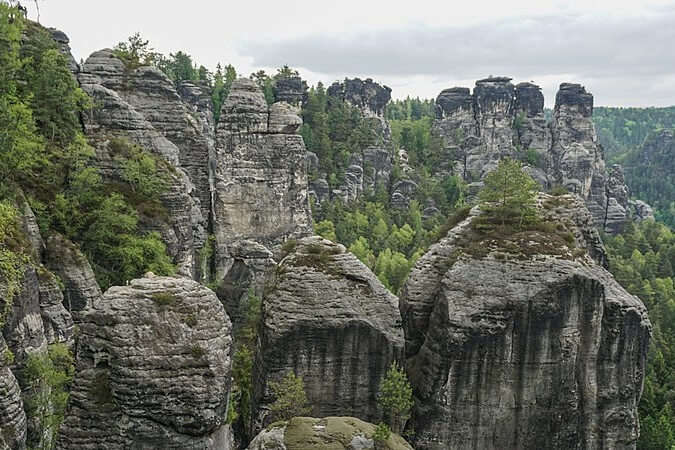 Living well up to its name, this one is considered amongst the most picturesque hiking trails in Germany that has inspired artists for centuries by its ethereal natural beauty. Located in the fairytale landscape of Saxton Switzerland just south of Dresden, this beautiful trail takes you through the impressive vistas of Elbe Sandstone Mountains. The 112-Km trails not only offers breathtaking sights but also presents trekkers with some physically challenging sections for that much-needed adrenaline rush.
Trail details: Starts and ends at Pirna but you can pick where to start out of its eight stages and take a train from Dresden to that town.
Difficulty level: varying levels of difficulty through its different stages.
Trail tips: Do not miss the world-famous Bastei rock formation, Lichtenhain Waterfall and Konigstein Fortress.
Must Read: 5 Waterfalls In Germany To Witness The Charismatic Beauty Of Nature
2. Rheinsteig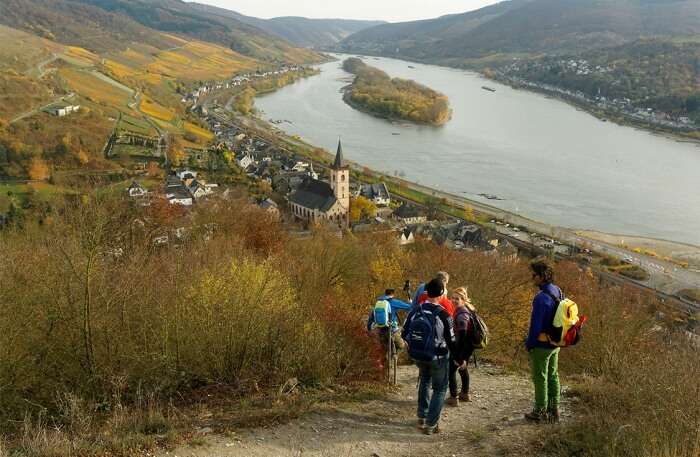 Meandering along the Rhine River this 320-Km trail from Bonn to Wiesbaden offers one of the best opportunities for trekking in Germany amidst lush forests, rolling vineyards, romantic towns and historic castles. The award-winning trail split into 23 stages allows you to explore the natural wonders of the UNESCO world heritage listed Upper Middle Rhine Valley. Do not forget to sample the famous Rhine wine as you stop by to admire the breathtaking views.
Trail details: From Wiesbaden-Biebrich station you can follow the path leading to the trail through the castle grounds.
Difficulty level: Only experience hikers should attempt the entire length, but casual hikers can easily attempt a few stages.
Trail tips: Stop by the Niederwald Monument, Drosselgasse lane and Drachenfels hills beer garden.
3. Heidschnuckenweg Trail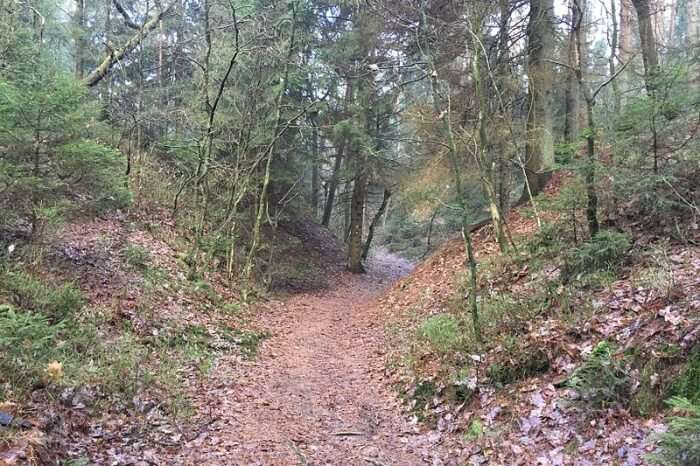 Frequently counted amongst the most beautiful hiking trails in Germany, this easy trek takes you through the picturesque Luneburg Heath dotted with quaint villages, pine forests, green meadows & expansive views. If you're visiting during late summer, be prepared to be drowned in a sea of purple lilacs that transform the heath into one of the most magical sights you've ever witnessed. Let the fresh breeze caress your senses as you whistle along this scenic trail.
Trail details: The trail begins at Hamburg which is well-connected by road and rail.
Difficulty level: Most sections of this 13-stage trail are flat and easy.
Trail tips: The stage from Undeloh to Niederhaverbeck takes you through gorgeous heath valleys and the majestic Wilseder Berg Hill.
Suggested Read: 10 Best Berlin Churches To Get Closer To Your Inner Self In The Enchanting Capital Of Germany
4. Rennsteig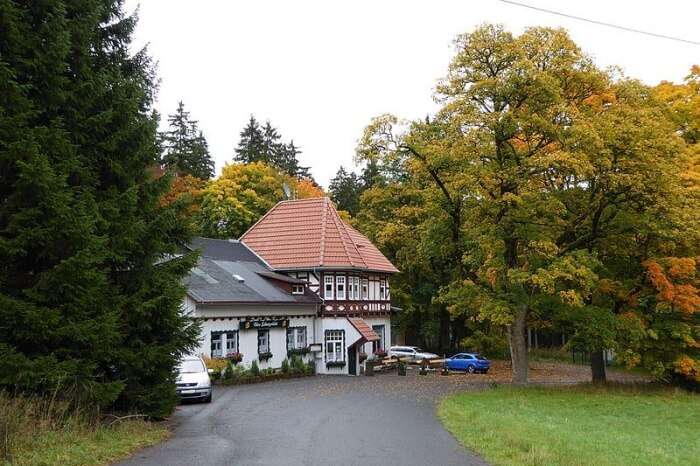 While planning for trekking in Germany during your next visit, do not forget to add this 700-year-old trail to your hiking itinerary. Steeped in tradition and considered the oldest hiking trail in Germany, the Rennsteig even has its very own special greeting "Gut Runst" instead of a "Helllo" or "Good Morning"! The 6-stage trail takes you through the depths of the Thuringian forest along a ridge-way marked with magnificent scenery and viewing spots.
Trail details: The trail starts at Horschel and ends at Blankenstein.
Difficulty level: Medium along most parts
Trail tips: We recommend taking a detour to visit the UNESCO world heritage listed Wartburg Castle and a well-deserved sausage and beer break at Thuringer Hutte.
Suggested Read: 7 Stunning Villas In Germany For A Luxurious Holiday In Europe You've Always Dreamed Of
5. Baltic Sea Coast Hiking Trail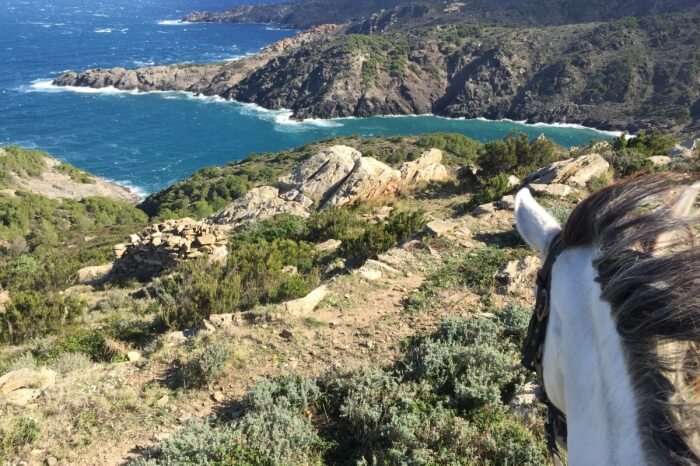 Trekking in Germany not just takes you through gorgeous mountain trails and forest paths but also offers the chance to witness some of the most stunning coastal landscapes as you trudge along in your walking gear. The Baltic Sea Coast Hiking Trail allows you to traverse lovely pine forests and rapeseed fields interspersed by breathtaking views of the Baltic Sea. You can take small detours to soak in the refreshing sea breeze and collect some pretty shells and amber.
Trail details: The 400-Km trail begins at Lubeck and ends at Ahlbeck
Difficulty level: Easy to moderate
Trail tips: Do pack your swim wear for a quick dip along the many sandy beaches along the way. The Warnemunde seaside resort and the Teepott make for good pit stops.
6. Albsteig/Swabian Alb North Rim Trail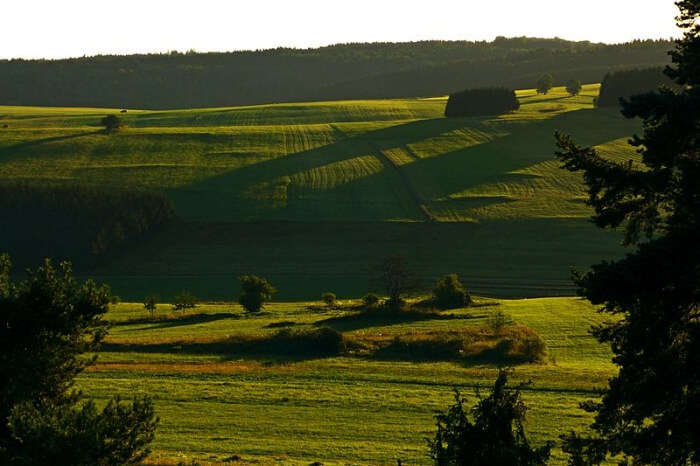 This mountainous trail in the Swabian Jura offers an unforgettable experience of trekking in Germany through dramatic landscapes and stunning scenery. Numerous narrow paths take you along castles, waterfalls, unique rock formations and vantage points like the Zeller Horn mountain. While seasoned hikers can take up the challenging task of completing it in 15 stages, leisurely trekkers can choose from the 25 shorter stages.
Trail details: Extends over 65 Kilometres from Donauworth to Tuttlingen.
Difficulty level: It is a tough and physically demanding trail.
Trail tips: Stop by at the famous Hohenzollern Castle and the gorgeous Urach Waterfall on the outskirts of Bad Urach. The castle grounds also have a nice restaurant for a quick bite and drink.
Suggested Read: Oktoberfest Germany: Bottoms Up Your Mugs At The World's Largest Beer Fest
7. Goldsteig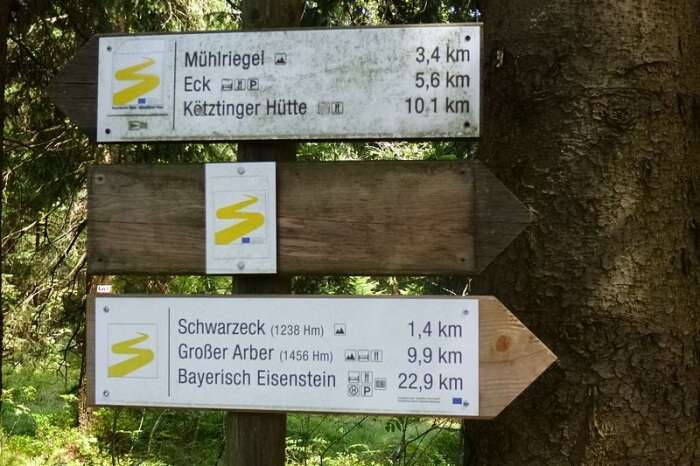 Of all the amazing hiking trails in Germany, the Goldsteig is the longest certified trail and definitely lives up to its name with the unparalleled trekking experience it offers. The trail starting at Marktredwitz takes you through the scenic heart of the Bavarian forest for an unforgettable tryst with pristine nature. The challenging northern trail traverses through the Bavarian Forest National Park while the southern one is a gentler path amidst shaded forest.
Trail details: The 660-Km long trail extends from Marktredwitz to Passan and splits at Oberviectach.
Difficulty level: The northern section is quite difficult while the southern trail ranges from easy to medium level.
Trail tips: Along with the delicious local cuisine and renowned Bavarian beer, the Goldsteig trail also has 70 sun loungers to relax your weary bones along the way.
Suggested Read: 10 Top Adventure Places In Germany That'll Leave You Spoilt For Choice
8. Berchtesgaden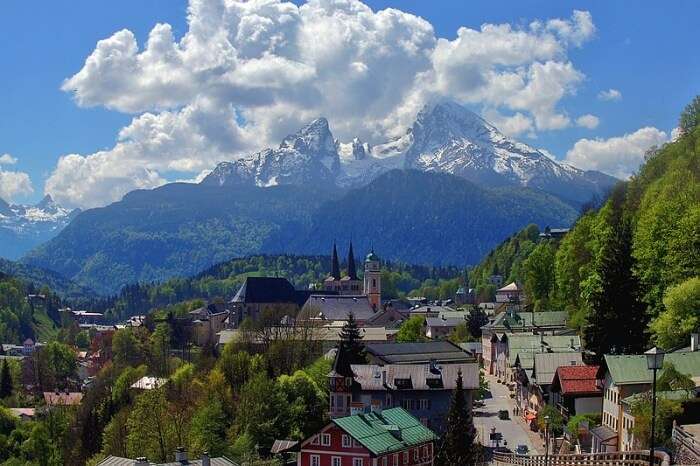 Home to a large national park and Hitler's Eagle's Nest (Kehlsteinhaus), this region near the Austrian border is a great choice for trekking in Germany. The Berchtesgaden National Park offers miles of hiking trails including the professional grade trek to Mount Watzmann which is Germany's third highest peak. The 2-kilometre long trail from St. Bartholomew's church to Watzmann-Ostwand along the beautiful King's lake (Konigsee) is a good choice for beginners. You can take either of the two trails to the Eagle's Nest that offers panoramic views of the Alps.
Trail details: Berchtesgaden town is well connected by road and rail.
Difficulty level: Except for Mount Watzmann, the other trails are easy to moderate.
Trail tips: The Almbach Gorge trail with its gushing waterfalls is a must-try in summers.
Suggested Read: Winter In Germany: Witness The Beauty & Grandeur Of The Country Like Never Before!
9. Schluchtensteig in the Black Forest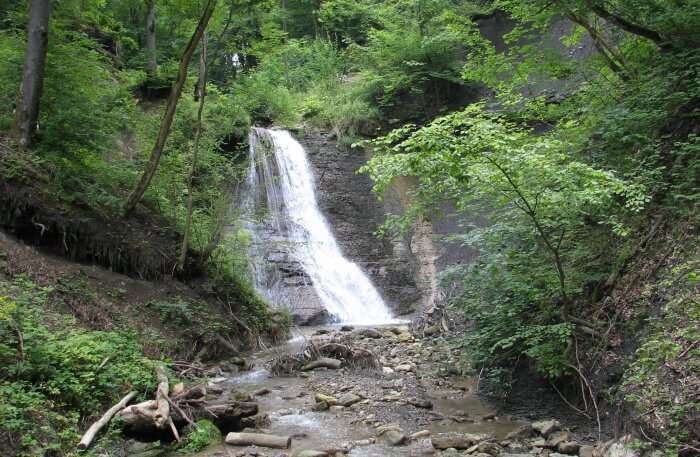 As you walk along cascading waterfalls, impressive gorges, sparkling lakes and lush green meadows you discover the many joys of trekking in Germany along this rewarding trail through the southern Black Forest. You can feel one with nature while you wander along dense spruce forests and witness the soaring Alps along your trail. The famous St. Blaise's Cathedral adds a touch of cultural heritage to this route.
Trail details: The 119-Km trails with six stages starts at Stuhlingen
Difficulty level: moderate
Trail tips: Wutach Gorge, Lake Schluchsee and Wehra Valley are not to be missed gems along this trail. There are very few refuelling points on this trail so one must carry sufficient supplies.
10. Eifelsteig Trail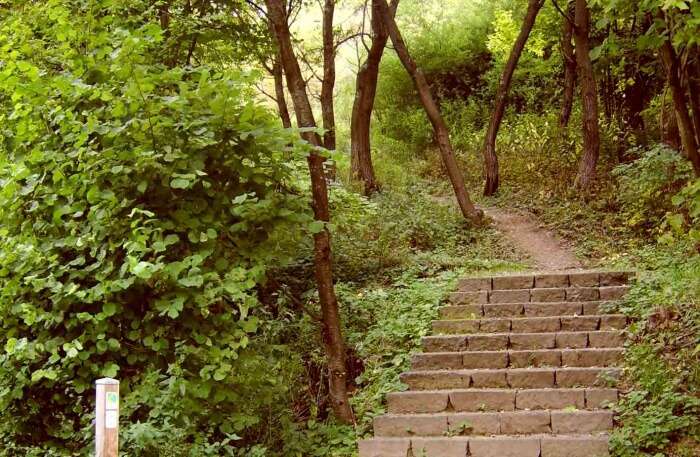 One of the most diverse hiking trails in Germany, the Eifelsteig offers an impressive range of landscapes and fascinating sights. Along with spectacular lake views at Rur and Urft dams, you also travel through endless rich forests, a Roman aqueduct, narrow gorges and sprawling fields along the 330-Km long trail. An old abbey at Steinfeld serves beer brewed at the site, while you also witness volcanic lakes, soaring summits, castles and Imperial Baths on the fantastic Eifelsteig Trail.
Trail details: Divide into 15 stages, the trail starts from Aachen and ends at the Roman city of Trier.
Difficulty level: There is a mix of easy and difficult stages, making the overall hike moderately difficult.
Trail tips: Hiking along the Leiser River is pure bliss. Accommodations are available at the end of each stage.
Further Read: Germany Nightlife: An Ultimate Guide To Experience A Kaleidoscope Of Drinks And Music
Though we've covered the top trails for best trekking in Germany for your next visit, there is a lot more to explore in this bewitchingly beautiful country brimming with nature's splendor. So, make sure you miss out on nothing by planning a hassle-free trip to Europe with TravelTriangle.
Frequently Asked Questions Trekking In Germany
What are some of the most visually stunning trekking trails in Germany?
Germany is full of trails that are perfect for trekking. Most of the trails for trekking in Germany can be completed by beginners as well. Some of the trails are Painter's Way, Rheinsteig, Heidschuckenweg, Rennsteig, Baltic Sea Coast, North Rim trail, Goldsteig and many more.
Why is the Black Forest in Germany so famous among trekkers?
The black forest in Germany is not only beautiful but for some people completing this trek is quite an accomplishment. The whole forest is divided into six stages, and the total length of the trail is 119 km. This trail also lets you witness the famous St. Blaise cathedral that is quite famous all around the world.
Can a beginner complete the Eifelsteig trail in Germany?
Eifelsteig trail in Germany is quite tricky in the sense that the entire trail is 330 km and it is divided into 15 stages. The whole path infilled with volcanic lakes, summits, castles and many more exciting things, but most of the steps of the trail are quite challenging to complete. Even for an experienced trekker, this trail is not a joke. So, beginners should not attempt to do this.
What is the length of the Painter's Rock trail?
Painter's Rock trail is one of the most beautiful trekking trails in the world. The entire length of the path is 112 km.
When is the apt time to go trekking in Germany?
You should visit Germany from May to September to enjoy the trip thoroughly because during those months the weather is magnificent and best for hiking.
What items are a must to go trekking in Germany?
If you are going trekking in Germany, you must pack light shirts, shorts, hiking pants, lightweight boots or sneakers, sunglasses, rain gear and other essential items.
How long is the trail to Rheisteig?
The Rheinsteig trail in Germany is among the most beautiful trails in the world. The path is along the river Rhine, and it is about 320 Km long.
---
Looking To Book An International Holiday?
Book memorable holidays on TravelTriangle with 650+ verified travel agents for 65+ domestic and international destinations.
---
People Also Read:
Trekking In Czech Republic Trekking in Norway Trekking In Spain