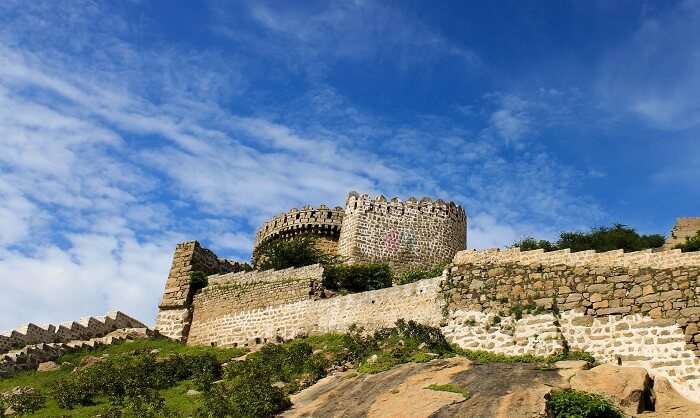 Being the Pearl city of India, Hyderabad attracts a lot of tourists from around the globe for many reasons. While the city hosts an enormous count of tourists with varying interests throughout the year, exploring the best of trekking places in Hyderabad is altogether a different experience. Trails galore, this city is a paradise for all who finds themselves at peace by witnessing the grandeur of nature. Check them out!
7 Thrilling Trekking Places In Hyderabad
1. Ahobilam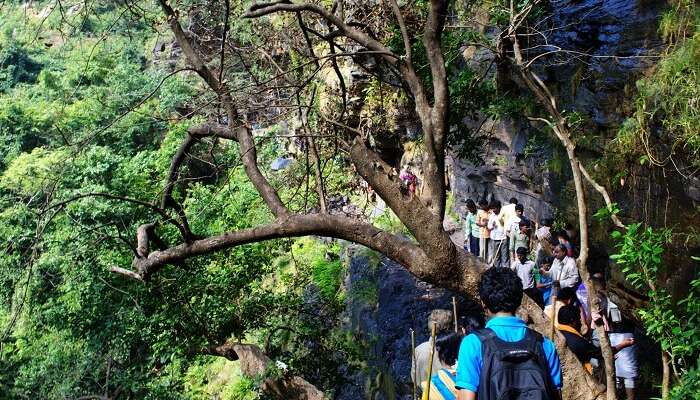 Suggested Read: 10 Best Road Trips From Hyderabad That Will Make You Fall In Love With South India!
The holy abode of Lord Narasimha, Ahobilam is one of the most popular trekking places in Hyderabad. This place is also called as Nava Narasimha Kshetra since Lord Narasimha is worshipped in 9 different forms, and separate temples exist for all the forms. Most of them have to be reached by difficult treks through thick forest and rocky paths.
Altitude: 327 meters
Ideal Trip Duration: 1-2 Days
Base Station: Ahobilam, Nandyal (66 Kms)
Best Time to Visit: October to March
Peak Season: February to May
2. Medak Fort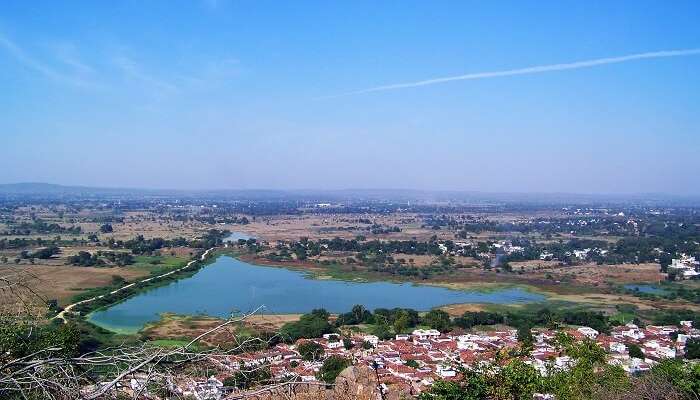 Known to be an ideal trekking path for adventure lovers, it is this route through which the travelers have to climb more than 500 steps to reach the top of the Medak Fort. Spread across an area of about 100 acres, the fort was built in the 12th century during the reign of the Kakatiya ruler, Prataparudra. It is definitely one of the challenging trekking places near Hyderabad and a must-visit for experts in trekking.
Altitude: 442 m
Ideal Trip Duration: 1-2 Days
Base Station: Hyderabad (100 Kms)
3. Ananthagiri Hills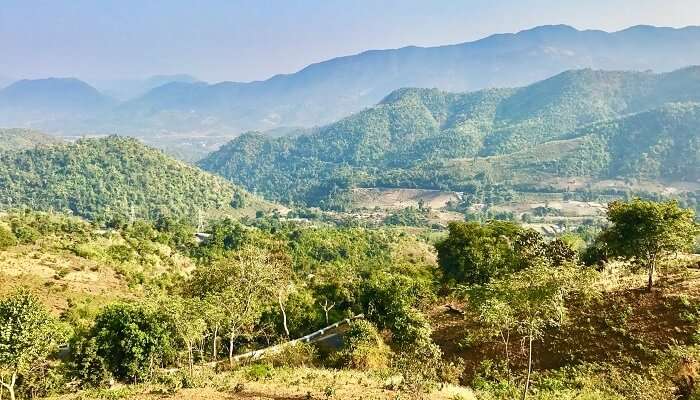 Suggested Read: 9 Best Water Parks In Hyderabad For Enjoying Your Old School Summer Break Again!
Ananthagiri is also popular for trekking camps in Hyderabad. There are two trekking trails in the forests, one that begins from the Anantha Padmanabha Swamy Temple, and another one that starts 0.5 kms from the temple towards Kerelli. The small reservoir, the lush green jungle, the trail covered by thick vegetation, and the beautiful freshwater streams are a treat for the trekkers.
Altitude: 700 m
Base Station: Vikarabad (7 Kms)
Best Time to Visit: October to March
Peak Season: February to May
4. Kanakai Waterfall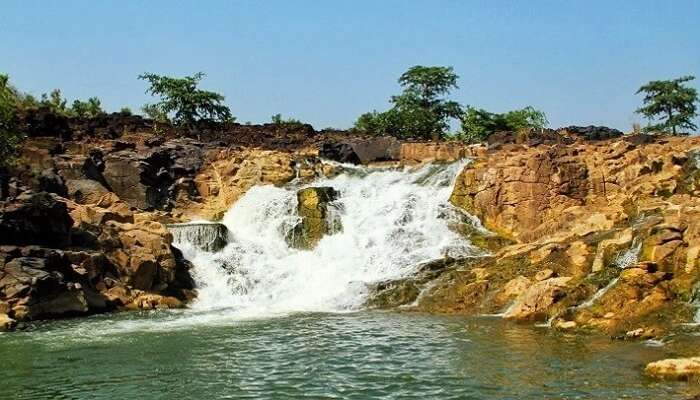 At a distance of 2 kms from Girnur Village, the Kanakai Waterfalls is one of the favorite trekking spots near Hyderabad. Bandrev waterfall and Cheekati Gundam are located in a single stretch wherein all three waterfalls including Kanakai can be visited together. It takes about 3-4 hours to visit all three waterfalls, and the travelers can spend some time, and come back to the road point.
Base Station: Adilabad (51 Kms)
Best Time To Visit: August-October
Travel Tips: This trekking demands a 4 to 5 kms walk through the rocky terrain and forest. It is advisable to take a local from Girnur village as a guide to reach this place.
5. Bhongir Fort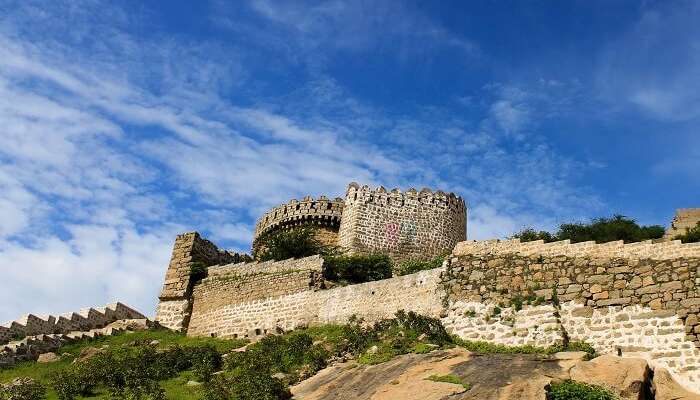 Suggested Read: 7 Camping Spots Near Hyderabad To Reconnect With Yourself
A popular Hyderabad getaway for a short trip and an important historical site, the Bhongir Fort is located at a distance of 1.3 kms from the Bhuvanagiri Railway Station. The hill upon which the fort is perched, is about 500 ft. high, and is spread across an area of 40 acres that makes it an ideal for trekking in Hyderabad. It usually takes about one hour to reach atop the hill and make sure you carry enough water.
Location: Shanthi Nagar, Nalgonda, Telangana 508001
Distance from Hyderabad: 100 Kms approx.
Time Taken: 2 Hours approx.
6. Koilkonda Fort & Koilsagar Dam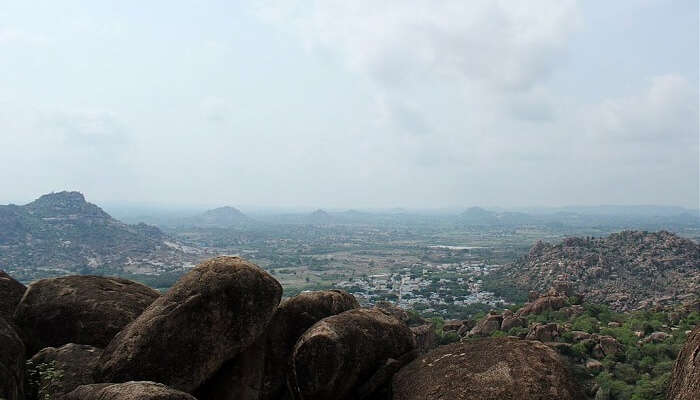 Koilkonda Fort and Koilsagar Dam are considered to be the most adventurous places in Hyderabad. To reach the top of Koilkonda Fort one needs to hike across a deep gorge on the west, and a series of streams on the east before reaching a plight of steps that leads to the fort. The Koilsagar Dam is about 10 kms from the Koilkonda Fort, and the trekking trails stretch across River Peddavagu.
Location: Koilkonda Fort Rd, Jamalpur, Telangana 509371
Distance From Hyderabad: 135 Kms approx.
Time Taken: 3 Hours approx.
7. Khilla Ghanpur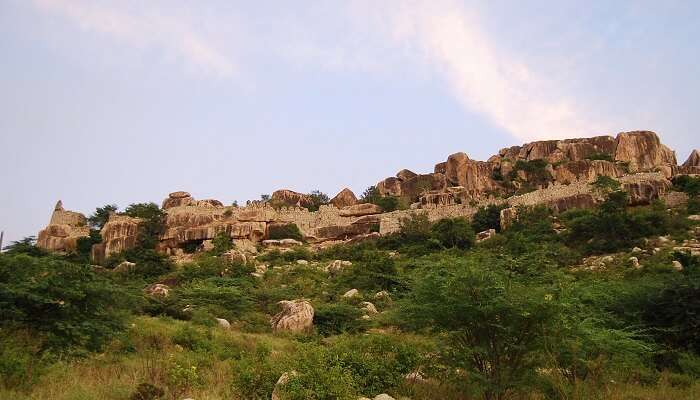 Suggested Read: 15 Fascinating Places To Visit In Hyderabad Of Rich History, And Everlasting Glory!
One of the easiest trekking places in Hyderabad is the trail from Ghanpur village to Ghanpur Fort that stretches for 2 to 3 kms only. Built on a rocky hill by King Gona Ganapa Reddy, the Ghanpur Fort dates back to the time of 13th century. There are several temples inside the fort like Veerabhadra Temple, Narasimha Temple, and Chowdeshwari Temple along with which, trekkers can also explore the several caves on the hilltop.
Location: Near Mahabubnagar District, Telangana, India
Distance From Hyderabad: 118 Kms approx.
Time Taken: 2.5 Hours approx
So what are you waiting for? Get going to these historic and scenic trekking places in Hyderabad that are calling out to you to experience some of the best adventures in the heart of Telangana. And for when you're back, do share your experiences with us in the comments below.
Comments
comments