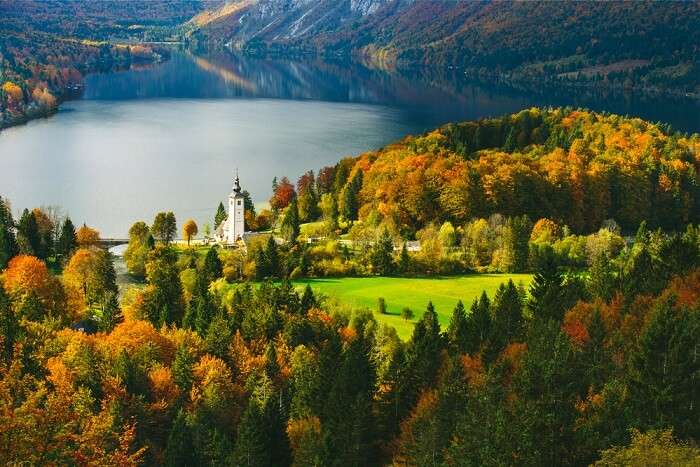 Wondering where to go this summer? Or thinking which is the best place to go when you're a nature's lover? Here is the solution to all your dilemmas! Visit the Triglav National Park. Situated in Slovenia, the Triglav National Park will give you an option to explore other places nearby and get awestruck with breathtaking scenes, amidst the mountains. You can wander and wonder at the love of nature in you.
About Triglav National Park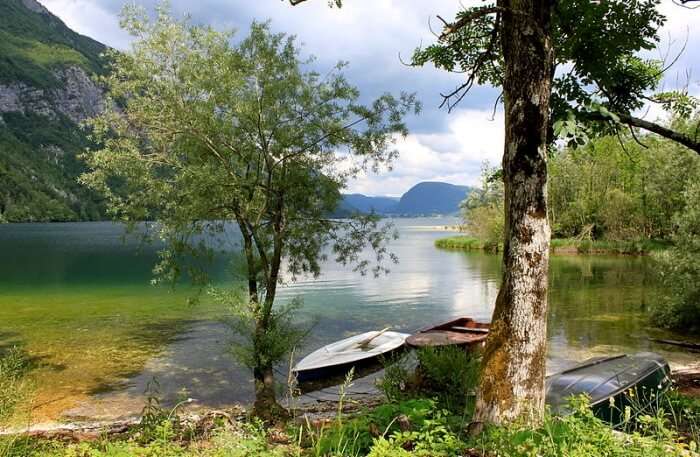 Triglav National Park is located in Slovenia, not far from the border of Italy and Austria. It is named after the mountain Triglav, which stands 2,864 meters in height along with many others covering an approximate area of 84,000 hectares.
It covers most of the part of the eastern Julian Alps. Triglav National Park is the only park present in Slovenia and is among the oldest national park in Europe. The park was maintained to protect different interests, like nature's diversity, landscape and cultural heritage in this area. This national park has strict protection policy towards its natural resources and everything else in it. The Triglav National Park area was first protected in 1924 and named Alpine Conservation Park. But later on in 1961, it was officially renamed as Triglav National Park.
Triglav National Park Entry Fee: Price of the ticket varies according to the person's age group. For adults, the cost is 9 EUR, for groups with more than 10 adults 7 EUR and for students 5 EUR. For children above 6 years 3 EUR and below 6 years 1 EUR.
Must Read: 10 Essential Slovenia Travel Tips For A Unique, Charming And Hassle-Free Holiday!
Best Time To Visit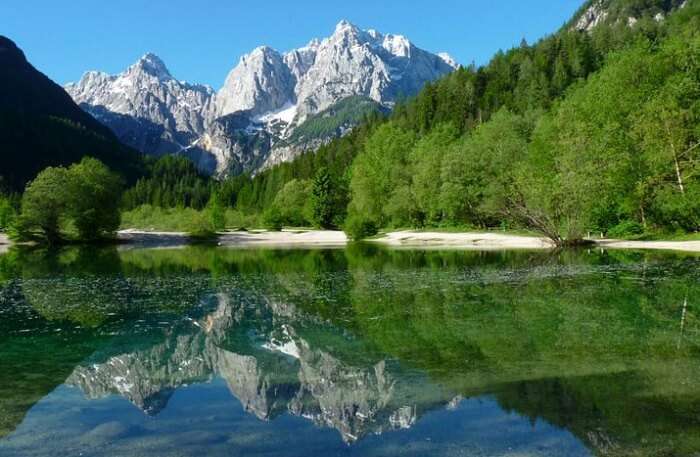 Triglav National Park's best season to visit is the summer. Due to heavy snowfall and chilly waves, the park is closed down during the cold weather and opened in summers. This year it will open in May .
Suggested Read: Slovenia National Parks: A Guide To The Only Park In The Country, Triglav National Park
Things To Do In Triglav National Park
Being one of the world's famous attractions, Triglav National Park has many facilities as well as activities for visitors who arrive here. Following are the lists of activities that you can do while you're in Triglav National Park
1. Cycling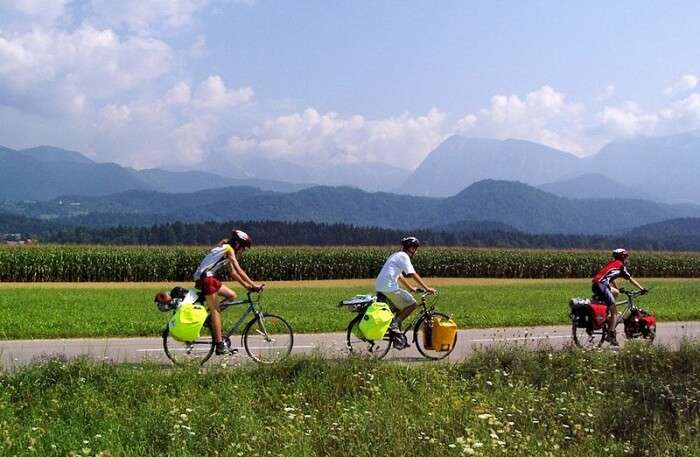 Wishing to travel through Triglav National Park? Then renting a cycle would be the best option to roam around in the nearby area. Cycle around the lake and then turn up towards the castle here which will make your visit more alluring. Riding a cycle is eco-friendly and that's why people are encouraged to use cycle while traveling here.
Suggested Read: 11 Places To Visit In Slovenia That Will Make You Awestruck With Their Beauty
2. Sightseeing
If you are visiting Triglav National Park and you don't enjoy the sights of the dreamy waterfalls, then that will make your visit a waste. Here is a list of the waterfalls that you can see in this park.
Savica Waterfall: Savica waterfall has most of the crowd because of its easy accessibility. When one enters Triglav National Park, then this waterfall is the first one to be seen.
Pericnik Waterfall: This waterfall is 52 meters high and about half an hour away from Lake Bled.
Boka Waterfall: Boka waterfall is known to be the highest waterfall in Slovenia with 106 meters' height. Though reaching there will take quite a long time but in the end, it will all be worth your visit.
Virje Waterfall: Virje waterfall is smallest among all the waterfalls but it's the most beautiful. You'll get to know of its beauty once you'll see it through your eyes.
Kozjak Waterfall: One of the hidden treasure in Slovenia, the beauty of this waterfall is so mesmerizing that one can't stop himself from standing there awestruck and thanking the nature for its wonders.
Triglav National Park also has some breathtaking valleys to keep your eyes on. With Trenta and seven other valleys, one will get to know of the charm that it holds. Everything seems to be coming straight out of some fairytale at the Triglav National Park.
Suggested Read: 10 Glamorous Festivals In Slovenia For Mirth And Merriment!
3. Hiking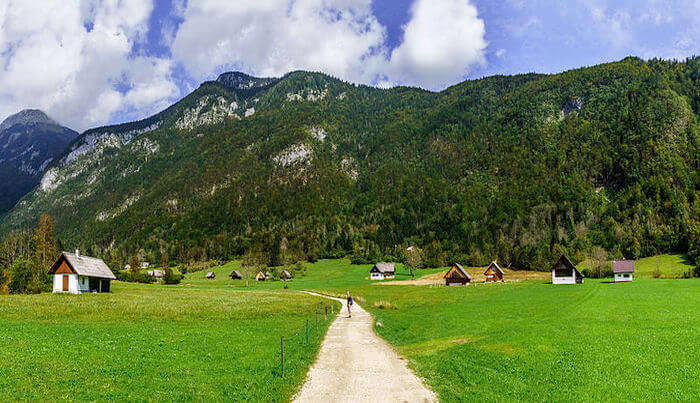 Triglav National Park is best known for hiking with many trails leading one to their adventurous dreams. Following are the names of a few trails that will make one feel good and mesmerized all at the same time.
Triglavska Bistrica Trail: The Triglavska Bistrica Trail starts from the Slovenian Alpine Museum in Mojstrana. This trail is 12 km long and will take your 3 hours approximately and it is a one-way route.
The Soca Trail: It's the first trail to be made in this park. The Soca Trail is known to be the most beautiful trail with many cultural monuments in it. This trail starts from the hut at the source of the Soca. It's a 25 km long trail and will take one 7 hours to complete.
Goreljek Bog Nature Trail: Goreljek Big Nature Trail starts from Penzion Jelka, Pokljuka. This is a circular trail which is approximately 1 km long and will take one 45 minutes to complete it.
Mostnica Gorge: This gorge is famous for its rocks which resemble an elephant's head. Mostnica Gorge starts from the Stara Fuzina, which is 5.5 km long and will take 2 hours to complete it.
Tolmin Gorge: Tolmin Gorge starts from Zatolmin which is the entrance of the village. It is a circular trail which is 4 km long and will take 90 minutes to complete it.
Planica Tamar: Planica Tamar starts from Planica Nordic Center which consists of many breathtaking views. This trail is a one-way route which is 4 km long and will take 1 hour to complete it.
To enjoy the trails make sure to visit during summers, as during the winters it'll be more cold and snowy.
Suggested Read: Paragliding In Slovenia: Head To These 5 Places To Glide In An Excited Tandem
How To Reach Triglav National Park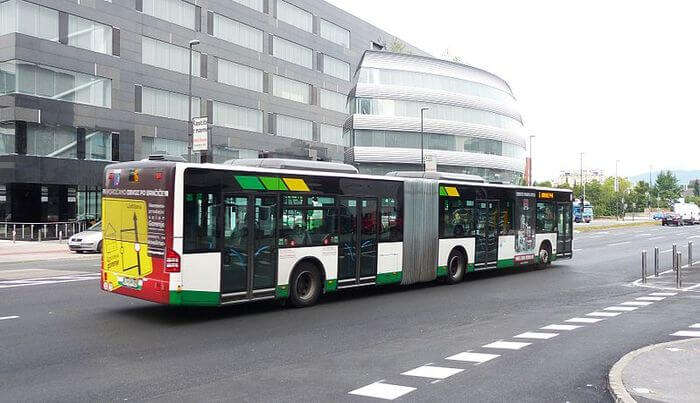 Triglav National Park, with its charm and heart-warming sights, provides one with breathtaking scenic views and memorable experiences. Now the question arises, how to reach this park? Well, one can reach here according to one's convenience and available resources. There are several ways by which one can reach the Triglav National Park.
By Car: Parking is available for cars at a walking distance from the park. But keep in mind, to not park motorbikes nearby because it is prohibited. There are many routes to reach Triglav National Park via car. One can enter here through the roads of Italy by passing through the Predel Pass or the Kluze Fortress from Bovec. Or one can choose to come here through Tolminka troughs. Another road for the entrance is through Upper Sava Valley.
By Bus: Being the oldest and prominent park, Triglav National Park has its own perks. You won't get distressed for the transportation as public buses are frequently running on the route. If you're traveling through the bus, catch the bus from Ljubljana and it will cost you around 6 EUR. Another route for the bus is from Bohinj and it will cost 5 EUR for adults and is free for children below 10 years.
By Train: Well, trains are said to be one of the best sources to reach Triglav National Park in the matter of your convenience. From Ljubljana, you can catch the train from the Lesce Railway Station and after that catch the local bus to reach your destination.
Further Read: 10 Enchanting Castles In Slovenia For An Amorous Holiday!
If you're a nature lover and appreciate whatever our mother nature has given us, then this place is for you. Every part of Triglav National Park will make you feel that you're living in a different world, where there are only wonderful sights to see. Don't believe us? Then, book a trip here and see for yourself!
---
Looking To Book An International Holiday?
Book memorable holidays on TravelTriangle with 650+ verified travel agents for 65+ domestic and international destinations.
---
Comments
comments