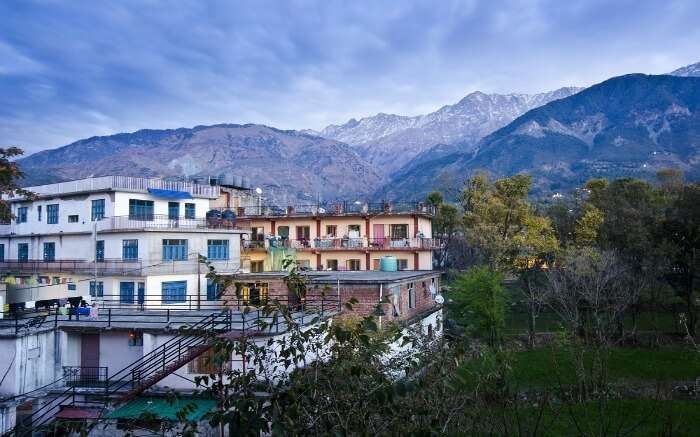 Dharamshala – the second winter capital of Himachal Pradesh is a hill-station that even Dalai Lama couldn't resist embracing. A trip to Dharamshala is all about rejuvenating amidst serene nature, finding peace in the monasteries of McLeodganj, and adventures in the hills.
If you haven't met the monks yet here's all you need to plan your much awaited getaway to Dharamshala – a popular weekend getaway in north India.
Why is Dharamshala an ideal weekend getaway?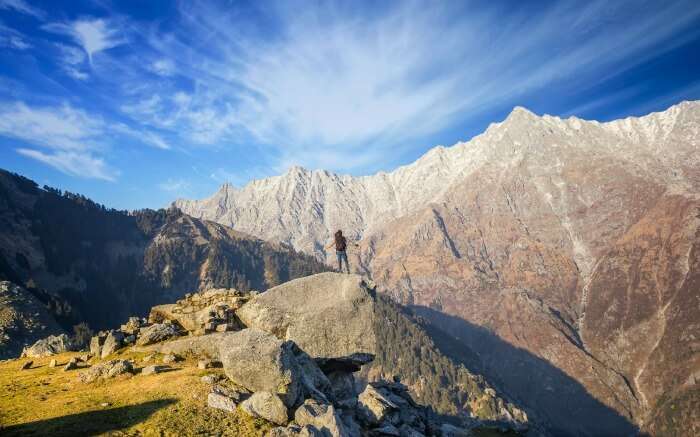 Image Source
i) Irrespective of the season, Dharamshala greets you with cold breeze and loads of greenery. The scenery look equally mesmerizing in all seasons.
ii) It is ideal for adventurers, peace seekers, nature lovers, religious tourists, honeymooning couples, group of friends, and family vacations. There is something for all kinds of visitors.
iii) Close proximity to urban cities, Chandigarh and Delhi. The distance to Dharamshala from each of these cities is 247 km and 475 km respectively.
Must Read: 6 Adventure Sports In Dharamshala That Will Calm Down Your Adrenaline Rush
Places to see on your Dharamshala getaway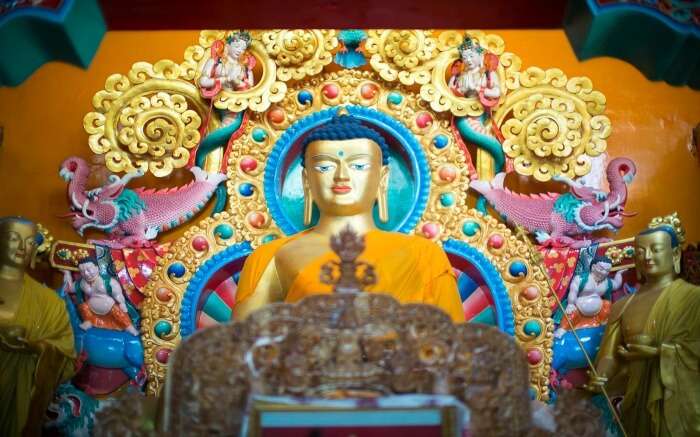 Tucked in the Kangra Valley, Dharamshala is also known as the Land of Llamas. It is this place that His Holiness The Dalai Lama calls home in India. Come here to pamper yourself to the roar of waterfalls and the silence of the monasteries at the same time.
Bhagsunag Waterfall – Cascading down to Bhagsunag Temple, the waterfall is a delight to sit beside. The stream gushes down from a height of 20 meters, and is surrounded by lush vegetation.
Namgyal Monastery – Accommodating 200 monks, Namgyal Monastery is regarded among the top attractions of Dharamshala.
St. John In The Wilderness – This famous landmark in Dharamshala, was built back in 1852. As the name suggests, the archeological neo-Gothic site is embraced by wilderness; Deodar woods, to be precise.
Depending on your interests, you can pick from the list of most popular attractions and fascinating places to visit in Dharamshala and plan your 2-day itinerary accordingly. 
Exciting things to do in Dharamshala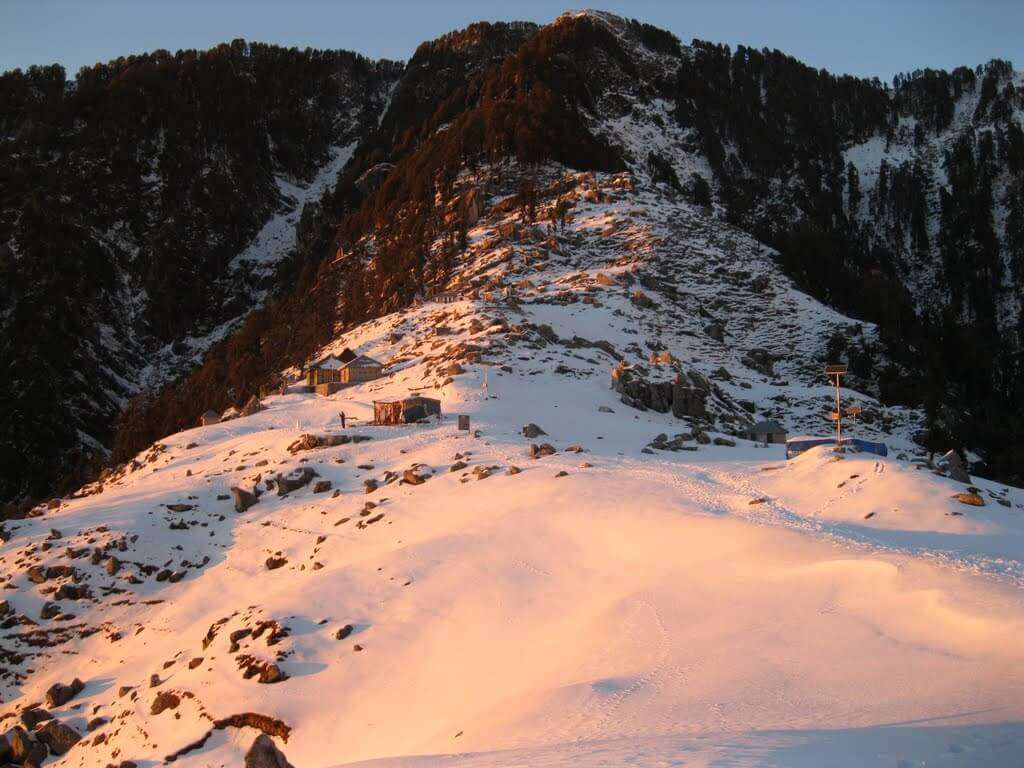 Whether you're longing for a tranquil stroll amid tea gardens or a trek to the peaks, Dharamshala is the place to be. On your trip here, you'll have will be spoilt for choice like these amazing places for a picnic in Dharamshala. Some most loved things to do on your Dharamshala trip are:
Camping – This is one of most famous activities in Dharamshala. You can go for tented accommodation or pitch you own tent. Camp Lungta, and MadTrek Adventures are perfect for stay. Triund trek and camping is recommended.
Trekking – Trails around Dharamashala are good for beginners as well as experts alike. can go trekking when here. The famous trek from Mcleodganj to Triund varies from easy to moderate difficulty level.
Yoga – Himalayas, the mist, and birds chirping paint an idyllic aura for Yoga and meditation. Guerrilla Yoga, and Kundalini Yoga are ideal places for Yoga and meditation in Dharamshala.
If you are an adventure enthusiast, do not miss paragliding in Bir Billing for anything. Bir is located 65 km away from Dharamshala. You can easily plan a day trip as it takes just 2 hours one side. 
Must Read: 21 Amazing Things To Do In Mcleodganj For A Super-Cool Retreat
Where to stay in Dharamshala?

Most of the accommodations in Dharamshala are fairly priced, covering most of the basic amenities. This makes Dharamshala one of the weekend getaways from Delhi that one can visit under 5k. You can find a decent room in a price range of INR 1,000 to INR 3,000 in this town. There aren't just hotels and resorts; but also guesthouses and homestays where you can opt to stay during your trip to Dharamshala. This place is also surrounded by some of the best honeymoon places in Himachal.
Best places to stay in Dharamshala: Mcleodganj Homestay, Surbhi Guesthouse, Turkish Cottage Mcleodganj, and Pink House
What to eat and where?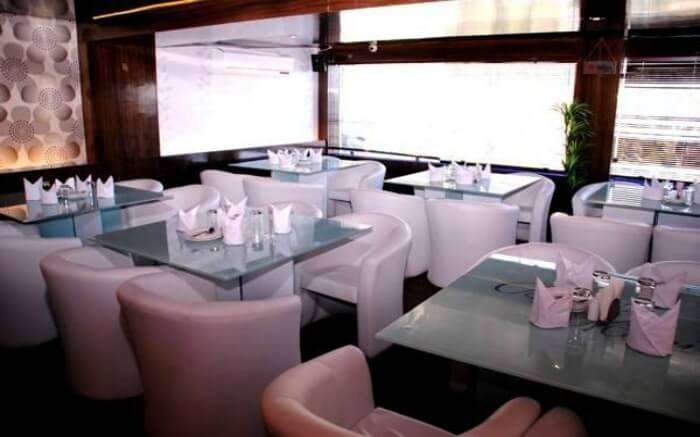 When it comes to what to eat in Dharamshala, there are many good options. From famous hill station cafes to fancy restaurants, everything is fairly priced. The eateries don't compromise on either taste or health; the Himalayan views are a cherry on the cake!
For those open to some exploration and experimentation, there's authentic Pahadi cuisine, which you can request your host to cook if you're staying in a homestay. Also, Tibetan is a popular cuisine here and it's easily available too. Thukpa and momos are loved by the travelers and locals both. These places are also known for shopping in Dharamshala.
However, a number pan Indian and international cuisines are easy to find. You can savour Italian, South Indian, North Indian and Continental dishes in almost all restaurants in Dharamshala.
Best places to eat in Dharamshala: Black Magic, Namgyal Cafe, Shiva Cafe, and Illiterati are some of the best eateries in Dharamshala.
Suggested Read: 20 Heartwarming Hill Station Cafes In India For The Nomad In You
How to reach Dharamshala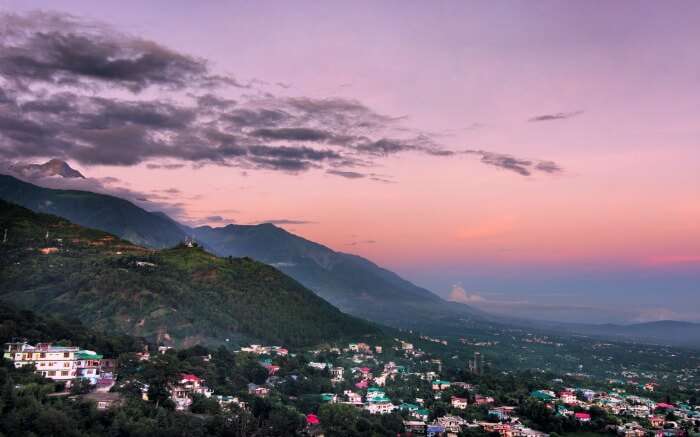 Dharamshala is one of the best hill stations in India, where people come from across the globe. Here's how you can reach here:
By road: This is the best way to reach Dharamshala. You can drive yourself, book a cab, or take a bus. Buses are available from both Delhi and Chandigarh; Volvo buses are much more comfortable, though slightly expensive than state-run buses. If you're driving, please note that the route can be craggy and steep.
By air: The nearest airport from Dharamshala is located in Gaggal. It is directly connected to Delhi. Distance between the airport and Dharamshala is 15 km. From here, you can board a bus or hire a cab to reach your destination.
By train: Pathankot is the nearest major railhead from Dharamshala, at a distance of 85 km. Buses and taxis are easily available outside the station. And there are trains plying from cities like Delhi.
Suggested Read: 11 Most Convincing Reasons To Visit Mcleodganj This Summer
Best time to visit Dharamshala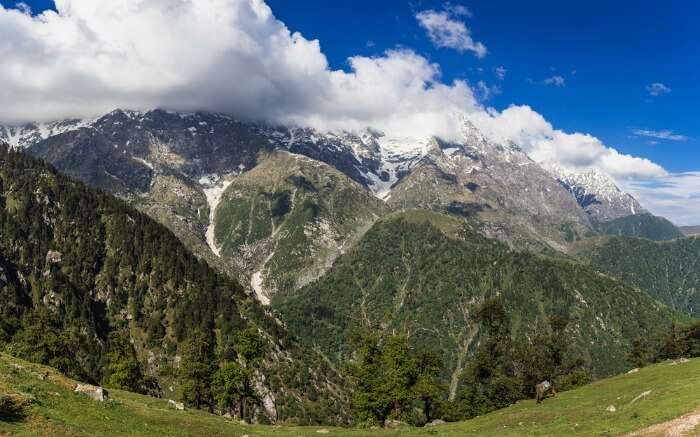 Thanks to its pleasurable weather around the year, you can think of a trip to Dharamshala just when you please. Anytime is the best time to visit Dharamshala!
Summer (April – July mid): With an average temperature ranging between 20 to 35 degrees, Dharamshala is the perfect summer escape from the scorching heat of Delhi and Haryana.
Monsoon (July end – September): Monsoon brings showers of moderate to sometimes-heavy rains, eventually turning the valley greener and more charming. A little chilly weather, with hints of mist around, makes it a treat.
Winter (October – March): A trip to Dharamshala in winter means chilly weather with the temperature dropping to -1 degrees Celsius. One can experience snowfall in the Upper Dharamsala area as well as Triund.
Average per day budget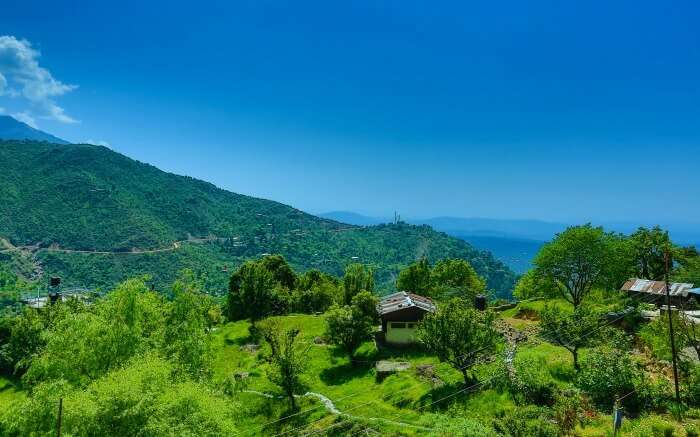 Average per day budget for a Dharamshala trip can range between INR 1,000 and INR 3,500, including accommodation and meals. This can decrease or increase from person to person, depending on their lifestyle. You can also book some of the best holiday resorts in Himachal for more luxurious stays with majestic views.
Ideal duration of a trip to Dharamshala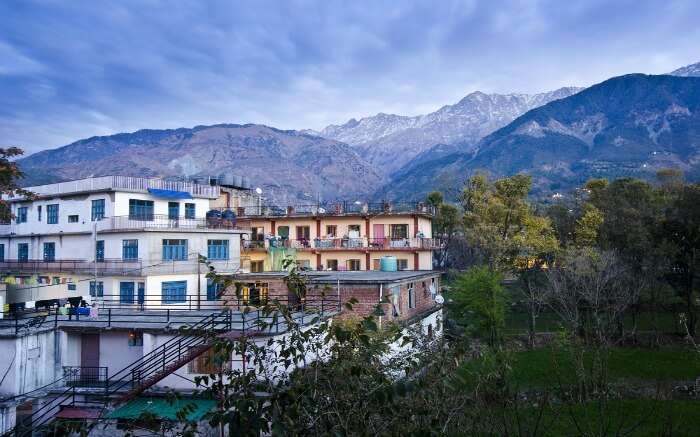 Ideally your Dharamshala trip plan should be for 2 to 3 days. In this duration, you will be able to visit all major attractions of Dharamshala, and this is the reason this hill station is among the top listed weekend destinations from Delhi.
Further Read: 18 Secret Places In Himachal Tourists Haven't Discovered Yet
If you visit other top places near Dharamshala, then the stay duration can extend up to 4-5 days too.
If you are looking for an experience that will take you to the mountain and back, infused with cultural and culinary experience, the vast highlands of Dharamshala is the way to go. The summer is already here, what are you waiting for? Plan your weekend getaway to Dharamshala and rejuvenate!
For our editorial codes of conduct and copyright disclaimer, please click here. 
Frequently Asked Questions About Trip To Dharamshala
Which is the most beautiful place in Himachal Pradesh?
Some of the most beautiful places to visit in Himachal Pradesh are Kullu-Manali, Kasauli, Malana, Dalhousie, Bir Billing, Dharamshala and Kasauli.
What is the famous food in Himachal Pradesh?
Some of the famous and traditional foods in Himachal Pradesh are Chana Madra, Tudkiya Bhat, Bhey, Chha Gosht, Aktori and Kullu Trout Fish. You can also indulge in seasonal cooking that is available in most traditional homestays.
What are the best places to visit in Himachal Pradesh in the summer season?
Summer is considered to be one of the best times to visit Himachal Pradesh and some of the best places to visit during this time are Tabo, Kaza, Kinnaur, and Mashobra.
Which is the coolest place in Himachal Pradesh?
The coldest place in Himachal Pradesh is Spiti Valley which is located at a height of 12,500 feet above sea level and gets 250 days of sunshine in the entire year.
Which fruit is famous in Himachal Pradesh?
The most famous fruit in Himachal Pradesh is Apples which are exported all over India and around the world. There are many apple orchards in Himachal Pradesh and one of the famous places to find apple is Kotgarh.
People Also Read:
Manali In Winter 3 Days In Manali Weekend Trip To Kasol With Friends