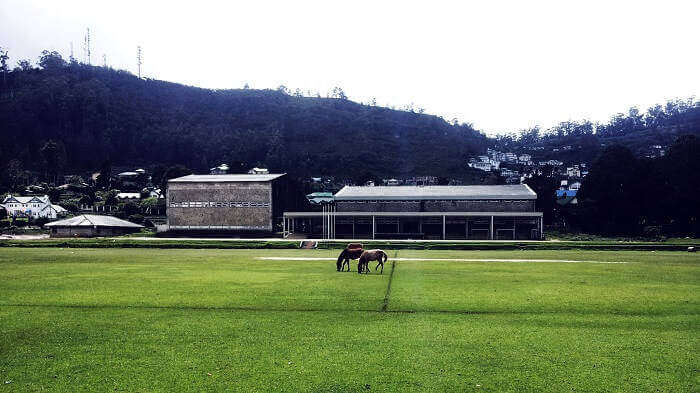 Cover Image Credit: Wikimedia
Once a favourite escape to the inebriate British and Scottish colonists of the tea industry in Sri Lanka, Nuwara Eliya still holds that old-world charm, making it one of the must-visit places on a traveler's bucket list. Also renowned as 'Little England', the colonial-era bungalows, red telephone boxes, and lush green tea plantations of this majestic city in the island nation has the influence of British Raj attached to it until now. If rich history, serenity, and natural beauty are what your soul is yearning for, then take this exquisite guide along on a trip to Nuwara Eliya, and let it add a bouquet of memories to your life.
Encompassing a surfeit of astonishing places to visit and exhilarating activities to partake in, the 'Mini London' nestled in the heart of Sri Lanka has no dearth of offerings to beguile you. To have an enticing experience in Nuwara Eliya, all you need to pack your bags, and get going!
Best Time To Visit Nuwara Eliya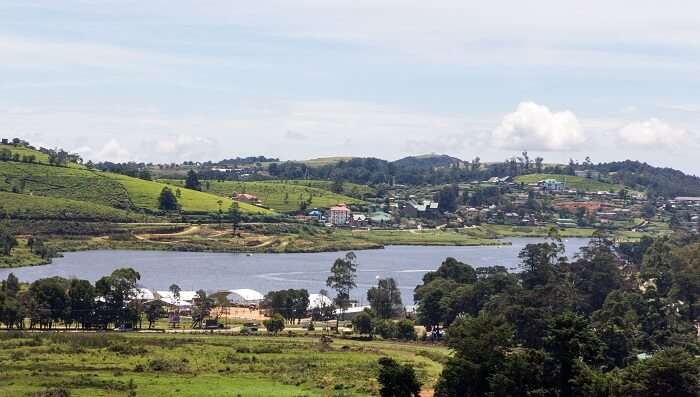 With the average temperature hovering around 15 degree celsius, the Little England experiences cold weather throughout the year. Thus, if you are wondering what can be the best time to get on a trip to Nuwara Eliya, Sri Lanka, then the duration of February to May is when you must pack your bags. With little showers at this time, the picturesque city allows you to indulge in exploration and adventure, making it even more beguiling. April is the peak month for tourism, as the city observes the Sinhalese New Year with horse races, flower shows, and car races this month, making the hotel prices hit the roof.
3 Best Places To Visit In Nuwara Eliya
Replete with craggy hills, verdant tea plantations, hedgerows, colonial bungalows, and tudor-style hotels, Nuwara Eliya is crammed with some of the best places you need to visit. Here's a little list of our recommendations.
1. Hakgala Gardens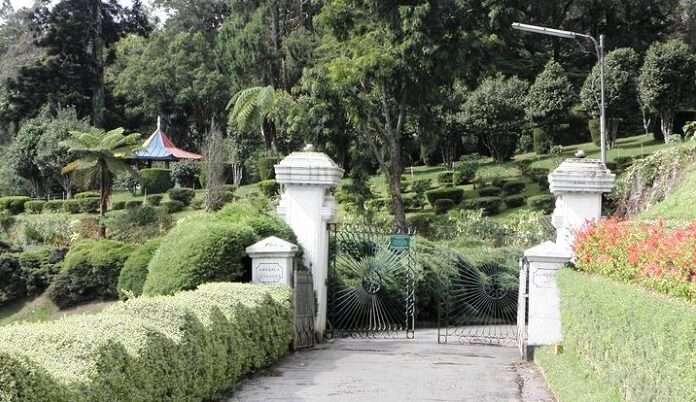 Sprawling over an area of about 28 acres, the Hakgala Botanical Gardens is a sight to behold for every nature lover. Housing an array of plants, including roses, orchids, and others along with some exotic animal species, this place offers you a unique chance to be engulfed by nature like never before. Nestled just about 5 km away from Nuwara Eliya, en route to the Badulla Highway, you must visit the manicured botanical gardens for an enchanting experience. Being one of the most popular places to explore on a city tour, the Hakgala Gardens manages to draw more than 1,00000 visitors every year.
Timings: 8 AM to 5:30 PM
Entry Fee: LKR 1500 for adults & LKR 750 for children
Must Read: 22 Places To Visit In Nuwara Eliya In 2022: The Mini London Of Sri Lanka!
2. Lover's Leap Falls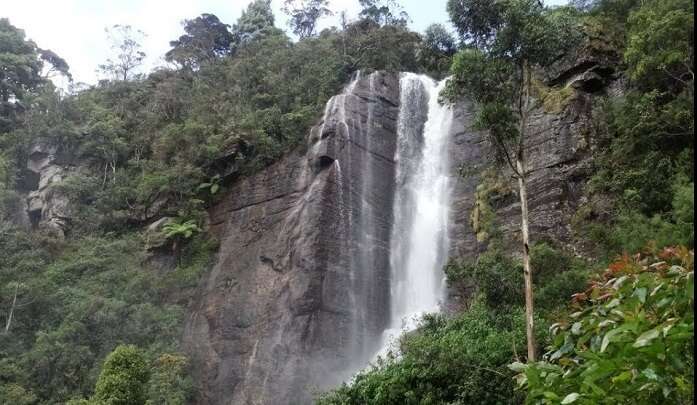 We are sure you love the idea of beginning your day on a soothing note. And that's why, the alluring Lover's Leap should find a mention on the list of your full day trip to Nuwara Eliya. Located just about 3.5 km away from downtown, the enchanting view of the cascading waters in the midst of lush tea plantation hills traverses you to an altogether a different world. What's more? If the idea of unfolding the fascinating history attached to it excites you, then you cannot afford to give it a miss.
Timings: Open 24 hours
Entry Fee: No entry fee
Suggested Read: 10 Finger Lickin' Good Restaurants In Nuwara Eliya That Recreates London
3. Victoria Park

Nestled in the heart of Nuwara Eliya, Victoria Park stretches to about 27 acres of area full of colorful flowers and exotic trees. Housing serene ponds, a few rides, children's play area, and some scenic spots, this place is famed for being the best-maintained park in the entire southern Asia. A perfect place to enjoy a morning stroll, Victoria Park is a heaven away from the hustling city, where you can also grab a chance to spot some exotic birds like: the Indian Blue Robin, Pied Thrush, the Kashmir Flycatcher, etc.
Timings: Weekends: 9 AM to 6 PM, Weekdays: 7 AM to 6 PM
Entry Fee: LKR 300
Suggested Read: 11 Nuwara Eliya Waterfalls That Will Transport You Into A Dreamland
3 Best Things To Do In Nuwara Eliya
Also referred to as 'the Heart of the British Ceylon', the spectacular highlands of Sri Lanka founded by the Britishers, is definitely one of the best destinations to explore in the world. Settled in the midst of lush mountains, Nuwara Eliya offers a memorable experience with a lot of activities to indulge in.
1. Boat Ride On Gregory Lake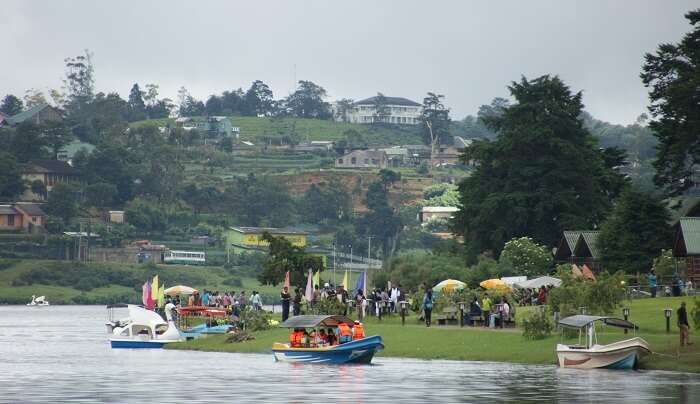 In the heart of Nuwara Eliya is a local reservoir, called Gregory Lake, where you can relish solitary like ever before! Once used for watersports by British Raj, this large open body of water is a perfect place to delve into the beauty of nature while having an exhilarating experience. With some amazing recreational activities, such as boating, jet-skiing, horse riding, fishing, and a relaxing picnic amidst spectacular environs, this can be your best bet for an unforgettable trip to Nuwara Eliya.
Timings: 8 AM to 9 PM
Entry Fee: LKR 20
Suggested Read: Go Shopping In Nuwara Eliya: 7 Spots You Must Explore
2. Hike Along The Horton Plains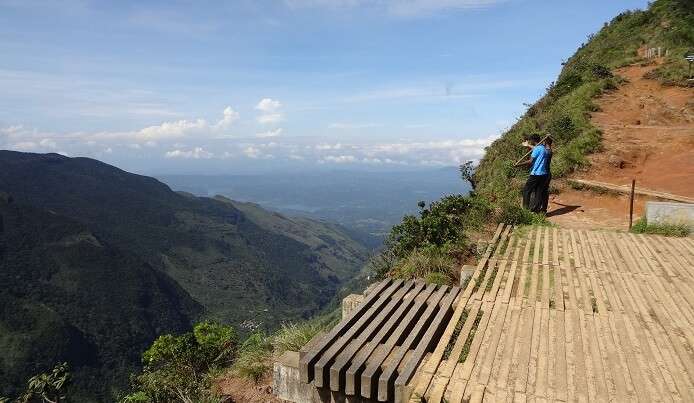 Does the adventure-junkie in you dare to stand beside the edge of the World's End? If yes, then brace yourself, and drive about 30 km from Nuwara Eliya towards the Horton Plains National Park. Also designated as a UNESCO World Heritage site, comprising 3 major rivers and several peaks, the routes heading towards the park are not easy to hop on. Home to Sri Lankan Sambar Deers, endangered species of birds, and numerous woody plants, this area is dotted with never-ending grasslands, making it quite a dramatic spot to visit on a trip to Nuwara Eliya.
Timings: 6 AM to 6 PM
Entry Fee: No entry fee
Suggested Read: Nightlife In Nuwara Eliya: 5 Best Places For Partying All Night With The Locals!
3. Stroll Around The City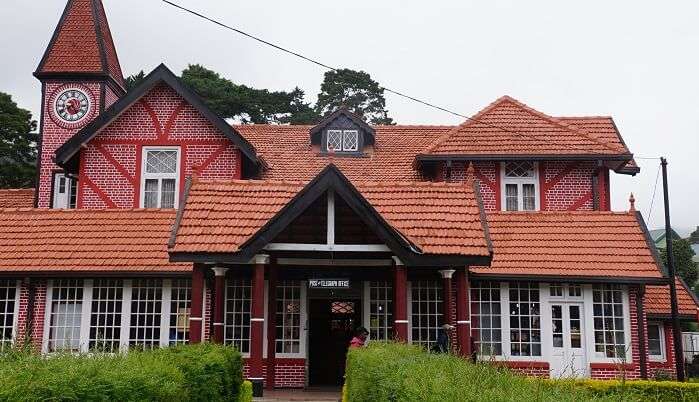 If you are someone who takes delight in small things, then taking a stroll around the City of Lights can be one of the most amusing experiences for you. Choose to rent a bicycle, and paddle around the streets to explore the tea plantations, strawberry farm, British architecture, such as Nuwara Eliya Post Office and other antique buildings that let you delve into the rich history of this place even more.
Timings: 8 AM to 5 PM (for Nuwara Eliya Post Office)
Other Attractions: Hill Club, Ambewela Farm, St. Clair's Falls, The Golf Club, etc.
Suggested Read: 12 Alluring Things To Do In Nuwara Eliya, The Heart Of Sri Lanka In 2022!
How To Reach Nuwara Eliya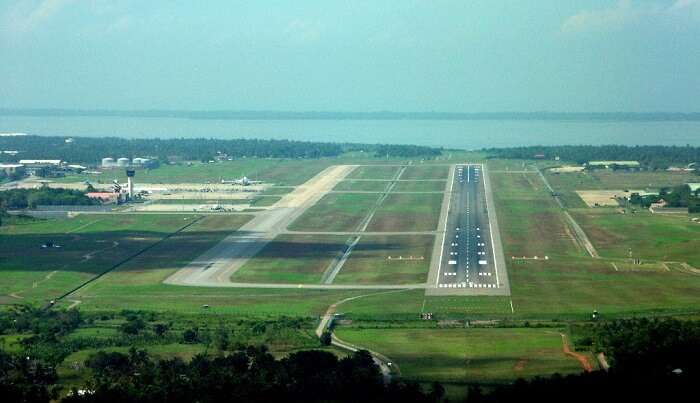 By Air: As Nuwara Eliya does not have its own airport, you need to board a flight to Colombo. With the Colombo International Airport located at about 167 km away from the city, it is quite easy to reach the town from the other parts of the world. You can board flights, such as Air India, Etihad Airways, Cathay Pacific, etc. from Delhi, Chennai, Abu Dhabi, Hong Kong, and other places to get to Nuwara Eliya.
By Rail: The best way to reach Nuwara Eliya is via railways. You can get on a train from Kandy and Ella, and travel to this amazing town while cherishing some scenic views en route. The closest railway station to the city is Nanu Oya. Once you reach the station, you can hire a tuk-tuk or taxi to reach downtown Nuwara Eliya. The train journey from Kandy takes about 4 hours, while from Ella it takes about 2.5 hours to reach there.
By Road: If you want to opt for roadways, then there are several buses that operate from Ella, Kandy, and Colombo to Nuwara Eliya. The journey from Colombo may take around 6 hours, while the one started from Ella or Kandy can take approximate of two and a half hours.
Further Read: 10 Best Nuwara Eliya Hotels For An Ultimate Luxurious Holiday
Do you love to soak up the bygone heritage? Then, pack your bags to get on a trip to Nuwara Eliya, and grab the ultimate opportunity to feast your eyes on its alluring surroundings decked with colonial bungalows, tudor-style hotels, red telephone boxes, and quaint buildings. Apart from the aforementioned list of exquisite places to visit and things to do, there is a lot to delve into the quaint town of Sri Lanka.
People Also Read
Anchor Text Anchor Text Anchor Text
---
Looking To Book An International Holiday?
Book memorable holidays on TravelTriangle with 650+ verified travel agents for 65+ domestic and international destinations.
---