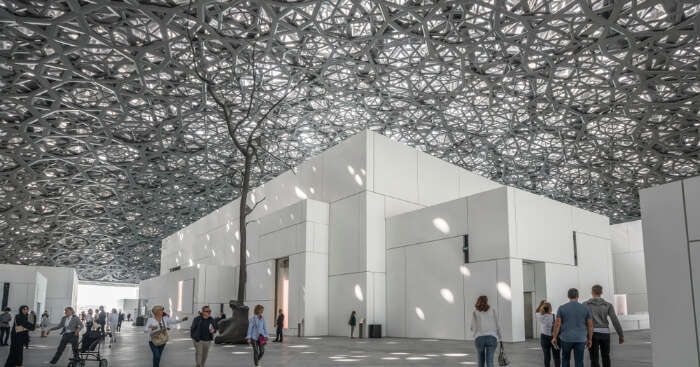 Abu Dhabi is gaining all the attention with two of its landmark attractions securing a space on the Time magazine's list of 100 'World's Greatest Places 2018'. The Louvre Abu Dhabi and Warner Bros World Abu Dhabi located in the capital city are the only attractions in the UAE to be on the list.
Commenting on Abu Dhabi's touristic ambitions, Time magazine says, "great fortunes like to associate themselves with great art" referring to the museum, Louvre Abu Dhabi. And talking about Warner Bros World Abu Dhabi, the magazine added, the theme park is "designed to entertain all kinds of Warner Bros fans and also offer them a reprieve from the region's often sweltering heat". This proves that these two attractions truly deserve to be in the World's Greatest Places 2018 list.
In the past few months, UAE has launched several campaigns targeting to increase the number visitors to the country. This includes Cabinet's decision to give visa-on-arrival to the international travelers. Abu Dhabi has also been putting in commendable efforts, leading the world in tourism. It has successfully diversified its oil-rich economy and invested in creating some of the remarkable landmarks that have gone famous over the years. The city's inclusion on the list has not-only boosted its tourism-spirit but has also won appreciation from the tourism experts globally.
"We have The Louvre, Warner Bros, Yas Island and a tremendous amount of investment, effort and the right brands entering the market," said Gaurav Sinha, a tourism expert based in Dubai.
"It's one thing to invest money in creating landmarks, per se, and another thing to bring trusted operators like Warner Bros into markets like Abu Dhabi. The long-term strategy is yielding dividends."

While Dubai pose a positive competition, bringing in 87 % of all arrivals in UAE, Abu Dhabi is showing visible progress in terms of yearly bookings. The capital is seeing a 15 % hike in bookings year on year, compared to Dubai's 6% increase from 2016 to 2017. With all these endeavors, Abu Dhabi is opening doors to new tourism prospects for itself and UAE as a whole.
Meanwhile, the other destinations in the Gulf region that got on the list are, King Abdulaziz Centre for World Culture in Saudi Arabia, the Al Qarawiyyin Library in Fez, Morocco, and Cairo's Marriott Mena House hotel.
In compiling the World's Greatest Places 2018 list, Time had welcomed nominations across a variety of categories, such as, museums, parks, bars, restaurants, theme parks, cruises and hotels, from their editors and correspondents around the world as well as dozens of industry experts. "The result is a list as diverse as the world it reflects, with 100 entries spanning 6 continents and 48 countries," says Time.
So, concluding with the same question we started with, "Have you visited the two of the '100 World's Greatest Places 2018' in Abu Dhabi Yet?" If not, plan a trip to Abu Dhabi now!
Further Read: Guess Which European City Gets The Title Of World's Most Liveable City This Year
---
Looking To Book An International Holiday?
Book memorable holidays on TravelTriangle with 650+ verified travel agents for 65+ domestic and international destinations.
---