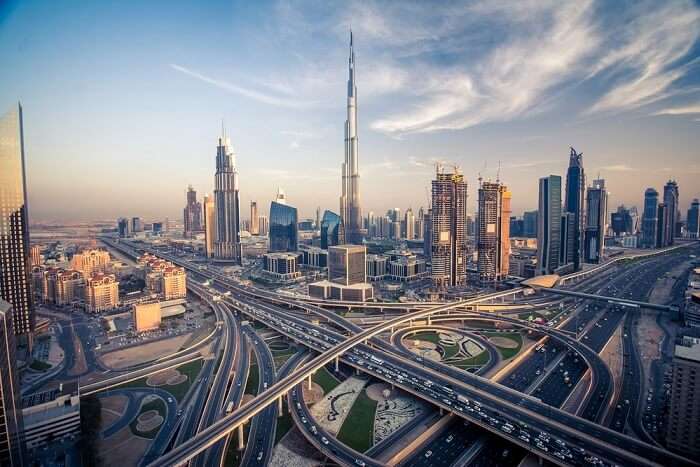 When you think of Dubai, what comes to your mind immediately? Is it tall skyscrapers, enormous shopping malls and breathtaking resorts? Yes, Dubai is about all that opulent luxury, but there's a less-explored, more offbeat side to the city that many don't experience. Are you ready to check out unusual places to visit in Dubai? Let's go!
10 Best Unusual Places To Visit In Dubai
This summer holiday, why not turn away from the glitz and glamour of Dubai and connect with the locals? Go ahead and discover these 10 unusual places to visit in Dubai where the glamorous city's heart quietly beats:
Bur Dubai
Al Bastakiya Quarters
Al Nassma
Dubai Coffee Museum
ArtBus Tour
Desert Gate Tour
Alserkal Avenue
Meydan Stables
Dubai Pearl Museum
Design District
1. Bur Dubai

Bur Dubai, a historical centre located on Dubai Creek's western side, is one of the oldest unusual places to visit in Dubai. Get a good look at the traditional, old houses around you, constructed at least a century ago. The Dubai Museum, located in the old Al Fahidi Fort is a must-visit, if you want to understand the history of UAE better. Bur Dubai is famous for its spice souks. You'll find many stalls selling high-quality cinnamon, nutmeg, cloves, dried lavender, mace, saffron and other spices here.
Must Read: 10 Most Fabulous Places To Enjoy Desert Camping In Dubai
2. Al Bastakiya Quarters

After enjoying the delights of Bur Dubai, visit the Al Bastakiya Quarters, more commonly known as the Al Fahidi Historical Neighbourhood. You'll enjoy walking the narrow cobbled lanes and admiring the old houses made out of black coral. Al Bastakiya has many galleries, cafes and shops selling souvenirs. Enjoy a local Arabian breakfast tray and start a conversation with one of the storekeepers. You'll learn a lot about the life behind the glam in Dubai this way during your Dubai holidays.
3. Al Nassma

The UAE makes various things out of camel milk, such as cheese, butter, chocolates, cakes and so on. Not all tourists know about chocolates made out of camel milk and you won't find them sold at the malls anyway. They are more of a gourmet offering, available only at select places. The vanilla flavour is close to the actual flavour of the milk. Pick up some chocolates for your friends back home from any Al Nassma kiosk at the Dubai Mall, Burj Al Arab, Burj Khalifa or Souk Madinat Jumeirah.
Suggested Read: Aquaventure Waterpark: Slides, Rides, Sharks, Sting Rays And More In Dubai
4. Dubai Coffee Museum

While you're at the Al Fahidi Historical Neighbourhood, make sure to visit the Dubai Coffee Museum. The coffee museum offers a relaxing atmosphere and plenty of tables and seats for you to sit down and enjoy your coffee. Plenty of coffee experts are available at the museum to explain the methods they use to make the coffee. Make sure to pick up some coffee and accessories such as latte art pens and milk jugs for your friends.
5. ArtBus Tour

Image Source
Want to visit Dubai's offbeat art galleries, art centres and art studios? You don't have to know where all the studios are or hire a guide. All you have to do is climb on the ArtBus – Dubai's new shuttle bus that will take you on a tour of Dubai's art centres. It's the best news for art enthusiasts who want to get an idea of the art scene in Dubai. Enjoy visiting art centres, alternative art spaces, art fairs and art museums. The Dubai ArtBus itself is a work of art, with various artists taking up commissions to showcase their artwork on the bus
Suggested Read: Bastakia In Old Dubai: The Ancient Foundation Of The Dazzling City Of Dizzying Heights
6. Desert Gate Tour

Visitors to Dubai can now enjoy an offbeat Desert Gate Tour which takes them to various parts of the city to understand Dubai's growth. A qualified Emirati tour guide will take you to various places such as the old souks, Dubai Creek, Dubai's first schools and more. There's also a tour of Heritage Village where you can learn about Dubai's pearl-diving history.
7. Alserkal Avenue

In the vibrant financial district of Dubai, Al Quoz is an artsy place. it symbolises Dubai's underground art scene to the T. You'll find over 35 galleries at the Alserkal Avenue. There are plenty of creative spaces here that are used by artists to work at their masterpieces. Visit The Fridge to enjoy some genuine Cuban jazz. Want some organic coffee and pastries? Head to the Appetite Café, whose walls are plastered with vibrant art.
Suggested Read: Dubai New Year 2022: The Guide For A Celebration You Will Never Forget!
8. Meydan Stables

Meydan, Dubai's horse-racing club, organizes regular racing events. There's also a horse racing season from November 1 to April, 12 every year. The horse-racing season includes nine domestic racing events. Each race meeting comes with fantastic entertainment and dining and packages. You can also go behind the scenes and greet the horses at Meydan's stables before the race. Watch the horses train on the track after breakfast and then head to the stables to watch them take a dip in the dedicated horse pool.
9. Dubai Pearl Museum

The Dubai Pearl Museum is located on the 15th floor of Emirates NBD headquarters. Here you'll find one of the world's most valuable collections of Arabian pearls. These pearls are owned by the National Bank's first chairman, Sultan Al Qwais. He in turn inherited the pearls from his father who was a wealthy pearl merchant. The millions of pearls at the museum will give you an idea of the UAE's wealth owing to the pearl diving history before oil was discovered.
Suggested Read: Everything You Need To Know About The Transcendental Dubai Opera
10. Design District

Dubai's Design District D3 won't be on any traveller's radar, not unless they are willing to explore Dubai's art. The Dubai Design District is a multi-purpose space built to be used by people coming from different spheres of design and art. It's a huge space with many galleries, cool cafes and exhibitions of street art. Make sure to visit this district to explore the art scene in Dubai and pick up some pieces on the cheap. Who knows how much your piece will be valued at later on? So go ahead – book your Dubai visa online today and get ready to explore Dubai's offbeat places.
Further Read: Dubai Marina: The One Stop Destination For Breathtaking Panorama And Unparalleled Luxury
As you can see, there are a lot of unusual places to visit in Dubai other than pay homage to the glamorous architecture. Dubai has many undiscovered offbeat areas for art, science, gourmet treats and romance. Why not explore what this vibrant city offers that not many know about? Take a trip to Dubai and check off as many of these places as you can. Let us know about your experience in the comments section!
Priya is an avid travel writer who specializes in adventurous travel writing. Her blogs give deep insight into various tourist places and act as a perfect travel guide for someone who is traveling to a place for the first time.