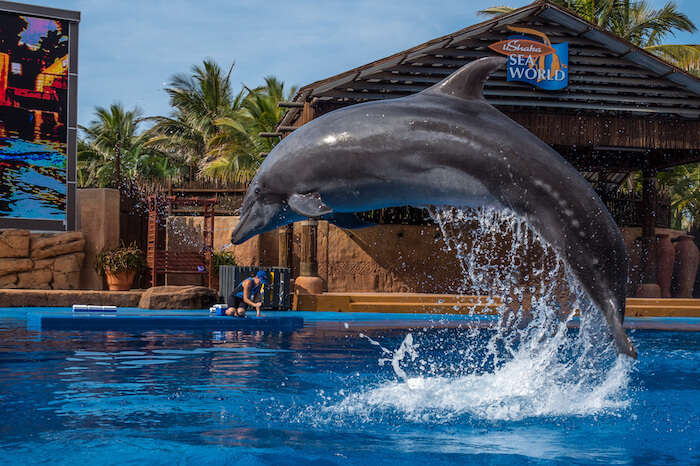 uShaka Marine World in Durban, South Africa is a theme park which was opened in the year 2004. They have 8 different sections in this theme park which includes something for all the age groups. This park is located between a harbor and the beachfront. This marine park is a really popular tourist destination in Durban and most of the tourists make a note to visit this gigantic water world. This water park is considered as Africa's largest marine theme park.
About uShaka Marine World
uShaka Marine World acquires about 15 hectares of land. This place is perfect for a family getaway and is known as the world's fifth largest aquarium by the volume of water. This water park has 8 sections that include – Ushaka sea world, Ushaka Wet 'n Wild, Ushaka sea animals encounters island, Ushaka Beach, Ushaka village walk, Ushaka kids' world, Ushaka dangerous creatures and Chimp & Zee.
How To Reach uShaka Marine World
If you wish to visit the uShaka Marine World, travel south on the Point Road from the Victoria Embankment or the West Street, from Central Durban. Continue on the same until you reach Southampton and turn left, further turning again into the Albert Terrace. This place is located at the end of the Durban Golden Mile.
Must Read: Your Guide To The Picturesque Cango Caves In South Africa
Accomodations Near uShaka Marine World
These are some places in Durban which are near the uShaka Marine World and you can take a pick according to your preferences. Take a look the 3 top accomodations:
1. Suncoast Towers
This hotel provides luxury accommodation and provides great service. This is a popular landmark and is just 5 minutes away from the serene beach. This hotel is quite near to the uShaka Marine World and has amazing services and offers for their customers. This place has a pretty good fitness center and also a great pool where you can let some steam off. They also have a great bar and a personal casino.
Suggested Read: A Guide To Isimangaliso Wetland Park: One Of South Africa's Biggest Reserves
2. Beverly Hills
This hotel is an award winning hotel as it has the best services and gracious hospitality. They have about 86 rooms all of which have private balconies that offer wonderful views of the ocean beyond. This place is known for its services to royalty and celebrities and provides luxurious accommodation. They have a private DVD collection from which the customers can choose any movie and they also have a great massage center.
3. Cabana Beach Resort
This resort is by the north side of Durban and is loved by many families. This peaceful resort is styled with a theme of a Mediterranean village. This place has a peace and warmth attached to it and that is the best quality of this resort. Many customers are satisfied by their services and love the staff as they are quiet helpful and friendly.
Suggested Read: 15 Best South African Cuisines That'll Add A Variety Of Delicious Flavors To Your Next Holiday
Things To Do In uShaka Marine World
From riding on the body tornado, mamba tunnel slide, super tube and torpedo to visiting the Indian ocean, here are some of the things you can do in uShaka Marine World:
1. uShaka Marine World: Wet 'n Wild
If you love water parks, then you will fall in love with uShaka Marine World. This place has a really amazing water park whose name is Wet n Wild. This water park is really huge and filled with many exciting rides that will be a really thrilling experience for you. The body tornado, mamba tunnel slide, super tube and torpedo are some of the slides in this water park which you will fall in love with.
Suggested Read: 15 Best Festivals In South Africa For Witnessing The True Colors Of The Country
2. uShaka Marine World: Dangerous Creatures
This place is for all the animal lovers. This place has some really exotic animals that will make your skin crawl with fear. These animals include some very rare reptiles and animals that you only notice in some dense vegetation. This place is for all the adventure junkies that need such a thrilling adventure. Make sure to book a ticket in advance.
3. Durban Yacht Mole: Take A Tour
This is a major landmark of South Africa and is known as the Margaret Mncadi Avenue. This landmark is a harbor and filled with apartments and buildings on one side and water on the other. Some of the residents still call this place the Esplanade. This harbor is filled with hotels and restaurants and the view at night at this harbor is splendid.
Suggested Read: Addo Elephant National Park: A Guide To The Most Mesmerizing Wildlife Reserve In South Africa
4. Indian Ocean: Stop By
The name open ocean is given to this aquarium because when you stand in front of the gigantic window which is 8m long then you will actually feel like you're standing outside an ocean. You can take a look at the enormous fishes that swim through this wonderful window and you can also spot some known fishes like tuna and Dorado.
5. Coral Gardens: Explore
This stunning coral reef which has all the wonderful colors added to this beautiful reef is present at the majestic marine world. This reef is recreated here and is included in the spectacular and diverse ecosystem which is also recreated here. Also, if you love the African penguins and need a chance to take a look at this wonderful specie, then marine world is the place for you.
Further Read: 13 Best Waterfalls In South Africa For A Charming Yet Thrilling Holiday
Visit South Africa and head to uShaka Marine World to experience the absolute pleasure of riding water rides. You'll have a gala time riding these amusement rides. Make sure to take your family and friends along and show them a good time.