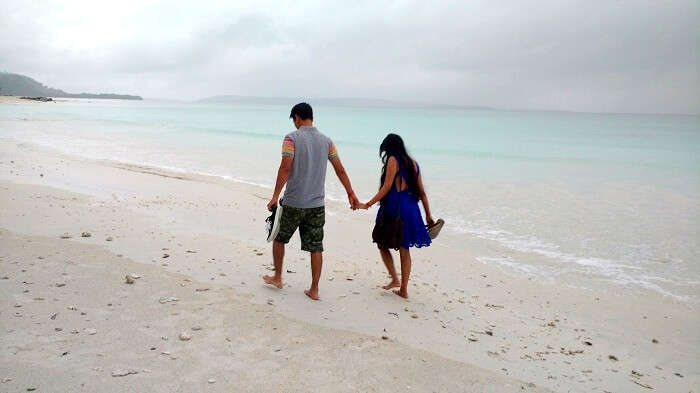 Read the magical honeymoon trip account of Utsav and his wife. They visited the scenic and picturesque islands in Andaman and it left them completely spellbound. He booked their honeymoon package via TravelTriangle for INR 30,000 and it included their transfers, sightseeing, accommodation, and meals.
Andaman had become a popular destination in the past few years and was on my wish list for a while. However, when the prospect of my honeymoon destination popped up, I felt it was the perfect time for my wife and I to visit the beautiful set of islands, set afar from mainland India.
I was looking for travel agencies that could provide holiday packageswhen one of my friends recommended me to try booking with TravelTriangle. I really liked how they allowed us to chose our own package and customize it as per our needs. Once I had selected a suitable package, I was contacted by a representative from TravelTriangle who redirected me to multiple agents for better quotes and even more custamization.
I finally selected the package from 'Peace Andaman Tours and Travels' and was now sorted for our honeymoon. My wife and I were very excited to visit the scenic islands and were awaiting the day of our trip. We traveled from our home city Hyderabad to Chennai, to begin our journey to Andaman.
Day 1: Arrival in Port Blair
Suggested Read: Where The Land Romances The Sea: A Honeymoon Trip To Andaman
We boarded our early morning 7 am flight from Chennai to Port Blair. As our plane circled around to land at Port Blair, the view of the scenic beaches took our excitement to a whole new level. Upon our landing, a person from the travel agency was present at the airport to pick us up and take us to the Emerald View Hotel in Port Blair.
Post check in, we took some rest before our driver came back to the hotel to pick us up for sightseeing at 3 pm. We drove to our first destination- Cellular Jail. However, since, the Jail museum and tour was closed on Mondays, we could not see much. But, later in the evening, we came back to see the light and sound show which was still open for visitors. This unexpected happening gave us time to visit the Cape Corbyn Beach in Port Blair before sunset and light and sound show.
After watching the incredible light and sound show, we proceeded back to the hotel where we had dinner. The first day to our vacation had come to a peaceful and delicious end.
Day 2: Traveling to Havelock Island
Suggested Read: Top 12 Places To Visit In Andaman
The next morning, we woke up early to have breakfast and got ready to visit the Havelock Island. After checking out from the hotel, we took the Government DSS Ferry to reach Havelock where Mr. Narayan was present to receive us. He took us to the hotel, where we checked in and got ready by 11 am for our adventure at Havelock.
First up, we headed towards the Scuba Diving center. Both my wife and I simply loved the underwater world which was so silent and majestic in its own way.  
After completing our beginner level scuba diving, we headed back to the hotel to catch our breath and get some food into our system. Post some snacking, we went to visit the Kalapathar beach to view the sunset and enjoy our evening in the incredible weather. As it grew dark, we receded back to the hotel which had arranged our dinner at the beachside.
Day 3: The Everlasting Beauty of Radhanagar beach  
We woke up early next morning so as to visit the famous- Radha Nagar beach. The grandeur and the scenic backdrop of the beach felt mesmerizing as we took a walk here. Also, as we roamed around on our own, I felt that this place was fit to be categorized into a list of the best beaches in the world.
After enjoying the sun and the surf for half a day, we headed back towards the hotel for lunch. Later on, we decided to laze around a little and stay inside the resort. As the sun was about to set, we decided to talk a walk outside to explore the areas in and around us. Finally, we had some dinner and called it a day.
Day 4: Return to Port Blair
The next day, we were scheduled to return to Port Blair. After having a delicious breakfast, we checked out of the hotel in Havelock. We returned to Port Blair via the same DSS ferry. Upon our arrival, we again checked into the Emerald View Hotel for one final night in the Andaman Islands.
We started our day in Port Blair by visiting the Cellular Jail which he had missed on the first day. It was fascinating to see the prison chambers and museum of the jail – a cruel reminder of the past and struggles our freedom fighters had to face to achieve independence.
Onward we went for some shopping in the Cottage Industries Emporium/Sagarika. Over there, we got some very beautiful and rare souvenirs for us and the family. My wife was particularly pleased by all the shopping we did this day and post this, we returned to the hotel and retired for the night.
Day 5: Departure
Alas, our final day on this wonderful dream vacation spot had arrived. We checked out early morning and were taken to the airport for our flight back to Chennai.
While our time in Andaman may have been short, we definitely felt a connection to the place which was very friendly and welcoming. It really takes a vacation like this to appreciate the natural beauty that God has bestowed upon us. The bonding experience between my wife and I was really special and one that neither of us will forget for a long time to come.
High Points:
Scuba Diving in Havelock was a heavenly experience.

We really enjoyed the luxurious stay in Havelock Island.
Low Points:
We missed the Elephant Island Tour and the Sea Walk due to the off season weather.

We expected better quality of food and services in the hotel we stayed in Andaman.
Tips for Travelers:
Travelers should look to fill in their itinerary with multiple things to do while they visit the various islands in Andaman
        
Explore the serenity and the beauty of the Andamans For an experience unlike no other, Book your package to Andaman Islands now!
Comments
comments