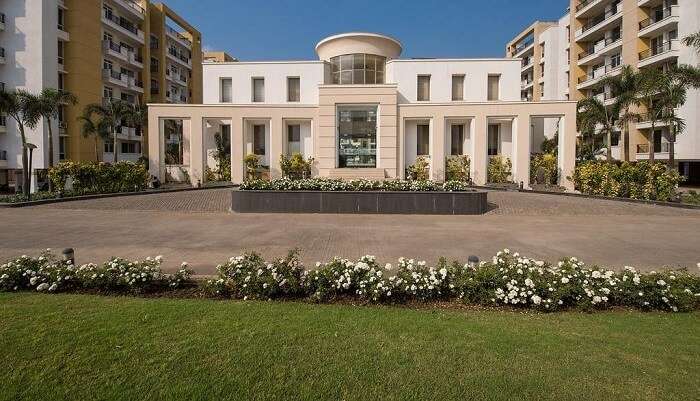 Known for ancient monuments, history, monuments, tombs, and textiles and yes, for its food and bangles, this is a nice city to shop for textiles. We think you would have guessed it by now. It's none other than Indore. It has a rich cultural heritage and many places for sightseeing. The temples in Indore are highly ornate and decorative. Relish the street foods at the Chappan Dukan and shop till you drop and do a lot more. Summers are very hot and best avoided if you have to visit the city. July to September is the best time to visit the city. The best historical monuments to visit are the Lal Bagh palace which was built in mixed European styles using baroque and neoclassicism elements. There are many excellent accommodation options such as villas in Indore for staying when you visit Indore.
7 Best Villas In Indore
If you are thinking where can you plan a luxurious yet affordable stay at then these villas in Indore are a great option. Check these out on your trip and your stay would be.
1. Stayeden Belmont Park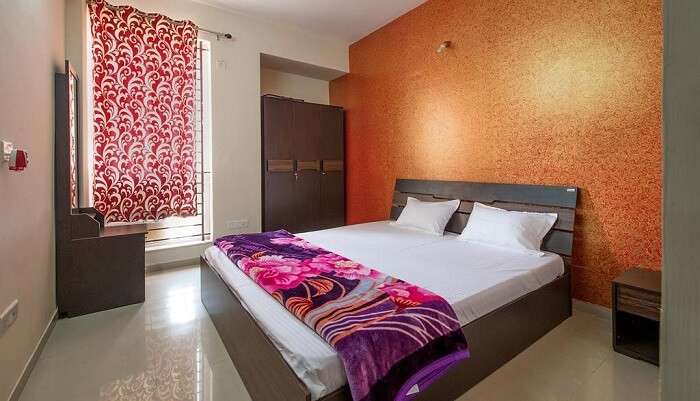 One of the most luxurious villas in Indore with all the facilities and amenities. It has a garden, children's playground, car rental service, and serves a vegetarian breakfast. It has a terrace, a garden, and provides an excellent view of the city. It has family rooms and is pet-friendly. It has free Wi-Fi and parking. The kitchen has a dining table, kitchenware, washing machine, fridge, and all the essential amenities. There are entertainment options for children. Bedrooms have a wardrobe, dressing table, and the bathrooms are well-equipped.
Outdoor dining is available. Daily cleaning and laundry services are available and included in the charges. The living rooms have comfortable seating as well. The living room has comfortable seating and all the rooms are spacious. Smoking or organizing parties and events are not allowed at this place. This is an excellent option for leisure and business travel. All the rooms are clean and beautifully decorated. This is the popular villa in Indore for party.
Location: Dewas Naka, Indore
Price: Starting from 5500 INR
Highlights: The property is spacious and has all the amenities for comfortable living. It is close to most of the places of sightseeing and local markets.
5 Places To Visit In Tikamgarh For An Enlightening Trip To Madhya Pradesh
2. Stay 10 Luxury Service Apartment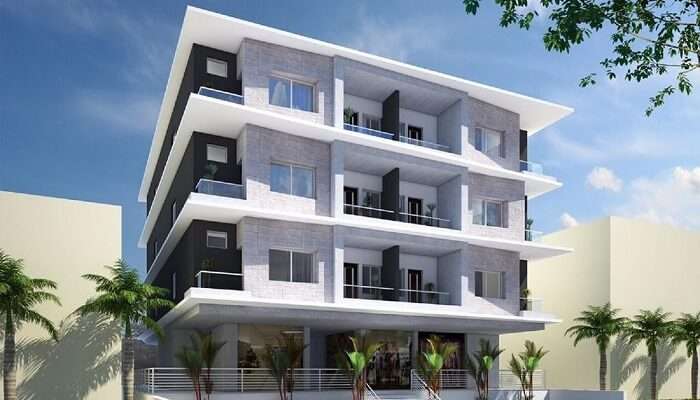 Enjoy a luxurious stay at one of the top villas in Indore that comes with modern amenities and excellent decor. All the rooms are spacious and beautifully decorated. The kitchen is equipped with an oven, coffee machine, kettle, fridge, and oven. You can cook yourself scrumptious breakfast and lunch if you do not wish to dine out. The balcony gives a stunning view of the garden. Enjoy your breakfast and coffee looking at the view from the balcony.
Sun terrace, garden, and outdoor seating are available for you to relax. Free wi-Fi is available in all rooms to make it easy for you to make social media updates. Shuttle service, car, bicycle rental service is available. Daily housekeeping, dry cleaning, and laundry services are included in the charges. Luggage storage and lockers are available. All the rooms are soundproof and elegantly decorated. There is also an executive lounge area where you can relax and chill after a long day.
Location: Shakti Nagar, Bengali Square, Indore
Price: Starting from 2790 INR
Highlights: All the rooms have the best amenities and excellent view of the garden at a reasonable price.
3. Shivarpanam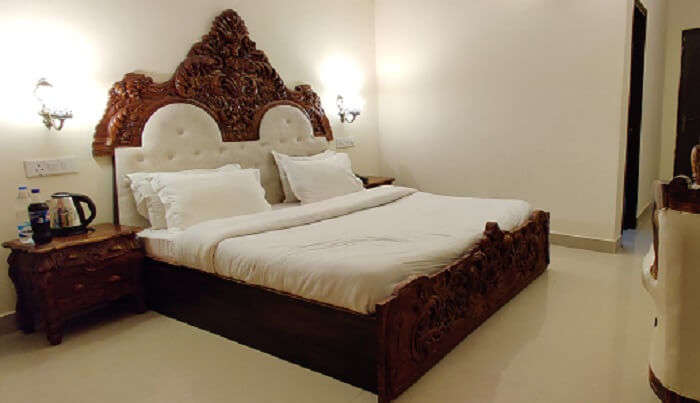 A beautifully decorated villa that comes with modern amenities. All rooms are clean, spacious, and have modern decor. It comes with free wi-fi and parking. You get the best view of the city from the balcony. It has a terrace, sofa, flatscreen TV, and all amenities in rooms and bathrooms. It serves continental and vegetarian breakfast. All the rooms are soundproof and comfortable to stay. It offers business facilities such as fax, photocopying, etc. This is one of the best villas in Indore for leisure as well as business.
You will enjoy your stay in Indore when you choose this place for accommodation. It is available at a reasonable price and has the best facilities. Laundry service and ironing services have an additional charge but make your business and casual attire look neat and professional. Look your best and enjoy all the comforts provided by this place whether you are vacationing or traveling for business. This villa is close to local markets and most of the places of sightseeing.
Location: Ganga Devi Nagar, Indore
Price: Starting from 1350 INR
Highlights: A reasonably priced villa has the best facilities and room with a view, located in the best area.
10 Best Places To Visit In Madhya Pradesh In Summer For A Soothing Trip
4. Prem Dwarika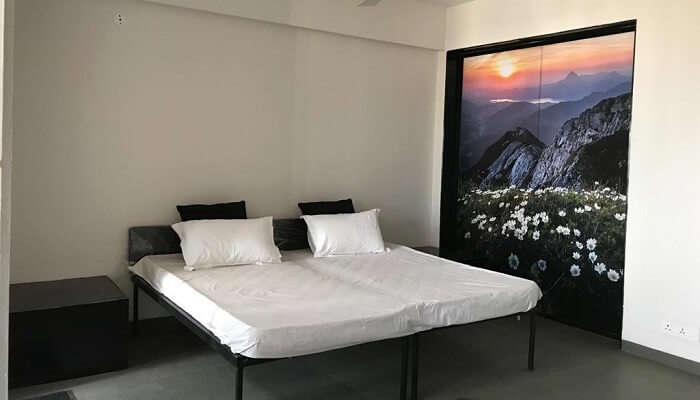 This is a two-story villa with beautiful decor and comfortable bedroom. There is also a games room for playing table tennis. A comfortable place that has all the amenities and spacious rooms that let you stay hassle-free. It does not come with parking or free wi-fi. Those who are only looking to stay for a short time can choose this place. It is close to popular places of sightseeing, making it one of the most popular villas in Indore. Rooms have air conditioning and there are non-smoking areas.
This is a good place to stay with children as zoos, parks, and other places of amusements are located at a close distance. The place is clean and all rooms have modern and minimalist decor. This a great option for NRIs and travelers who come to visit Indore for leisure and sightseeing. It is located in a quiet area where there is no disturbance from the surroundings.
Location: Dewas Naka, Indore
Price: Starting from 5000 INR
Highlights: You can use the entire 2-storeyed apartment for staying and feel at home for a reasonable price.
---
5. Shanti Niketan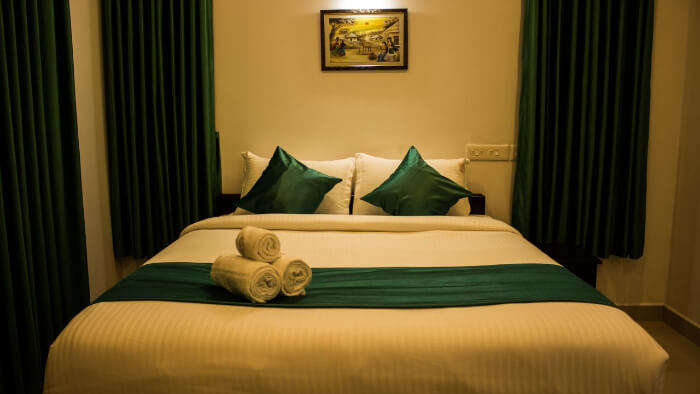 The second floor of this villa is available for accommodation and has all the best facilities and amenities you would find in a 5-star hotel. Feel at home and enjoy a relaxed stay at this villa that has free parking, a well-equipped kitchen with a gas stove, fridge, kettle, and microwave. Bedrooms have wardrobes, dressing mirror, and a comfortable bed. You get the garden and city view from the balcony. The living room has a comfortable sofa, and all the rooms are clean.
It is close to many landmarks and places of sightseeing which is what makes it one of the preferred villas in Indore. All rooms are soundproof and have various amenities such as clothes drying rack, private entrance, ironing facilities, tea/coffee maker and more. This is a pet-friendly villa. Daily cleaning services are included in the charges. The rooms have marble flooring and look elegant. Terrace, patio, and a balcony is available to relax and enjoy breakfast and coffee.
Location: Shanti Niketan, Indore
Price: Starting from 6000 INR
Highlights: A nice place to stay for your visit in Indoor with the best amenities and facilities available.
9 Mystical National Parks Of Madhya Pradesh
6. Stayeden Service Apartment
A wonderfully styled and furnished apartment with lovely decor and modern amenities is comfortable to stay for solo travelers and families. There is a flatscreen TV for entertainment, free wi-fi, and parking. You will not miss being in touch with your friends and loved ones because of the wi-fi available. The kitchen is well-equipped and has a dishwasher, kitchenware, electric kettle, dining table and stove for cooking. Enjoy cooking and enjoying delicious meals at your own pace staying here.
The bedrooms have a wardrobe and dressing mirror. You get an excellent view of the city and garden from the balcony. Shuttle service and car rental are available. It serves delicious food and you can order special diets. Groceries are delivered to you for additional charges. The outdoor place has a picnic area, seating, fireplace, and dining area. Children's playground and board games are available for the amusement of kids. Laundry and ironing are available for extra charges.
Location: A. B Pigdamber Road, Rau Circle, Indore
Price: Starting from 3000 INR
Highlights: One of the best villas in Indore with excellent facilities and amenities for an affordable price.
7. Stayeden 3BHK Villa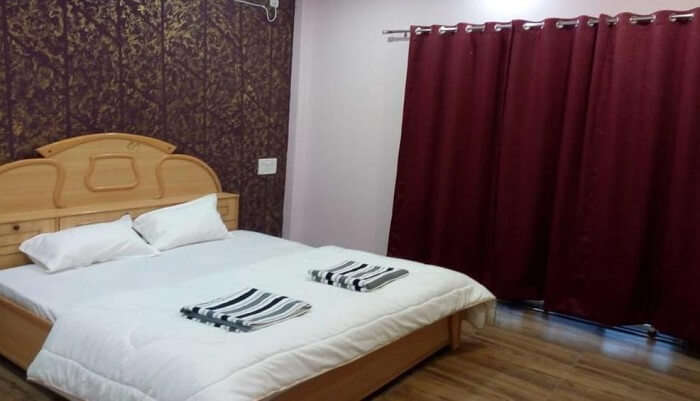 One of the most luxurious villas in Indore with spacious rooms and excellent amenities. All the rooms are beautifully decorated and spacious. The bathrooms are equipped with toiletries and are squeaky clean. Airport shuttle service is available. You can enjoy a morning breakfast in the sun terrace getting a view of the garden and the city. Daily housekeeping services are available to keep the place clean and hygienic. Rooms are soundproof and air conditioning is available in rooms. The living room has a sofa, dining table, and flatscreen TV with all satellite channels available. Additional services such as laundry, dry cleaning, and ironing are available with extra charges.
Entertainment options are available for family and kids. Pets are allowed with extra charges. You can enjoy business and leisure stay at this villa that has modern decor. Sofa beds are available in living rooms as well. All rooms have air conditioning. You can enjoy a peaceful stay in this villa. It is one of the best places to stay if you are traveling with a large group. It is located close to most of the places for sightseeing.
Location: Bicholi Mardana
Price: Starting from 4000 INR
Highlights: A reasonably priced villa with spacious rooms and ample amenities ensuring a comfortable stay.
14 Places To Visit Near Ranthambore To Embrace The Ancientness Of Rajasthan!
Indore has a rich history and many places of sightseeing. You can shop for textiles and relish the mouth-watering street food. Also, these are some of the budget villas in Indore that guarantee a comfortable stay. So, what are you waiting for? Plan a vacation in Madhya Pradesh with TravelTriangle
For our editorial codes of conduct and copyright disclaimer, please click here.
Frequently Asked Questions About Villas in Indore
Is wi-fi available at all villas in Indore?
Yes, wifi facility is available at most of the villas in Indore.
Do villas in Indore accept card payments?
Cash payments are widely accepted when you stay at villas in Indore. Only a few have card payments available.
Are villas in Indore pet-friendly?
Only a few villas allow pets for a charge. You need to check the facilities offered before booking a property.
Which area is the best to find a villa in Indore?
Dewas Naka has the best villas for traveler's stay in Indore.
---
People Also Read:
Resorts In Shimla Resorts in Himachal Resorts In Chandigarh
Comments
comments