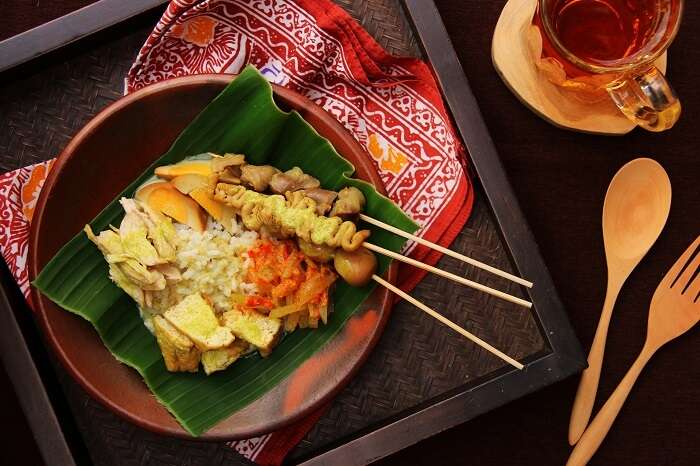 Laughter is better where food is the best. Indonesia is not only a stop for travelers who want to explore the clear water beaches but also famous for its traditional food. People search for Indonesian food names before visiting the country but they are not aware of the fact that there are around 5350 traditional recipes which are an amalgamation of the right amount of herbs and spices.
Indonesian food is an essential part of world's best culinary destinations and one can feel a sense of inner satisfaction after relishing the authentic Indonesian food.
10 Tasty Indonesian Food Delights
Get ready to have scrumptious Indonesian food with excellent aroma and flavours which will leave you craving for more. Explore Indonesian food market, and various Indonesian food recipes on your next trip to Indonesia.
1. Nasi Goreng
Lets start with the national dish of Indonesia. Nasi Goreng is the perfect mixture of fried rice, spices, meat pieces and vegetables. It is different from other fried rice recipes due to its aromatic and smoky flavour. The smoky flavour is present in this Indonesian food item due to the caramelised sweet soy sauce and powdered shrimp paste. It is one of the simplest yet most delicious recipe which is famous among people who are looking for healthy food in Indonesia.
Suggested Read: A Tour Guide To The Java Island in Indonesia
2. Gudeg
Another traditional Indonesian delicacy which belongs to Central Java, Indonesia is Gudeg which is a combination of young unripe Jackfruit steamed for hours with palm sugar and coconut milk. The pleasant aroma of coconut milk combined with Jackfruit makes the dish one of its kind. It is the best option for people who are looking for vegetarian Indonesian food. The sweet taste of Gudeg served with various savoury side dishes on a plate makes it one of the most popular Indonesian food item.
Where To Eat: Gudeg Pak Atmo, and Gudeg Bu Dibyo
3. Babi Guling
A celebrated pork dish in Bali, Babi Guling includes meat, skin, sate, vegetables, soup and rice. The unique flavour of the dish comes from the spices like chilli, garlic, turmeric and ginger. This Indonesian food item is only found in Bali, so you must try it while you are there.
Where To Eat: Babi Guling Candra, and Warung Babi Guling Sari Dewi
Suggested Read: 8 Best And Most Vibrant National Parks In Indonesia That Take You Into The Wild!
4. Satay
Satay spelled as sate in Indonesia is a famous Southeast Asia dish. When you talk about Indonesian food menu then Sate plays significant part in it. It is a premium quality dish which is made from seasoned, skewered and grilled meat. Satay skewers can be made of chicken, goat, mutton or rabbit and are served with peanut sauce and rice cakes called Ketupat. You can find this dish anywhere in Indonesia and be ready for experiencing the true flavours of Indonesian food.
Where To Eat: Sate Taichan Goreng Bogor, and Kembang Goela
Suggested Read: 10 Best Hostels In Bali That'll Ensure You Spend Less And Experience More!
5. Siomay
Are you found of Dumplings- Indonesian food also has an option for people who love Dim Sum which is Siomay ,a fish dumpling dish served with peanut sauce. It is made with Tengri which is fish meat and is served with steamed cabbage, potatoes, bitter gourd, boiled egg and tofu. The peanut sauce, soy sauce and a dash of lime which is added in it makes it finger-licking good. You can easily find vendors selling Siomay which makes it easy to find.
Where To Eat: Lemongrass, and Kedai Kita
---
Planning your holiday in Bali but confused about what to do? These Bali travel stories help you find your best trip ever!
Real travel stories. Real stays. Handy tips to help you make the right choice.
---
6. Bakso
Bakso also known as Baso is an Indonesian meatball and is a popular street food. The word Bakso means a meatball or a bowl of soup full of meatballs. It is served in two forms which are Mie Bakso and Bakso Kuah. Mie Bakso is basically Bakso served with yellow noodles and rice vermicelli on the other hand, Bakso Kuah refers to Bake meatballs soup served without any noodles. You should try both versions of the dish which is one of the best recipe of Indonesian food.
Where To Eat: Bakso Akiaw 99, and Bakso Mas Kumis
7. Beef Rendang
One of the 5 national dishes of Indonesia, Rendang originated from the ethnic group Minangkabau in Indonesia and is a heavily spiced meat and deeply cooked dish. The main ingredient of this dish is meat which is cooked in coconut milk and authentic spices like ginger, galangal, turmeric leaves, lemongrass, garlic, shallots and other spices. Beef Rendang is served with steamed rice and vegetable dishes like boiled Cassava leaf, Cabbage and Cubadak which is young Jackfruit. You can explore the Indonesian food culture by this traditional dish and many more.
Where To Eat: Seribu Rasa
Suggested Read: Top 10 Things To Do In Indonesia For An Unforgettable Holiday Experience!
8. Nasi Rawon
Are you fond of having soups- Then add Nasi Rawon to your list of must try Indonesian food recipes. Nasi Rawon is a black beef soup served with rice which originated from East Java, Indonesia. This dish consists of seasoning of black nuts which adds to the strong nutty flavour and black colour of the dish. Rawon is the oldest dish from Java and is quite famous among the local people. You can easily find it in any restaurant as it is one of the most known Indonesian food items.
Where To Eat: Rawon Gajah Mada, and Rawon Setan
9. Gado-gado
Gado-gado is one of the well-known dish for people who are looking for vegetarian Indonesian food. This dish is one of the 5 national Indonesian dishes and is a must try for all the vegetarians. Gado- Gado means mixing and is also known as Lotek , which is an Indonesian salad made with boiled or steamed vegetables, fried Tofu, Lontong which is rice wrapped in banana leaf served with peanut sauce. It is optional to add eggs in this dish. Now even vegetarians can be excited to have Indonesian food.
Where To Eat: Gado-Gado Bonbin, and Chez Gado Gado
Suggested Read: 11 Best Things To Do In Jakarta: The Indonesia Capital Buzzing With Life!
10. Martabak
Much famed as the King of Indonesian food, Martabak is a country special stuffed pancake or pan-fried bread filled with chocolate and nuts. This pancake is only served in evening or at night, so be ready to have this mouth-watering dessert after your dinner.
Where To Eat: Martabak Boss, and Martabak Pecenongan
Further Read: Beautiful Places In Indonesia: 28 Landscapes So Marvellous That It Hurts
Excited about trying Indonesian food? Get started by booking one of the best Indonesia tour packages with Travel Triangle, and make sure you do not miss out on including these delicious delights in your tailor-made itinerary!
---
Looking To Book An International Holiday?
Book memorable holidays on TravelTriangle with 650+ verified travel agents for 65+ domestic and international destinations.
---