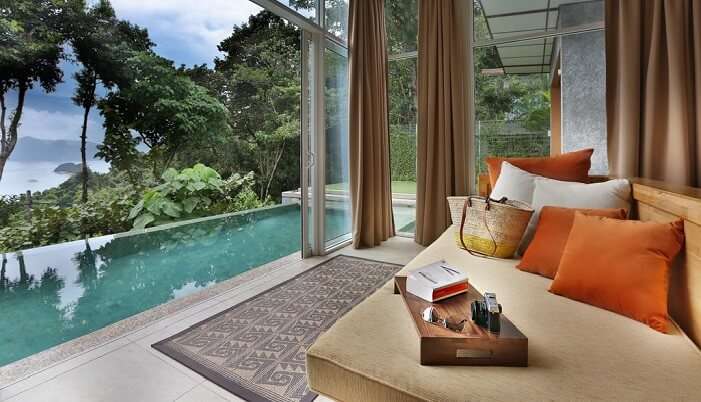 Image Source: booking.com
Langkawi is one of the most popular tourist destinations in Malaysia. The islands are a part of the state named Kedah and it is adjacent to the Thai border. If you are thinking of spending some time, then make sure you book one of the villas in Langkawi for your stay.  Langkawi is famous for the spotless coastline and beautiful landscapes which makes it the perfect getaway for couples and friends. There are several recreational centres and fun things to do in Langkawi like beachside parties, BBQ nights, rave parties, water sports, etc.
If you have made up your mind to visit Langkawi, then we have got you some of the best villas in Langkawi where you can stay during your vacation. Do check them out and find out which one suits your needs the best.  It is situated in the archipelago of 99 islands in the Andaman Sea and it is about 30 km away from the main coast of Malaysia.

4 Best Holiday Villas In Langkawi
Here is a list of the holiday villas in Langkawi which we believe offers the best accommodations and amenities to the travelers here –
1. La Villa Langkawi

La Villa Langkawi is one of the best private villas in Langkawi. with its appealing interiors and well-decorated rooms. Spend your holidays in Langkawi with the best kind of comfort and convenience. The villas are equipped with Wi-Fi and free parking and all the rooms come with all kinds of TVs, AC, geyser, modern upholstery, etc.
You can choose to spend your day enjoying the private pool or sit back and relax on the balcony overlooking a beautiful and scenic landscape. You'll surely be amazed and excited to check the eye dazzling property at La Villa Langkawi. For those of you looking for a luxurious standard of accommodation, this property is easily one of the best villas for rent in Langkawi.
Location: Jalan Pantai Tengah, Pantai Tengah, 07000 Langkawi, Kedah, Malaysia
Tariff: INR 26,000 – INR 32,000
2. Cloud 9 Holiday Cottages

Cloud9 Holiday Cottages are one of the best villas in Langkawi for a family if you have a good budget to spare. The surroundings of the villa are absolutely stunning. There is an outdoor swimming pool where you can have fun throughout the day. With poolside parties and BBQ often organized by the authorities, staying at the Cloud9 Holiday Cottages becomes even more fun.
The living area is well furnished and decorated with majestic upholstery and eye-catching marble finish. The urban interior style allows you to rest and accommodate in the most comforting manner. The rooms are well equipped with important gadgets and other amenities, with 24 hours room service available.
Location: 110, Jalan Chandekura, Kampung Bukit Lembu, 07000 Langkawi, Kedah, Malaysia
Tariff: INR 7500 – INR 8600
Suggested Read: 21 Malaysia Islands You Must Visit In 2022 For Having The Best Vacation Ever
3. Ambong Pool Villas

If you are looking for luxury villas in Langkawi, then Ambong Pool Villas should top the list for sure. Each of the villas available in this property are made to provide you with the best accommodation that you won't find in the whole of Langkawi.
The villa is nestled in the heart of nature and offers you a fantastic retreat during your holidays. The rooms are beautifully decorated with necessary amenities and modern standards. The villa is equipped with a 12 meters pool, along with kitchen and outdoor dining space. It is one of the best pool villas in Langkawi.
The spacious bedrooms and living rooms makes sure you can rest and accommodate without any difficulty. Relax at the lounge area beside the pool sipping on your favorite drink and enjoy the sunset at dusk.
Location: Jl. Teluk Baru, 07000 Langkawi, Kedah, Malaysia
Tariff: INR 38,000 – INR 54,000
Suggested Read: 5 Amazing Places To Visit In Miri In 1 Day Which Cannot Be Missed In Malaysia!
4. Bon Ton Antique Wooden Villas

If you want to make your holiday in Langkawi unique and fun, then Bon Ton Antique Wooden Villas offers you the best accommodation facilities. These wooden villas makes for the best private villas in Langkawi that you can choose to book for your honeymoon.
You will love the fact that the villas are surrounded by nature and allows you to get a peaceful and quiet atmosphere throughout the day. There is an outdoor pool which can be accessed by the guests staying in this property. There are various fun activities that you can engage with your friends and family.
The rooms are capacious and will surely provide you with a sense of luxurious stay. They come with a CD/DVD player, a tea and coffee maker, fridge, and other gadgets as well.
Location: Jalan Pantai Cenang Lot 1047 Langkawi, Pantai Cenang, 07000 Pantai Cenang, Kedah, Malaysia
Tariff: INR 8700 – INR 10,600
Further Read: 5 Best Places To Visit In Miri For Adventure While In Malaysia!
So, here are the top villas in Langkawi which you can book for your vacation in Malaysia to enjoy a fabulous stay. The best way to enjoy your time in Langkawi is by staying in one of these villas on your holiday. The picturesque archipelago will stun you with its undulating beauty and handsome views. January to March makes the best time to visit Langkawi. It is a great place for honeymooners and families.
---
Looking To Book An International Holiday?
---
People Also Read: